South Korea's antitrust regulator said it had imposed a total of 33.6 billion won ($25.06 million) in fines on three domestic mobile carriers for exaggerating their 5G network speeds. The Korea Fair Trade Commission (KFTC) said the three South Korean firms – SK Telecom Co Ltd, KT Corp, and LG Uplus Corp – had also unfairly advertised that they were the fastest relative to their competitors.
"The three telecom companies advertised that consumers could use target 5G network speeds, which cannot be achieved in real-life environment … companies advertised that their 5G network speed was faster than competitors without evidence," the KFTC said in a statement.
In support of ongoing civil lawsuits filed by consumers, the advertisements released by the three mobile carriers have been presented by the regulator to a local court.
SK Telecom and KT Corp declined to comment. A spokesperson at LG Uplus said the company is reviewing the sanctions.
The KFTC imposed a fine of 16.8 billion won on SK Telecom, 13.9 billion won on KT and 2.8 billion won on LG Uplus.
There were 30.76 million 5G network users in South Korea in June, accounting for about 38% of the total 80.23 million mobile subscriptions in the country, according to data from the Ministry of Science and ICT.
Source: Reuters
https://www.reuters.com/business/media-telecom/south-korea-fines-mobile-carriers-25-mln-exaggerating-5g-network-speed-2023-08-17/
In a paper issued last week, SK Telecom states correctly the industry is far from achieving its 5G goals even four years after commercialization.  There were "misunderstandings" about network performance and problems such as device form factors and lack of market demand, it said. "A variety of visionary services were expected, but there was no killer service," the paper stated. "We should have taken a more objective perspective," it added.  In  particular:
A variety of visionary services were expected, but there was no killer service Even at the time when preparing for 5G, services such as autonomous driving, UAM, XR, hologram, and digital twin had appeared and expected, but most of them did not live up to expectations. We should have taken a more objective perspective. For example, whether 5G technology alone could change the future, or whether the overall environment constituting the service was prepared together. If so, the gap between the public's expectations for 5G and the reality would not have been large. 3D video, UHD streaming, AR/VR, autonomous driving, remote surgery, etc. are representative services that are not still successful presented by the 5G Vision Recommendation. Most of them are the result of a combination of factors such as form factor constraints, immaturity of device and service technology, low or absent
market demand, and policy/regulation issues, rather than a single factor of the lack of 5G performance.
The authors concluded that instead of expecting that the new technology alone could create successful services, it would have been more effective to have collaborated with partners to build a broader 5G ecosystem.
Gap between 5G Vision Recommendations and customer expectations:

Although the usage scenarios and capability goals presented in the 5G Vision Recommendation are future goals to be achieved in the long term, misunderstandings have been created that can lead to excessive expectations of 5G performance and innovative services based on it from the beginning of commercialization. To prevent this misunderstanding from recurring in 6G, it is necessary to consider various usage scenarios of 6G, set achievable goals, and communicate accurately with the public. In particular, there were issues raised about the maximum transmission speed of 20Gbps, which was considered an icon of 5G key performance indicators. As 3G evolved into LTE, the radio access technology also evolved from WCDMA to OFDMA, and with the introduction of CA and multi-antenna technology, it became possible to use a much wider bandwidth than 3G. This can be seen as a 'revolutionary' improvement. On the other hand, 5G is considered as an 'evolutionary' improvement that supplements the performance of LTE based on the same radio access technology, CA, and multi-antenna system technology. Due to this, it was difficult to implement the increase in transmission speed shown in LTE in 5G at once. Moreover, the difference in technology perception was further revealed in the initial stage of 5G commercialization. Early commercialization was promoted for 5G, however, 5G required more base station compared to LTE to build a nationwide network due to frequency characteristics, requiring more efforts in terms of cost and time.

SK Telecom has made significant efforts to expedite 5G nationwide rollout, but customers wanted the same level of coverage as LTE in a brief period.
References:
https://newsroom-prd-data.s3.ap-northeast-2.amazonaws.com/wp-content/uploads/2023/08/SKT6G-White-PaperEng_v1.0_web.pdf
SK Telecom (SKT) today announced that for the first time in the world, it developed a technology that allows for integrated control and operation of quantum cryptography networks by integrating networks composed of equipment from different manufacturers via software-defined networking (SDN) and distributing quantum keys in an automated manner.
So far it was impossible to connect and operate quantum cryptography communication networks of different companies and countries. However, with SKT's new technology, quantum cryptography communication networks of diverse manufacturers, mobile operators and nations can be interconnected and co-operated.
The company said that it completed verification of the technology on the Korea Advanced Research Network (KOREN), a non-profit testbed network infrastructure operated by the National Information Society Agency (NIA) to facilitate research, test and verification of future network leading technologies and related equipment.
Based on the results of development and verification of the technology, SKT has been actively promoting standardization by sharing the case with global telcos.
To set international standards for the integration of quantum cryptography communication networks, SKT proposed two standardization tasks – i.e. 'Control Interface of Software Defined Networks' and 'Orchestration Interface of Software Defined Networks for Interoperable Key Management System' – to the European Telecommunications Standards Institute (ETSI), and they were chosen as work items by the ETSI industry specification group for QKD (ISG-QKD) in March 2023.
If approved as international standards, they will provide a technical basis for creating a large-scale network by interconnecting quantum cryptography communication networks built by many different operators. SKT plans to continue developing additional technologies for interworking of services between different operators/countries, as well as management of service quality.
Through these efforts, the company expects to strengthen the competitiveness of domestic companies and boost the quantum cryptography ecosystem both home and abroad.
Meanwhile, at this year's IOWN Global Forum Workshop, SKT presented 'Quantum Secure Interconnection for Critical Infrastructure,' covering use cases for next-generation transmission encryption technology and proposal for a proof-of-concept (PoC) of quantum cryptography in All-Photonics Network (APN). The company also showcased its quantum cryptography communication technologies at 2023 MWC Barcelona.
"The two standardization tasks approved as work items by ETSI will boost the expansion of quantum cryptography communication in the global market," said Ha Min-yong, Chief Development Officer of SKT. "We will work with diverse global players in many different areas to create new business opportunities in the global market."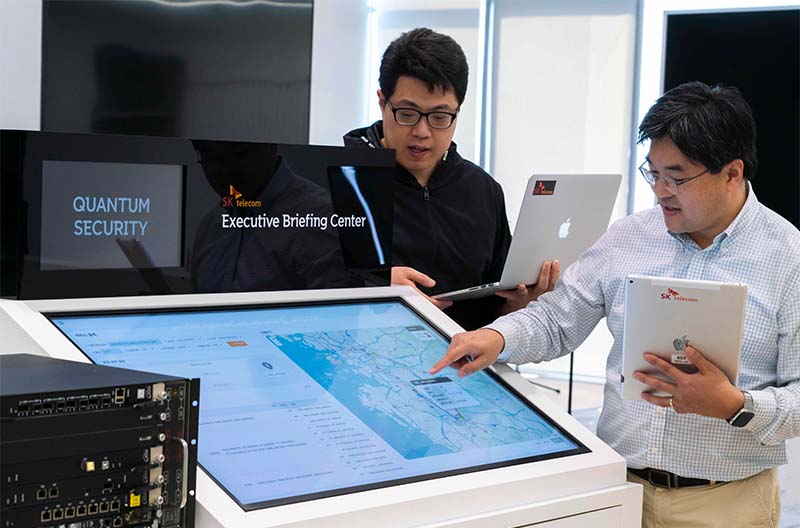 Disclaimer:
SK Telecom Co. Ltd. published this content on 05 April 2023 and is solely responsible for the information contained therein. https://www.sktelecom.com/en/press/press_detail.do?idx=1563&currentPage=1&type=&keyword=
………………………………………………………………………………………………………………………………………………………………….
From SDxCentral:
Quantum cryptography communication transmits each bit of information as a single photon of light, which encrypts that information against eavesdropping or decryption. Telecom operators and vendors have been working for several years on integrating that level of encryption into networks.
For instance, Toshiba and the Tohoku Medical Megabank Organization at Tohoku University used quantum technology in 2018 to hit one-month-average key distribution speeds exceeding 10 Mb/s over installed optical fiber lines. They also used the technology to monitor the performance of installed optical fiber lines in different environments.
Toshiba later partnered with U.K.-based operator BT on using QKD across to secure a network transmission.
SK Telecom also has a long quantum history, including work with Swiss-based strategic partner ID Quantique, which focuses on quantum cryptography communication technology.
Industry trade group GSMA last year announced its Post-Quantum Telco Network Taskforce focused on supporting the industry's creation of a roadmap to secure networks, devices and systems across the entire supply chain." That work was initiated with IBM and Vodafone, and has since gained more than 45 members.
Lory Thorpe, GSMA Post-Quantum Telco Networks chairperson and head of IBM Consulting's Telco Transformation Offerings, told SDxCentral last month that the core objective of the taskforce is to ensure the implementation of the right requirements and standards in a timely manner to avoid being "late to the party." Thorpe explained the initial problem statement was "around how do we support the telco ecosystem to navigate the path to quantum safe."
"When you look at where cryptography is used in telco systems, it impacts basically all of the different systems. But it also then impacts all of the standards that underpin these systems as well," she said. "We're advocating that people start planning, not panicking, but at least planning because … this isn't something that just happens overnight."
https://www.sdxcentral.com/articles/news/sk-telecom-touts-telecom-network-quantum-cryptography-integration/2023/04/
On February 27 at MWC Barcelona 2023,  South Korean network operator SK Telecom (SKT)  signed a memorandum of understanding (MOU) with Deutsche Telekom and T-Mobile US to jointly explore opportunities for expanding its metaverse platform ifland into Germany and the U.S.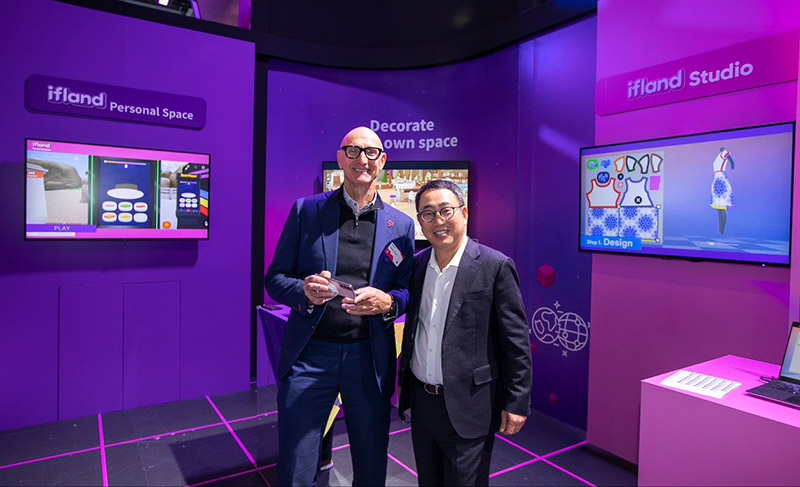 Image Credit:  SKT
The three companies will begin to conduct market tests in the U.S. and Germany in the second quarter of this year, with the main goal of the trials being to try "more diverse metaverse services in Europe and the U.S."
SKT, Deutsche Telekom and T-Mobile US will also produce content tailored to local preferences, and will jointly promote the metaverse offering.
The ifland platform is also set to be made available to more countries in South East Asia, and the telco has agreed a partnership with its Malaysian partner CelcomDigi to boost its ifland user numbers in the country and develop new business models. It will also be made available to all 11 subsidiaries of Axiata operating in the ASEAN (Association of South-east Asian Nations) and South Asian regions, including Malaysia, Indonesia, Sri Lanka, Cambodia, Bangladesh and Nepal.
SKT and Axiata also plan to develop "metaverse platform-related business models" and create business opportunities based on artificial intelligence (AI) to enhance the competitiveness of these models.
By expanding its metaverse service into the Southeast Asian market, where Korean culture such as K-content is gaining popularity, SKT expects to expand ifland's services and develop new business opportunities.
"As we advance into the global market with our metaverse platform ifland, major telecommunications companies in each country and region play an important role as our partners," said Ryu Young-sang, CEO of SKT. "Going forward, we will continue to work closely with diverse global companies to expand the scope of our metaverse service."
"The collaboration between the leading Malaysian telecoms operator serving more than 20 million customers and global ICT leader SKT will set the stage for the nation's metaverse development, and drive growth and digitalisation within the digital economy," said Datuk Idham Nawawi, CEO of CelcomDigi. "We look forward to working together on leveraging innovative technologies and practices particularly in virtual spaces to develop and deliver a wider range of innovative solutions for our customers and Malaysian businesses."
"Axiata is deeply committed to leveraging emerging technologies towards the inclusive advancement of Societies and Economies across Asia," said Dr Hans Wijayasuriya, CEO of Axiata. "We are proud to partner with SKT and the ifland platform and consider the partnership a significant component of our participation in the metaverse going forward."
SKT pointed out that each of the three operator partners has more than 100 million customers, giving it a solid foundation on which to expand the international impact of ifland. The company's CEO, Ryu Young-sang, pointed out that partnering with major telcos "in each country and region" plays a key role in advancing ifland's influence, so it plans to continue working closely with global companies to broaden the scope of the service.
SKT's metaverse platform launched in June 2021 and after an initial collaboration with Deutsche Telekom, it aggressively moved to global expansion across North America, Europe, the Middle East and Asia in November 2022.
References:
https://www.sktelecom.com/en/press/press_detail.do?idx=1560
https://www.telecomtv.com/content/digital-platforms-services/news-brief-skt-further-expands-its-metaverse-reach-46840/
---