Indian network operator Bharti Airtel on Thursday said it has conducted India's first 5G SA network trial [1.] in the 700 MHz spectrum band in partnership with Nokia.  The demonstration was conducted on the outskirts of Kolkata.  It also marked the first 5G trial in the eastern India, the company said in a statement.
Note 1.  No 5G commercial service  can commence in India till the government auctions 5G spectrum which is scheduled for in the second half of 2022.  However, it has been delayed time after time after time. Airtel has been allotted test spectrum in multiple bands by India's Department of Telecommunications for the validation of 5G technology and use cases.
Using the 700 MHz band, Airtel and Nokia were able to achieve high speed wireless broadband network coverage of 40 Km between two 5G sites in real life conditions. Airtel used equipment from Nokia's 5G portfolio, which included Nokia AirScale radios and Standalone (SA) core network.  [Nokia provides a common core network which supports the 4G – EPC and a 5G Core.]
Randeep Singh Sekhon, CTO – Bharti Airtel said: "Back in 2012, Airtel launched India's first 4G service in Kolkata. Today, we are delighted conduct India's first 5G demo in the coveted 700 MHz band in the city to showcase the power of this technology standard. We believe that with the right pricing of 5G spectrum in the upcoming auctions, India can unlock the digital dividend and build a truly connected society with broadband for all."
Naresh Asija, VP and Head of Bharti CT, Nokia, said: "5G deployment using 700Mhz spectrum is helping communications service providers across the world to cost-effectively provide mobile broadband in remote areas, where typically it is challenging for them to set up the network infrastructure. Nokia is at the forefront in the development of the global 5G ecosystem, and we look forward to supporting Airtel on its 5G journey."
Airtel says they are "spearheading 5G in India." Earlier this year Airtel demonstrated India's first 5G experience over a live 4G network. It also demonstrated India's first rural 5G trial as well as the first cloud gaming experience on 5G. As part of #5GforBusiness, Airtel has joined forces with leading global consulting and technology companies and brands to test 5G based solutions.
About Airtel:
Headquartered in India, Airtel is a global communications solutions provider with over 480 Mn customers in 17 countries across South Asia and Africa. The company ranks amongst the top three mobile operators globally and its networks cover over two billion people. Airtel is India's largest integrated communications solutions provider and the second largest mobile operator in Africa. Airtel's retail portfolio includes high speed 4G/4.5G mobile broadband, Airtel Xstream Fiber that promises speeds up to 1 Gbps with convergence across linear and on-demand entertainment, streaming services spanning music and video, digital payments and financial services. For enterprise customers, Airtel offers a gamut of solutions that includes secure connectivity, cloud and data centre services, cyber security, IoT, Ad Tech and cloud based communication.
For more details visit www.airtel.com
Nokia Contact:
Mohammed Shafeeq, Media Relations
Phone: +91 9167623398
E-mail: [email protected]
References:
https://www.airtel.in/press-release/11-2021/airtel-conducts-indias-first-5g-trial-in-the-700-mhz-band-in-partnership-with-nokia
https://www.nokia.com/networks/portfolio/5g-core/
At its 'Powering Up Singapore With 5G' event, Singtel (the leading network operator in Singapore) revealed a number of 5G Standalone (SA) use cases, according to a press release.  The new use cases span a variety of sectors from entertainment to mobility and bring to life the benefits of 5G by redefining live, work and play experiences with blazing fast speeds and near-instantaneous response times.
Singtel said it continues to expand its 5G network, which now covers over two-thirds of Singapore, adding sites in densely populated areas like Choa Chu Kang, Punggol, Sembawang and Tampines. In addition, it has expanded its 5G indoor coverage to more major shopping malls island-wide such as Funan, West Mall, Tampines Mall, Northpoint City and Waterway Point.
Minister for Communications and Information Mrs Josephine Teo highlighted the role of 5G, "Mobile networks and data exchanges are key building blocks for the digital infrastructure. 5G, which promises to be ultra-fast and supports near-zero latency, can change the way we live and work in profound ways, and become essential for the digital developments of the future. Building a digital future is certainly about the hardware, software, systems and standards. It is equally about the people and skills. For that, the Government will continue to invest in reskilling and upskilling our people so that they can achieve not just digital literacy but digital mastery. This way, everyone can benefit from the infrastructure."
Yuen Kuan Moon, CEO of Singtel said: "With the maturing of 5G technology, we're excited to unlock the benefits of a 5G-enabled reality for consumers and enterprises. Its potential to transform business models and deliver enhanced products and services on a scale like never before, will spur Singapore's digital economy as the country moves into post-COVID recovery. As part of our strategic reset to focus on 5G, we are accelerating our roll-out and the creation of new services."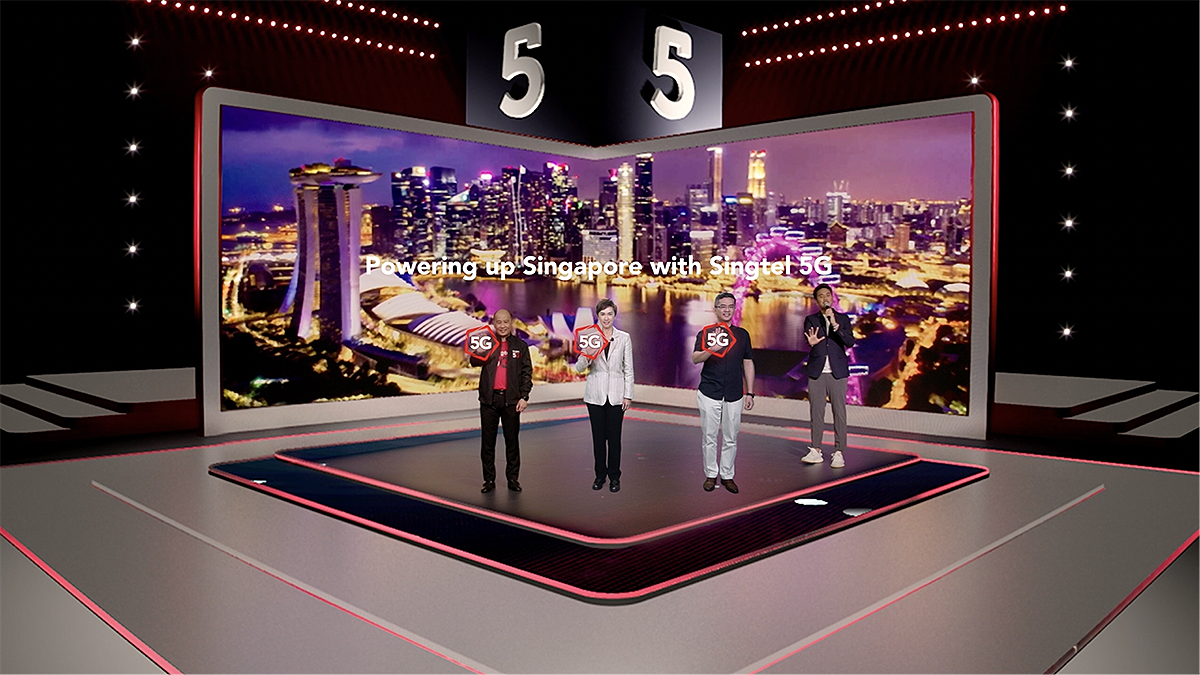 Ookla® recently declared Singtel the 'Fastest 5G mobile operator in Singapore' in H1 2021 for clocking in the highest median mobile network speed.
Singtel said the arrival of 5G has proved timely against a backdrop of accelerated digital adoption as a result of safe distancing and remote working. With more people using digital channels to go about their lives, there has been a corresponding increase in demand for fast and reliable connectivity. This is reflected in a recent Singtel survey, in which majority of consumers indicated that 5G-enabled services such as augmented reality books and virtual reality entertainment events appeal to them.
The new use cases powered by Singtel's 5G SA network include:
5G-powered Remote Racing: Partnering with Formula Square to deliver an immersive, lag-free experience racing remote-controlled cars powered by 5G at Southside, Sentosa;
4K Live Streaming: Working with S.E.A. Aquarium to bring Singapore's first underwater 5G livestream of the S.E.A. Aquarium to UNBOXED, Singtel's unmanned pop-up retail store, where visitors can immerse themselves in the aquatic wonders of the aquarium, viewing manta rays, sharks and shoals of fishes in vivid 4K resolution;
Enhancing the Arts and Culture Experience: Collaborating with the National Gallery Singapore and Esplanade – Theatres on the Bay to deliver cultural and art experiences over 5G, from the Singtel Special Exhibition Gallery and the Singtel Waterfront Theatre when it opens officially next year. This will enable more people with opportunities to get up close and personal with local artists and performers amid prevailing safe distancing measures;
Co-creating the future of hybrid work: Teaming up with Samsung and Zoom to introduce a Productivity Data Pass plan offering data-free usage of Zoom, enabling customers to connect to family and colleagues seamlessly and lag-free. This, coupled with Samsung devices such as DeX, will enable customers to set up virtual workstations easily.
Singtel has also signed a Memorandum of Understanding (MoU) with Ericsson and global industry partners to collaborate on the development and deployment of advanced 5G enterprise solutions in Singapore.  The agreement will allow companies to leverage Ericsson's technology expertise and Singtel's 5G network, test facilities and capabilities to innovate solutions and scale them up for global deployment.
Singtel launched its 5G SA network in May, via a partnership with South Korea's Samsung. The 5G SA sites run on 3.5 GHz spectrum.  Singtel had initially launched its 5G Non-Standalone (NSA) network in September of 2020, using spectrum in the 3.5 GHz frequency as well as existing 2.1 GHz spectrum.
As part of its 5G SA deployment, Singtel has already deployed over 1,000 5G sites across Singapore in strategic locations such as Orchard Road, the Central Business District, Marina Bay, Harbourfront and Sentosa, as well as major residential areas including Sengkang, Punggol, Pasir Ris, Jurong East and Woodlands.
Singtel also demonstrated at the event how 5G is empowering industries and businesses with greater productivity and operational efficiency. Key to this is multi-access edge computing (MEC), an infrastructure that maximizes 5G's low latency, high bandwidth benefits and enables functions like real-time computing, data storage, data analytics and AI services at the edge. MEC supports massive and faster connectivity of devices, bringing to life more mission critical enterprise applications than before, such as real-time asset tracking and automated quality inspection in factories and smart city planning.
During the event, Guest of Honor Mrs Josephine Teo, Minister of Communications and Information and IMDA's Chief Executive Mr Lew Chuen Hong were 'teleported' into the venue via Singtel's 5G network, in which their high-resolution likeness were beamed from a separate location. The network's ultra-low latency meant that Minister Teo and Mr Lew could 'interact' seamlessly with Mr Yuen on stage.
Singtel aims to intensify its 5G SA deployment across the island in the coming months as handset manufacturers progressively roll out 5G SA software updates for existing 5G handsets and launch more 5G SA-compatible models in Singapore later this year.
References:
https://www.singtel.com/about-us/media-centre/news-releases/singtel-ramps-up-5g-roll-out-across-singapore
https://www.singtel.com/personal/products-services/mobile/5g#5g1
https://www.rcrwireless.com/20210830/5g/singtel-unveils-new-use-cases-5g-sa-technology-singapore
Singtel starts limited deployment of 5G SA; only 1 5G SA endpoint device; state of 5G SA?
Telenor Group [1.] today said it has established a 5G standalone core network environment using a vendor-neutral platform, with network functions from Oracle, Casa Systems, Enea and Kaloom, all running on Red Hat Openshift. It has deployed Palo Alto Networks Prisma Cloud Compute protection and a 5G New Radio (NR) cellular transmission system from Huawei. Telenor said its 5G standalone (SA) trial using commercially available components proves that a multi-vendor environment is possible.
Note 1. Telenor Group is a Norwegian majority state-owned multinational telecommunications company headquartered at Fornebu in Bærum, close to Oslo, Norway.
The Palo Alto Networks Next Generation Firewall is being used to securing internet connectivity for mobile devices, said Telenor. Red Hat's Ansible Platform is being used as a scalable automation system, and Emblasoft is providing automated network testing capabilities. The Norwegian Armed Forces have tested Security as a Service enabled by the multi-vendor set-up, it added.
Patrick Waldemar, vice president and head of technology at Telenor Research, said:
"The main component of 5G-SA is the 5G mobile core, the 'brain' of the 5G system. Unfortunately, most 5G core deployments are still single vendor dependent, with strong dependencies on that vendor's underlying proprietary architecture. This single-vendor dependency can be a killer for innovation. It restricts open collaboration from the broader 5G ecosystem of companies developing new technology, use cases, and services that the market expects."
"To protect the 5G infrastructure from cyber threats, we deployed Palo Alto Networks Prisma Cloud Compute, and their Next Generation Firewall is also securing Internet connectivity for mobile devices. Red Hat Ansible Automation Platform is being used as a scalable automation system, while Emblasoft is providing automated network testing capabilities. The 5G New Radio (NR) is from Huawei," says Waldemar.
Telenor's 5G-SA trial, with commercially available components, demonstrates that a truly multi-vendor environment is possible.  However, this author has doubts that a multi-vendor 5G SA core network will go into production anytime soon.
"We believes that such a multi-vendor environment will stimulate innovation, reduce cost of the infrastructure, increase competition and accelerate the development of an open 5G-ecosystem which in turn will enable a range of new services for Telenor's consumers, industry and government customers," says Waldemar.
……………………………………………………………………………………………………………………………………..
Heavy Reading Survey:
One of the key choices for a 5G cloud native core network  is between infrastructure-as-a-service (IaaS) and platform-as-a-service (PaaS).
A Heavy Reading "Cloud-Native 5G Core Operator Survey" published in March 2021 identifies a preference for an IaaS model (45%) over PaaS (32%) and vendor-integrated full stack (23%). Larger operators, however, prefer PaaS.
Respondents working for operators with revenue of more than $5 billion annually are somewhat more likely to select PaaS, with a score of 44% versus 41% for IaaS and 16% for the vendor full stack. Conversely, respondents working for operators with revenue of less than $5 billion reported a score 23% for PaaS, 49% for IaaS and 28% for the vendor full stack. This difference reflects corporate cloud technology strategies and, to some extent, the internal capabilities of the operator's technology team.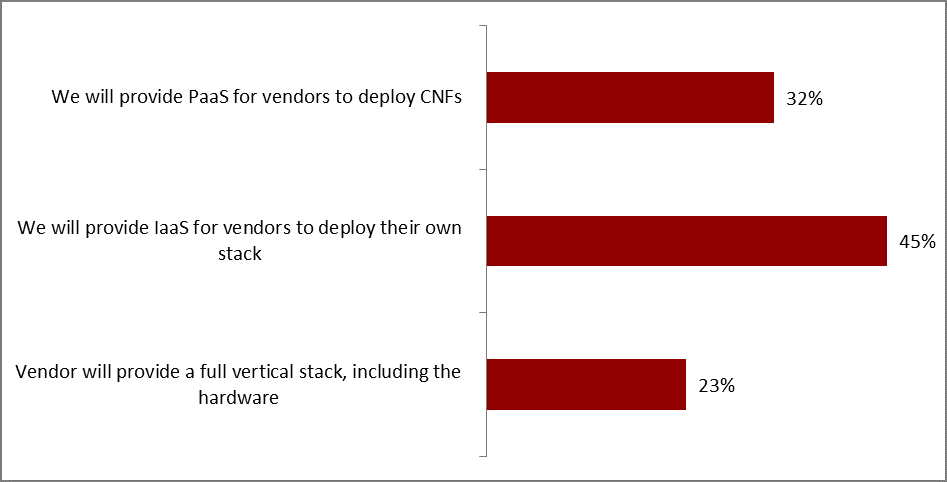 Source:  Heavy Reading
The overall picture, according to the survey, is that both PaaS and IaaS models are likely to be used over the near and medium terms. This accords with Heavy Reading's understanding that both models are already in use, in production, for 5G core. Nevertheless, Heavy Reading expect the PaaS model and the container as a service (CaaS) variant to prevail over the longer term, especially as 5G core workloads move closer to the edge.
For more information contact:
Stian Kristoffer Sande, Communication Manager, Telenor Group [email protected]
References:
https://www.telenor.com/media/announcement/groundbreaking-5g-solution-paves-the-way-for-new-digital-services
https://www.telecompaper.com/news/telenor-runs-5g-sa-trial-of-multi-vendor-core-on-red-hat–1380126
https://www.lightreading.com/5g/cloud-infrastructure-for-5g-core/a/d-id/768873?
---