Despite the severe U.S. restrictions on Huawei, the company has succeeded in taking the top spot in the global smartphone market, according to figures from Canalys. The market research firm estimates Huawei shipped more smartphones worldwide than any other vendor for the first time in Q2 2020, marking the first quarter in nine years that a company other than Samsung or Apple led the market.
Note, however, that global smartphone sales DECLINED in the second quarter. Huawei shipped an estimated 55.8 million devices in the quarter, down 5 percent year on year. Samsung came second with 53.7 million smartphones, down 30 percent from a year earlier.
Huawei's resilience was due to its strong position in China, where its shipments rose 8 percent in Q2. This offset an estimated 27 percent fall in its shipments abroad. Canalys estimates over 70 percent of Huawei's smartphone sales are now in mainland China.  That helps explains why the company can be so successful in selling smartphones, despite not being able to use licensed Google Android and associated apps on its latest flagship devices (that's because Huawei was placed on the U.S. Entity list last year).
Canalys said the situation would likely not have happened without the Covid-19 pandemic. Huawei profited from the strong recovery in the Chinese economy, while Samsung has a very small presence in China, with less than 1 percent market share, and suffered from the restrictions in key markets such as the US, India, Brazil and Europe.
"This is a remarkable result that few people would have predicted a year ago," said Canalys Senior Analyst Ben Stanton. "If it wasn't for COVID-19, it wouldn't have happened. Huawei has taken full advantage of the Chinese economic recovery to reignite its smartphone business. Samsung has a very small presence in China, with less than 1% market share, and has seen its core markets, such as Brazil, India, the United States and Europe, ravaged by outbreaks and subsequent lockdowns."
"Taking first place is very important for Huawei," said Canalys Analyst Mo Jia. "It is desperate to showcase its brand strength to domestic consumers, component suppliers and developers. It needs to convince them to invest, and will broadcast the message of its success far and wide in the coming months. But it will be hard for Huawei to maintain its lead in the long term. Its major channel partners in key regions, such as Europe, are increasingly wary of ranging Huawei devices, taking on fewer models, and bringing in new brands to reduce risk. Strength in China alone will not be enough to sustain Huawei at the top once the global economy starts to recover."
As a result, it will be hard for Huawei to maintain its lead in the long term. Its major channel partners in key regions such as Europe are increasingly wary of stocking Huawei devices, taking on fewer models and bringing in new brands to reduce risk, as per the above Canalys quote from analyst Mo Jia.
Separately, Gartner estimates that 10% of smartphone shipments, or about 220 million units in 2020, will have 5G capability, but they'll work on "5G" networks with a LTE core (5G NSA).
…………………………………………………………………………………………………………………………………
Addendum:
Huawei's just announced global licensing agreement with Qualcomm grants Huawei back rights to some of the San Diego-based company's patents effective Jan. 1, 2020. It remains to be seen if Huawei will design smartphone components that use those patents in their next generation of 5G endpoint devices.
………………………………………………………………………………………………………………………………….
References:
https://www.canalys.com/newsroom/Canalys-huawei-samsung-worldwide-smartphone-market-q2-2020
https://www.cnbc.com/2018/11/16/huawei-aims-to-overtake-samsung-as-no-1-smartphone-player-by-2020.html
………………………………………………………………………………………………………………………………………
Update- August 3, 2020:
According to market research firm Omdia, overall Q2-2020 smartphone shipment volume was down a hefty 15.7%, year-on-year, to 229.7 million units.
Samsung will certainly hope there are better times ahead. Omdia figures show the South Korean behemoth lost its #1 position in Q2, dislodged by Huawei.  Samsung's Q2 shipments plummeted nearly 28%, year-on-year, to 54.3 million.
Many of Samsung's most important markets, were significantly impacted by COVID-19, especially emerging markets, which apparently accounted for more than 70% of Samsung's overall shipments in 2019.
For its part, Samsung is hopeful of a Q3 smartphone recovery, helped by the launch of new flagship models, including the Galaxy Note and a new foldable phone.
Huawei, helped by a resurgent domestic market in China, snagged a 20% global smartphone share during Q2 (55.8 million units), up from an 18% market share the previous quarter. Year-on-year, Huawei's Q2 shipment units were down a comparatively modest 4.9%.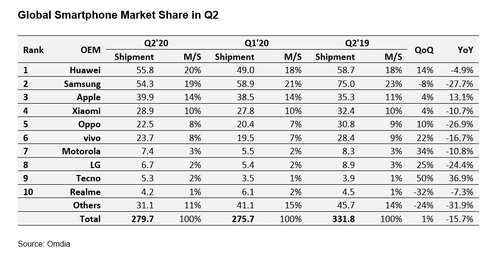 Apple was one of the few OEMs to increase Q2 shipment volumes, year-on-year (up 13.1%, to 39.9 million units).  The iPhone SE, a model with mid-range pricing, coupled with the iPhone 11, helped Apple expand its unit shipments, and cement its third-spot position with a market share of 14% (up from 11% in Q2 2019).
"With the launch of the iPhone SE in April, Apple has released a long-desired product, with an attractive price," said Jusy Hong, director of smartphone research at Omdia.
"For existing iPhone users who needed to upgrade their smartphones in the second quarter, the new SE represented an affordable option that does not require a large downpayment or high monthly repayment rates," added Hong.
Reference:
https://www.lightreading.com/huawei-apple-buck-q2-smartphone-trends—report/d/d-id/762886?
The Wall Street Journal reported late yesterday that Apple is in advanced talks to buy Intel's abandoned smartphone modem business for $1 billion, saying  that a deal encompassing patents and staff could be announced as early as next week.
Intel announced this past April it was exiting the 5G (and 4G LTE) modem chip business earlier this year after Apple reached a surprise settlement with Qualcomm that would see Apple once again return to using Qualcomm's modems in its phones. Intel CEO Bob Swan went on to clarify that Intel had abandoned the modem chip business directly because of the Apple settlement — without Apple as a customer, the company concluded that it "just didn't see a path" forward.
The deal would give Apple access to engineering work and talent behind Intel's years long push to develop modem chips for 4G LTE and the crucial next generation of wireless technology known as 5G, potentially saving years of development work. Apple has been working to develop chips to further differentiate its devices as smartphone sales plateau globally, squeezing the iPhone business that has long underpinned its profit. It has hired engineers, including some from Intel, and announced plans for an office of 1,200 employees in San Diego.
For Intel's part, a deal would allow the company to shed a business that had been weighing on its bottom line: The smartphone operation had been losing about $1 billion annually, a person familiar with its performance has said, and has generally failed to live up to expectations. Though it would exit the smartphone business, Intel plans to continue to work on 5G technology for other connected devices.
Intel and Apple have been in off- and on-again talks for about a year. They broke down around the time Apple reached a multiyear supply agreement for modems with Intel rival Qualcomm Inc., The Wall Street Journal reported in April.
Intel had cast a wider net for buyers then and received expressions of interest from a number of parties, but the talks with Apple—long seen as the most-logical buyer—soon resumed.
Neither Intel or Apple sent a delegate to the recently completed ITU-R WP5D Technology Aspects WG meeting where IMT 2020 RIT/SRIT candidate technologies were progressed.
The Apple-Intel discussions began last summer, around the time former Intel Chief Executive Brian Krzanich resigned, people familiar with the matter have said. Mr. Krzanich championed the modem business and touted 5G technology as a significant future revenue stream. When Bob Swan was named to that job in January, analysts said the odds of a deal rose because his focus on cleaning up Intel would require addressing the losses in the modem business.
Intel is the latest Apple supplier to exit a business after the iPhone maker moved to develop components in-house. Late last year, Apple agreed to a $600 million deal to acquire 300 engineers and facilities from Dialog Semiconductor PLC as the company increasingly develops the battery-management chips Dialog had supplied.
Apple has been reluctant to cut big deals in the past, preferring to acquire about 15 to 20 small companies annually that have technology it can easily integrate. But with the slowdown in its iPhone business, the company has become more open to bigger deals. It has been spending its giant cash reserves on share buybacks and dividends (AKA financial engineering).  But the iconic company still has a substantial war chest, with $113 billion of cash after debt as of March 30th. Its largest deal to date remains the $3 billion acquisition of Beats Electronics LLC in 2014.
Here's a timeline of Intel's rocky relationship with Apple for the iPhone:
2007 — 2016: Qualcomm was Apple's go-to modem provider.
2016 — April 2019: Apple put its arm around Intel, hoping it could offer the same chips as Qualcomm for a lower price.
April 16, 2019: Apple begrudgingly settled lawsuits with Qualcomm, and agreed to use its chips again for at least 6 years.
Also April 16, 2019: Since Apple broke up with it, Intel announced it was done with smartphone modems.
Key Takeaways:
After the Apple / Qualcomm deal, Intel reportedly began searching for a buyer for its modem business. Apple makes a lot of sense as a buyer. Prior to Apple and Qualcomm settling, Intel became the sole third-party modem provider for the 2018 models of the iPhone. And Apple has long been Intel's only major customer for modems — nearly every other major Android phone relies on either Qualcomm or in-house solutions.
If Apple is able to effectively use Intel's patents, research, and engineers into a functioning 5G chip assembly line, Qualcomm will lose the power it has over the iPhone. If not, there won't be any competition and Qualcomm will keep charging high prices for 5G chipsets.  Qualcomm is the only chip company to date that is able to offer modem chips for 5G phones, so Apple has no choice but to work with them unless it acquires Intel's 5G modem chip business.
Executive Summary:
Apple has written to the Federal Communications Commission (FCC) asking the agency to leave certain frequencies unlicensed or shared as it tests 95 GHz to 3,000 GHz wireless technology. A major part of this "5G" testing is working on millimeter wave radio spectrum, which was traditionally reserved for larger devices, such as radars, satellites and airport security scanners.  One year ago, we wrote that Apple would be testing millimeter wave technology in controlled facilities in Cupertino and Milpitas, California.  This is a follow up to that blog post
…………………………………………………………………………………………………………
NOTE that millimeter wave spectrum has yet to be added to the IMT 2020 permitted frequencies.  Here's the current status and future direction for IMT 2020 and "5G" spectrum:
The World Radiocommunication Conference 2015 (WRC-15) paved the way for the future development of IMT on higher frequency bands by identifying several frequencies for study within the 24.25-86 GHz range for possible identification for IMT under Agenda Item 1.13 of WRC-19 (see below).
The 24.25-27.5 and 37-43.5 GHz bands are prioritized within the ongoing ITU-R work in preparation for WRC-19 agenda item 1.13.  All geographical regions and countries are recommended to support the identification of these two bands for IMT during WRC-19 and should aim to harmonise technical conditions for use of these frequencies in 5G.
The frequency band of 27.5-29.5 GHz, though not included in the WRC-19 Agenda Item 1.13, is being considered for "5G" in the USA, South Korea and Japan, according to Huawei.
The first solid list of IMT 2020 frequencies will be set at the WRC-19 – World Radio Conference meeting- 28 October to 22 November 2019 in Sharm El Sheikh, Egypt.
To date, the most definitive document approved by ITU-R for IMT 2020 has been: Minimum requirements related to technical performance for IMT-2020 radio interface(s)
…………………………………………………………………………………………………………..
Backgrounder:
Until recently, consumer products did not use millimeter wave radio spectrum, which the FCC allocated to large devices such as satellites, radars, and airport security scanners. Over time, however, technology companies found that the millimeter wave spectrum could be used to radically improve mobile devices' data speeds.
Starting this year, "5G" fixed broadband access products (which have nothing to do with the forthcoming IMT 2020 standard for real "5G") will begin to use radios operating in the 24GHz to 29GHz range, radically increasing data bandwidth over short distances.  Non-cellular wireless technologies such as next-generation Wi-Fi or Bluetooth could conceivably occupy other frequencies.
Details:
In a recent letter to the FCC,  Apple requested the agency to leave substantial portions of the ultra-high-frequency radio spectrum unlicensed or shared — a so called "light touch" to "5G" regulation.  That suggests the iPhone king is already considering potential applications of 95GHz to 3,000GHz wireless technology,
The Apple-FCC letter is focused on even higher-frequency spectrum. Specifically, the company says that the commission needs to avoid making the mistakes of prematurely or narrowly licensing radio frequencies above 95GHz, as researchers are already looking at 120GHz to 260GHz and 275GHz to 450GHz ranges for "high-speed, short range" purposes. The concern is that the FCC will sell licenses to small stripes of spectrum now, then have to claw them back later once technology companies determine their best uses — a situation that just played out with 5G millimeter wave licenses, with billions of dollars in consequences.
"Apple supports the Commission's proposal for experimental licensing in the bands above 95 GHz and believes that adopting this flexible model will help to spur innovation in the band," the company said in a May 2 letter, signed by Mark Neumann, a senior engineer at Apple.
"As the band is still largely greenfield, this is a rare opportunity to allow for freedom of exploration that does not exist in other bands and advantage should be taken," Apple continued.
Apple told the FCC it favored a "light regulatory touch" that would leave a greater share of the spectrum unlicensed, and open for anyone to use.  Apple's comments were in response to the FCC's request seeking comments on how to regulate the high-bandwidth wireless spectrum, often referred to as "super high" spectrum. Apple believes that the current approach to regulation is too far in favor of established, licensed technologies, instead of emerging uses that a company like Apple might be interested in.
Apple offered the FCC two key suggestions to prepare for next-generation wireless technologies. First, it says the FCC should "increase the fraction of the spectrum that it opens to unlicensed spectrum" (including licensed-unlicensed spectrum sharing), rather than heavily preferring licensed technologies, as is the case today. Second, it suggests that the FCC increase the size of unlicensed bands beyond the "too narrow" 1GHz to 7GHz currently proposed, permitting more space for upcoming devices to aggregate spectrum for massive bandwidth. "Very wide bandwidth operations" would call for "20 gigahertz or more to function optimally," Apple notes, and could have benefits for "environmental protection, human safety, and manufacturing."
What is this spectrum good for?
Currently, the frequencies that Apple is commenting on are unused — or "greenfield," as Apple puts it.  But that doesn't mean that there aren't many different scientists and industry researchers who are starting to come up with ideas for those frequencies.  The big advantage to millimeter wave is that it can achieve very high data rates, with much more bandwidth than current cellular networks.
"As Apple says in its filing no one really knows what's going to happen with that very high spectrum. But since something will someday it's time to create a mechanism to use it. Maybe not Apple's preferred unlicensed mechanism," wireless consultant Steve Crowley told Business Insider in an email. "Regulation takes time, the standardization process takes time, product development takes time. It doesn't hurt to take the first step."
The FCC took that first step earlier this year, by filing a notice inviting comment on its proposed rules, which is what Apple responded to. "Now, I realize that some are skeptical that this spectrum can be used productively," said FCC Chairman Ajit Pai in a statement earlier this year. "But the skeptics have been proven wrong before," Pai added.
The more spectrum that remains unlicensed, the more likely it is that Apple can experiment in those radio frequencies and build them into its future products. The spectrum used by cellular networks is licensed, for example, but Wi-Fi uses unlicensed spectrum, which enabled Apple to use it in innovative ways, such as for wireless speakers and network syncing.
The FCC also makes money by auctioning licenses to specific bands of spectrum. And if FCC declares that  a new slice of spectrum is unlicensed, that means Apple can access it for free.  The question remains what it could be used for.  One possibility is to use those frequencies for infrastructure to enable "5G" or for fixed broadband access.
"I'd expect first uses of bands 95 GHz and above to be used for 5G small cell backhaul — interconnecting the millimeter wave cells connecting handsets, and fixed users, below 95 GHz," Crowley told Business Insider. "Currently, bands under study (by whom?) include the so-called W-band (92-114 GHz) and D-band (130-175 GHz)," Crowley added.
Apple's interest in millimeter wave:
Apple devices currently use Intel and Qualcomm modem chip sets to connect to cellular networks. The referenced FCC filing is only the latest sign that Apple is currently experimenting with millimeter wave technologies, which are expected to be a big part of "5G" networks, even if not used for mobile broadband access (see opinions above and below).
Apple has been testing millimeter wave technology in Cupertino, California since last May on the 28 GHz and 39 GHz, bands that are lower than the ultra-high spectrum Apple commented on.  Earlier this year, Apple applied to make both of its Cupertino, CA headquarters into "innovation zones" which would enable it to run tests more easily without regulatory headaches and applications.
Apple devices access spectrum in numerous licensed and unlicensed frequency bands. For example, iPhones use spectrum ranging from 13 megahertz (contactless payments via Apple Pay) to 5 gigahertz (802.11ac Wi-Fi with MIMO) and support more than 18 different LTE bands," according to the Apple application, which was also signed by Neumann, the senior Apple engineer.
Last month, Apple pulled a job listing off of its site for a "mmWave IC design engineer," which suggested it planned to build chips to work on 5G networks. Currently, Apple buys its modems from Qualcomm and Intel.
Experts have said that millimeter wave "might wind up being a kind of middle mile technology, connecting small cells which in turn connect to our phones or big ticket items like buses and home modem."  Also, "This could be could be part of a wider system that Apple are working on in order to be able to serve more different devices perhaps expanding their own router system with millimeter wave."
Apple CEO Tim Cook has said that Apple wants to own all of its core technologies— and that likely includes the modem chips that connect Apple devices to networks like those operated by Verizon and AT&T. But even if that's not part of Apple's plans, the company clearly wants to understand these extremely high frequencies well.
………………………………………………………………………………………………………
Opinion of Venture Beat:
It's unlikely that Apple will actually use spectrum in the 95GHz to 3,000GHz range for consumer products anytime soon, but the fact that it's even considering the future of next-generation and next-next-generation wireless right now is quite interesting — a hint that its planning horizon is closer to a decade or two than a year or two ahead of current trends.
Reference:
Alan's comment:
To its credit, Apple is one of very few technology companies to have made no public commitments regarding impending 5G technology.  Perhaps they will wait till all the hype, spin and nonsense fades into the background.
---