Internet2, a non-profit, member-driven advanced technology community, selected CenturyLink to provide the fiber network and related professional services for the technology community's network infrastructure.  Contractual fiber-use agreements extend through at least 2042.
The forthcoming Internet2 network will use the company's low-loss optical fiber for the majority of its footprint.  CenturyLink's optical fiber is ITU-T G.652.D compliant and designed to be optimized for high bit rate coherent systems using advanced modulation schemes supporting 100G and above. Internet2 also chose CenturyLink to provide the professional services to migrate to the new platform, which will be equipped with a flex-grid open-line system from Ciena.
"We believe the combination of the most advanced fiber from CenturyLink with the latest coherent transmission technologies from Ciena provides enormous opportunities to enable research and academic pursuits in the United States," said Rob Vietzke, vice president of network services for Internet2, in a prepared statement.
"Whether it is tracking the origins of Neutrinos in the Antarctic, comparing gene sequences or studying the climate, this new optical network, with its ability to span very long distances at very high bandwidths [with] improved efficiency, is essential to providing the best research infrastructure for data-intensive science on the globe."
Map of Internet2® Network Advanced Layer 1 Service, December 2019 (Source: CenturyLink) – Image courtesy of Matthew Wilson 
……………………………………………………………………………………………………….
Internet2's core infrastructure components include the nation's largest and fastest research and education network. The network currently connects 321 U.S. universities, 60 government agencies, 43 regional and state education networks and through them supports more than 100,000 community anchor institutions, among others.
"One of America's leading research and education organizations (Internet2) placed its trust in CenturyLink to upgrade its network to a high-speed, high-capacity, fiber-optic network that will support today's leading-edge research projects," said Sonia Ramsey, CenturyLink's vice president for the state and local government and education market. "Internet2's selection of CenturyLink recognizes the company's long-standing relationship with the research and education community and our commitment to meet the community's ever-increasing advanced technology needs," she added.
CenturyLink recently overpulled a large portion of its national fiber footprint and also realigned amplifier spacing to create more efficient resources for optimized optical networks. Internet2 will migrate its segments to the new fiber on all available segments and continue to work with CenturyLink to migrate the remaining segments as their build-out continues.
With the low-loss optical fiber and the upgraded optronics kit, Internet2 will have the ability to reach anywhere on its domestic footprint with an unregenerated wavelength of up to 200G. Many high-use spans on Internet2's Network will also support 400G and 800G wavelengths with existing technologies and higher bitrates are expected in the coming years as new DSP technology comes into production. Internet2 has been able to achieve unregenerated spans without employing Raman amplification, a reduction in complexity and improved efficiency both at installation and for ongoing operations.
…………………………………………………………………………………………………..
About Internet2:
Internet2® is a non-profit, member-driven advanced technology community founded by the nation's leading higher education institutions in 1996. Internet2 serves 321 U.S. universities, 60 government agencies, 43 regional and state education networks and through them supports more than 100,000 community anchor institutions, over 1,000 InCommon participants, 56 leading corporations working with our community, and 70 national research and education network partners that represent more than 100 countries.
Internet2 delivers a diverse portfolio of technology solutions that leverages, integrates, and amplifies the strengths of its members and helps support their educational, research and community service missions. Internet2's core infrastructure components include the nation's largest and fastest research and education network that was built to deliver advanced, customized services that are accessed and secured by the community-developed trust and identity framework.
Internet2 offices are located in Ann Arbor, Mich.; Denver, Colo.; Washington, D.C.; and West Hartford, Conn. For more information, visit www.internet2.edu or follow @Internet2 on Twitter.
About CenturyLink:
CenturyLink is a technology leader delivering hybrid networking, cloud connectivity, and security solutions to customers around the world. Through its extensive global fiber network, CenturyLink provides secure and reliable services to meet the growing digital demands of businesses and consumers. CenturyLink strives to be the trusted connection to the networked world and is focused on delivering technology that enhances the customer experience. Learn more at http://news.centurylink.com/.
Media Contact
Sara Aly, Internet2
[email protected]
References:
http://news.centurylink.com/2019-12-17-Internet2-Selects-CenturyLinks-Advanced-Optical-Fiber-and-Professional-Services-to-Maximize-Research-and-Education-Network-Performance
by Cignal AI staff
Overview:
Cloud and colocation (colo) operator spending on optical communications hardware continued to spur market growth in the first quarter of 2019, according to the most recent Optical Customer Markets Report from research firm Cignal AI. Cloud and colo spending increased over 50% in North America, offsetting declines in other regions, with Ciena continuing to lead all sales to cloud operators.
In EMEA, traditional telco (incumbent and wholesale network operators) optical spending recovered and will grow by double digits during 2019. Spending growth by these operators is slowing in APAC as total spending reaches record highs. Huawei continues to lead this market in APAC, EMEA, and CALA, while Ciena leads in North America.
"Optical spending in North America continues to shift from traditional telco providers to the cloud and colo operators," said Scott Wilkinson, Lead Analyst for Optical Hardware at Cignal AI. "Despite traditional telco operators accounting for most spending, the rapid growth in cloud spending combined with traditional operators now adopting cloud architectures has permanently changed supplier R&D priorities."
The Cignal AI Optical Customer Markets Report is issued quarterly and quantifies optical equipment sales to five key customer markets: Incumbent, Wholesale, Cloud and Colo, Cable/MSO, and Enterprise and Government.
The latest report is now enhanced and includes optical equipment vendor market share for all customer markets as well as updated forecasts through 2023.
Additional findings in the 1Q19 Optical Customer Markets Report include:
Ciena Waveserver Ai market share continues to increase as cloud & colo spending grows. New compact modular platforms targeted at this market are entering the market in 2Q19 with Cisco, Infinera, and Nokia among those expecting stronger sales in the next quarter.
North American cable/MSO spending declined in the first quarter. However, moderate growth is still expected in 2019.
Enterprise and Government spending shows pressure from consolidation and Cloud and Colo encroachment and isn't expected to recover in the next two years.
About the Optical Customer Markets Report:
The Cignal AI Optical Customer Markets Report tracks optical equipment spending by end customer market type. It provides forecasts based on expected spending trends by regional basis. The report includes revenue-based market size and share for all end customer markets across all regions.
Vendors examined include Adtran, ADVA, Ciena, Cisco, ECI, Ekinops, Fiberhome, Fujitsu Networks, Huawei, Infinera, Juniper Networks, Mitsubishi Electric, MRV, NEC, Nokia, Padtec, TE Conn, Tejas Networks, Xtera and ZTE.
………………………………………………………………………………………….
About Cignal AI:
Cignal AI provides active and insightful market research for the networking component and equipment market and the market's end customers. Our work blends expertise from a variety of disciplines to create a uniquely informed perspective on the evolution of networking communications.
To purchase the report contact:  [email protected]
……………………………………………………………………………………………
July 25, 2019 Update-CignalAI comments on Cisco-Acacia:
Two weeks ago, Cisco announced it was acquiring Acacia, a move that could transform the company into a market leader in a new era of pluggable coherent optics and disaggregated networks. Cisco was already a growing customer for Acacia and was poised to be one of the leading consumers of Acacia's AC1200 module that is now reaching the market. Between Cisco's previous Luxtera acquisition for short-reach optical technology and its current addition of Acacia for long reach coherent, the company will have deep vertical integration.
Compact modular optical hardware is being used in more network applications than ever before, driving up sales during the first quarter of 2019 as reported in the latest Optical Applications Report. Worldwide, compact modular hardware sales are tracking to exceed $1 billion in revenue this year.
………………………………………………………………………………………………………..
Separately, CenturyLink says it has completed the first of a two-phase build out that will see its fiber-optic networks in the U.S. and Europe grow by 4.7 million fiber miles. The new fiber infrastructure leverages ultra-low-loss fiber from Corning (NYSE: GLW) and will support businesses, government agencies, and other service providers who want access to fiber.
The first phase, completed in June, addressed CenturyLink's U.S. requirements and connected more than 50 cities via 3.5 million new fiber miles. The European work, slated to finish in the first part of 2021, will see 1.2 million fiber miles installed. Both deployments leverage CenturyLink's multi-conduit infrastructure, which the company says enables quick and economical fiber deploy and capacity expansion.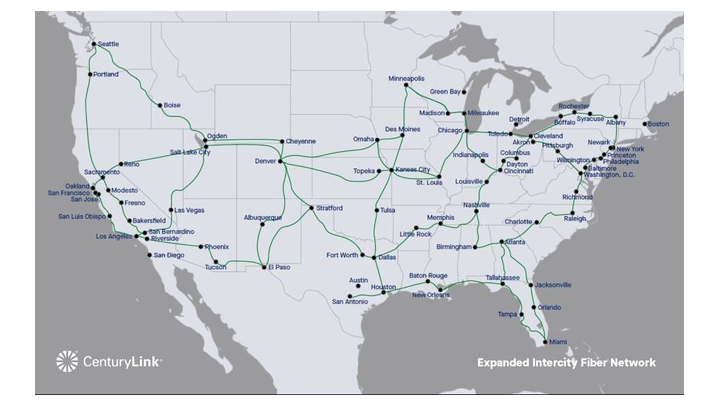 CenturyLink's expanded fiber network connects more than 50 locations in the U.S. Image courtesy of Century Link
……………………………………………………………………………………………………
"Our newly built intercity fiber network, created with the latest optical technology, is another example of how our diverse fiber assets differentiate us from other network providers," said Andrew Dugan, CenturyLink chief technology officer. "Our multi-conduit infrastructure has a significant amount of capacity for supporting the growing demand for fiber and will allow us to quickly and cost effectively deploy new fiber technology now and in the future. This uniquely positions CenturyLink to meet the needs of companies seeking highly reliable, low-latency network infrastructure designed to move massive amounts of data."
CenturyLink was able to quickly and cost effectively complete the first phase of the project using multi-conduit infrastructure already in place. The company is currently selling routes to large enterprise companies and content providers in the U.S. and will work with customers to add additional routes as needed.
Key Facts:
CenturyLink is creating an extensive 4.7-million fiber mile intercity fiber network across the U.S. and parts of 

Europe

.
The first phase, comprising 3.5 million fiber miles, was completed in June. An additional 1.2 million fiber miles will be added by early 2021.
CenturyLink is currently selling fiber routes to large enterprise companies and content providers in the U.S.
Multi-conduit infrastructure allows CenturyLink to quickly and economically deploy new fiber technology or add network capacity as needed.
The investments in the first phase of the fiber upgrade are included in CenturyLink's full year 2019 capital expenditure outlook.
The expanded fiber network utilizes Corning's SMF-28® ULL fiber and SMF-28® Ultra fiber, creating the largest ultra-low-loss fiber network in 

North America

.
References:
http://news.centurylink.com/2019-07-23-CenturyLink-Expands-Fiber-Network-Across-U-S-and-Europe
https://www.lightwaveonline.com/network-design/high-speed-networks/article/14036681/centurylink-adding-47-million-fiber-miles-to-us-european-fiberoptic-networks
---