Adtran®, Inc., a leading provider of open and disaggregated networking solutions, today announced that its latest coherent innovation is being showcased at OFC 2023, as part of OFCnet. The demo reveals how the Adtran FSP 3000 open line system (OLS) can bring new levels of flexibility to optical networks by enabling optimized, tailored spectrum services. In collaboration with Acacia, Cisco, Coherent Corp., Corning, EXFO, Nokia and VIAVI Solutions, Adtran will showcase 100ZR, 200Gbit/s, 400Gbit/s OpenZR+ and 800Gbit/s connectivity. The FSP 3000 DCI OLS is also playing a key role in the OIF 400ZR demo at OFC.
"Our demo shows how the spectrum-as-a-service concept has the potential to revolutionize the way operators utilize their fiber resources. It highlights how it's possible to slice up the network even in a metro environment. With fully flexible spectrum allocation, operators can provide a wide variety of differentiated services and ensure they leverage the full capacity of their infrastructure. Not only will this help tackle ever-increasing data demand, but it also offers a new route to revenue growth. Our compact FSP 3000 OLS is the key to realizing the full benefits of this open and flexible approach. It removes the limits of fixed channel grids so that untapped spectrum can be put to work,"  said Jörg-Peter Elbers, head of advanced technology at Adtran.
…………………………………………………………………………………………………………………………..
Adtran also demonstrated its QSFP28 pluggable Coherent 100ZR [1.], which provides 100G coherent edge network connectivity. There was a live display of a 100ZR QSFP28 pluggable operating over a DWDM metro ring.  The objective was to show how fiber based network operators can benefit from efficient and cost-effective deployment of coherent 100Gbit/s services with minimal power consumption and low footprint increase. The trial uses the multi-vendor OFCnet network setup with equipment at the Adtran booth as well as the Coherent and OFCnet booths.
Note 1.  In June 2022, transceiver developer II‐VI Incorporated (now Coherent Corp.) and optical networking solutions provider ADVA (now owned by Adtran) announced the launch of the industry's first 100ZR pluggable coherent transceiver.  A recently released Heavy Reading survey (see pie chart below) revealed that over 75% of network operators surveyed believe that 100G coherent pluggable optics will be used extensively in their edge and access evolution strategy. However, this interest had not really materialized into a 100ZR market because no affordable or power-efficient products were available. The most the industry could offer was 400ZR pluggables that were "powered-down" for 100G capacity.
……………………………………………………………………………………………………………………………………………………………………………………………………..
Adtran's Coherent 100ZR is purpose-built for the optical network edge. With its QSFP28 form factor and power specification, it enables easy and cost-effective upgrades to 100Gb/s data rates by plugging directly into existing head-ends, switches and routers. Co-developed by Adtran and Coherent, the DSP offers a range of deployment options, from local exchanges and central offices to harsh outdoor conditions such as street cabinets. These benefits are achieved thanks to the transceiver's features, which include a cost-, space- and power-optimized DSP specifically engineered for 100ZR. Adtran is also developing low-power silicon photonics integrated circuits that will enable faster and more energy-efficient solutions across a wide range of applications.
Quotes:
Saeid Aramideh, VP of Business Development at Optical Engines, Adtran said: "This demo is a significant milestone for network operators looking to expand their business capabilities. It highlights how our Coherent 100ZR can be easily and affordably integrated into a metro aggregation network, eliminating the need for costly infrastructure changes. This showcase reveals a valuable solution for operators seeking to support higher data rates at the network edge and highlights the potential for widespread adoption of 100Gbit/s coherent technology. We can't wait to bring these benefits to our customers."
Ross Saunders, GM of Optical Engines, Adtran said: "The technology we're showcasing here will be a game-changer for service providers. It offers the ability to easily deploy coherent 100Gbit/s connectivity with compact footprint and lowest power consumption. By bringing coherent technology to the optical edge, we're providing operators with a cost-efficient solution to upgrade edge aggregation networks to 100Gbit/s. Our Coherent 100ZR will also boost sustainability by lowering our customers' carbon footprint. What's more, it offers a way to deliver an improved experience for end-users by supporting higher data rates and improved service reliability."
…………………………………………………………………………………………………………………………………………….
According to a recent Heavy Reading survey, 75% of operators believe that 100G coherent pluggable optics will be used extensively in their edge and access evolution strategy. However, market adoption has yet to materialize since affordable and power-efficient 100ZR-based products are currently not available due to stringent size and power consumption requirements that cannot be fulfilled by today's tunable laser solutions.
Distribution of responses to a Heavy Reading survey question: How important are 100G coherent pluggable optics for your edge/access evolution strategy? The sample was composed of 87 people who work for network operators worldwide and are involved in network planning or purchasing network equipment.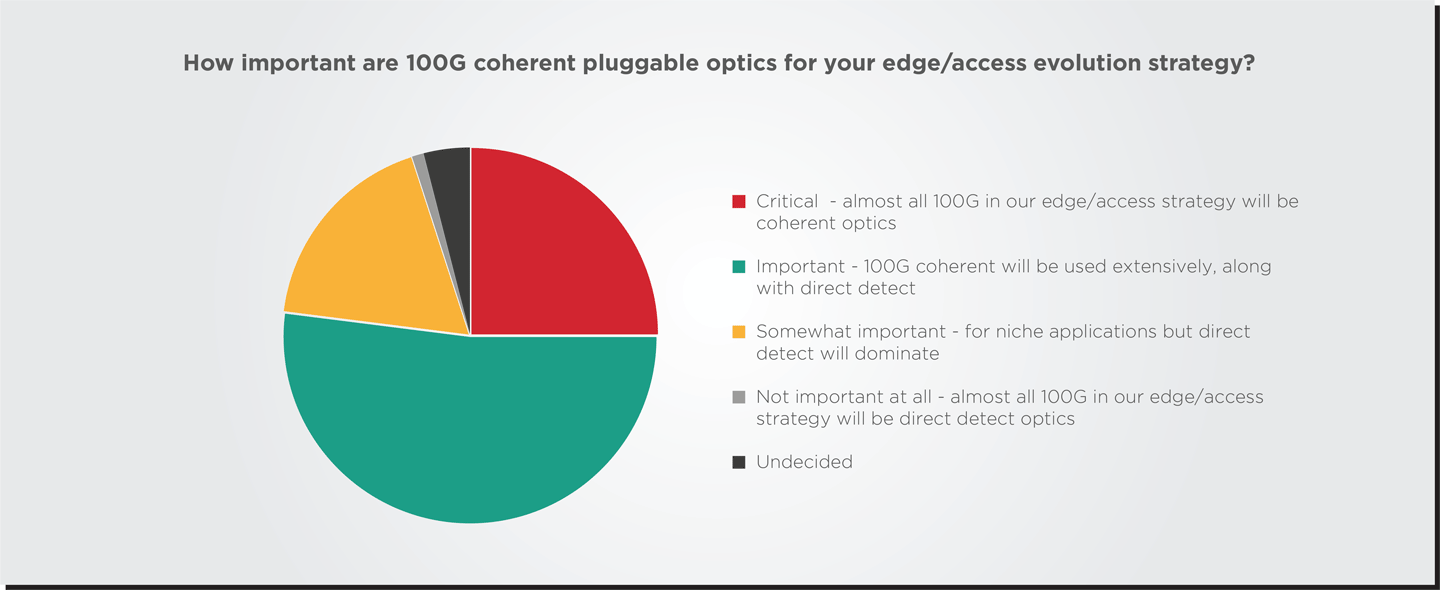 Source: Heavy Reading
References:
https://www.adtran.com/en/newsroom/press-releases/20230307-adtran-brings-its-latest-coherent-innovation-to-ofcnet-multi-vendor-demo
https://www.fibre-systems.com/news/ofc-2023-adtran-demonstrates-coherent-100zr-qsfp28
---