Adtran today announced that Openreach, the UK's largest wholesale broadband network, has deployed its FSP 3000 open optical transport technology to enable its new Optical Spectrum Access 100G Single enterprise service.
Openreach's new product offers a dedicated fiber link that empowers more UK businesses to harness point-to-point 100Gbit/s data transport. The solution also brings efficiency benefits that reduce capital and operational expenditure. The latest collaboration builds on more than a decade of successful partnership between Adtran and Openreach.
"Corporate cloud applications and other data-intensive tasks such as data center backhaul are fueling a growing demand for bandwidth. Adtran's scalable optical technology enables us to offer a managed, high-speed service that satisfies that demand at a highly competitive price point," said Simon Williams, head of optical products at Openreach.
"With no filters or amplifiers required, our Optical Spectrum Access 100G Single service offers secure and always-on optical services that can transport enormous amounts of data. We're also making dedicated, uncomplicated and customizable access available in a slimmed-down package that's even easier to manage."
Adtran's FSP 3000 technology is helping Openreach deliver managed 100G connectivity to UK businesses. (Photo: Business Wire)
Openreach's Optical Spectrum Access 100G Single offers a choice of point-to-point Ethernet links at 100Gbit/s or 10 separate channels at 10Gbit/s. Built on Adtran's scalable, open FSP 3000 optical transport technology, the service empowers Openreach to meet the growing demand for data-intensive cloud-based applications. Engineered for operational simplicity, Adtran's compact and highly efficient FSP 3000 platform offers a dedicated fiber link ensuring low latency, consistent service quality and unparalleled network reliability for Openreach's customers.
"Our FSP 3000 technology gives Openreach a powerful optical transport solution that efficiently delivers high-bandwidth services for enterprise customers. Using the Optical Spectrum Access 100G Single service, businesses can now smoothly manage substantial data transfers, even during peak operational hours," commented Stuart Broome, GM of EMEA sales at Adtran. "We have a great track record of partnering with Openreach to advance digital transformation across the UK. It's a relationship based on trust and a shared dedication to deliver for customers. Together, we're providing extra capacity and value for more businesses."
About Adtran:
ADTRAN Holdings, Inc. (NASDAQ: ADTN and FSE: QH9) is the parent company of Adtran, Inc., a leading global provider of open, disaggregated networking and communications solutions that enable voice, data, video and internet communications across any network infrastructure. From the cloud edge to the subscriber edge, Adtran empowers communications service providers around the world to manage and scale services that connect people, places and things. Adtran solutions are used by service providers, private enterprises, government organizations and millions of individual users worldwide. ADTRAN Holdings, Inc. is also the largest shareholder of Adtran Networks SE, formerly ADVA Optical Networking SE. Find more at Adtran, LinkedIn and Twitter.
References:
https://investors.adtran.com/news-and-events/press-release-details/2023/Openreach-expands-Optical-Spectrum-Access-solution-with-100G-service-powered-by-Adtran/default.aspx
Adtran®, Inc., a leading provider of open and disaggregated networking solutions, today announced that its latest coherent innovation is being showcased at OFC 2023, as part of OFCnet. The demo reveals how the Adtran FSP 3000 open line system (OLS) can bring new levels of flexibility to optical networks by enabling optimized, tailored spectrum services. In collaboration with Acacia, Cisco, Coherent Corp., Corning, EXFO, Nokia and VIAVI Solutions, Adtran will showcase 100ZR, 200Gbit/s, 400Gbit/s OpenZR+ and 800Gbit/s connectivity. The FSP 3000 DCI OLS is also playing a key role in the OIF 400ZR demo at OFC.
"Our demo shows how the spectrum-as-a-service concept has the potential to revolutionize the way operators utilize their fiber resources. It highlights how it's possible to slice up the network even in a metro environment. With fully flexible spectrum allocation, operators can provide a wide variety of differentiated services and ensure they leverage the full capacity of their infrastructure. Not only will this help tackle ever-increasing data demand, but it also offers a new route to revenue growth. Our compact FSP 3000 OLS is the key to realizing the full benefits of this open and flexible approach. It removes the limits of fixed channel grids so that untapped spectrum can be put to work,"  said Jörg-Peter Elbers, head of advanced technology at Adtran.
…………………………………………………………………………………………………………………………..
Adtran also demonstrated its QSFP28 pluggable Coherent 100ZR [1.], which provides 100G coherent edge network connectivity. There was a live display of a 100ZR QSFP28 pluggable operating over a DWDM metro ring.  The objective was to show how fiber based network operators can benefit from efficient and cost-effective deployment of coherent 100Gbit/s services with minimal power consumption and low footprint increase. The trial uses the multi-vendor OFCnet network setup with equipment at the Adtran booth as well as the Coherent and OFCnet booths.
Note 1.  In June 2022, transceiver developer II‐VI Incorporated (now Coherent Corp.) and optical networking solutions provider ADVA (now owned by Adtran) announced the launch of the industry's first 100ZR pluggable coherent transceiver.  A recently released Heavy Reading survey (see pie chart below) revealed that over 75% of network operators surveyed believe that 100G coherent pluggable optics will be used extensively in their edge and access evolution strategy. However, this interest had not really materialized into a 100ZR market because no affordable or power-efficient products were available. The most the industry could offer was 400ZR pluggables that were "powered-down" for 100G capacity.
……………………………………………………………………………………………………………………………………………………………………………………………………..
Adtran's Coherent 100ZR is purpose-built for the optical network edge. With its QSFP28 form factor and power specification, it enables easy and cost-effective upgrades to 100Gb/s data rates by plugging directly into existing head-ends, switches and routers. Co-developed by Adtran and Coherent, the DSP offers a range of deployment options, from local exchanges and central offices to harsh outdoor conditions such as street cabinets. These benefits are achieved thanks to the transceiver's features, which include a cost-, space- and power-optimized DSP specifically engineered for 100ZR. Adtran is also developing low-power silicon photonics integrated circuits that will enable faster and more energy-efficient solutions across a wide range of applications.
Quotes:
Saeid Aramideh, VP of Business Development at Optical Engines, Adtran said: "This demo is a significant milestone for network operators looking to expand their business capabilities. It highlights how our Coherent 100ZR can be easily and affordably integrated into a metro aggregation network, eliminating the need for costly infrastructure changes. This showcase reveals a valuable solution for operators seeking to support higher data rates at the network edge and highlights the potential for widespread adoption of 100Gbit/s coherent technology. We can't wait to bring these benefits to our customers."
Ross Saunders, GM of Optical Engines, Adtran said: "The technology we're showcasing here will be a game-changer for service providers. It offers the ability to easily deploy coherent 100Gbit/s connectivity with compact footprint and lowest power consumption. By bringing coherent technology to the optical edge, we're providing operators with a cost-efficient solution to upgrade edge aggregation networks to 100Gbit/s. Our Coherent 100ZR will also boost sustainability by lowering our customers' carbon footprint. What's more, it offers a way to deliver an improved experience for end-users by supporting higher data rates and improved service reliability."
…………………………………………………………………………………………………………………………………………….
According to a recent Heavy Reading survey, 75% of operators believe that 100G coherent pluggable optics will be used extensively in their edge and access evolution strategy. However, market adoption has yet to materialize since affordable and power-efficient 100ZR-based products are currently not available due to stringent size and power consumption requirements that cannot be fulfilled by today's tunable laser solutions.
Distribution of responses to a Heavy Reading survey question: How important are 100G coherent pluggable optics for your edge/access evolution strategy? The sample was composed of 87 people who work for network operators worldwide and are involved in network planning or purchasing network equipment.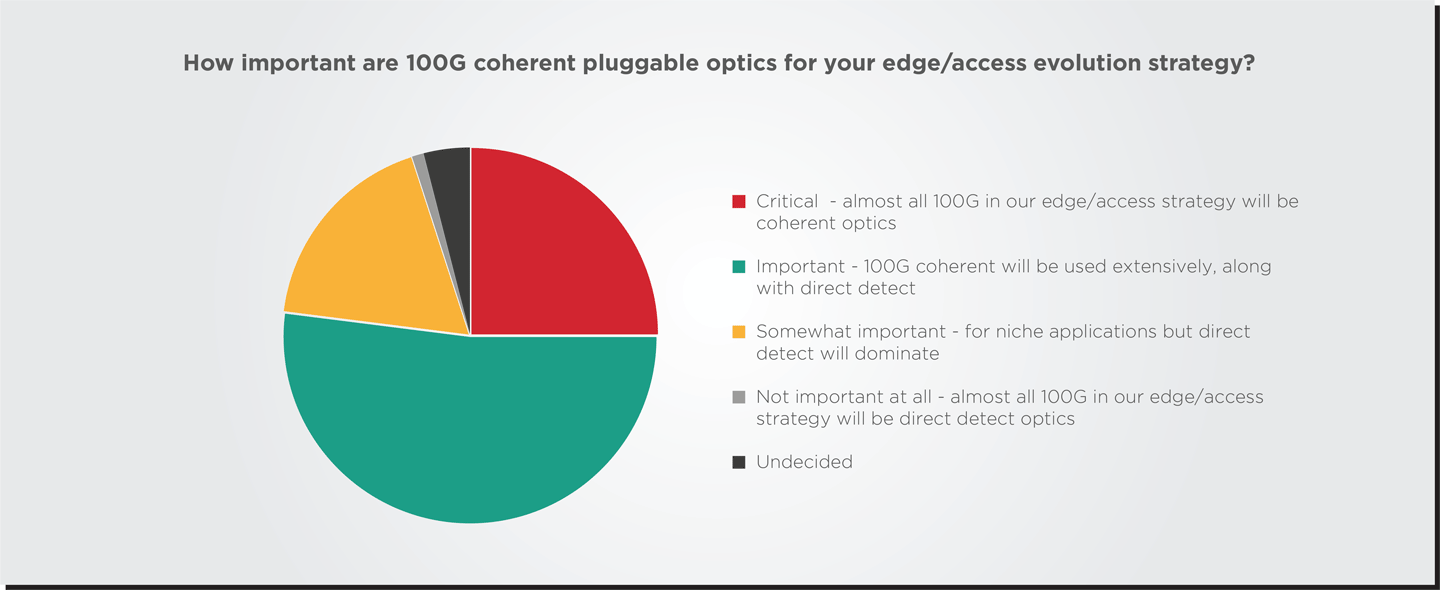 Source: Heavy Reading
References:
https://www.adtran.com/en/newsroom/press-releases/20230307-adtran-brings-its-latest-coherent-innovation-to-ofcnet-multi-vendor-demo
https://www.fibre-systems.com/news/ofc-2023-adtran-demonstrates-coherent-100zr-qsfp28
ADTRAN is positioning its acquisition of ADVA as building a complementary combination of assets that can better capitalize on what it sees as an unprecedented investment cycle in fiber. However, analysts argue that the new combined company would still be just a "niche player" in the market.
On Monday, ADTRAN wrote in an email to this author (and many others):
ADTRAN has entered into a business combination agreement with ADVA, a Germany-based global leader in business ethernet, metro WDM, Data Center Interconnect and network synchronization solutions, to combine our two companies.

We believe our combination will create many opportunities to better serve end-to-end fiber networking solutions spanning metro edge, aggregation, access and subscriber connectivity. Additionally, we anticipate that by utilizing our collective world-class R&D teams, we will be better positioned to accelerate innovation and offer differentiated solutions.

Going forward, it will be business as usual and all existing customer, partner and supplier relationships will remain intact. Until we receive all required regulatory approvals and close the transaction, ADVA and ADTRAN will continue to operate as separate companies. As we integrate the two companies, we will be focused on the best ways to offer our enhanced value proposition and partner with you.
Highlights of the Deal:
Combination expands product offering and strengthens position as a global fiber networking innovation leader with combined revenue of $1.2B
Highly complementary businesses create a global, scaled end-to-end provider to better serve customers with differentiated fiber networking solutions, spanning metro edge, aggregation, access and subscriber connectivity
Creates a stronger and more-profitable company, poised to benefit from the unprecedented investment cycle in fiber, an expanded market opportunity and increased scale
Meaningful value creation with over $50 million in annual run-rate cost synergies
All-stock transaction with ADTRAN shareholders to own approximately 54% and ADVA shareholders to own approximately 46% of the combined company, assuming a tender of 100% of ADVA shares
Combined company to be dual-listed on the NASDAQ and Frankfurt Stock Exchange
The two vendors produced a combined $1.2 billion in revenues last year. However, ADTRAN's presentation in support of the deal showed that market heavyweights Nokia,  Ciena, and smaller player Infinera had much higher revenues over that same time period.
"It's not going to reshape the optical networking industry," John Lively, principal analyst at LightCounting, told SDxCentral about the deal. "ADTRAN and ADVA are going to improve their position in combination, [but] don't really threaten the large players."
Companies that are potentially threatened by this deal are smaller competitors such as Infinera ($1.4 billion in 2020 revenues) and Calix ($500 million in 2020 revenues), Lively noted.
"The challenges pressured by the global pandemic have clearly shown that fiber connectivity has become an essential foundation for the modern digital economy," ADTRAN Chairman and CEO Thomas Stanton explained to investors about the deal. "This transformation will significantly increase the scale of the combined businesses, enhancing our ability to serve as a trusted supplier to our customers and worldwide."
Stanton added that "our combination will make us one of the largest western suppliers for the markets we serve. Our greater size will increase cross-selling opportunities to existing customers, accelerating our combined growth, and allowing us to further penetrate our target markets."
Although ADTRAN will remain a mid-tier player after the deal closes, LightCounting's Lively and Dell'Oro Group VP Jimmy Yu both think in general, "it's a good move."
Yu noted that industry mergers can destroy value if too many products and workforces overlap. But in this case, ADTRAN and ADVA are from adjacent markets of fixed access and optical layer, and both sides will help each other grow the product line, so "it seems like a complementary combined company that's going to come out of this," he added.
Jimmy had this general comment on optical network trends:
"Disaggregated DWDM systems outperformed the broader market, demonstrating the growing adoption of this platform type.  Really what we see is that this type of platform architecture, where transponder units are independent of the line systems, is being more widely embraced beyond the Internet content providers. Also, it is no longer just for metro applications. Recently, the highest growth rates have been from long-haul applications,"
Lively noted that there is almost no overlap in the product line, and "for the networks, the two companies logically fit together [as] ADTRAN makes access to equipment and ADVA makes the gear that connects the access equipment to the core."
"So if you are a smaller service provider, and you want to upgrade to 10 Gb/s internet service for your customers, you could potentially buy everything you need from the new ADTRAN, from the passive optical networking, all the way through to connect to the core," he said.
Yu also mentioned that the deal will help increase the scale and diversity in products as ADTRAN will be able to offer access and a backhaul solution, especially in tier-two and tier-three markets where most service providers want to work with one solution company instead of multiple vendors.
"2022 should be positive for sales," argued the analysts at WestPark Capital in a note to investors earlier this month, following the release of Adtran's second quarter results.
The WestPark Capital analysts pointed out that ADTRAN stands to gain ground in part from government broadband funding, as well as moves by some American and European network operators away from China's Huawei.
The Raymond James analysts concurred on the Huawei opportunity. "We believe that the Huawei backlash outside of China presents among the largest opportunities," they wrote on Monday.
The combined company will maintain ADTRAN's global headquarters in Huntsville, Alabama. It will maintain ADVA's headquarters in Munich, Germany, as its European base. Currently, ADTRAN has a geographical revenue split of 74% in the Americas, 21% in Europe, the Middle East, and Africa, and 5% in Asia Pacific, while ADVA is split 62% in EMEA, 29% in the Americas, and 9% in Asia Pacific, according to Stanton.
The deal expands ADVA's presence in North America and ADTRAN's ability to reach the European market more effectively, Lively said.  One of the drivers for this combination is "we see our customers making significant capital investments to transition their supply chains to trusted vendors with our roots in the U.S. and Germany, our company will be viewed favorably by customers who increasingly specify Western vendors," Stanton explained.
"It's kind of a race to build out their digital infrastructure to make the country competitive," which presents a real opportunity for the new ADTRAN and also its competitors, Lively added.
References:
---