Frontier Communications says it's on track with a plan to add 1 million fiber-to-the-premises (FTTP) locations in 2022.  Under the plan, Frontier expects to expand its FTTP footprint to 10 million locations by 2025, up from about 4 million today.  However, fiber-related revenue growth has yet to match up to recent fiber subscriber and NPS gains. Frontier reported Q4 2021 fiber revenues of $675 million, down from $684 million in the year-ago period.
"We've got good supply resilience. We've expanded the number of vendors in every category, and we've got good forward cost visibility as well," Nick Jeffery, Frontier's president and CEO, said Wednesday on the company's 4th quarter 2021 earnings call.
But he acknowledged that Frontier, which has taken on a "fiber first" posture, was "lucky," in that the company started to accelerate its fiber build ahead of many other telcos and cable operators.
"We're in relatively good and insulated position because, frankly, we got there first and we signed up the terms before anyone else had a chance to do so," Jeffery said.
Supply chain constraints didn't slow Frontier's fiber build in Q4 2021, as the company added a record 192,000 FTTP passings in the quarter, improving on the 185,000 new fiber passings built in Q3 2021.  Last month Frontier announced that it added a record 45,000 fiber broadband subscribers in the fourth quarter of 2021, beating its prior record in Q3 2021 by more than 50%. That was also enough to overtake subscriber losses from Frontier's legacy copper broadband business, as the company posted a Q4 net gain of 14,000 consumer broadband subs. Frontier ended 2021 with 1.33 million fiber broadband customers, up 8% year-over-year. About half of Frontier's consumer broadband sub base is now served by fiber.
Frontier, which launched a symmetrical 2-Gig fiber service on February 22nd, is seeing solid penetration in its existing "base" FTTP markets and positive signs in newer fiber buildout areas. Penetration in Frontier's relatively mature base-fiber footprint rose to nearly 42%, and the company expects that to eventually increase to 45%.
In its FTTP expansion effort, Frontier is seeing penetrations of 22% at the 12-month mark, expecting that to rise to 25% to 30% at 24 months. In later years, the company expects the percentage to jump to a terminal penetration of 45%.
"We're now, I believe, gaining market share in all of our fiber markets against every single one of our competitors," Jeffery said. "That is not a moment in time or an aberration. That's the result of strong operational execution across many different dimensions, and I think we'll see that carry forward into the future."
Frontier said its fiber-related net promoter score (NPS) went positive for the first time in November 2021, while fiber churn dropped to 1.32% in Q4 2021, improved from 1.56% in the year-ago quarter.
Scott Beasley, Frontier's CFO, said Frontier expects fiber revenues to reach positive territory as 2022 progresses, driven by the growth of its consumer fiber segment and a stabilization of the company's business and wholesale units.
MoffetNathanson analyst Nick Del Dio had this to say in a research note to clients:
"Large scale network upgrade projects take years to complete. Achieving targeted levels of penetration once the network in a given geography has been upgraded takes years, too. By our estimates, it will be about a decade before Frontier's potential will be fully realized."
"Frontier's operating metrics continue to move in the right direction. Total consumer broadband net adds were positive for the first time in many, many years; copper losses were stable, while the company gained fiber subscribers in both new and existing markets. Fiber gross adds and churn both improved in Q2. Frontier's fiber NPS scores have improved dramatically over the past year, going from -24 in January 2021 to +9 in December 2021, a 33 point swing, with NPS scores associated with new customers better than those associated with old customers. The company expects continued strength in fiber and better churn in copper in coming periods. Consumer fiber broadband ARPU declined about $1 sequentially, which management attributed to promoting autopay adoption and giving gift cards for new customers."
……………………………………………………………………………………………………………………………………………………………………………………………
Frontier's plan to bring FTTP to 10 million locations by 2025 includes what the company calls Wave 1 and Wave 2 builds. Wave 3 includes another 5 million locations that might be built out using supplemental government funding and partnerships, or could be tied to potential divestments or system swaps. Frontier's analysis of the Wave 3 section continues, and the company should have some specific guidance in the coming months, said John Stratton, Frontier's executive chairman of the board.
Q4 2021 was the last quarter in which Frontier received subsidy revenues from the Connect America Fund (CAF) II program. Yet they hope President Biden's infrastructure bill passes and directs revenues to telcos to help them build out their networks.
"It's complicated," Stratton said with respect to government stimulus funding, noting that Frontier expects to be an active participant in the new infrastructure bill. "The rules of engagement, both at the federal and state level, are still being worked… Our thought process is that this a 2023 and onward in terms of it becoming something that starts to scale."
References:
https://s1.q4cdn.com/144417568/files/doc_financials/2021/q4/Frontier-Fourth-Quarter-2021-Earnings-Release_final.pdf
https://s1.q4cdn.com/144417568/files/doc_financials/2021/q4/Frontier-Fourth-Quarter-2021-Earnings-Presentation_final.pdf
https://www.lightreading.com/opticalip/frontier-keeps-supply-chain-constraints-in-check-as-fiber-build-broadens/d/d-id/775529?
Frontier Communications reports added 45,000 fiber broadband subscribers in 4Q-2021 – best in 5 years!
On August 5th, Frontier Communications announced an accelerated fiber optics buildout plan that will result in their fiber-to-the-premises (FTTP) network passing 10 million locations (homes/offices) by 2025.  Frontier says they will end 2021 with 4 million locations passed by fiber and will then add another 6 million in a revised, multi-year "Wave 2" plan.
Nick Jeffery, President and Chief Executive Officer of Frontier, said, "The acceleration of our fiber network expansion is clear evidence that Frontier's transformation is taking hold. Over the past several months, we've made real progress in executing our strategy – by adding world-class leadership, introducing a purpose-driven culture, improving the customer experience, and making our operations more efficient and sustainable.
"Demand for high-speed broadband is growing rapidly, and fiber is the best product to meet the needs of consumers and businesses. Frontier is already doing what customers want and cable can't – delivering symmetrical download and upload speeds with far lower latency than our competition. Early next year, we will start delivering 2 gigabit per second services, further stretching our performance lead to where only fiber can compete. We have hard work ahead of us, but momentum is increasing as we rally the Frontier team around our mission to Build Gigabit America."
Jeffery added, "Our second-quarter results reflect continuing momentum in our fiber expansion strategy, with all key fiber metrics in line or above expectations. In particular, we accelerated our fiber build out, continued our customer momentum with another strong quarter of consumer fiber net adds, and reduced our consumer churn. Taken together, it was another strong quarter that positions Frontier well as we head into the second half of the year."
At its virtual investor day, Frontier provided an update on the fiber buildout and other priorities resulting from its strategic review. These include:
Frontier's current ability to provide a best-in-class offering featuring symmetrical 1 gigabit per second download and upload speeds;
Plans to launch a symmetrical 2 gigabit per second offering in the first quarter of 2022 that will unlock next-generation digital experiences for customers;
Plans to deploy fiber to reach 10 million locations by 2025; and
A new target of $250 million run rate savings by 2023 from simplifying the Company's operations and improving the customer experience.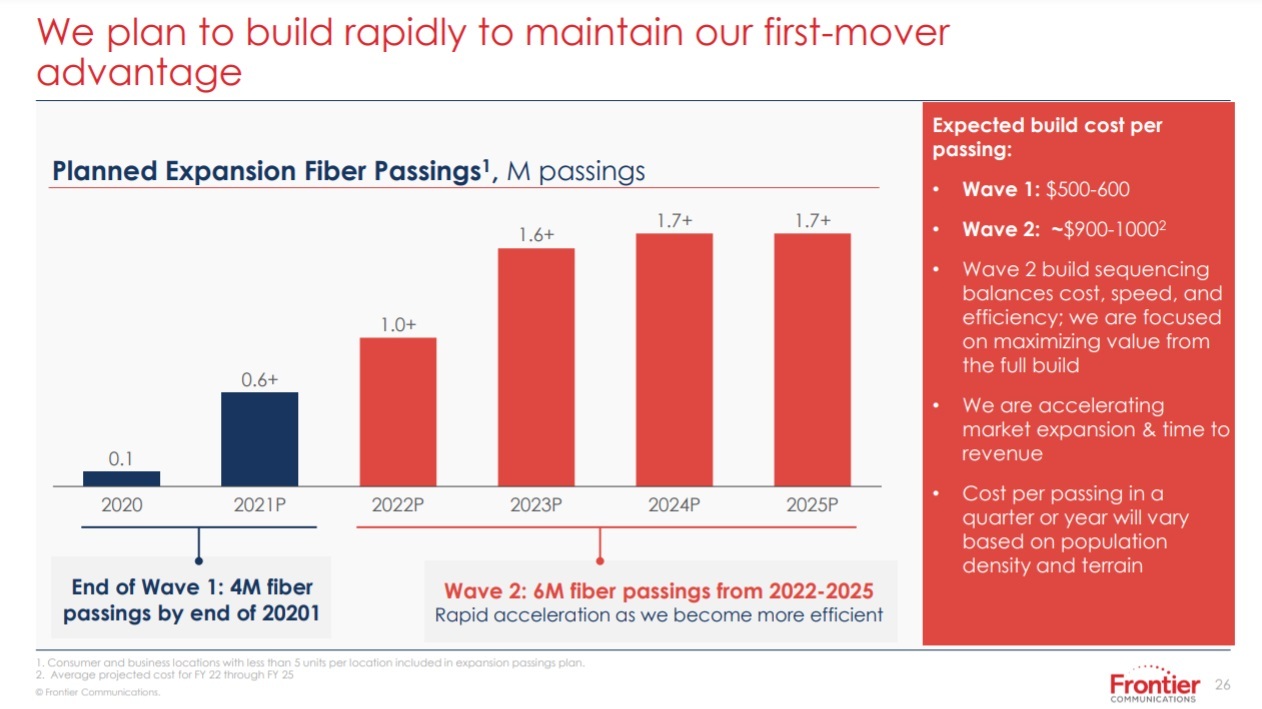 Image Credit: Frontier Communications
……………………………………………………………………………………….
Frontier also offered some revised predictions on service penetration, expecting them to be in the mid-teens to 20% at the end of year one, rise to 25% to 30% at the end of year two, and then on up to 45%.  Frontier introduced new pricing for residential fiber broadband service, with entry-level service at 500 Mbit/s.
MoffettNathanson analyst Nick Del Deo (a colleague) wrote in a note to clients:
The single most important data points from today's analyst day relate to Frontier's FTTH deployment plans (Exhibit 1). For 2021, the company increased its expectation for new passings from 495K to >600K, which will complete "wave one" of its fiber upgrade project and leave it with ~4M total FTTH passings. Between 2022 and 2025, the company plans to build to another 6M passings, bringing its total to 10M, or about two thirds of its broadband-enabled locations. The remaining 5M, part of wave three, are currently in a holding pattern, with the company working through the optimal approach: do nothing, upgrade, upgrade with government assistance, divest, swap, or do something more creative that we haven't come up with.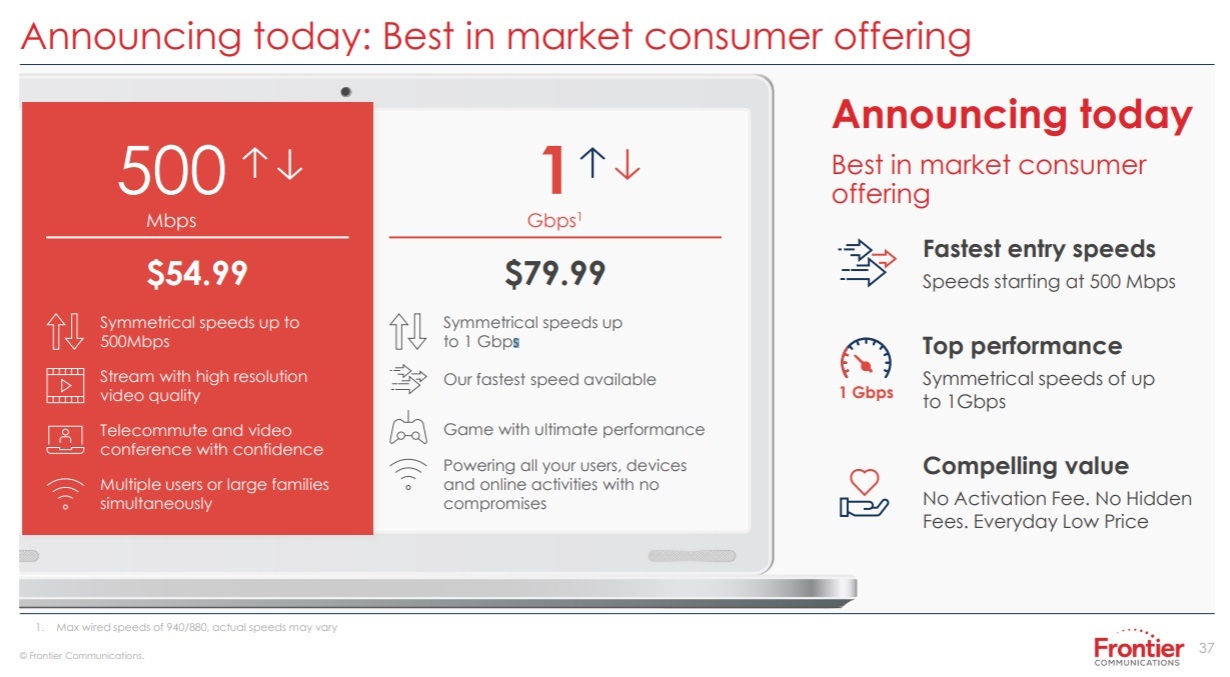 Image Credit: Frontier Communications
…………………………………………………………………………………….
The company also announced it will start to introduce 2-Gig services over FTTP in early 2022, but didn't disclose pricing.
Del Deo summarized his assessment of Frontier's fiber buildout (emphasis added):
Frontier plans to build FTTH to 7M incremental homes through 2025, a rapid acceleration from its current pace. This will leave two thirds of its broadband-enabled footprint served by fiber, with the status of the remaining one third TBD. The deployment costs appear somewhat higher, and returns a bit lower, than what we would have expected, but we had haircut the value of its FTTH expansion in our prior work to account for such risks. The faster pace and certainty now reduce the need for such haircuts. The path to financing the build remains open, but the company will need at least a couple of billion dollars in fresh funding. It's not clear to us that management's optimism regarding the commercial unit is warranted, but time will tell whether it can engineer a turnaround.

Management has high hopes for the commercial part of its business, and we don't doubt that growth can get better from where it is today, but we think this will continue to be a segment that weighs on the company's overall results.
Light Reading's Jeff Baumgartner opines that "Frontier's accelerated FTTP buildout plan, revised pricing and plans for 2-Gig service should pressure cable competitors to match up with speeds and pricing. Frontier's moves might also cause those cable operators to give more consideration to "mid-split" or "high-split" upgrades that dedicate more upstream capacity to their DOCSIS 3.1 networks, accelerate their pursuit of new DOCSIS 4.0 technologies, or shift to full FTTP upgrades in select areas."
………………………………………………………………………………………….
References:
https://www.businesswire.com/news/home/20210805005317/en/Frontier-Communications-Accelerates-Fiber-Build-Out-to-Reach-10-Million-Locations-By-End-of-2025
PowerPoint Presentation (q4cdn.com)
https://www.lightreading.com/opticalip/fttx/frontiers-fiber-frenzy-10m-fttp-locations-by-end-of-2025/d/d-id/771336?
---