Some analyst say that space-based 5G (which has yet to be standardized) will enable enhanced service to cities but also connects remote regions, including areas without traditional mobile service, ships off-shore, through natural disasters and in contested battlefields. Features of 5G from Space might include: connecting massive numbers of Internet of Things (IoT) sensors and devices.
From a March 14, 2023 Congressional Research Service In Focus report, National Security Implications of 5G Mobile Technologies:
5G mobile technologies will increase the speed of data transfer and improve bandwidth over existing fourth generation (4G) technologies, in turn enabling new military and commercial applications. 5G technologies are expected to support interconnected or autonomous devices, such as smart homes, self-driving vehicles, precision agriculture systems, industrial machinery, and advanced robotics. 5G for the military could additionally improve intelligence, surveillance, and reconnaissance (ISR) systems and processing; enable new methods of command and control (C2); and streamline logistics systems for increased efficiency, among other uses. As 5G technologies are developed and deployed, Congress may consider policies for spectrum management and national security, as well as implications for U.S. military operations.
U.S. military leaders are telling the wireless and satellite industries they see great potential in 5G, and they're asking for standards, open interfaces and simple devices.
"I am excited to see what the next couple of years will bring," said Brigadier General Steve Butow, space portfolio director at the U.S. Defense Innovation Unit. "It is important to take advantage of technologies produced at scale."  Butow joined Colonel Joseph Roberts, assistant program executive officer, PEO C3T, U.S. Army, on a panel at SATELLITE 2023 entitled "The Role of Space-Based 5G in Military Communications." Executives from defense contractor Lockheed Martin and satellite giant Hughes were also on the panel.
Roberts said space-based 5G can be a "game changer" because it creates "the opportunity to connect every soldier on the battlefield."  Butow encouraged the wireless industry to "migrate to open architectures." He said that if the industry adopts open interfaces it will "create an environment where we can do lots of business with you."
Source:  Getty Images
At least one satellite operator is also advocating for open interfaces for the wireless infrastructure industry. Open RAN is a top priority for HughesNet® in its work with Dish Network, explained Rick Lober, VP and GM at Hughes' government and defense division. "We are pushing that very hard," he said, adding "I'm not sure everyone is on board."
Lober added that he hopes users of network infrastructure will take full advantage of open RAN by working with a diverse set of vendors. "If you are going to have a program that is about open standards, do not award it to one company," he said.
Dawna Morningstar, director, next generation solutions at Lockheed Martin, said industry standards are "the critical underpinning" that enables interoperability and scalability. She said Lockheed Martin is actively engaged with wireless industry standards boards.  She highlighted 3GPP Release 17's (not a standard) inclusion of interoperability with non-terrestrial networks. "We can now have these open solutions for air and space that can integrate seamlessly with the terrestrial networks," she said. "We can get the intelligence down where it needs to be, and back up and distributed."
Roberts said another benefit of using 3GPP specs for military communication is cross-border communication. "Because 5G is a commercial standard, a lot of our coalition partners can adopt it," he said. "We can connect through common infrastructure to our coalition partners."
Verizon's Cory Davis, AVP Public Safety at Frontline, said the military is interested in portable 5G private network solutions. Verizon's Tactical Humanitarian Operations Response (THOR) 5G on wheels has the capabilities the military wants, Davis said, but the form factor is too big for some use cases.  "They want to put THOR in a backpack and take it to the desert," Davis said.
References:
https://www.fiercewireless.com/5g/5g-defense-us-military-wants-open-interfaces-compact-infrastructure
https://www.spiceworks.com/tech/networking/guest-article/what-does-the-militarys-move-to-5g-mean-for-security/
https://www.lockheedmartin.com/5gfromspace
https://www.fiercewireless.com/tech/ericsson-qualcomm-test-space-based-5g-thales
Starlink's broadband internet speeds continue to outpace those of competitive satellite broadband internet providers Viasat and HughesNet, according to telecom speed tracker Ookla.
Given that satellite internet is often the only solution for folks in rural or underserved areas with little to no fixed broadband access, the Speedtest® results from HughesNet, Starlink and Viasat during Q2 2021 were encouraging.   HughesNet was a distant second at 19.73 Mbps (15.07 Mbps in Q1 2021) and Viasat third at 18.13 Mbps (17.67 Mbps in Q1 2021). None of these are as fast as the 115.22 Mbps median download speed for all fixed broadband providers in the U.S. during Q2 2021, but it beats digging twenty miles (or more) of trench to hook up to local infrastructure.
Moreover, Starlink was the only satellite internet provider in the United States with fixed-broadband-like latency figures, and median download speeds fast enough to handle most of the needs of modern online life at 97.23 Mbps during Q2 2021 (up from 65.72 Mbps in Q1 2021).
Starlink's median download speeds in the U.S. are starting to rival those of fixed-line broadband networks, according to Ookla's latest round of Speedtest data.
While Starlink's U.S. download speeds are "fast enough to handle most of the needs of modern online life," they do trail the 115.22 Mbit/s median download speed for all U.S. fixed broadband providers, Ookla explained in its report.
In some areas, Starlink's U.S. download median speed has surpassed those of fixed wireline network providers.

In its analysis of the Ookla data, PCMag (Ookla and PCMag are both owned by Ziff Davis) notes that Starlink's median download speed in Morgan County, Alabama, reached 168 Mbit/s. Starlink's slowest median download speed for the U.S. in the quarter, at 64.5 Mbit/s, appeared in Madison County, Indiana.
There's only a slight difference between Starlink and broadband wireline networks in the upstream direction.  Ookla said Starlink's median upload speed for Q1 2021 was 13.89 Mbit/s, compared to a median upload speed of 17.18 Mbit/s among U.S. fixed wireline broadband networks.  Meanwhile, both Viasat and HughesNet trailed with median upload speeds of 3.38 Mbit/s and 2.43 Mbit/s, respectively.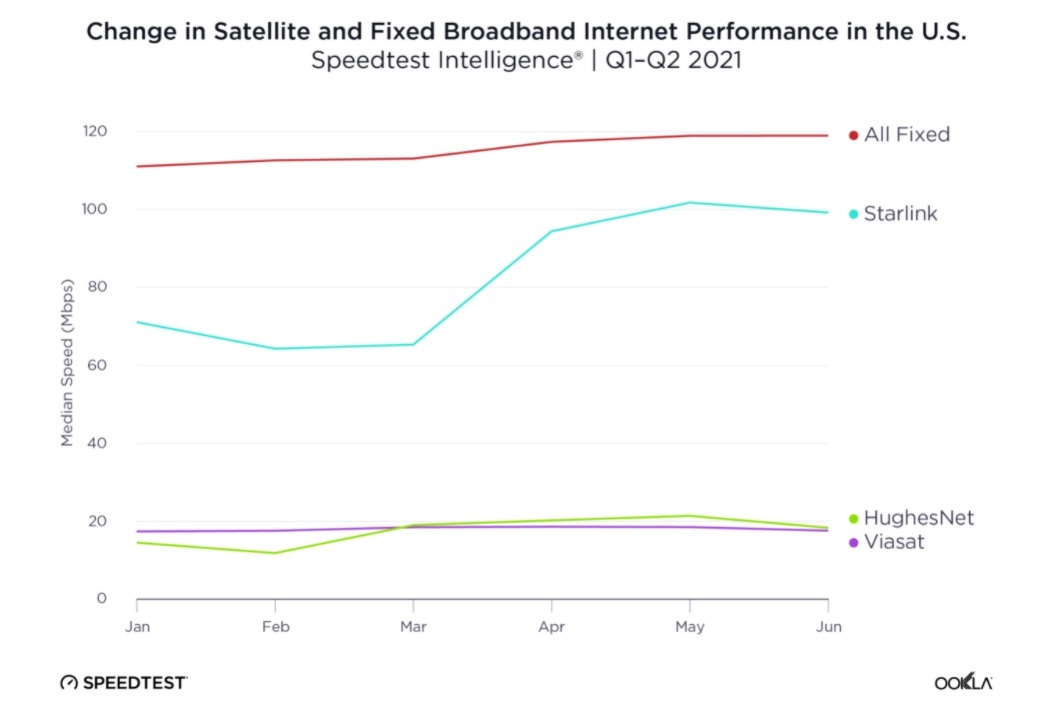 Starlink's growing network of low-Earth orbit (LEO) satellites continued to deliver relatively low latencies, important for apps such as online gaming and videoconferencing, when compared to geosynchronous (GEO) systems. Ookla said Starlink's median latency in Q1 2021 was 45 milliseconds. While that was well behind the 14 milliseconds of latency found on fixed-line networks, it was considerably better than the median latency for Viasat (630 milliseconds) and HughesNet (724 milliseconds).
saw sufficient samples during Q2 2021 to analyze Starlink performance in 458 counties in the U.S. While there was about a 100 Mbps range in performance between the county with the fastest median download speed (Morgan County, Alabama at 168.30 Mbps) and the county with the slowest median download speed (Madison County, Indiana at 64.51 Mbps), even the lower-end speeds are well above the FCC's Baseline performance tier of at least a 25 Mbps download speed. We also saw many more counties qualify for analysis during Q2 2021 than we saw in Q1 2021.
United Kingdom: Starlink beats fixed broadband providers
Starlink showed a much faster median download speed in the U.K. during Q2 2021 (108.30 Mbps) than the country's average for fixed broadband (50.14 Mbps). Starlink's upload speed was also slightly faster (15.64 Mbps vs. 14.76 Mbps), and the latency was pretty good, given the distance traveled (37 ms vs. 15 ms). This brings Starlink closer to contender status for consumers across the U.K., not just those stranded in internet-free zones in Northern Scotland, once the service interruptions are under control. It also shows that because satellite internet is not constrained by the infrastructure of a given country, there is the potential to radically outperform fixed broadband.
This data is changing rapidly as satellite internet providers launch new service locations and improve their technology. Ookla will be excited to see if Starlink is still the satellite provider to beat next quarter and in what other countries satellite internet provides a viable alternative to fixed broadband.
……………………………………………………………………………………….
References:
https://www.speedtest.net/insights/blog/starlink-hughesnet-viasat-performance-q2-2021/
https://www.pcmag.com/news/starlink-moves-closer-to-matching-or-even-beating-fixed-broadband-speeds
https://www.lightreading.com/satellite/starlink-speeds-accelerate-in-q2-ookla-says-/a/d-id/771322?
Starlink now covers all of UK; Plans to connect vehicles with satellite Internet service
---