Viasat posted record fiscal third quarter revenues of $720 million, up 25% year-over-year, boosted by its recent acquisitions of RigNet and Euro Broadband Infrastructure (EBI), as well as growth in its in-flight connectivity (IFC) business.  Nevertheless, the provider of satellite and wireless networking technology reported a loss of $6.6 million in its fiscal third quarter.  Virgin Atlantic was an important new in-flight connectivity (IFC) customer while the company continued to expand their fixed broadband presence internationally.
Satellite services unit revenues increased 40% to a record $310 million, while government systems revenues rose 2% to $270 million.  Commercial Networks revenues rose 55% to $140 million, driven by mobile IFC terminal deliveries and the performance of its ground antenna systems business.
However, Viasat's plan to provide global coverage with a set of new, high-capacity ViaSat-3 satellites has fallen a little behind schedule. The launch of the first of three satellites, set to cover the Americas, is now expected to happen in the late summer rather than in the first half of 2022.
The delay was due to a "modest slippage in our supply chain" fueled in part by the pandemic, Rick Baldridge, Viasat's president and CEO, said on the company's earnings call. "We've been working through limited availability of specific, critical skill workers."
If the current plan holds, Viasat hopes to have the first ViaSat-3 satellite in service before the end of 2022. Future ViaSat-3 satellites are poised to cover the European, Middle East and Africa (EMEA) and Asia-Pacific regions.
Viasat executives said the company is making good progress with alpha testing of a space-ground integration system for ViaSat-3, and they don't expect the scheduling delay on the first ViaSat-3 satellite to materially impact Viasat's financial guidance.
The payload module for the second ViaSat-3 satellite (for the EMEA region) is at Viasat's facilities, with about 95% of the payload units now installed, the company said.
Jeff Baumgartner of Light Reading wrote about ViaSat-3 competition:
How much of a competitive impact Viasat's residential satellite broadband service is seeing from FWA (Fixed Wireless Access) or even Starlink is difficult to pinpoint. Viasat no longer reports U.S. subscriber numbers as it expands that piece of the business globally. However, the company did note there was a "slight decrease" in its U.S. subscriber base in its fiscal third quarter as Viasat reallocates satellite bandwidth for mobile services.

Viasat execs aren't overly concerned about a new, faster and pricier "Premium" tier from Starlink [1.] that will start to reach business customers and other high-capacity users in the second quarter of 2022.
Note 1. Starlink Premium promises to deliver up to 500Mb/sec, but is very expensive. It sells for $500 per month and requires customers to also pay $2,500 for the satellite router and a new antenna outfitted with double the capacity of its predecessor. Starlink Premium, a service targeted to businesses and other users that require more speed and capacity, also requires customers to put up a $500 fully refundable deposit.
……………………………………………………………………………………………………………………
Viasat expects its proposed deal for Inmarsat to close by the end of 2022.  The company was named the 2021 Global Satellite Business of the Year, by Euroconsult at the World Satellite Business Week Summit.
References:
https://investors.viasat.com/static-files/05cbc97c-8c9b-4a5f-a59c-762b4afaade9
https://www.viasat.com/space-innovation/satellite-fleet/global-satellite-internet/
https://www.lightreading.com/satellite/cable-edge-outs-fresh-fiber-builds-pose-bigger-threat-than-fwa-viasat-says/d/d-id/775075?
Starlink's broadband internet speeds continue to outpace those of competitive satellite broadband internet providers Viasat and HughesNet, according to telecom speed tracker Ookla.
Given that satellite internet is often the only solution for folks in rural or underserved areas with little to no fixed broadband access, the Speedtest® results from HughesNet, Starlink and Viasat during Q2 2021 were encouraging.   HughesNet was a distant second at 19.73 Mbps (15.07 Mbps in Q1 2021) and Viasat third at 18.13 Mbps (17.67 Mbps in Q1 2021). None of these are as fast as the 115.22 Mbps median download speed for all fixed broadband providers in the U.S. during Q2 2021, but it beats digging twenty miles (or more) of trench to hook up to local infrastructure.
Moreover, Starlink was the only satellite internet provider in the United States with fixed-broadband-like latency figures, and median download speeds fast enough to handle most of the needs of modern online life at 97.23 Mbps during Q2 2021 (up from 65.72 Mbps in Q1 2021).
Starlink's median download speeds in the U.S. are starting to rival those of fixed-line broadband networks, according to Ookla's latest round of Speedtest data.
While Starlink's U.S. download speeds are "fast enough to handle most of the needs of modern online life," they do trail the 115.22 Mbit/s median download speed for all U.S. fixed broadband providers, Ookla explained in its report.
In some areas, Starlink's U.S. download median speed has surpassed those of fixed wireline network providers.

In its analysis of the Ookla data, PCMag (Ookla and PCMag are both owned by Ziff Davis) notes that Starlink's median download speed in Morgan County, Alabama, reached 168 Mbit/s. Starlink's slowest median download speed for the U.S. in the quarter, at 64.5 Mbit/s, appeared in Madison County, Indiana.
There's only a slight difference between Starlink and broadband wireline networks in the upstream direction.  Ookla said Starlink's median upload speed for Q1 2021 was 13.89 Mbit/s, compared to a median upload speed of 17.18 Mbit/s among U.S. fixed wireline broadband networks.  Meanwhile, both Viasat and HughesNet trailed with median upload speeds of 3.38 Mbit/s and 2.43 Mbit/s, respectively.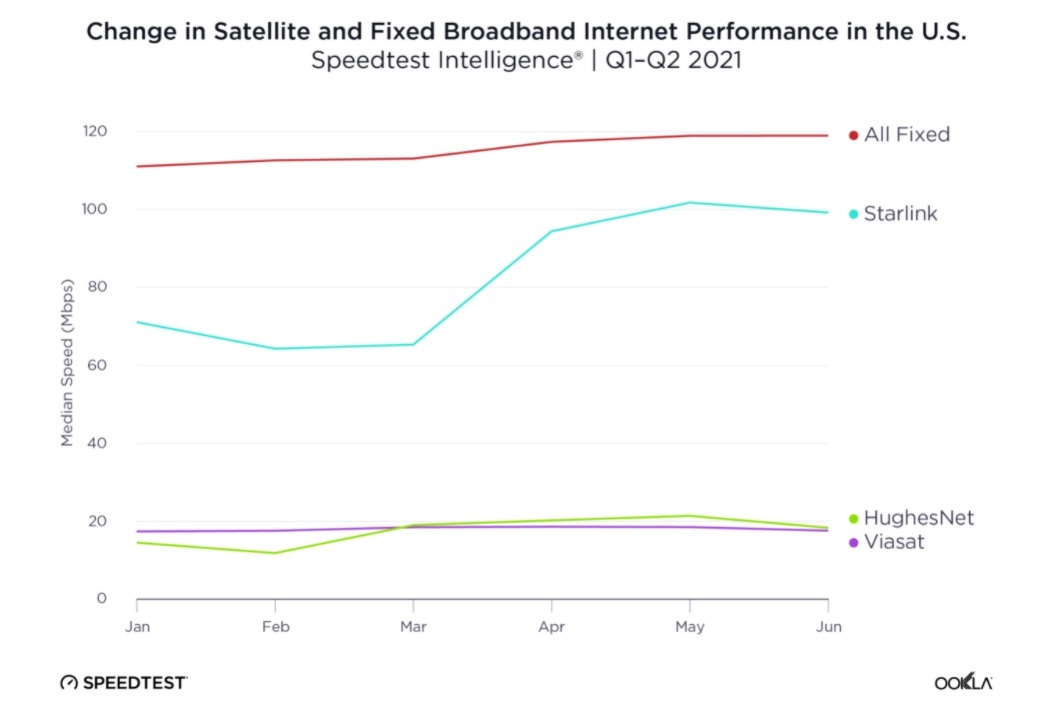 Starlink's growing network of low-Earth orbit (LEO) satellites continued to deliver relatively low latencies, important for apps such as online gaming and videoconferencing, when compared to geosynchronous (GEO) systems. Ookla said Starlink's median latency in Q1 2021 was 45 milliseconds. While that was well behind the 14 milliseconds of latency found on fixed-line networks, it was considerably better than the median latency for Viasat (630 milliseconds) and HughesNet (724 milliseconds).
saw sufficient samples during Q2 2021 to analyze Starlink performance in 458 counties in the U.S. While there was about a 100 Mbps range in performance between the county with the fastest median download speed (Morgan County, Alabama at 168.30 Mbps) and the county with the slowest median download speed (Madison County, Indiana at 64.51 Mbps), even the lower-end speeds are well above the FCC's Baseline performance tier of at least a 25 Mbps download speed. We also saw many more counties qualify for analysis during Q2 2021 than we saw in Q1 2021.
United Kingdom: Starlink beats fixed broadband providers
Starlink showed a much faster median download speed in the U.K. during Q2 2021 (108.30 Mbps) than the country's average for fixed broadband (50.14 Mbps). Starlink's upload speed was also slightly faster (15.64 Mbps vs. 14.76 Mbps), and the latency was pretty good, given the distance traveled (37 ms vs. 15 ms). This brings Starlink closer to contender status for consumers across the U.K., not just those stranded in internet-free zones in Northern Scotland, once the service interruptions are under control. It also shows that because satellite internet is not constrained by the infrastructure of a given country, there is the potential to radically outperform fixed broadband.
This data is changing rapidly as satellite internet providers launch new service locations and improve their technology. Ookla will be excited to see if Starlink is still the satellite provider to beat next quarter and in what other countries satellite internet provides a viable alternative to fixed broadband.
……………………………………………………………………………………….
References:
https://www.speedtest.net/insights/blog/starlink-hughesnet-viasat-performance-q2-2021/
https://www.pcmag.com/news/starlink-moves-closer-to-matching-or-even-beating-fixed-broadband-speeds
https://www.lightreading.com/satellite/starlink-speeds-accelerate-in-q2-ookla-says-/a/d-id/771322?
Starlink now covers all of UK; Plans to connect vehicles with satellite Internet service
Viasat Inc. today announced the first satellite in its ViaSat-3 global constellation has reached a major milestone with completion of payload integration and performance testing, and shipment to the Boeing Satellite Systems facility in El Segundo, Calif.   That satellite constellation will serve the Americas and the surrounding oceans regions. Launch is targeted for early calendar year 2022.
"This is an incredibly exciting time for Viasat as the first of the three high-powered ViaSat-3 satellites in our global constellation enters the final stages of production," said Dave Ryan, president, Viasat Space & Commercial Networks. "Once complete, we will be ready to put the world's highest-capacity single satellite into geostationary orbit to serve the world by delivering broadband to the hardest-to-reach areas anywhere — on the ground, in the air and at sea."
Each ViaSat-3 satellite is expected to generate over 20kW of payload power, making it among the highest-power commercial satellites ever built. Just three of these satellites will cover nearly the entire globe, and are expected to deliver over 3,000 Gigabits per second (Gbps) of capacity — or 3 Terabits per second (Tbps) total — for 15 years or more.
The ViaSat-3 constellation is anticipated to have roughly eight times more capacity than Viasat's current fleet combined. Vast amounts of bandwidth are needed to address increased demand for high speed internet access — particularly in the video streaming realm. ViaSat-3 represents a major advancement in Viasat's mission to extend broadband internet service to the many places around the world that don't have it.
Ryan added, "While the payload was assembled at Viasat's Tempe, AZ facility, the effort was company-wide. From Tempe, to the antenna expertise in Duluth (GA), to Germantown (MD) for their software and systems engineering know-how and other offices around the world from Chennai, India to Lausanne, Switzerland as well as at our Carlsbad headquarters, all of these teams worked together to come up with a totally unique way to not only build this spacecraft, but to test it in record time."
Viasat plans to launch and operate two more ViaSat-3 satellites that will serve Europe, the Middle East and Africa (EMEA) and the Asia Pacific (APAC) regions. The ViaSat-3 EMEA payload is expected to be delivered to Boeing in the latter part of the company's fiscal 2022.  That will help Viasat push ahead with plans for a new set of satellites that have been slowed by the pandemic.
"I can't predict that there won't be any other COVID impacts," Rick Baldridge, Viasat's president and CEO, said on the company's recent fiscal Q4 2021 earnings call regarding the ViaSat-3 program, noting that the second payload (for the EMEA) region is running about six months behind the first payload for the Americas. "It has definitely hit us pretty hard this last year on that payload."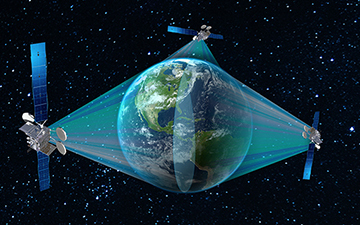 Together, the trio of ViaSat-3 satellites is expected to deliver more than 3 Tbit/s of capacity over an anticipated lifespan of at least 15 years. The ViaSat-3 constellation is expected to support about eight times more capacity than Viasat's current satellite broadband fleet combined, the company said.
That will also be coming together amid a race to deliver satellite broadband services on a global scale. SpaceX's Starlink service, still in beta, is progressing with a plan to launch and operate thousands of low-Earth orbit (LEO) satellites.
Last month, Viasat asked the FCC to stay an April 27 order granting SpaceX's application to modify its LEO system until a court reviews Viasat's request for an environmental review of Starlink's expanding constellation of broadband satellites.
"The Commission has violated the National Environmental Policy Act (NEPA) by failing even to assess the environmental impact of both deploying thousands of satellites into low-Earth orbit (LEO) and then having those satellites ultimately disintegrate into the atmosphere," Viasat argued in its filing. "Because the Order will allow SpaceX to cause immediate and irreparable harm to Viasat and the public at large, the Commission should stay the Order until judicial review is complete."
About Viasat:
Viasat is a global communications company that believes everyone and everything in the world can be connected. For 35 years, Viasat has helped shape how consumers, businesses, governments and militaries around the world communicate. Today, the Company is developing the ultimate global communications network to power high-quality, secure, affordable, fast connections to impact people's lives anywhere they are—on the ground, in the air or at sea. To learn more about Viasat, visit: www.viasat.com, go to Viasat's Corporate Blog, or follow the Company on social media at: Facebook, Instagram, LinkedIn, Twitter or YouTube.
References:
https://www.prnewswire.com/news-releases/viasats-first-viasat-3-satellite-achieves-major-milestone-viasat-3-americas-currently-at-boeing-undergoing-final-spacecraft-integration-and-testing-in-preparation-for-launch-301306532.html
https://www.lightreading.com/satellite/viasats-pushes-ahead-with-global-satellite-broadband-plan-/a/d-id/770045?
---