Backgrounder:
U.S. Cellular is 84%-owned by Telephone & Data Systems (TDS). That is why both companies participated in the former's earnings call on August 7, 2020. It operates the fifth-largest wireless telecommunications network in the United States with  4.9 million connections in 21 states.
Source:  U.S. Cellular
……………………………………………………………………………………………………………………….
"My first month at U.S. Cellular has been full of learning and listening – a seamless and effective transition," said new CEO Laurent C. Therivel (LT).
"I want to thank Ken Meyers for providing sound advice and counsel. Over the past few weeks, I have traveled to various locations and met with many of our associates (in the safest manner possible). I am inspired by our customer-centric culture and high levels of engagement, and I'm inspired by the flexibility and resiliency our associates have displayed throughout this pandemic.  It is clear to me that our competitive advantage rests on our focus on the customer and our high-quality network.  Our network strength was recently recognized, with U.S. Cellular ranking #1 in the North Central Region in the J.D. Power 2020 Wireless Network Quality Performance Study – Volume 2, making this the 7th time since 2016 that U.S. Cellular has received an award. This recognition validates that our network modernization strategy is working."
U.S. Cellular CTO Mike Irizzari talked up the company's 5G deployment experience and future plans during Friday's earnings call.
"Iowa and Wisconsin were Phase 1 of our multi-year 5G network expansion. And last week, we announced our next phase. Phase 2 will begin in the second half of 2020. We will deploy in 11 states or about 10 million POPs. We are working with 3 equipment vendors, and we are continuing to expand the number of 5G devices.

We have been very pleased with the performance of Phase 1. Customers are receiving an improved customer experience; our 5G deployment improves average and peak speeds for our 5G and our 4G customers. In addition to an improved customer experience and new revenue opportunities, we expect 5G to carry traffic more efficiently, improving the cost to deliver a bit. And this efficiency enables us to get the most out of our spectrum portfolio.

We expect to begin deploying our millimeter wave spectrum in 2021 to improve speed and capacity in denser areas of our footprint. Further, we expect to conduct trials of our millimeter wave fixed wireless service in 2021 in select markets."
Editor's Note:
U.S. Cellular acquired roughly $402 million worth of mmWave spectrum licenses in three recent FCC spectrum auctions.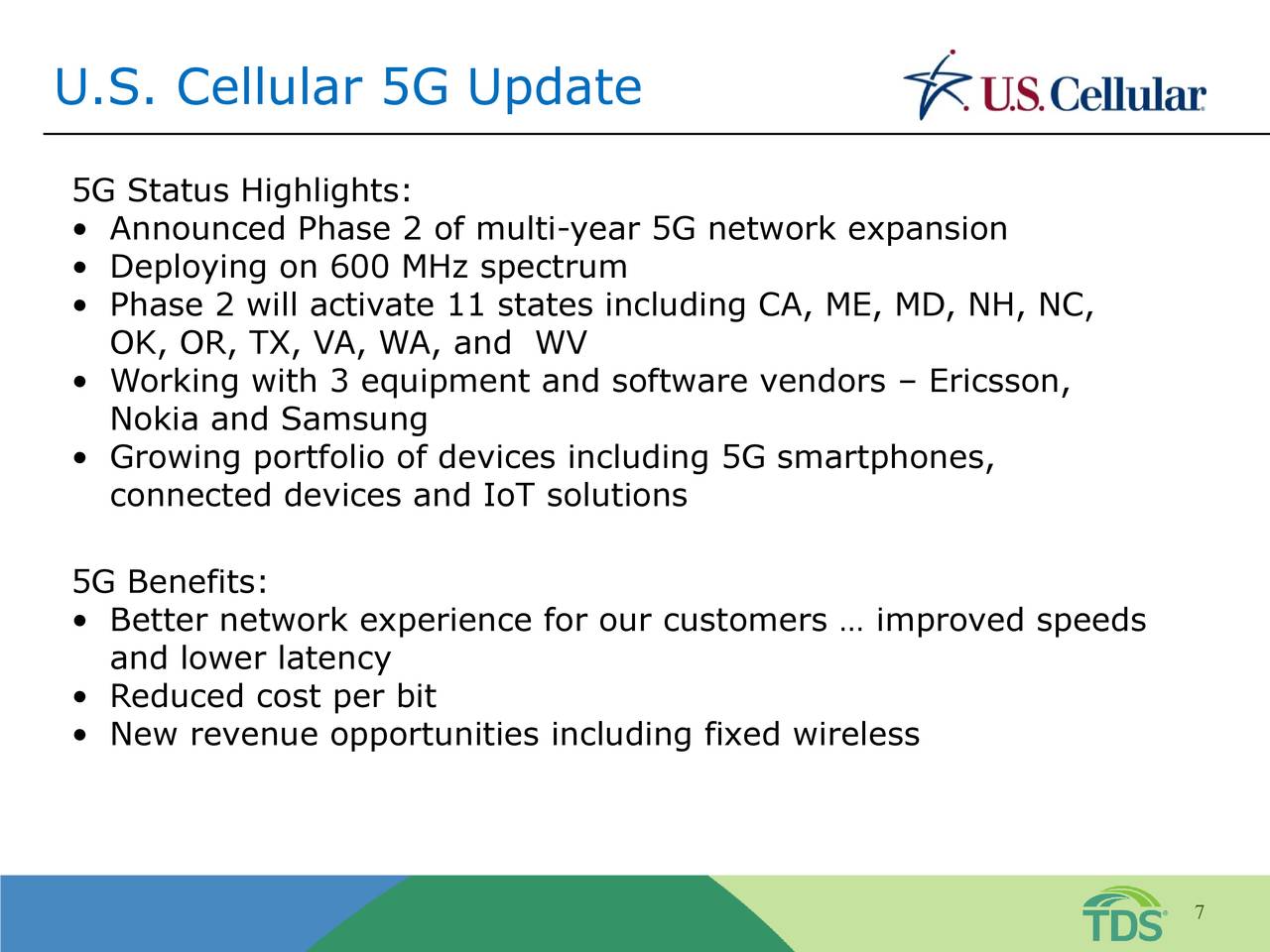 US Cellular CFO Doug Chambers commented:
"From a network standpoint, we engineer our network for peak-usage periods, and the network continues to perform well. To date, COVID-19 has increased data traffic about 20% to 25% and our network has been able to handle that extra demand. Throughout the quarter, we continued our network modernization and 5G efforts, and we will be finishing our VoLTE deployment this year. Our expansion markets in Iowa and Northern Wisconsin are doing well. And as LT highlighted, we won another J.D. Power award."
Q & A on 5G Use Cases (we don't believe there are any!):
Ric Prentiss of Raymond James:  As we think about 5G, what do you see as some of the top use cases in business cases in U.S. Cellular territory for 5G?
New CEO Laurent (LT) Therivel replied:
"Initially, when you think about 5G, there's going to be a huge benefit on the cost side. Cost per gig is going to become a lot more efficient to manage traffic. And if I look at just the past quarter with the pandemic, we just briefly covered this in our comments, but I don't want to leave it unsaid. Data traffic up over 70%. And the mix of that traffic, right, shifting from – if you think about customers want to be covered where they work, live and play, big shifts from work to live and play.
And so managing that traffic and managing the cost of that traffic is going to be critical. And 5G is going to help us a great deal there.
Talking about use cases, initially, you can think about the use cases as being around high-speed Internet (enhanced Mobile Broadband) and providing fixed wireless broadband connections (which is not an IMT 2020 Use Case) to our customers. We think there's a significant opportunity there. And you can expect to see that portion of the business continue to grow.
If I then fast forward truly long run, autonomous car, AI and facilitating some of those really high speed, low latency use cases are going to be critical (However, URLLC not complete in 3GPP Release 16 and won't be in IMT-2020.specs).
From that perspective, do we expect to see near-term monetization of those? No, but it's going to be table stakes, having a strong 5G presence. And then in the midterm, you can expect to see use cases around business and business solutions, think connected health, connected education.
We are going to be ramping up our presence on the business side when we talk – I am sure I will get questions about priorities moving forward and certainly around top line growth business being a component of that top line growth. Those connected manufacturing, connected health, those kinds of use cases are going to be enabled by 5G. I think those will be starting to take shape in the coming years, and I think we are well positioned to take advantage of it."
LT Therivel replied to Morgan Stanley's Simon Flannery question about the future US Cellular fixed wireless product and its speed(s):
"We are able to help customers and get customers connected in areas where maybe cable either doesn't address or has very limited presence. And Mike talked a little bit about the 5G rollout, rolling out millimeter wave. So as we start to densify the network with millimeter wave, that's going to create incremental opportunities for capacity and excess capacity to go monetize. And so you can expect to see a higher speed product brought to the market price point to be determined.
Editor's Note:
U.S. Cellular currently provides 25GB of high-speed fixed wireless data for $50 per month via its LTE network; after customers reach that allotment, their speeds are slowed to 2G speeds. The company doesn't provide any firm speed promises because the company said speeds "vary due to area, coverage, foliage, compression or the network management requirements."
Verizon is the only U.S. wireless network operator with plans to deploy fixed wireless services on mmWave spectrum. The company currently offers fixed wireless services on its LTE network as does US Cellular.  Mike Dano of Light Reading wrote that  "CenturyLink, Shentel, Windstream, C Spire, Cable One and Midco, among others, also have plans to offer fixed wireless across a variety of spectrum bands, including potentially mmWave bands."
………………………………………………………………………………………………………………………..
LT did not answer Flannery's follow up question: "Any sort of sizing? Is this hundreds of thousands of potential households or what's the right way to think about the opportunity?"
–>That was a quite reasonable "punt."  U.S. Cellular's 5G mmWave mobile broadband roll-out won't be till 2021 (if not delayed by permits for mounting small cells and pandemic induced installation restrictions).  There won't be any excess mmWave bandwidth to monetize till at least 2022.  The competitive landscape for fixed broadband access at that future time is completely unknown.  We expect to see a pick up of FTTH installations by then.
……………………………………………………………………………………………………………………………………………
Telephone & Data Systems (TDS)
TDS CFO Vicki Villacrez announced an innovative new "cloud TV" service for the wireline telco:
"We are pleased to report that we have expanded our launch of our cloud TV product called TDS TV+ to additional cable and wireline markets, including our Wisconsin out-of-territory clusters and expect to complete those rollouts in the third quarter.

Additionally, we plan to roll out TDS TV+ to our new fiber market, Coeur d'Alene, Idaho, in the fourth quarter. This is a really great product. And while it is still early in its launch, we are focused on ensuring its success across our markets.

From a network perspective, the current crisis continues to reaffirm the importance of high-speed Internet and how important not only our investments have been, but also our continued advocacy on behalf of rural America.

As a result of driving fiber deeper into our markets, we have robust networks, which continue to remain very stable and meet our customers' needs. From an out-of-territory perspective, pre-sales continue to exceed our expectations.

We are currently installing service in our Wisconsin and Idaho clusters. We remain focused on construction throughout these communities, and we are working towards commencing construction in Spokane, Washington, where we recently launched presale activities. Overall, we remain committed to achieving our strategic priorities through the second half of the year."
And a status report on broadband wireline Internet and TV services and trends:
"We are now offering up to 1-gig broadband speeds in our fiber markets. Across our wireline residential base, essentially one-third of all broadband customers are now taking 100-megabit speeds or greater compared to 26% a year ago. This is helping to drive a 4% increase in average residential revenue per connection in the quarter.

Wireline residential video connections grew 9% compared to the prior year. Video is important to our customers. Approximately 40% of our broadband customers in our IPTV markets take video, which for us is a profitable product. Our strategy is to increase this metric as we expand into new markets that value these services and through the launch of our new TDS TV+ product. Our IPTV services in total cover one-third of our wireline footprint, leaving opportunity to further leverage our investment in video.

265,000 or 33% of our wireline service addresses are now served by fiber, which is up from 27% a year ago. This is driving revenue growth while also expanding the total wireline footprint, 3% to 810,000. Our current fiber plans include roughly 320,000 service addresses that will be built over a multiyear period. Year-to-date, we have completed construction of 25,000 fiber addresses. And overall take rates are generally exceeding expectations in these areas that we have launched to-date. We are expecting our fiber service address delivery to more than double in the second half of the year as we continue launching new markets."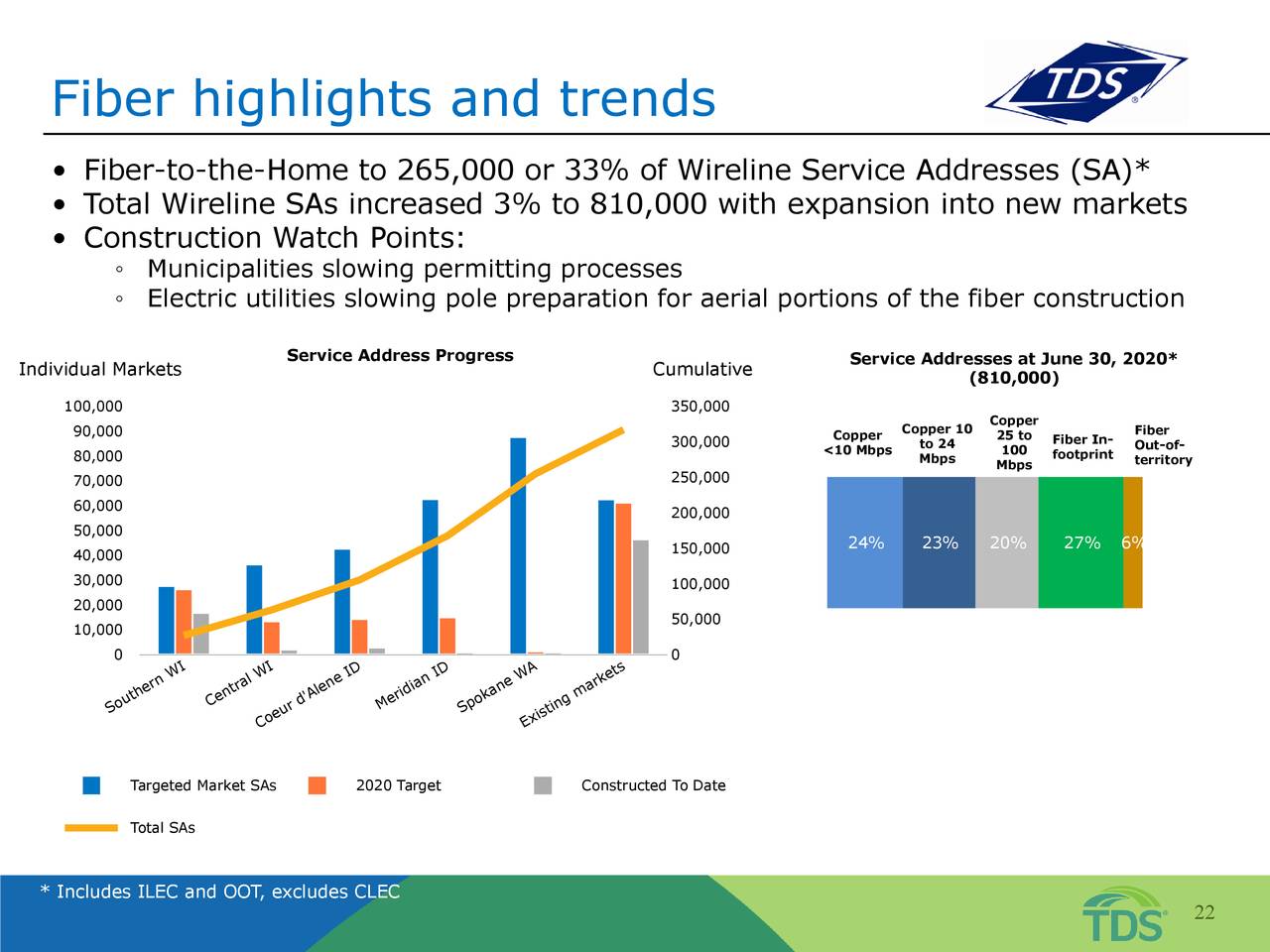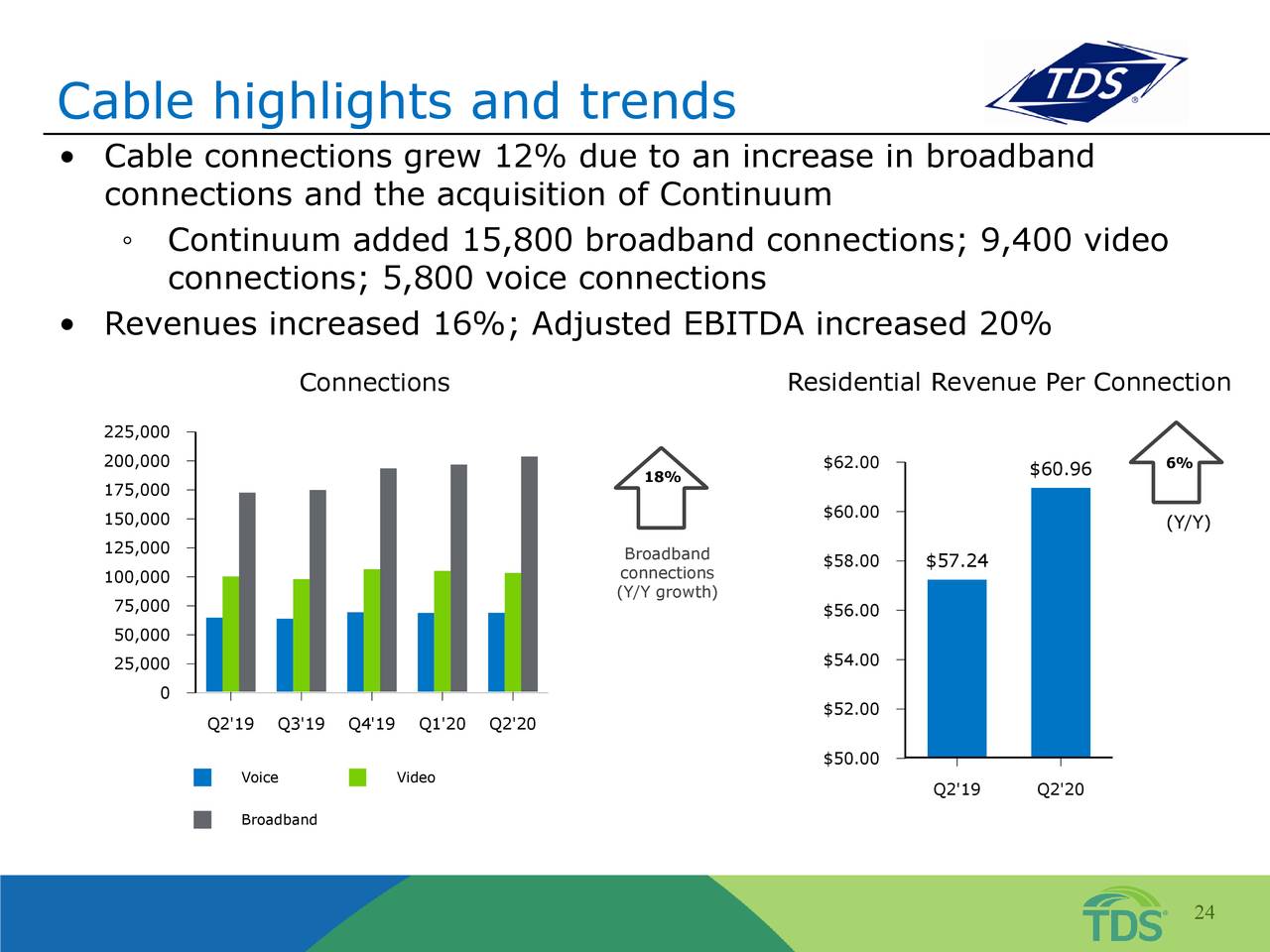 References:
https://seekingalpha.com/article/4366232-united-states-cellular-corporation-usm-q2-2020-results-earnings-call-transcript?part=single
https://www.lightreading.com/5g/us-cellular-has-high-hopes-for-fixed-wireless-using-mmwave-5g/d/d-id/763082?
---