Comcast Earnings Report: Record Broadband Growth; 3 Core Strategy Tenets; Wireless Expansion
Comcast added a record 633,000 residential and business broadband Internet customers in the Q3-2020, but lost another 273,000 video customers.  Cable Communications total customer relationship net additions of 556,000, were the best quarterly result ever for the company.
Xfinity Mobile, Comcast's mobile service via Verizon MVNO agreement, added 187,000 wireless subscriber in Q3-2020. That was down from additions of 204,000 lines in the year-ago quarter. There were 2.58 million mobile subs at the end of the quarter.
"We are nearly eight months into this pandemic – and despite many harsh realities, I couldn't be more pleased and proud of how our team has worked together across the company to find safe and creative solutions to successfully operate in this environment. We are executing at the highest level; and perhaps, most importantly, accelerating innovation, which will drive long-term future growth. This third quarter, we delivered the best broadband results in our company's history. Driven by our industry-leading platform and strategic focus on broadband, aggregation and streaming, we added a record 633,000 high-speed internet customers and 556,000 total net new customer relationships. At the same time, we're growing our entertainment platforms with the addition of Flex, which has a significant positive impact on broadband churn and customer lifetime value. Our integrated strategy is also driving results in streaming with nearly 22 million sign-ups for Peacock to date, and we are exceeding our expectations on all engagement metrics in only a few months. And Sky continues to add customer relationships at higher prices while reducing churn to all-time lows in our core UK business. Going forward, and as we emerge from the pandemic, we believe we are extremely well positioned to provide seamless and integrated experiences for our customers and to deliver superior long-term growth and returns for our shareholders," said Brian L. Roberts, Chairman and Chief Executive Officer of Comcast Corporation.
Cable Communications revenue increased 2.9% to $15.0 billion in the third quarter of 2020, driven by increases in high-speed internet, business services, wireless and advertising revenue, partially offset by decreases in video, voice and other revenue. These results were negatively impacted by accrued customer regional sports network (RSN) fee adjustments related to canceled sporting events as a result of COVID-19. Excluding these adjustments5, Cable Communications revenue increased 3.9%. High-speed internet revenue increased 10.1%, due to an increase in the number of residential high-speed internet customers and an increase in average rates.
Comcast defined three "core tenets" that will drive its strategy focused on broadband Internet, content aggregation and scaling up its tech platforms for video streaming.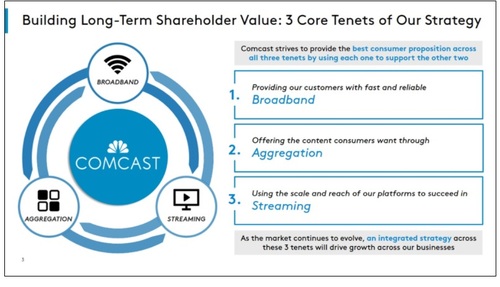 Source: Comcast
Xfinity Flex, Comcast's free streaming video/smart home product for broadband-only customers, has helped the company retain its broadband base. Flex, which has about 1 million active users, has cut churn rates by 15% to 20% among new broadband customers that engage with the platform. Flex has also helped to offset Comcast's pay-TV subscriber losses for the past two quarters.
"The goal of our common tech stack is to build once and deploy as many times in as many markets and in as many ways as possible on our network or through wholesale distribution," Brian Roberts, Comcast's chairman and CEO, said on the company's earnings call. He noted that the approach generates "good margins" for the company.
Indeed, cable profit margins of 42.7% were up 290 bps YoY, continuing a steady uptrend and beating analyst consensus of 41.7% by 100 bps. Absent wireless, margins would have been 44.3%, the highest ever and fully 300 bps above the levels a year ago.
Meanwhile, Capital Expenditures (CAPEX) decreased 4.9% to $2.4 billion in the third quarter of 2020. Cable Communications' capital expenditures decreased 2.5% to $1.8 billion. NBCUniversal's capital expenditures decreased 29.3% to $357 million. Sky's capital expenditures increased 127.3% to $237 million. For the nine months ended September 30, 2020, capital expenditures decreased 7.6% to $6.3 billion compared to 2019.
"We're committed to accelerating the wireless business," Dave Watson, CEO of Comcast Cable, said on today's earnings call.  Comcast may build out its own cellular infrastructure, at least on a targeted basis, which would effectively complement its MVNO arrangement with Verizon. Notably, Comcast was one of several cable operators that bid for and won CBRS spectrum, which it could use to offload mobile traffic in high-traffic areas.  "We have the ability to evolve this [mobile] offering over time to where we choose to include our own wireless network with cellular infrastructure to generate even greater profitability in the most highly trafficked mobile areas," Roberts said.
……………………………………………………………………………………………………………………………………………………………………………
Analyst Assessment:
Craig Moffett, principal of MoffettNathanson asks: Where are all the broadband subscribers coming from?
Verizon, AT&T, and now Comcast have all beaten expectations, and blown away historical growth rates. But it could also be asked of wireless, where, again, Verizon, AT&T, and now Comcast have all grown (Comcast a bit more slowly than expected, but it was solid growth nonetheless). It could even be asked of video, where, yes, Verizon, AT&T, and now Comcast have all lost fewer subscribers than expected. We, and the market, will be grappling with these questions for the next three months or longer. Let's start by acknowledging the obvious: Comcast's subscriber metrics in Q3 were absolutely stellar, whatever the explanation.
……………………………………………………………………………………………………………………………………………………………………………
References:
https://www.cmcsa.com/news-releases/news-release-details/comcast-reports-3rd-quarter-2020-results
https://www.cmcsa.com/events/event-details/q3-2020-comcast-corporation-earnings-conference-call
https://www.lightreading.com/cablevideo/comcast-sees-record-broadband-growth-in-q3-as-video-falls-again/d/d-id/765032?
---