Comcast added a record 633,000 residential and business broadband Internet customers in the Q3-2020, but lost another 273,000 video customers.  Cable Communications total customer relationship net additions of 556,000, were the best quarterly result ever for the company.
Xfinity Mobile, Comcast's mobile service via Verizon MVNO agreement, added 187,000 wireless subscriber in Q3-2020. That was down from additions of 204,000 lines in the year-ago quarter. There were 2.58 million mobile subs at the end of the quarter.
"We are nearly eight months into this pandemic – and despite many harsh realities, I couldn't be more pleased and proud of how our team has worked together across the company to find safe and creative solutions to successfully operate in this environment. We are executing at the highest level; and perhaps, most importantly, accelerating innovation, which will drive long-term future growth. This third quarter, we delivered the best broadband results in our company's history. Driven by our industry-leading platform and strategic focus on broadband, aggregation and streaming, we added a record 633,000 high-speed internet customers and 556,000 total net new customer relationships. At the same time, we're growing our entertainment platforms with the addition of Flex, which has a significant positive impact on broadband churn and customer lifetime value. Our integrated strategy is also driving results in streaming with nearly 22 million sign-ups for Peacock to date, and we are exceeding our expectations on all engagement metrics in only a few months. And Sky continues to add customer relationships at higher prices while reducing churn to all-time lows in our core UK business. Going forward, and as we emerge from the pandemic, we believe we are extremely well positioned to provide seamless and integrated experiences for our customers and to deliver superior long-term growth and returns for our shareholders," said Brian L. Roberts, Chairman and Chief Executive Officer of Comcast Corporation.
Cable Communications revenue increased 2.9% to $15.0 billion in the third quarter of 2020, driven by increases in high-speed internet, business services, wireless and advertising revenue, partially offset by decreases in video, voice and other revenue. These results were negatively impacted by accrued customer regional sports network (RSN) fee adjustments related to canceled sporting events as a result of COVID-19. Excluding these adjustments5, Cable Communications revenue increased 3.9%. High-speed internet revenue increased 10.1%, due to an increase in the number of residential high-speed internet customers and an increase in average rates.
Comcast defined three "core tenets" that will drive its strategy focused on broadband Internet, content aggregation and scaling up its tech platforms for video streaming.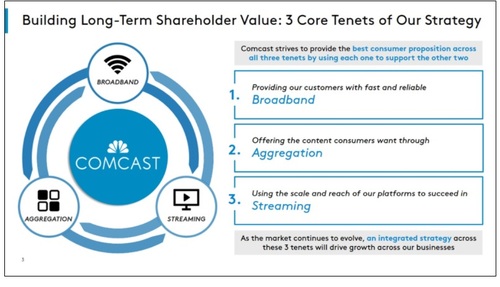 Source: Comcast
Xfinity Flex, Comcast's free streaming video/smart home product for broadband-only customers, has helped the company retain its broadband base. Flex, which has about 1 million active users, has cut churn rates by 15% to 20% among new broadband customers that engage with the platform. Flex has also helped to offset Comcast's pay-TV subscriber losses for the past two quarters.
"The goal of our common tech stack is to build once and deploy as many times in as many markets and in as many ways as possible on our network or through wholesale distribution," Brian Roberts, Comcast's chairman and CEO, said on the company's earnings call. He noted that the approach generates "good margins" for the company.
Indeed, cable profit margins of 42.7% were up 290 bps YoY, continuing a steady uptrend and beating analyst consensus of 41.7% by 100 bps. Absent wireless, margins would have been 44.3%, the highest ever and fully 300 bps above the levels a year ago.
Meanwhile, Capital Expenditures (CAPEX) decreased 4.9% to $2.4 billion in the third quarter of 2020. Cable Communications' capital expenditures decreased 2.5% to $1.8 billion. NBCUniversal's capital expenditures decreased 29.3% to $357 million. Sky's capital expenditures increased 127.3% to $237 million. For the nine months ended September 30, 2020, capital expenditures decreased 7.6% to $6.3 billion compared to 2019.
"We're committed to accelerating the wireless business," Dave Watson, CEO of Comcast Cable, said on today's earnings call.  Comcast may build out its own cellular infrastructure, at least on a targeted basis, which would effectively complement its MVNO arrangement with Verizon. Notably, Comcast was one of several cable operators that bid for and won CBRS spectrum, which it could use to offload mobile traffic in high-traffic areas.  "We have the ability to evolve this [mobile] offering over time to where we choose to include our own wireless network with cellular infrastructure to generate even greater profitability in the most highly trafficked mobile areas," Roberts said.
……………………………………………………………………………………………………………………………………………………………………………
Analyst Assessment:
Craig Moffett, principal of MoffettNathanson asks: Where are all the broadband subscribers coming from?
Verizon, AT&T, and now Comcast have all beaten expectations, and blown away historical growth rates. But it could also be asked of wireless, where, again, Verizon, AT&T, and now Comcast have all grown (Comcast a bit more slowly than expected, but it was solid growth nonetheless). It could even be asked of video, where, yes, Verizon, AT&T, and now Comcast have all lost fewer subscribers than expected. We, and the market, will be grappling with these questions for the next three months or longer. Let's start by acknowledging the obvious: Comcast's subscriber metrics in Q3 were absolutely stellar, whatever the explanation.
……………………………………………………………………………………………………………………………………………………………………………
References:
https://www.cmcsa.com/news-releases/news-release-details/comcast-reports-3rd-quarter-2020-results
https://www.cmcsa.com/events/event-details/q3-2020-comcast-corporation-earnings-conference-call
https://www.lightreading.com/cablevideo/comcast-sees-record-broadband-growth-in-q3-as-video-falls-again/d/d-id/765032?
A new report by the Dell'Oro Group found that total global revenue for wireline Broadband Access equipment (=Cable, DSL, and PON equipment) dropped to $2.5 B, down 15 percent year-over-year (YoY) from 1Q 2019. The first quarter activity, which is seasonally slow to begin with, was hurt by supply chain disruptions throughout Asia-Pacific as a result of the COVID-19 pandemic.
"The first half of 2020 will give way to a sustained rebound in broadband equipment spending in the second half of the year," said Jeff Heynen, Senior Research Director, Broadband Access and Home Networking. "The need to expand residential broadband speeds and availability will ultimately win out over the current macroeconomic slowdown," explained Heynen.
Following are additional highlights from the 1Q 2020 Broadband Access Quarterly Report:
Total cable access concentrator revenue decreased 22 percent YoY to $211 M, driven by a slowdown in CCAP license purchases in North America.
Total DOCSIS 3.1 CPE shipments remained strong and increased to 5.8 M, representing 67 percent of total Cable CPE shipments.  It's forecast to reach 70 percent of shipments by the end of 2020.
Total PON ONT (passive optical network/optical network terminal) unit shipments decreased 15 percent YoY, as new installations were limited by the pandemic.
Heynen also expects cable access revenues to rebound a bit in the second quarter as cable operators boost upstream capacity by purchasing additional channel capacity on traditional CCAPs and move ahead with mid-split and high-split projects that expand the amount of spectrum dedicated for the cable network upstream.
Cable remote PHY deployments remain slow today but could pick up as operators begin to touch amplifiers and other parts of the network for future expansions of the cable network upstream. In those cases, "you're almost required to upgrade to remote PHY at some point," explains Heynen.
Q1 didn't produce a major swing in cable access market share among CommScope/Arris, Casa Systems and Cisco Systems. Harmonic, meanwhile, has already warned that some cable network virtualization projects have been pushed out a bit as cable operators reassessed their near-term network-facing priorities during the pandemic.
Regarding the fiber-to-the-premises (FTTP) market, Dell'Oro found that total PON ONT (optical network terminal) unit shipments dropped 15% year-over-year as new installations were hindered by the pandemic. However, OLT (optical line terminal) ports were relatively flat over that period, indicating that there is sustained investment being placed in FTTP infrastructure in regions such as Europe, says Heynen.
Heynen expects that activity centered on the Rural Digital Opportunity Fund (RDOF) could provide some lift to the FTTP sector in the US next year.
The Dell'Oro Group Broadband Access and Home Networking Quarterly Report provides a complete overview of the Broadband Access market with tables covering manufacturers' revenue, average selling prices, and port/unit shipments for Cable, DSL, and PON equipment. Covered equipment includes Converged Cable Access Platforms (CCAP) and Distributed Access Architectures (DAA); Digital Subscriber Line Access Multiplexers ([DSLAMs] by technology ADSL/ADSL2+, G.SHDSL, VDSL, VDSL Profile 35b, and G.FAST); PON Optical Line Terminals (OLTs), Cable, DSL, and PON CPE (Customer Premises Equipment); and SOHO WLAN Equipment, including Mesh Routers. For more information about the report, please contact dgsales@delloro.com.
Dell'Oro Group is a market research firm that specializes in strategic competitive analysis in the telecommunications, networks, and data center IT markets.  Our firm provides in-depth quantitative data and qualitative analysis to facilitate critical, fact-based business decisions.  For more information, contact Dell'Oro Group at +1.650.622.9400 or visit www.delloro.com.
………………………………………………………………………………………………………………………………………………………
Source:  S&P Global
………………………………………………………………………………………………………………………….
References:
Total Broadband Access Equipment Revenue Dropped 15 Percent Y/Y, as Supply Chain Constraint Due to COVID-19 Take Their Toll, According to Dell'Oro Group
https://www.lightreading.com/optical-ip/fttx/global-broadband-access-equipment-revenues-dip-15–in-q1—delloro-/d/d-id/761549?
………………………………………………………………………………………………………………………….
Addendum:  Cable network undergoing a 'radical transformation'
Belal Hamzeh, CTO and SVP at CableLabs, told a Light Reading virtual audience that the evolution of the network and a rethinking of HFC are necessary to prepare the cable industry to support a wave of new requirements for a broader set of high-capacity, low-latency applications. These next-gen applications will span everything from augmented and virtual reality and remote healthcare to mobile backhaul and edge computing and others that are still being thought of.
"The requirements of the network are becoming quite diverse," he said. "For us to efficiently and effectively handle that, we have to look at entirely new perspectives … Rather than looking at the platform as a connectivity platform, we need to start looking at the platform as a connectivity and compute platform."
Virtualization, Hamzeh added, is a "huge enabler for this transformation."  To address that critical piece, CableLabs has teamed with partners, including Altran, on an open source project nicknamed "Adrenaline" that aims to provide a centrally managed distributed and heterogeneous computing platform that supports the deployment of workloads across the operator's infrastructure.
"It's a cable-first initiative, but this is also a general purpose platform," said Shamik Mishra, VP of research and innovation at Altran, a company that's primarily focused on engineering and R&D services for multiple industries, including the telecom sector.
"We're not trying to constrain what use cases there are [for Adrenaline]," added Randy Levensalor, principal architect with CableLabs's future infrastructure group in the office of the CTO.
---