North American Cloud and Traditional Telco CapEx Drops in 4th Quarter 2020
Subhead: Exceptional 4Q Cloud & Colo Operator Spending in APAC
After spending aggressively during the first half of 2020, Traditional Telco operators (Incumbent and Wholesale) in North America curbed spending on optical and packet hardware during the fourth quarter. 4Q20 spending by these operators dropped almost 40%, according to the 4Q20 Transport Customer Markets Report from market research firm Cignal AI.
"North American network operators spent much less than usual in 4Q20 as they installed and used capacity acquired earlier in the year amidst COVID uncertainties," said Scott Wilkinson, Lead Analyst for Transport Hardware. "This will change in 2021 as first Cloud and then Traditional operators resume normal spending patterns."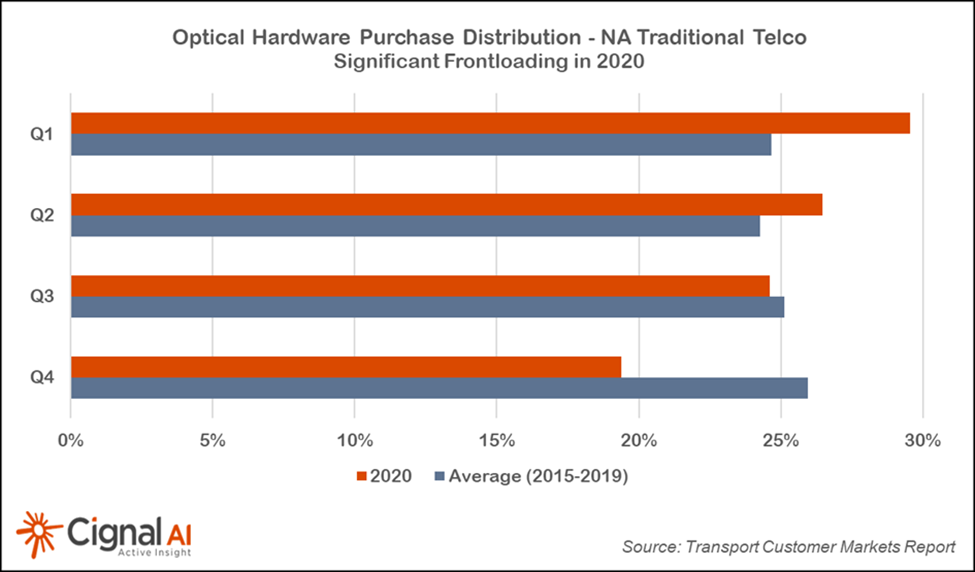 More Key Findings from the 4Q20 Transport Customer Markets Report:
Fourth Quarter spending on optical hardware by Cloud & Colo expanded dramatically in APAC but declined in EMEA and North America.
Ciena lost some sales of optical transport equipment to Cloud operators but maintained market leadership in 2020. Huawei (due to growth in APAC), Nokia, and Infinera all gained share.
Huawei maintained market share leadership for the year in both optical and packet transport equipment sales to Traditional Telcos. The company has not yet seen market share declines from growing political pressure in EMEA.
Enterprise & Government spending on optical hardware was resilient for the year; defying expectations that it would decline due to COVID pressures.
Transport markets should return to growth in the second half of 2021 as COVID restrictions are lifted, operational difficulties are resolved, and businesses resume normal operations. Strength will be led by Cloud & Colo operators, followed by Traditional Telco operators.
Separately, Cignal AI said on March 16th that Ciena's revenue decline this quarter was steeper than  forecast, but the company is poised to grow revenues based on the success of its WaveLogic 5e fifth generation coherent technology.
On March 2nd, Cignal AI said that Infinera originally expected its ICE6 technology to enter the market in the second half of 2020. The company's current guidance now indicates a 2H21 arrival. Infinera reports a strong order pipeline, but has not specified exactly when the first ICE6 will ship for revenue.
About the Transport Customer Markets Report:
The Cignal AI Transport Customer Markets Report tracks global optical and packet transport equipment spending by end-customer market type, including incumbent, wholesale, cloud and colocation, cable MSO and broadband, enterprise and government network operators.
The report includes historical market share and market size and five-year market size forecasts. Vendors examined: Adtran, ADVA, Alaxala, Ciena, Cisco, Ekinops, Ericsson, Fiberhome, Fujitsu, Fujitsu NC, Huawei, Infinera, Juniper Networks, Mitsubishi Electric, NEC, Nokia, Padtec, RAD, Tejas Networks, Ribbon Communications, Telco Systems, Xtera and ZTE.
About Cignal AI:
Cignal AI provides active and insightful market research for the networking component and equipment market and its end customers. Our work blends expertise from various disciplines to create a uniquely informed perspective on the evolution of networking communications.
References:
https://cignal.ai/free-articles/
---