Infinera has completed a simulated intercity network trial for Telstra InfraCo's intercity fiber project in Australia. The trial delivered 61.3 Tbps of unregenerated data transmission capacity on a fiber pair over the equivalent of 1,240 route km between Melbourne and Sydney, Australia.  The network trial was implemented using Infinera's 800G-capable ICE6 coherent solution [1.] and Corning Incorporated's SMF-28® ULL fiber with advanced bend, demonstrating the high-performance capability of the express network, which is part of the intercity fiber network Telstra InfraCo is building across Australia.
Note 1. The sixth-generation Infinite Capacity Engine (ICE6), from Infinera's Advanced Coherent Optical Engines and Subsystems, is a 1.6 Tb/s optical engine that delivers two independently programmable wavelengths at up to 800 Gb/s each. Utilizing a 7-nm CMOS process node DSP and advanced PIC technology, ICE6 leverages ultra-high baud rates, high modem SNR, and innovative features to break performance and spectral efficiency barriers, including 800G single-wavelength performance over 1000+ km in a commercial network. ICE6 is also beating optical transmission expectations at lower rates, including 600 Gb/s and 400 Gb/s per wavelength.
Image Credit:  Infinera
……………………………………………………………………………………………………………………………………………………………………………………………………………………………………………….
The trial was performed with real-world configurations, including 1,240 kilometers of ultra-low-loss fiber simulating one of Telstra InfraCo's planned express Melbourne-Sydney routes. Infinera performed an in-service, non-traffic-impacting upgrade from C-band to combined C-band plus L-band as part of the capacity expansion process. With Infinera's ICE6 and Corning's optical fiber, Telstra InfraCo achieved 61.3 Tbps total capacity with 6.2 milliseconds latency across the combined C-band and L-band, with wavelengths up to 700 Gbps.
Telstra InfraCo's express network is designed to be a high-performance national network for customers who need reliable, ultra-high bandwidth between capital cities and international submarine cable landing stations. For hyperscalers, global cloud providers, content companies, and governments, this means access to scalable high capacity and more direct routes, with optional route redundancy.
"Based on these results, Telstra InfraCo's express network and overall intercity fiber build will lead the world in scale, low latency, and high data transmission performance rate," said Kathryn Jones, Fiber Executive at Telstra InfraCo. "The simulation exceeds our expectations, offering almost seven times today's typical capacity of 8.8 Tbps per fibre pair and validates our selection of Corning's SMF-28 ULL fiber in the cable design. This will enable Telstra to develop market-leading solutions for our customers today and for years to come – a key element of Telstra's ambitious T25 strategy and transformation goals."
"To meet the rigorous demands of a vast network over Australia's unique terrain, Telstra InfraCo needed fiber infrastructure with advanced bend capability and minimal signal loss to deliver ultra-high cable capacity. That's why they turned to Corning," said Sharon Bois, Division Vice President, Product Line and Marketing, Corning Optical Fiber and Cable. "Our SMF-28® ULL fiber with advanced bend is designed to meet exactly those needs."
"Infinera's 800G-capable ICE6 solution demonstrated industry-leading performance, maximizing fiber capacity and reach on Telstra InfraCo's express network configuration," said Nick Walden, Senior Vice President of Worldwide Sales at Infinera. "This achievement underscores the enhanced performance Infinera's technology can bring to meet Telstra InfraCo's express network requirements for bandwidth today and into the future."
Media Contact:
Anna Vue
Tel. +1 (916) 595-8157
[email protected]
Referencs:
https://www.globenewswire.com/news-release/2023/5/8/2663213/0/en/Infinera-Achieves-61-3-Tbps-Data-Transmission-on-Simulated-1-240-Kilometer-Telstra-InfraCo-Intercity-Link.html
Press Release: Telstra Deploys Infinera's Coherent 800G Solution Across Dispersion-managed Subsea Cable
This week GTT Communications, Infinera, and Bluebird Network all announced network expansions within the U.S. The various announcements follow AT&T's deal last month with venture capital firm BlackRock to deploy a multi-gigabit fiber network to 1.5 million customer locations using a commercial open access platform.
 GTT Communications, Inc., a leading global provider of managed network and security services to multinational organizations, has announced that it has expanded its partnership with Ziply Fiber, a provider of fiber networks purpose-built for the internet, to establish a new network Point of Presence (PoP) to serve the fast-growing data center market in Portland, Oregon.  The two companies linked in hopes to "serve the fast-growing data center market" in the city, according to the announcement.
The new PoP is providing an initial 400G of capacity to customers in the U.S. Pacific Northwest region and will expand the power of GTT's global Tier 1 IP network by offering an additional option for customers to connect in 11 major data centers and the Hillsboro subsea cable landing station, expanding the reach of GTT via Ziply Fiber's high-count Silicon Forest fiber cross connection service.
"We are pleased to expand our partnership with GTT to establish a new network PoP in Portland to help customers in the region and beyond to connect to area data centers as well as other geographies," said Mike Daniel, vice president of Enterprise Sales at Ziply Fiber. "Our regional fiber network, combined with GTT's global Tier 1 network and suite of leading managed networking and security services, will give enterprises new options to improve connectivity securely and reliably."
GTT's global Tier 1 IP backbone is ranked among the largest in the industry1 and connects more than 260 cities on six continents. With the addition of the new Portland PoP, GTT customers in the region can benefit from the improved connectivity, security and scalability available through GTT's suite of managed connectivity services.
Ziply Fiber's network was architected to meet today's increasing digital demands and was engineered to be fully redundant, with a dual infrastructure that maintains customer connections even when issues arise. Ziply Fiber maintains a four-state footprint in Washington, Oregon, Idaho and Montana and has built redundancies into its network to avoid service interruptions, while updating routing to steer clear of congestion across the broader internet. This ensures content is accessible directly on the fiber backbone and can be accessed more quickly.
"This new PoP deployment creates an exciting opportunity to use the Ziply Fiber network to allow our regional data center customers to easily connect to and take advantage of GTT's global Tier 1 IP network and our full suite of managed services offerings," said Jim Delis, president, Americas Division, GTT. "Our work with Ziply Fiber demonstrates GTT's continued focus on investment to expand the reach of our network for customers with locations in the Pacific Northwest."
GTT will offer additional customer options to connect in 11 data centers and the Hillsboro subsea cable landing station. Jim Delis, president for GTT's Americas Division, stated the PoP deployment will enable the network provider's data center customers to link into its tier-one IP network.
………………………………………………………………………………………………………………………………………………..
Infinera announced today that the Louisiana Board of Regents, acting on behalf of the statewide Louisiana Optical Network Infrastructure (LONI) and the Board of Supervisors of Louisiana State University (LSU) and Agricultural and Mechanical College, has selected and deployed Infinera's advanced coherent optical networking solutions to upgrade LONI. Also announced today is the initial deployment of four 400G optical channels along a 220-mile intrastate route in Louisiana.
LONI connects 38 university campuses and data centers and provides connectivity to additional research and education networks in other states. The solution, which increases LONI's network capacity by a factor of 10, comprises Infinera's XTM Series open line system and GX Series transponders. The upgraded network expands the ability for the research and education community to share and access information, resources, and remote instruments in real time.
LONI promotes scientific computing and technology across Louisiana and is the backbone infrastructure to the state's heroic research efforts. These efforts are made possible by utilizing cutting-edge technology to push the limits of scientific discovery at leading university campuses and achievable with LONI's high-bandwidth optical network. Infinera's XTM Series line system coupled with GX Series high-performance transponders equips LONI with a 200G/400G/600G solution that offers unmatched high-bandwidth services to its customers today and is scalable to 800G in the future. Infinera's combined solution delivers superior performance, increasing LONI's service offering with more bandwidth, greater flexibility, and faster data transfer capabilities.
"A high-capacity state-of-the-art network is critical to enabling breakthrough discoveries that can only be achieved through multi-site collaboration and cloud connectivity," said Lonnie Leger, LONI's Executive Director. "We are committed to offering our members up to 100G and deploying Infinera's innovative solutions, which exceeded both our expectations and commitment, enabling us to exceed what other state universities can offer."
"LONI operates with a small staff, which requires a highly automated network and cost-effective solution that enables them to meet their bandwidth growth requirements," said Nick Walden, Senior Vice President, Worldwide Sales, Infinera. "The Infinera team worked closely with LONI to deliver a solution that met their needs now and positions them to meet future bandwidth needs with minimal maintenance and manpower to operate."
"As bandwidth continues its relentless growth driven by new high-speed applications such as 5G, [augmented reality], [virtual reality], and cloud services, legacy copper-based networks – such as DSL and cable – are simply not capable [of] meeting the bandwidth requirements," Robert Shore, SVP of marketing at Infinera, told SDxCentral.
Shore added that the current fiber boom "reinforces Infinera's focus on continuing to innovate and manufacture optical transport solutions that can help network operators effectively leverage their fiber deployments from the core of their network all the way to the very edge."
Infinera also announced that its ICE6 solution was deployed along the trans-Pacific Unity Submarine Cable System connecting Japan and the U.S., doubling the capacity of that connection.
……………………………………………………………………………………………………………………………………………………….
Bluebird Network completed a 126-mile fiber buildout in Illinois. The route connects the towns of Aurora, Dixon, DeKalb, Sterling, and Rock Falls to Bluebird's network and services, and provides a "diverse route" to Chicago, the company stated.
Bluebird's management noted the deployment builds on its recently acquired middle-mile fiber network assets from Missouri Telecom, and expansion into Salina, Kansas, and  Waterloo, Iowa.
"Bluebird has no plans to slow down its fiber expansions any time soon," Bluebird Network President and CEO Michael Morey stated in the release tied to its Kansas and Iowa expansion. "To foster even more growth and strengthen connectivity for businesses in the Midwest, we have builds underway for additional expansions coming online this summer."
Those moves come on the heels of the AT&T/BlackRock JV that is looking to deploy fiber to more than 30 million locations within AT&T's 21-state wireline footprint by the end of 2025, and positions the newly created Gigapower entity to boost its reach outside of those initial 21 states.
The deal also prompted a predication from Analysys Mason, saying the move further indicates "that the [U.S.] wireline market is entering a period of profound transformation that will leave it more aligned with the market structures seen in Europe."
…………………………………………………………………………………………………………………………………………………
References:
https://www.sdxcentral.com/articles/news/us-fiber-build-booms/2023/01/
https://www.globenewswire.com/news-release/2023/01/17/2589902/0/en/GTT-Partners-with-Ziply-Fiber-to-Extend-Connectivity-in-U-S-Pacific-Northwest-Region.html
https://www.globenewswire.com/news-release/2023/01/17/2589870/0/en/Louisiana-State-University-Deploys-Infinera-s-XTM-and-GX-Series-to-Upgrade-State-s-Most-Advanced-Research-and-Education-Network.html
https://www.globenewswire.com/news-release/2023/01/16/2589168/0/en/Unity-Submarine-Cable-System-Leverages-Infinera-s-ICE6-800G-Solution-to-Double-Capacity-of-the-US-and-Japan-Link.html
https://bluebirdnetwork.com/bluebird-network-expands-fiber-network-in-waterloo-iowa-and-salina-kansas/
https://www.businesswire.com/news/home/20230117005316/en/Bluebird-Network-Announces-New-Service-in-Five-New-Markets-Adding-an-Important-Diverse-Route-to-Its-Growing-Network
AT&T and BlackRock's Gigapower fiber JV may alter the U.S. broadband landscape
Subhead: Exceptional 4Q Cloud & Colo Operator Spending in APAC
After spending aggressively during the first half of 2020, Traditional Telco operators (Incumbent and Wholesale) in North America curbed spending on optical and packet hardware during the fourth quarter. 4Q20 spending by these operators dropped almost 40%, according to the 4Q20 Transport Customer Markets Report from market research firm Cignal AI.
"North American network operators spent much less than usual in 4Q20 as they installed and used capacity acquired earlier in the year amidst COVID uncertainties," said Scott Wilkinson, Lead Analyst for Transport Hardware. "This will change in 2021 as first Cloud and then Traditional operators resume normal spending patterns."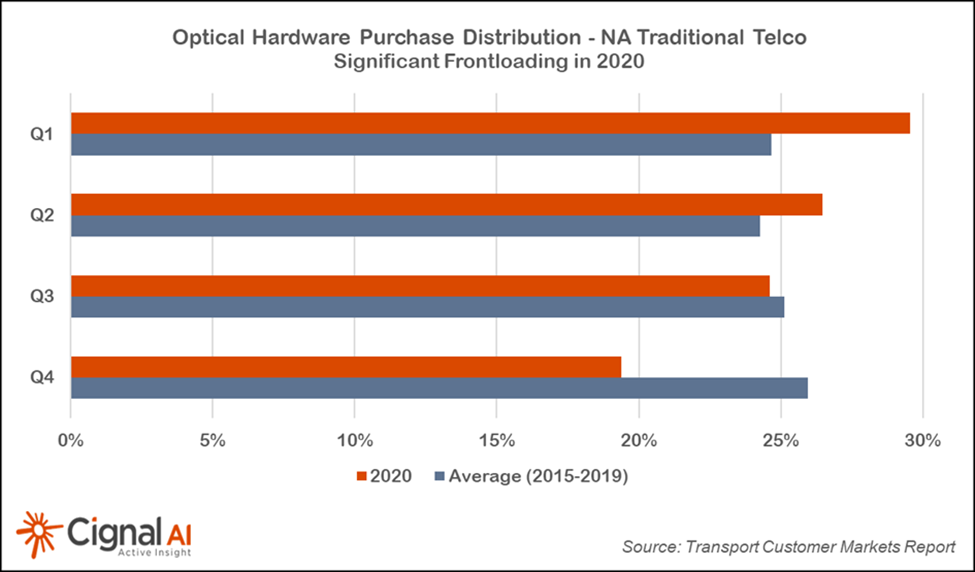 More Key Findings from the 4Q20 Transport Customer Markets Report:
Fourth Quarter spending on optical hardware by Cloud & Colo expanded dramatically in APAC but declined in EMEA and North America.
Ciena lost some sales of optical transport equipment to Cloud operators but maintained market leadership in 2020. Huawei (due to growth in APAC), Nokia, and Infinera all gained share.
Huawei maintained market share leadership for the year in both optical and packet transport equipment sales to Traditional Telcos. The company has not yet seen market share declines from growing political pressure in EMEA.
Enterprise & Government spending on optical hardware was resilient for the year; defying expectations that it would decline due to COVID pressures.
Transport markets should return to growth in the second half of 2021 as COVID restrictions are lifted, operational difficulties are resolved, and businesses resume normal operations. Strength will be led by Cloud & Colo operators, followed by Traditional Telco operators.
Separately, Cignal AI said on March 16th that Ciena's revenue decline this quarter was steeper than  forecast, but the company is poised to grow revenues based on the success of its WaveLogic 5e fifth generation coherent technology.
On March 2nd, Cignal AI said that Infinera originally expected its ICE6 technology to enter the market in the second half of 2020. The company's current guidance now indicates a 2H21 arrival. Infinera reports a strong order pipeline, but has not specified exactly when the first ICE6 will ship for revenue.
About the Transport Customer Markets Report:
The Cignal AI Transport Customer Markets Report tracks global optical and packet transport equipment spending by end-customer market type, including incumbent, wholesale, cloud and colocation, cable MSO and broadband, enterprise and government network operators.
The report includes historical market share and market size and five-year market size forecasts. Vendors examined: Adtran, ADVA, Alaxala, Ciena, Cisco, Ekinops, Ericsson, Fiberhome, Fujitsu, Fujitsu NC, Huawei, Infinera, Juniper Networks, Mitsubishi Electric, NEC, Nokia, Padtec, RAD, Tejas Networks, Ribbon Communications, Telco Systems, Xtera and ZTE.
About Cignal AI:
Cignal AI provides active and insightful market research for the networking component and equipment market and its end customers. Our work blends expertise from various disciplines to create a uniquely informed perspective on the evolution of networking communications.
References:
https://cignal.ai/free-articles/
---