Ericsson and Nokia demonstrate 5G Network Slicing on Google Pixel 6 Pro phones running Android 13 mobile OS
In separate announcements today, Ericsson and Nokia stated they had completed 5G Network Slicing trials with Google on Pixel 6 Pro smart phones running the Android 13 mobile OS [1.].
Network Slicing is perhaps the most highly touted benefits of 5G, but its commercial realization is taking much longer than most of the 5G cheerleaders expected.  That is because Network Slicing, like all 5G features, can only be realized on a 5G standalone (SA) network, very few of which have been deployed by wireless network operators.  Network slicing software must be resident in the 5G SA Core network and the 5G endpoint device, in this case the Google Pixel 6 Pro smartphone.
Note 1.  On August 15, 2022, Google released Android 13 -the latest version of its mobile OS. It comes with a number of new features and improvements, as well as offers better security and performance fixes.  However, it's implementation on smartphones will be fragmented and slow according to this blog post.
For devices running Android 12 or higher, Android provides support for 5G Network Slicing, the use of network virtualization to divide single network connections into multiple distinct virtual connections that provide different amounts of resources to different types of traffic. 5G network slicing allows network operators to dedicate a portion of the network to providing specific features for a particular segment of customers. Android 12 introduces the following 5G enterprise network slicing capabilities, which network operators can provide to their enterprise clients.
Android 12 introduces support for 5G network slicing through additions to the telephony codebase in the Android Open Source Project (AOSP) and the Tethering module to incorporate existing connectivity APIs that are required for network slicing.
Here's a functional block diagram depicting 5G network slicing architecture in AOSP: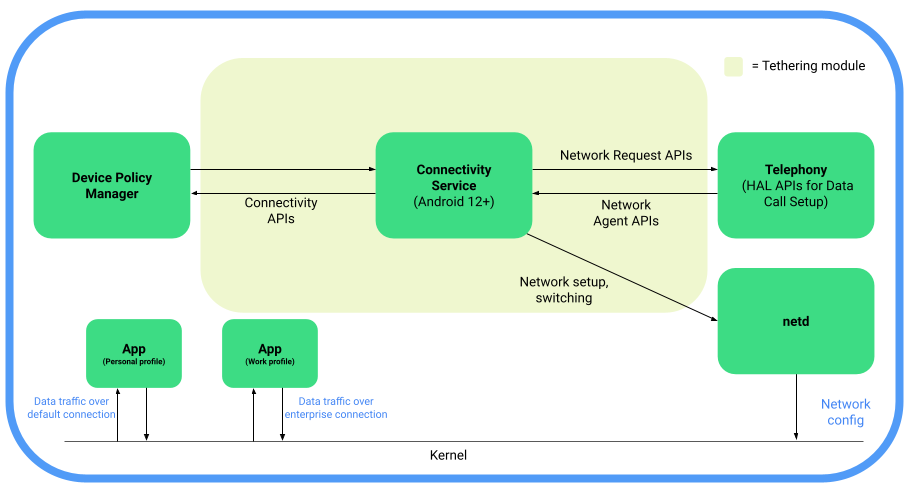 Image Credit: Android Open Source Project
1.  Ericsson and Google demonstrated support on Ericsson network infrastructure for multiple slices on a single device running Android 13, supporting both enterprise (work profile) and consumer applications. In addition, for the first time, a slice for carrier branded services will allow communications service providers (CSP) to provide extra flexibility for customized offerings and capabilities. A single device can make use of multiple slices, which are used according to the on-device user profiles and network policies defined at the CSP level.
The results were achieved in an Interoperability Device Testing (IODT) environment on Google Pixel 6 (Pro) devices using Android 13. The new release sees an expansion of the capabilities for enterprises assigning network slicing to applications through User Equipment Route Selection Policy (URSP ) rules, which is the feature that enables one device using Android to connect to multiple network slices simultaneously.  
Two different types of slices were made available on a device's consumer profile, apart from the default mobile broadband (MBB) slice. App developers can now request what connectivity category (latency or bandwidth) their app will need and then an appropriate slice, whose characteristics are defined by the mobile network, will be selected. In this way either latency or bandwidth can be prioritized, according to the app's requirements. For example, the app could use a low-latency slice that has been pre-defined by the mobile network for online gaming, or a pre-defined high-bandwidth slice to stream or take part in high-definition video calling. 
In an expansion of the network slicing support offered by Android 12, Android 13 will also allow for up to five enterprise-defined slices to be used by the device's work profile. In situations where no USRP rules are available, carriers can configure their network so traffic from work profile apps can revert to a pre-configured enterprise APN (Access Point Name) connection – meaning the device will always keep a separate mobile data connection for enterprise- related traffic even if the network does not support URSP delivery. 
Monica Zethzon, Head of Solution Area Packet Core at Ericsson said: "As carriers and enterprises seek a return on their investment in 5G networks, the ability to provide for a wide and varied selection of use cases is of crucial importance. Communications Service Providers and enterprises who can offer customers the flexibility to take advantage of tailored network slices for both work and personal profiles on a single Android device are opening up a vast reserve of different uses of those devices. By confirming that the new network slicing capabilities offered by Android 13 will work fully with Ericsson network technology, we are marking a significant step forward in helping the full mobile ecosystem realize the true value of 5G."  
Ericsson and partners have delivered multiple pioneering network slicing projects using the Android 12 device ecosystem. In July, Telefonica and Ericsson announced a breakthrough in end-to-end, automated network slicing in 5G Standalone mode.  
2.  Nokia and Google announced that they have successfully trialed innovative network slice selection functionality on 4G/5G networks using UE Route Selection Policy (URSP) [2.] technology and Google Pixel 6 (Pro) phones running Android 13. Once deployed, the solution will enable operators to provide new 5G network slicing services and enhance the customer application experience of devices with Android 13. Specifically, URSP capabilities enable a smartphone to connect to multiple network slices simultaneously via different enterprise and consumer applications depending on a subscriber's specific requirements.  The trial, which took place at Nokia's network slicing development center in Tampere, Finland, also included LTE-5G New Radio slice interworking functionality. This will enable operators to maximally utilize existing network assets such as spectrum and coverage.
Note 2. User Equipment Route Selection (URSP) is the feature that enables one device using Android to connect to multiple network slices simultaneously.  It's a feature that both Nokia and Google are supporting.
URSP capabilities extend network slicing to new types of applications and use cases, allowing network slices to be tailored based on network performance, traffic routing, latency, and security. For example, an enterprise customer could send business-sensitive information using a secure and high-performing network slice while participating in a video call using another slice at the same time. Additionally, consumers could receive personalized network slicing services for example for cloud gaming or high-quality video streaming. The URSP-based network slicing solution is also compatible with Nokia's new 5G radio resource allocation mechanisms as well as slice continuity capabilities over 4G and 5G networks.
The trial was conducted using Nokia's end-to-end 4G/5G network slicing product portfolio across RAN-transport-core as well as related control and management systems. The trial included 5G network slice selection and connectivity based on enterprise and consumer application categories as well as 5G NR-LTE slice interworking functionalities.
Nokia is the industry leader in 4G/5G network slicing and was the first to demonstrate 4G/5G network slicing across RAN-Transport-Core with management and assurance. Nokia's network slicing solution supports all LTE, 5G NSA, and 5G SA devices, enabling mobile operators to utilize a huge device ecosystem and provide slice continuity over 4G and 5G.
Nokia has carried out several live network deployments and trials with Nokia's global customer base including deployments of new slicing capabilities such as Edge Slicing in Virtual Private Networks, LTE-NSA-SA end-to-end network slicing, Fixed Wireless Access slicing, Sliced Private Wireless as well as Slice Management Automation and Orchestration.
Ari Kynäslahti, Head of Strategy and Technology at Nokia Mobile Networks, said: "New application-based URSP slicing solutions widen operator's 5G network business opportunities. We are excited to develop and test new standards-based URSP technologies with Android that will ensure that our customers can provide leading-edge enterprise and consumer services using Android devices and Nokia's 4G/5G networks."
Resources:
…………………………………………………………………………………………………………………………………………………………….
Addendum:
Google's Pixel 6 and Pixel 6 Pro, which run on Android 12, are the first two devices certified on Rogers 5G SA network in Canada, which was deployed in October 2021.  However, 5G network slicing hasn't been announced yet.
Telia deployed a commercial 5G standalone network in Finland using gear from Nokia and the operator highlighted its ability to introduce network slicing now that it has a 5G SA core.
OPPO, a Chinese consumer electronics and mobile communications company headquartered in Dongguan, Guangdong, recently demonstrated the pre-commercial 5G enterprise network slicing product at its 5G Communications Lab in collaboration with Ericsson and Qualcomm.  OPPO has been conducting research and development in 5G network slicing together with network operators and other partners for a number of years now.
References:
https://www.ericsson.com/en/news/2022/8/ericsson-and-google-show-how-multiple-network-slices-on-a-single-android-13-device-can-boost-consumer-and-enterprise-applications
https://www.nokia.com/about-us/news/releases/2022/08/25/nokia-and-google-trial-innovative-slicing-solution-for-android-devices-and-4g5g-networks/
https://source.android.com/docs/core/connect/5g-slicing
https://news.abplive.com/technology/android-13-release-roll-out-which-users-getting-it-fragmentation-issue-1549758
Network Slicing and 5G: Why it's important, ITU-T SG 13 work, related IEEE ComSoc paper abstracts/overviews
Nokia and Safaricom complete Africa's first Fixed Wireless Access (FWA) 5G network slicing trial
---