Dell'Oro: Optical Transport market to hit $17B by 2027; Lumen Technologies 400G wavelength market
According to a recent forecast report by Dell'Oro Group, the Optical Transport equipment demand is forecast to increase at a 3 percent compounded annual growth rate (CAGR) for the next five years, reaching $17 billion by 2027. The cumulative revenue during that five year period is expected to be $81 billion.
"We expect annual growth rates to fluctuate in the near term before stabilizing to a more typical 3 percent growth rate," said Jimmy Yu, Vice President at Dell'Oro Group. "There is still a large amount of market uncertainty this year due to the economic backdrop—economists are predicting a high chance of a recession in North America and Europe. However, at the same time, most optical systems equipment manufacturers are reporting record levels of order backlog entering the year, and we expect that most of this backlog could convert to revenue when component supply improves this year," added Yu.
Additional highlights from the Optical Transport 5-Year January 2023 Forecast Report:
Optical Transport market expected to increase in 2023 due to improving component supply.
WDM Metro market growth rates in next five years are projected to be lower than historic averages due to the growing use of IP-over-DWDM.
DWDM Long Haul market is forecast to grow at a five-year CAGR of 5 percent.
Coherent wavelength shipments on WDM systems forecast to grow at 11 percent CAGR, reaching 1.2 million annual shipments by 2027.
Installation of 400 Gbps wavelengths expected to dominate for most of forecast period.
The Dell'Oro Group Optical Transport 5-Year Forecast Report offers a complete overview of the Optical Transport industry with tables covering manufacturers' revenue, average selling prices, unit shipments, wavelength shipments (by speed up to 1.2+ Tbps).  The report tracks DWDM long haul, WDM metro, multiservice multiplexers, optical switch, Disaggregated WDM, DCI, and ZR Optics.
……………………………………………………………………………………………………………………………………………………
Separately, Lumen Technologies is expanding its 400G wavelength network across North America. Lumen said it has now deployed the network in 70 markets. More than 240 data centers have access to Lumen's 400G Wavelength Services, and the network has over 800 Tbit/s of capacity.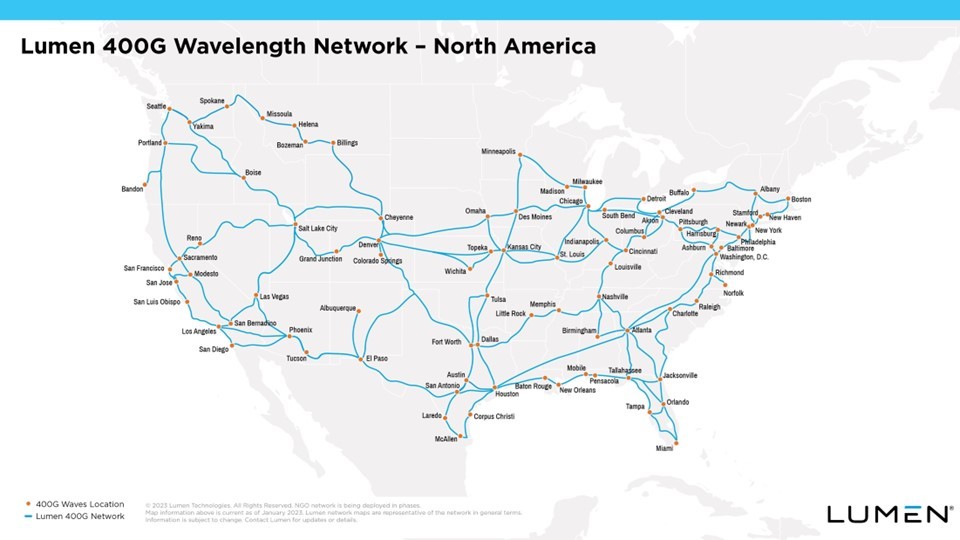 Lumen said it plans to continue its intercity 400G expansion this year, pushing the network "deeper into the metro edge." The company noted that wavelength services will assist customers in moving workloads to the cloud, and provide private, dedicated connections.
Enterprise customers can also examine network options, plan out their wavelengths and get cost estimates with Lumen's Topology Viewer.
References:
Optical Transport Equipment Market to Grow at 3 Percent CAGR through 2027, According to Dell'Oro Group
https://www.prnewswire.com/news-releases/lumen-kicks-up-its-400g-offering-across-the-us-301730126.html
---