To the surprise of many, the Cable industry (Cablecos/MSOs) has captured an accelerating share of gross and net wireless subscriber additions, forcing incumbent wireless telcos (AT&T, Verizon, T-Mobile) to respond by offering lower priced alternatives.  In the second quarter of the year, with cable taking nearly half (49.2%) of industry net additions in the period (after adjusting for 3G network shutdowns), according to MoffettNathanson's latest report (subscription required) on the mobile sector. Cable's Q2 2022 take was up from approximately 31.9% in the year-ago period.
MoffettNathanson's analysis also showed that cable took its highest share of gross mobile subscriber adds in Q2 2022, at 11.9%. That compared to T-Mobile (30.1%), AT&T (29%) and Verizon (27.8%).  Comcast, Charter and Altice USA combined to add 694,000 mobile lines in the second quarter, ending the period with 9.12 million.
Comcast, Charter, and Altice collectively added 694K new subscribers in Q2, up more than 100K from the corresponding quarter last year. That takes Cable's subscriber base beyond 9M, or still just ~3% of the U.S. industry as per the graph below.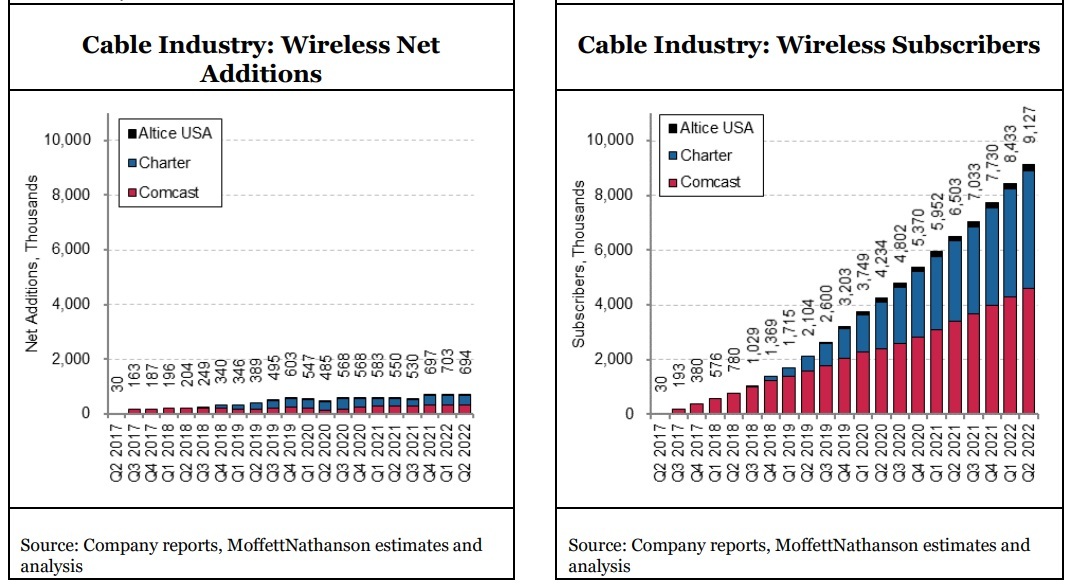 Comcast disclosed that wireless penetration of its residential broadband base has reached 7.9% (or about 2.4M homes), suggesting they've reached nearly 2 lines per home, up from ~1.6 lines per account just a year ago.
Privately held Cox Communications is now in beta testing on its MVNO service, and we expect it will offer pricing similar to Comcast's and Charter's. That will only add to the pressure on the wireless telco incumbents.
"Cable Wireless offers have been more successful than anyone had expected when they were first introduced," MoffettNathanson analyst Craig Moffett wrote. Of note, it appears that Comcast 's Xfinity Mobile service has reached nearly two lines per home per mobile sub, up from about 1.6 mobile lines per account just a year ago.
Citing data from Navi, a firm that aggregates data on service plans and promos from major postpaid carriers, original equipment manufacturers and large retailers, Moffett says there's a "clear and growing interest in Cable Wireless as a potential service provider."
"Lower industry growth means a more challenging path forward for all carriers… particularly given the rapid share gains of the cable operators," Craig wrote. "While Cable wireless collectively took nearly 700K net adds during the quarter, they would presumably have taken even more had the incumbents' new basic entry plans not been introduced," he added.
……………………………………………………………………………………………………………………………………………………………………
Business Wireline Status:
"While wireless is inarguably the core business for both Verizon and AT&T, the worsening conditions of the Business Wireline segment, which accounts for some 19% of revenues at AT&T and 11% at Verizon, cannot be ignored. Deterioration in the sector overall is bad enough, particularly in light of high prevailing inflation. Industry revenues are now shrinking by 3.7% per year.  Excluding USF and IP sales, AT&T saw Business Wireline revenues fall by 7.6% YoY in Q2, and Verizon saw Business Wireline revenues fall by an estimated 8.2%,"  wrote Craig Moffett.
AT&T's Overlooked Assets:
MoffettNathanson is missing two key growing revenue streams for AT&T:
 Increasing fiber optic network sales to both business and residential customers:  AT&T added 316,000 net AT&T Fiber subscribers during the second quarter of 2022, resulting in fiber penetration of nearly 37% with about 6.6 million total fiber subscribers.  AT&T has already added nearly 2 million AT&T Fiber (brand name) locations this year.  AT&T's fast-growing fiber revenues now make up nearly half of our consumer wireline broadband revenues."
FirstNet network which covers more first responders than any other network.  FirstNet now reaches more than 2.81 million square miles across the U.S. That is 50,000+ more square miles than the largest commercial networks (about the size of Alabama) – giving more first responders access to an entire ecosystem of innovative solutions to keep them mission ready.
References:
https://www.fiercetelecom.com/broadband/att-adds-316000-fiber-subs-q2-2022
https://about.att.com/story/2022/fn-covers-more-first-responders-than-any-network.html
---