5G non-standalone (5G NSA) networks, voice services were enabled by continued use of LTE and 2G/3G infrastructures, but 5G standalone networks (5G SA) – both public and private –  require a new approach. They need to be able to carry QoS-guaranteed voice services (as opposed to over-the-top voice applications), but there is no legacy infrastructure to fall back on.
Voice over New Radio (VoNR) [1.] is designed to meet this challenge. VoNR is also expected to bring improvements in latency, call quality and improved integration with applications and services using 5G data at the same time. VoNR is anticipated to drive innovation in conferencing, augmented and virtual reality applications over 5G networks.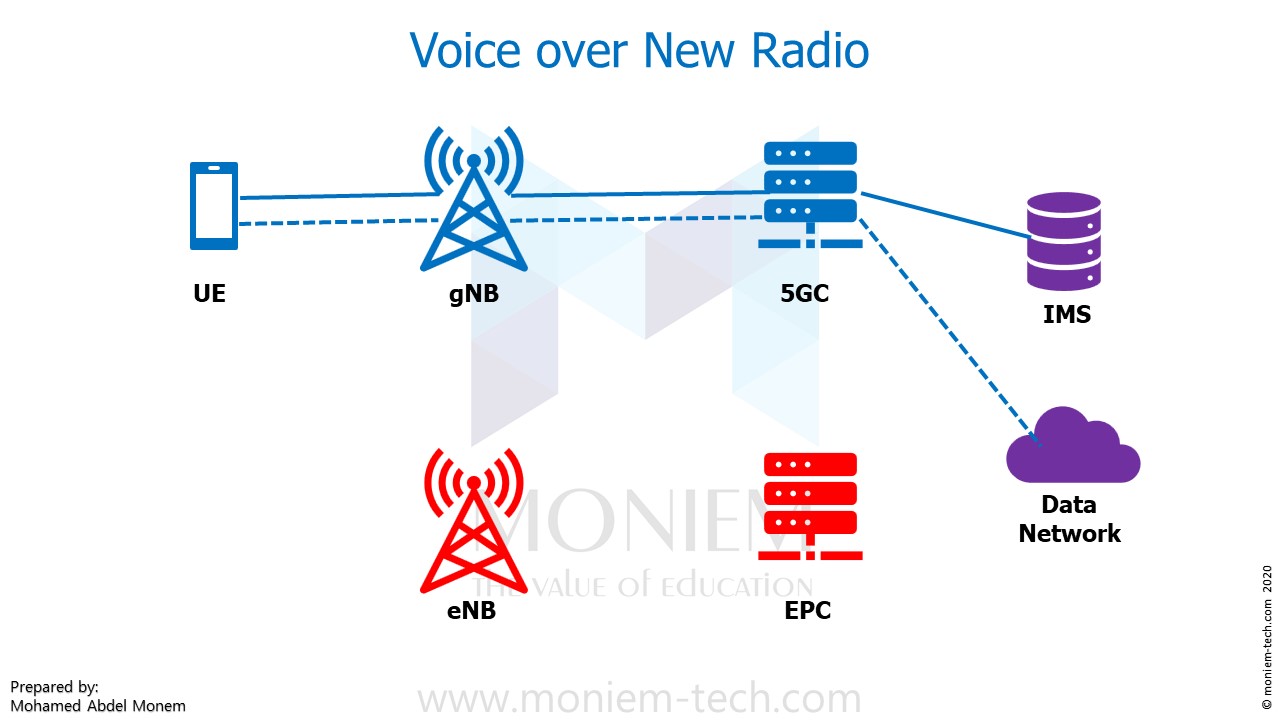 Note 1.  5G NR is the essence of standardized 5G RAN as per 3GPP Release 15, 16 and ITU-R M2150 recommendation for 5G RIT/SRIT.  However, VoNR requires a 5G SA core network rather than using LTE signaling and core (EPC).
Additionally, there needs to be a mechanism for devices to use to LTE, or 2G/3G voice networks when outside the coverage of a 5G standalone network. EPS Fallback (EPS-FB) is an early introduction step to VoNR until sufficient NR low-band or low mid-band coverage has been deployed.
The Global mobile Suppliers Association (GSA) announced that 42 devices and 40 5G chipsets from four vendors have been announced supporting Voice over New Radio (VoNR) technology. This includes five discrete modems and 35 mobile processors/platforms. Of these, 36 are known to be commercially available, including four discrete modems and 32 mobile processors and platforms. Chipsets are commercially available from Mediatek, Qualcomm, Samsung and Unisoc.
In the GSA's latest VoNR Market Report, the industry group found that numerous network operators are heavily investing in the new voice technology for their 5G standalone networks. To date, GSA has catalogued 16 operators publicly announced as investing in VoNR in some way or another. Of those, eight are evaluating/testing/trialing, three are understood to be planning to deploy, three
are deploying the technology, one has soft launched VoNR services and one is offering limited VoNR as part of a market trial of its new 5G SA network.
This past June, Deutsche Telekom (DT) and partners announced the successful completion of the world's first 5G Voice over New Radio (VoNR) call in an end to end multi-vendor environment.  T-Mobile, which is majority owned by DT, is also pursuing VoNR as per this article.
References:
GSA Market Report: Global Progress to Voice over New Radio (VoNR) – October 2021
https://www.telecompaper.com/news/gsa-says-42-devices-support-vonr-16-operators-testing-5g-voice–1400895
https://www.telekom.com/en/media/media-information/archive/world-first-end-to-end-multivendor-5g-voice-over-nr-call-628746
https://www.fiercewireless.com/tech/t-mobile-chases-voice-5g-verizon-at-t-not-so-much
Singapore network operator M1 and Samsung have demonstrated a Voice over 5G New Radio (VoNR) capability on M1's 5G Standalone (SA) network.
Leveraging Samsung's 5G services and M1's engineering team and 5G SA use cases and trials, M1 and Samsung achieved the deployment of VoNR service on M1's 5G SA network. This partnership validates 5G VoNR interoperability – said to be a world's first, M1 said.
The VoNR call service fully utilizes 5G SA architecture for an improved high definition quality call experience, while providing 5G speeds for data-driven activities throughout the duration of the voice calls In comparison to calls made on the 5G non-standalone (NSA) network, which rides on existing 4G networks, the VoNR service boasts faster call setup time and seamless voice call continuity, presenting M1 customers with the true 5G experience. M1 customers will be able to enjoy the benefits of VoNR service as M1 gears up for its 5G SA market trial launch on the 27th of July.
The two companies said that VoNR service will open up numerous 5G SA-enabled data services and provide the baseline for quality video conferencing or augmented and virtual reality features, offering a glimpse into the possible connectivity solutions 5G SA will enable M1 to bring to its subscribers.  This author is quite skeptical of that claim.
The underlying technology relies on the network having a 5G Core and IMS architecture (IP Multimedia Subsystem, a standard used for voice over LTE (VoLTE) and now voice over 5G networks). M1 also said it was the world's first to implement VoNR, although that claim also was made by Deutsche Telekom, who implemented VoNR using multiple 5G vendors.
According to M1, VoNR offers faster call setup times, more seamless voice call continuity, and an improved high definition quality call experience when compared to calls made via 5G non-standalone (5G NSA) networks.  [5G NSA technology relies on a 4G- LTE anchor for everything except data transmission.]
The new VoNR feature will be available as an over-the-air update to compatible 5G Samsung devices on M1's 5G Booster Plan, on top of getting data speeds "almost five times faster than 4G."
Samsung Galaxy S21 Ultra, S21+ and S21 customers on M1 network will be amongst the first in the world to enjoy the benefits of the VoNR network via an over-the-air software update on M1's 5G Booster Plan.  Customers can also look forward to seamless connectivity with an ultra-fast data speed rate that is almost five times faster than 4G. Furthermore, paired with Samsung's 5G compatible devices, multi-tasking is possible with remarkable productivity improvement.
"We have once again reached a groundbreaking milestone in our 5G SA journey – to be the first in the world to successfully support VoNR service on our 5G SA network. We are glad to work with a like-minded partner like Samsung to achieve high quality call and better 5G experience for our customers. With M1's imminent market trial of the 5G SA network, we are excited to leverage 5G SA's low latency, ultra-responsive, highly secured and high-throughput mobile connectivity to deliver high performance and reliable 5G services for our consumers and enterprises. This step in our 5G implementation journey is in line with the Keppel Group's Vision 2030, which includes enhancing connectivity for communities," said Mr. Denis Seek, Chief Technical Officer, M1.
"Samsung is proud to play a pioneering role in placing Singapore at the forefront of network technology innovation, turning on next-generation service in the country. Committed to inspiring the world and shaping the future with transformative ideas and technologies, we are taking a meaningful step in realising the full potential of 5G for consumers and industries. With VoNR, we look forward to delivering more transformative experiences to customers and businesses with M1," said Ms. Sarah Chua, Vice-President, IT and mobile, Samsung Electronics Singapore.
References:
---