Cohere Technologies, Intel, Juniper Networks, Mavenir and VMware intend to collaborate to develop the industry's first framework for a multi-generational (Multi-G), software-based Open RAN architecture. The Multi-G initiative would define frameworks, interfaces, interoperability testing, and evaluation criteria that would provide the interfaces to support full coexistence of 4G, 5G, and future waveforms.
Intel's FlexRAN platform is used by most current virtualized RAN (vRAN) deployments; Mavenir has a strong presence in providing open RAN equipment and software; and Juniper Networks and VMware are both contributing their work with the RAN intelligent controller (RIC).  Cohere's contribution is through its Universal Spectrum Multiplier software that can be integrated by RAN vendors or as an "app" into a telco cloud platform.
Intel's involvement in this initiative is significant from an industry perspective due to the breadth of FlexRAN adoption. It also puts the chip giant a step ahead of competitors like Qualcomm, Arm and AMD that are aggressively targeting the Open RAN silicon market.
The new Multi-G framework would disaggregate RAN intelligence and scheduling functions, enabling future code releases of Intel's FlexRAN reference architecture to support higher capacity, software-defined deployments for 4G, 5G and next generation wireless waveforms and standards.
This effort would help drive higher performance and connectivity across satellite, private and ad-hoc networks, and autonomous vehicles, increasing new service and revenue opportunities for telecommunications and mobile operators.
"This is going to make the network programmable all the way from layer one to the highest layers of the architecture," said Cohere Technologies' CEO Ray Dolan.  "It's not that open RAN is incomplete or not vibrant or not working, it is." Right now, it has opened most of the parts that are what I'll say are less controversial than the E2 interface. It's opened the radio interfaces and the antenna interfaces, and so it's established. But it hasn't established the proper E2 interfaces completely. And that's widely accepted as a fact. And in order for, I believe, for open RAN to really achieve its full vision, it needs to open that E2 interface because that's where the innovation will come. Because that's where all of the complexity in the marketplace is."
The E2 work basically taps into the near real-time xApps running in a RIC to monitor and optimize an operator's RAN deployment – typically either a vRAN or open RAN – and across different spectrum bands. This in turn allows an operator to support more stringent service-level agreements (SLAs) and private network deployments that can generate more revenues.
Ahead of the group's first meeting in May 2023, telecommunications leaders worldwide are already sharing support for the collaborative initiative:
Vodafone Group
"This commitment from Intel, Mavenir, Juniper Networks, and Cohere, with a software programmable L1 stack, is fully aligned with the vision of Open RAN and will bring us one step closer to the scale deployment of software-defined RAN," said Yago Tenorio, Vodafone Fellow and Director of Network Architecture, and Chairman of the Telecom Infra Project (TIP). "This has huge potential for significant performance and capacity benefits for all existing cellular networks. We strongly endorse this initiative, and we look forward to seeing the critical interfaces published into the relevant O-RAN Alliance and TIP Working Groups."
Telstra
"Cohere's Universal Spectrum Multiplier technology has the potential to unlock new architectural capabilities and opportunities for the RAN beyond today's architecture," said Iskra Nikolova, Network and Infrastructure Engineering Executive at Telstra. "We're pleased to support this initiative and look forward to working with Cohere and the group to define the framework and accompanying critical interfaces."
Bell
"A genuine Multi-G framework will enhance the benefits of Cohere's Universal Spectrum Multiplier, strengthen Open RAN vendor flexibility down to the silicon layer, and allow old and new waveforms to coexist— beyond 5G," said Mark McDonald, Bell's Vice President, Wireless Access. "Bell looks forward to working with Cohere and partners later this year to further test this architecture."
Hear from the Collaborators:
Intel Corporation
"This Multi-G framework, enabled by Intel FlexRAN – which is fully software programmable down to L1 – will enable faster O-RAN adoption and unlock new innovations," said Sachin Katti, senior vice president and general manager of the Network and Edge Group at Intel Corporation.
Mavenir
"As the leading Open RAN partner, we're excited to be part of the Multi-G initiative which promises to bring 4G and 5G spectral efficiencies gains not possible with incumbent solutions," said Bejoy Pankajakshan, EVP-Chief Technology and Strategy Officer at Mavenir. "Unlike traditional DSS (Dynamic Spectrum Sharing) techniques which reduces 4G and 5G performance, with our Multi-G collaboration with Cohere and Intel, Mavenir can provide a true spectrum co-existence solution, which deploys 5G on the same spectrum assets as 4G dramatically improving the ROI per Hz on the existing 4G spectrum."
Juniper Networks
"As more 5G deployments are underway, there is still a large installed base of 4G networks that can benefit from the intelligence, control and automation enabled by an Open RAN Intelligent Controller (RIC) architecture," said Raj Yavatkar, CTO of Juniper Networks. "Juniper Networks has already demonstrated innovative 4G and 5G use cases with our Juniper Non-RealTime RIC and Near-RealTime RIC that can provide more flexibility to network operators. We are excited to add our expertise and join the Multi-G framework initiative, which will not only help to accelerate Open RAN adoptions but will also spur further innovation across multiple generations of mobile networks to enhance the network operator experience."
VMware
"VMware is already paving the way for more programmable and intelligent Open RAN networks with our VMware RIC and our Service Management Orchestration Framework (SMO) for end-to-end RAN automation, assurance and optimization," said Sanjay Uppal, GM & SVP, Service Provider Business Unit, VMware. "We are pleased to join other industry leaders to pioneer in the development of the industry's first framework for a Multi-G, software-programmable architecture that will further encourage innovation and fast-track the adoption of Open RAN globally."
Open RAN Policy Coalition
"Defining new interfaces that supercharge developing and future networks is critical for the success of open networks," said Diane Rinaldo, Executive Director of the Open RAN Policy Coalition. "This will foster innovation and add flexibility, which will improve our competitiveness."
Cohere Technologies
"We are pleased to work with world-class partners and operators to accelerate the deployment of Multi-G, open networks with significant performance improvements," said Ray Dolan, CEO of Cohere Technologies. "Cohere is committed to a software-based, open architecture that can drive faster innovation and deliver critical revenue growth and profitability for the industry."
………………………………………………………………………………………………………………………………………………………….
About Cohere Technologies:
Cohere is the innovator of Universal Spectrum Multiplier (USM) software for 4G, 5G, and Multi-G O-RAN. USM improves mobile networks up to 2x by MU-MIMO, enabling existing devices in any FDD and TDD spectrum band. Cohere is the creator of the Orthogonal Time Frequency Space (OTFS) wireless system, and is headquartered in San Jose, Calif. (USA). Website: www.cohere-tech.com Twitter: @Cohere_MultiG
References:
https://www.cohere-tech.com/press-releases/multi-g-initiative
https://www.sdxcentral.com/articles/interview/cohere-spearheads-multi-g-initiative-to-break-open-ran-layer-one/2023/04/
Juniper Networks today announced plans to integrate its radio access network (RAN) intelligent controller (RIC) with Intel's FlexRAN platform for Open RAN development.
This joint initiative between two companies is part of Juniper's continuing efforts to bring openness and innovation to a traditionally closed-off part of the network, providing a faster route-to-market for service providers and enterprises to deliver 5G, edge computing and AI.  Juniper views open RAN as an opportunistic endeavor and claims it's currently testing the RIC integration in labs and trials with some tier-one operators. Juniper's RIC takes direction from the O-RAN Alliance and adheres to open interfaces and APIs, but the specialized features it adds on top are proprietary.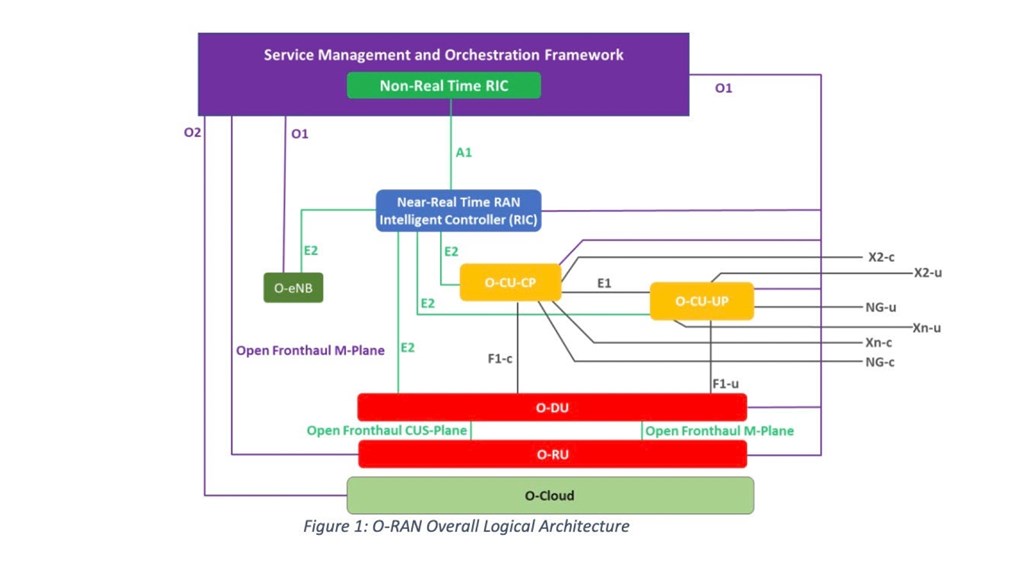 Juniper has made major investments to lead the shift to Open RAN, beginning with the exclusive IP licensing agreement with Netsia (a subsidiary of Turk Telekom Group), and continuing with significant involvement in the O-RAN Alliance. Juniper is heavily engaged in expanding integrations with key partners and is part of the innovation team building joint customer solutions in Intel's 5G Lab.
Spending on Radio Access Networks (RAN) is a significant amount of service providers' CapEx, primarily due to limited vendor choice and closed architectures which lead to lock-in. Juniper recognizes that the RAN is a domain that demands openness and best-of-breed innovation to ensure the best experience for network operators and their customers, and is determined to lead the industry toward that vision.
Juniper's collaboration with Intel includes the following:
Juniper RAN Intelligent Controller (RIC) and Intel FlexRAN platform are pre-integrated and pre-validated to enhance usability of a full ORAN-compliant Intelligent RAN system
Collaborative R&D work with Intel Labs for RIC platform-specific apps to improve customer experience, maximize ROI and drive rapid ORAN ecosystem innovation
Joint customer testbeds with Intel to validate performance-improving implementation and speed of time-to-market
Juniper is an active member of the O-RAN Alliance, contributing to six working groups and serving as chair and co-chair of the slicing and use-case task groups, respectively. Juniper is also an editor of RIC specifications within the alliance.
Quotes:
"Juniper has always been committed to open infrastructures, which is why we are excited to support the work that Intel has undertaken with their FlexRAN ecosystem. By collaborating with Intel, we are able to deliver cloud-native routing, automation, intelligence and assurance solutions and services that are optimized for our customers' needs, speeding time-to-market and enabling them to monetize faster."
– Constantine Polychronopoulos, VP of 5G and Telco Cloud at Juniper Networks
"RIC is like the brain for open RAN, and we also call it essentially the operating system of the RAN," said Jai Thattil, director of strategic technology marketing at Juniper Networks.  Juniper intends to differentiate its RIC from others by pre-integrating and validating the technology so operators can adopt it as part of a more comprehensive offering combined with other services. "Juniper is kind of in a unique position, compared to a lot of other vendors" because of its experience in 5G transport, network cores, service management and orchestration, according to Thattil.
"The virtualization of the RAN continues to gain momentum across the industry as operators take advantage of cloud economics and the delivery of new services. This collaboration with Juniper and the validation of FlexRAN and RIC solutions will assist service providers to overcome integration challenges and accelerate time-to-market for future deployments."
– Caroline Chan, VP Intel Corporation, GM of Network Business Incubator Division
O-RAN Alliance Threatened:
The O-RAN Alliance is in a crisis because of U.S. sanctions against Chinese vendors in the group has troubled Nokia and Ericsson.  In particular, the recent addition to the American "entity list" of three Chinese members of the Alliance. Kindroid, a semiconductor company, Phytium, a supercomputing company, and Inspur, a compute server vendor, have been accused of working with the Chinese military, and have joined 260 other Chinese companies, including, Huawei, on the entity list.
A few days after Nokia decided to suspend its technical activity with the O-RAN Alliance, in fear of American punishment over its engagement at the forum with companies recently put on the American "entity list," Ericsson expressed similar concerns.
It should not be a surprise that, given O-RAN Alliance's legacy (born out of a merger of the American-led xRAN Forum and the Chinese-led C-RAN Alliance), there are a strong Chinese contingency. According to Strand Consult, by the end of 2020, 44 of the 200 odd Alliance members are companies from China.  Also of concern is this post by Mr. Strand, What NTIA won't tell the FCC about OpenRAN.
………………………………………………………………………………………………………….
References:
https://investor.juniper.net/investor-relations/press-releases/press-release-details/2021/Juniper-Networks-Deepens-Commitment-to-Open-RAN-Innovation-Integrates-Intel-Technology/default.aspx
https://www.sdxcentral.com/articles/news/juniper-nudges-open-ran-ric-into-intel-flexran/2021/09/
Additional Resources:
Media Relations:
Lori Langona
Juniper Networks
+1 (831) 818-8758
[email protected]
"Ultimately cloud is not just a market segment. When people think cloud, they think AWS, Azure and Google. Certainly, these are companies that have built their entire businesses around cloud-service delivery models but I view cloud as a way of life for every customer across every vertical. CIOs of enterprises wake up in the morning and wonder how they are going to protect their companies from disruption that's happening outside of their four walls and do so while they don't really have unlimited budgets and most of their employees are stuck in just keeping the lights on. Up to 80, 90% of the IT of an enterprise company are just keeping status quo running. That's not a recipe for success," said Juniper CEO Rami Rahim.
Expansion into Cloud Majors is a priority as it's seen as the growth driver of enterprise digitalization:
– Accelerated enterprise shift of workloads into public clouds
– Direct Cloud connectivity drives growth in MX edge routers
– Two-sided business opportunity: Cloud + Enterprise WAN
Growth driver of 400G core upgrades
– Comprehensive 400G fixed & modular platform portfolio
– Investment in custom, high-performance Triton silicon for 400Gb/sec
• >100 customers for 400Gb/sec WAN solutions
Speaking at the JP Morgan 49th Annual Global Technology, Media and Communications conference today, Rahim said that the company's enterprise business has never been as strong as it is today and he attributes much of that strength to the company's AI-driven enterprise strategy.
"AI-driven enterprise is not just a marketing slogan," Rahim said. "There is technical substance. We have an AI engine that drives the solutions that we are offering customers today," he added.
Much of the company's AI-driven enterprise strategy is a result of its 2019 acquisition of Mist Systems, which had an AI-powered wireless platform that Juniper then used to enhance its own networking solutions.
"We've been taking share [from competitors] in the face of meaningful headwinds," Rahim said. "I expect once those headwinds lessen as we emerge from Covid, we will see even more improved dynamics."
Juniper said that it plans to extend that AI-driven focus to other areas of its business, such as SD-WAN. Juniper purchased 128 Technology last October for $450 million and is in the process of combining 128 Technology and Mist's AI capabilities into its SD-WAN solution.
Rahim said that he believes Juniper's IP routing and transport business will see the most opportunity because the move to 5G will mean more traffic from the radio access network (RAN) to the transport network and the cloud.
Security is also a potential area of growth from 5G investments. Rahim said that future 5G networks are going to be more prone to threats, and service providers will need to invest in more high-end security.
He also said that Juniper projects that its service provider business will grow close to 2% for the full year with the revenue increasing 17% year over year.
On the supply chain front, Juniper executives warned during the company's first quarter earnings report last month that it could be negatively impacted by the ongoing semiconductor shortage.  Those shortages are still a concern, the company said, noting that it will continue to need extended lead times for products through the rest of the year.
References:
---