According to a recently published report from Dell'Oro Group,  the Mobile Core Networks (MCN) [1.] and Multi-access Edge Computing (MEC) market revenues are expected to reach over $50 billion by 2027.
Note 1.  The Mobile Core Network is in a transitional stage from 4G to 5G and a new type of core network called the 5G Core Service Based Architecture (SBA). The 5G Core SBA is designed to be a universal core that can be the core for mobile and fixed wireless networks, wireline networks, and Wi-Fi networks. This includes the ability to be the core for 2G/3G/4G, so only one core is necessary for the long term. In addition, the IMS Core will migrate into the 5G Core SBA.
…………………………………………………………………………………………………………………………………………………………………
"The MNC and MEC market revenues are expected to grow at a  2 percent CAGR (2022-2027). We expect the MCN market for the China region to reach maturity first—due to its early start on 5G SA deployments—and is projected to have -4 percent CAGR throughout the forecast period," stated Dave Bolan, Research Director at Dell'Oro Group.
"The worldwide market, excluding China, is projected to have a 3 percent CAGR. The Asia Pacific (APAC) and the Europe, Middle, East, and Africa (EMEA) region are expected to have the highest CAGRs throughout the forecast period as MNOs accelerate the deployments of 5G SA networks and expand their respective coverage footprints.
"There were hopes early in the year that many more [SA networks] would be launched in 2022, but the hopes were lowered as the year progressed," Bolan explained. At the close of 2022, Dell'Oro identified 39 MNOs (Mobile Network Operators) that have commercially launched 5G SA eMMB networks.
"Reliance Jio, China Telecom-Macau, and Globe Telecom were new MNOs added to the list of 39 MNOs launching 5G SA eMMB networks in the fourth quarter of 2022. Reliance Jio has announced a very aggressive deployment schedule to cover most of India by the end of 2023. In addition, AT&T and Verizon plan large expansions to their 5G SA coverage in 2023, raising the projected Y/Y growth rate for the total MCN and MEC market for 2023 higher than 2022," added Bolan.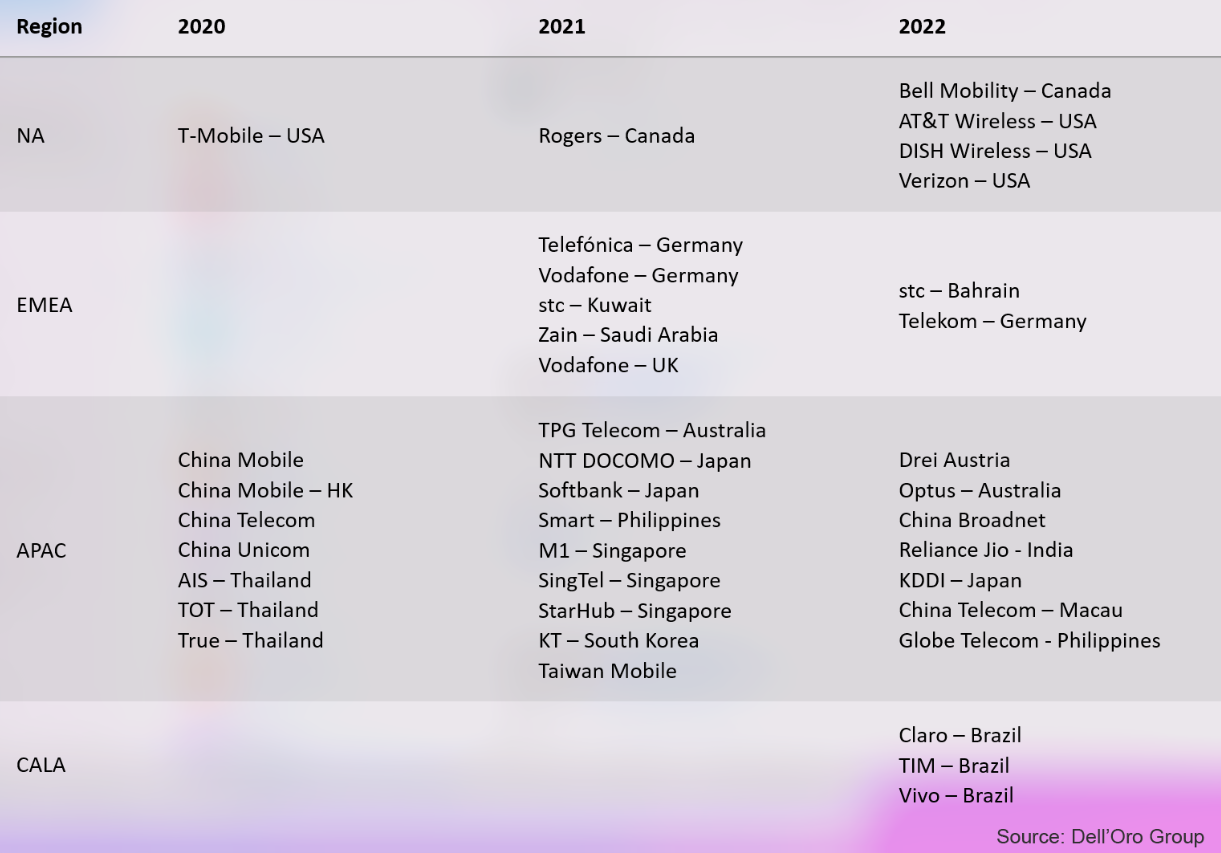 Additional highlights from the January 2023 MCN and MEC 5-Year forecast report:
The MEC segment of the MCN market will have the highest CAGR, followed by the 5G MCN market and the IMS Core market.
As networks migrate to 5G SA, the 4G MCN market is expected to decline at a double-digit percentage CAGR.
The Dell'Oro Group Mobile Core Network & Multi-Access Edge Computing Quarterly Report offers complete, in-depth coverage of the market with tables covering manufacturers' revenue, shipments, and average selling prices for Evolved Packet Core, 5G Packet Core, Policy, Subscriber Data Management, and IMS Core including licenses by Non-NFV and NFV, and by geographic regions. To purchase this report, please contact us at [email protected].
………………………………………………………………………………………………………………………………………………………………
From Deloitte:
"The coming migration to 5G standalone core networks is expected to allow for increased device density, reliability, and latency, opening the door to advanced enterprise applications," according to several analysts from Deloitte's Technology, Media & Telecommunications industry group.
"5G SA's big attraction for MNOs are the new service and revenue opportunities it creates, Along with near-zero latency and massive device density, 5G SA enables MNOs to provide customers – specifically enterprise customers – access at scale to fiber-like speeds, mission-critical reliability, precise location services, and tailored network slices with guaranteed service levels."
Deloitte expects the number of mobile network operators investing in 5G SA networks – with trials, planned deployments, or rollouts – to double from more than 100 operators in 2022 to at least 200 by the end of 2023.
References:
Mobile Core Network Market to Reach over $50 billion by 2027, According to Dell'Oro Group
https://www2.deloitte.com/us/en/insights/industry/technology/technology-media-and-telecom-predictions/2023/technology-media-and-telecom-predictions-standalone-5g.html
The slow march to standalone 5G
---