Dell' Oro: Huawei still top telecom equipment supplier; optical transport market +1% in 2020
Huawei has increased its lead as the#1 global telecoms network equipment vendor, boosting its revenue share by a three percentage points last year, according to Dell'Oro Group.  Nokia lost one percentage point of revenue share year-on-year, as did Cisco, the latter falling to 6%. Ericsson gained one percentage point to match Nokia at 15% of the market and ZTE also saw a 1% uptick to 10% of the global telecom market.  (Please refer to chart below).
Dell'Oro Group's preliminary estimates suggest the overall telecom equipment market – Broadband Access, Microwave & Optical Transport, Mobile Core & Radio Access Network, SP Router & Carrier Ethernet Switch (CES) – advanced 7% year-over-year (Y/Y) for the full year 2020, growing at the fastest pace since 2011.
The telecom and networking market research firm suggests revenue rankings remained stable between 2019 and 2020, with Huawei, Nokia, Ericsson, ZTE, Cisco, Ciena, and Samsung ranked as the top seven suppliers, accounting for 80% to 85% of the total market. At the same time, revenue shares continued to be impacted by the state of the 5G rollouts in highly concentrated markets. While both Ericsson and Nokia improved their RAN positions outside of China, initial estimates suggest Huawei's global telecom equipment market share, including China, improved by two to three percentage points for the full year 2020.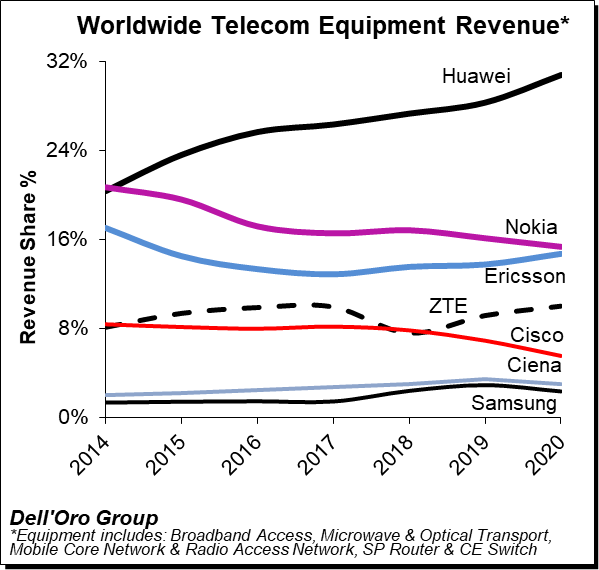 Dell'Oro now estimates the following revenue shares for the top seven suppliers:
Source: Dell'Oro Group

| | | |
| --- | --- | --- |
| Top 7 Suppliers | Year 2019 | Year 2020 |
| Huawei | 28% | 31% |
| Nokia | 16% | 15% |
| Ericsson | 14% | 15% |
| ZTE | 9% | 10% |
| Cisco | 7% | 6% |
| Ciena | 3% | 3% |
| Samsung | 3% | 2% |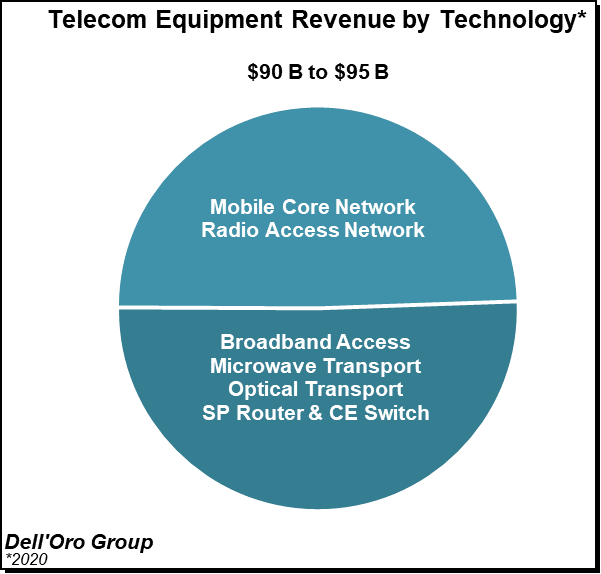 Additional key takeaways from the 4Q2020 reporting period:
Preliminary estimates suggest that the positive momentum that has characterized the overall telecom market since 1Q-2020 extended into the fourth quarter, underpinned by strong growth in multiple wireless segments, including RAN and Mobile Core Networks, and modest growth in Broadband Access and CES.
Helping to drive this output acceleration for the full year 2020 is faster growth in Mobile Core Networks and RAN, both of which increased above expectations.
Covid-19 related supply chain disruptions that impacted some of the telco segments in the early part of the year had for the most part been alleviated towards the end of the year.
Not surprisingly, network traffic surges resulting from shifting usage patterns impacted the telecom equipment market differently, resulting in strong demand for capacity upgrades with some technologies/regions while the pandemic did not lead to significant incremental capacity in other cases.
With investments in China outpacing the overall market, we estimate Huawei and ZTE collectively gained around 3 to 4 percentage points of revenue share between 2019 and 2020, together comprising more than 40% of the global telecom equipment market.
Even with the higher baseline, the Dell'Oro analyst team remains optimistic about 2021 and projects the overall telecom equipment market to advance 3% to 5%.
Dell'Oro Group telecommunication infrastructure research programs consist of the following: Broadband Access, Microwave Transmission & Mobile Backhaul, Mobile Core Networks, Mobile Radio Access Network, Optical Transport, and Service Provider (SP) Router & Carrier Ethernet Switch.
…………………………………………………………………………………………….
Last week, Dell'Oro Group reported that the optical transport equipment revenue increased 1% in 2020 reaching $16 billion. In this period, all regions grew with the exception of North America and Latin America.
"Between concerns on starting new optical builds during the start of the pandemic and aggressive plans on 5G deployments that required a larger share of a service provider's capital budget, the spending on optical transport dramatically slowed by the end of 2020," said Jimmy Yu, Vice President at Dell'Oro Group.
"It was a really dramatic drop in optical equipment purchases in the fourth quarter. While we anticipated a slowdown near the end of the year due to concerns around COVID-19, we were surprised by a 29 percent year-over-year decline in WDM purchases in North America as well as a 12 percent decline in China. That said, there was good growth in the other parts of the world, especially Japan," continued Yu.
Optical Transport Equipment Market
Regions
Growth Rate in 2020
North America
-6%
Europe, Middle East and Africa
2%
China
1%
Asia Pacific excluding China
13%
Caribbean and Latin America
-14%
Worldwide
1%
The Dell'Oro Group Optical Transport Quarterly Report offers complete, in-depth coverage of the market with tables covering manufacturers' revenue, average selling prices, unit shipments (by speed including 100 Gbps, 200 Gbps, 400 Gbps, and 800 Gbps).  The report tracks DWDM long haul, WDM metro, multiservice multiplexers (SONET/SDH), optical switch, optical packet platforms, data center interconnect (metro and long haul), and disaggregated WDM.  To purchase this report, please email [email protected].
References:
---