T-Mobile has begun shuttering Sprint's network in a few locations following its acquisition, but doesn't expect to really start until 2021-to-2022.
Talking with a fireplace in the background during a UBS Global TMT Virtual Conference on December 8th, T-Mobile CEO Mike Sievert said in response to a question about when Sprint's network will shut down: "We've already done some on an isolated basis."
T-Mobile has boasted of $6 billion in savings through its Sprint merger which has resulted in a single "master brand."
We can go into an area, and as we get capacity on the destination T-Mobile network, we can migrate traffic off the Sprint network on to that destination network without having to touch those rate plans or billing relationships at all. We might move the brand relationship from Sprint to T-Mobile in advance of that or we might wait until later.
T-Mobile acquired Sprint for $26 billion earlier this year. Industry observers have been awaiting news on the company's plans to shutter the old network as the "New T-Mobile" rolls out—which promises 14 times more capacity in six years than standalone T-Mobile has today.  Sievert went on to say most of the shutdowns won't happen until 2022 when at least most of Sprint's legacy customers should have transitioned over to T-Mobile's network.
This isn't T-Mobile's first acquisition and network shut down. In 2012, T-Mobile acquired MetroPC's regional network and then dismantled it.  It's a fairly standard practice which Sprint did in 2016.  After acquiring Clearwire, Sprint shut down the WiMax network it so highly promoted as the first real 4G.
Author's Note:
T-Mobile's 3G network is based on GSM while Sprint uses CDMA. Running two competing 3G networks simultaneously doesn't help the bottom line.  Both telcos support 4G LTE which is the ONLY 4G network since no carrier deployed WiMax Advanced.
…………………………………………………………………………………………………………………
Sievert summed up the Sprint network integration with this statement:
It's really important that we use our capacity to migrate Sprint mobile customers over, right? So, we're going to be — while we're revenue-farming spectrum and building the destination network that's our priority. So, you'll see us go at pace for the first couple of years on broadband because the bigger prize for our shareholders is synergy attainment.
…………………………………………………………………………………………………………………….
Sievert said:
"What we've got at the dawn of the 5G era is the ability to lead all through this era with a superior product and a superior value simultaneously, something no company has ever been positioned to do. And obviously, they see that and they feel that they need to act. Now, they'll try and convince you that what they're doing is economic. By the way, it's nothing too extraordinary, nor surprising."
With respect to use of 600MHz for 5G is 2 or 3 times faster than 4G-LTE. Sievert said:
 As of the last quarterly announcement, we were reaching about 270 million people with 600 megahertz Extended Range 5G. And that's 5G even more on 4G LTE. These are dedicated lanes, and to your point, increasing dedicated lanes, because during this farming process and transition process, we're actually leasing additional 600 megahertz spectrum from a variety of parties.

And what that allows us to do is to open up really wide dedicated Extended Range 5G lanes, so different than what you're seeing from our competitors with DSS instead. They don't have those dedicated lanes. And so they're having to divide up their LTE spectrum into both technologies. It doesn't get you much.

Our dedicated Extended Range 600 megahertz 5G is two times faster, in some cases, three times faster than LTE. So it's a really nice pickup and experience for customers, but importantly, also gives us the capacity that we need to move quickly on migration. And that's obviously the bigger payday for us and for customers. So those are the numbers.

About 1.4 million square miles as of the last quarterly announcement. That's about three times what Verizon has, about double what AT&T had around that time. And again, we announced that we weren't stopping there. We're moving very quickly for the year-end time period. Next time we talk to you shortly after the New Year, we'll have covered significantly more than those numbers. And so terrific progress there.

Most of the phones are compatible with 600 on the LTE front. Right now, close to 6 million on the 5G front and rapidly growing, because as you know, some of the most popular ones have only very recently been launched. And again this is something — this level of device compatibility is not something we had in prior mergers. And, boy, is it great to see, because we're able — again, it's a thing that's allowing us to move quickly.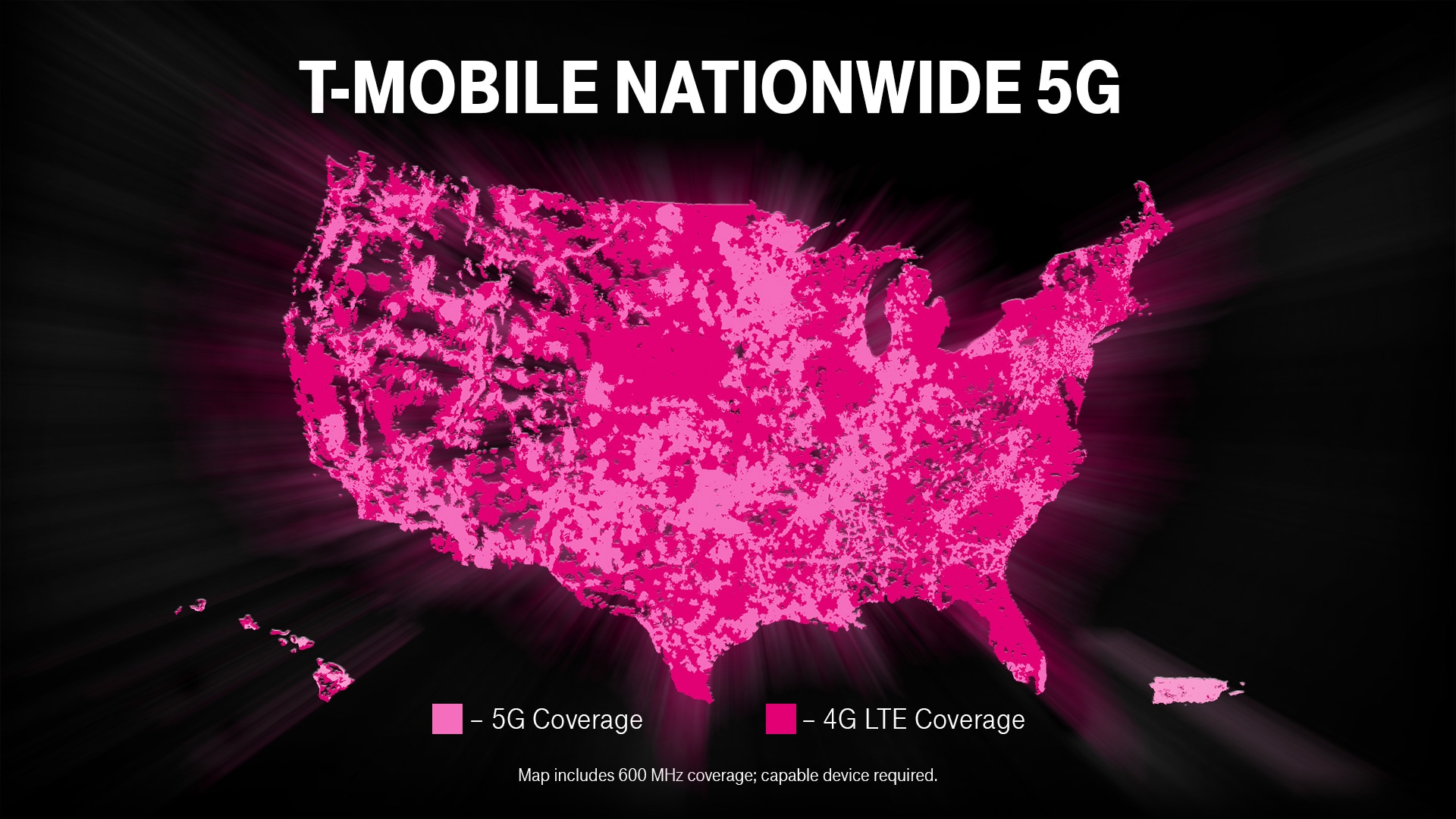 The company will add its newly-acquired midband 2.5GHz spectrum to its existing low band 600MHz 5G network. Sievert comments were very strong and "game changing":
We're tracking really nicely, to be at 100 million 5G covered people by the end of this year, certainly, by the next time we talk to you. That's incredible.

The other guys are bumping around, like a Verizon with Ultra Wideband, maybe 2, 3, 4 million. And they're talking about a lot of new cities, but little parts of cities and towns. You know their strategy. I predict they're going to have a wholesale change in their strategy over at Verizon. They're going to discover that they need to have a mid-band-centric 5G approach.

This is the way that you get very-very high ultra capacity 5G experiences to people by the millions and tens of millions. Our signal reaches miles, not meters. And so, that's really important for the everyday experience. And people are going to see — across these tens of millions of people, they're going to see an experience that's not a little bit better than 4G LTE, but a transformation. So 7, 8, 9, 10 times faster, 300, 400 megabits per second, peak speeds over 1 gigabit. And this isn't just a little smattering of certain street corners and when the leaves aren't out. This is across vast swaths of the country.
So that's really game changing. And it's probably the place where we lead the most. And it's going to be what millions of people see. It's going to be FOMO, it's going to be bragging rights. And everybody is going to be able to see this difference that T-Mobile is able to give you across massive swaths of the country.

100 million as we exit this year into the first part of 2021 and then 200 million as we exit next year. And so, this is game-changing. And it was a huge part of why we worked so hard to get this merger done, because we knew how it would benefit tens of millions of people and by extension, benefit our business.
……………………………………………………………………………………………………………………………
T-Mobile CTO Ray Neville has said is "really going to deliver an incredible 5G experience."
Neville said in May that T-Mobile's plan is to grow the company's ~65,000 towers to 85,000 macro cell sites by building 15,000 new cell towers and decommissioning unnecessary, overlapping Sprint cell sites. T-Mobile says that it's been adding 2.5GHz transmission radios to its existing towers at the rate of roughly 1,000 per month.
The company claims to be the first wireless telco to deploy a 5G Stand Alone (SA)/ 5G core network.
Sievert's 5G boasting hit a peak with this statement:
In 5G, that's our opportunity. We're starting out way ahead and we intend to lead for the entire era. And not just be the best 5G network in terms of speed and capacity but to be the best network. And this – we're a pure-play wireless company. And we know that in order to win, we have to have the best and the leading network in this country. And we have to become famous for it, which frankly is even harder because brands are stubborn. Brands are powerful.

That helps us on some fronts because simultaneous to being the best network in this country we're the best value. And consumers and businesses already give us credit for that. We can't lose that. We build behind it and lead through the entirety of the 5G era on network.

And then the third leg of the stool is experiences. Our company believes in delivering the best experiences. We have the highest Net Promoter Scores in the history of this industry. We've won five years in a row on J.D. Power for both consumers and businesses. Customers love us because we hire the best people and we have a culture of treating customers with respect and love. And so when you have the best value, the best network and the best experiences, that's a winning formula. And we intend to lead with that formula through the entire 5G decade.
With respect to the legacy wireless competition, especially AT&T, Sievert said:
I don't think we've caught AT&T on revenues yet. So, we surpassed them on customers. It's always hard to tell what these comparisons. Our competitors can always provide the same exact transparency that we do.

But we think we're right behind them on revenues. And so there's a few differences between our model and the others. One is we have a denser network grid which is going to convey some of that advantage that I talked about that's so important for growth. So, we intend to be a share taker and a grower through the time period and there's always some cost to near-term margins to that very small.

We also intend to continue being the best value and there's a small cost to that on margins. But both of those accrue to terminal value and growth rates and enterprise value-creation potential. And so there are things that are deliberate and we're proud of and plan to keep.

Beyond that there aren't that big of differences. And so you'll see synergy attainment close the gap. And there will be differences as I just said, but between synergies and cost transformation of bringing these companies together, you'll see that margin gap start to close. And we'll talk more about it when we lay out more of our plans. But everything we talked about in 2018 when we announced this merger in terms of long-term potential, we still see. And in fact in some cases we see it unfolding better than we had anticipated back in 2018.
On the enterprise (business) market, Sievert said:
One of our biggest growth engines right now is enterprise. And we're very focused not just on the here and now, but what enterprises want two and three and four years from now. And again, we've got this big network capacity, including the spectrum that backs up the network. And ultimately that gives us tools to be able to work with enterprises around the kinds of solutions that they may want in the future for dedicated networks, very low-latency, high-capacity dedicated networks with advanced dedicated spectrum capabilities. And there's really exciting opportunities there.

Some of them are more two and three years out before they contribute in a very big way. But they're real. And ultimately we're so well positioned for that part of the market. Right now what we're doing is selling our macro capabilities. And enterprises unlike consumers, where we have a bit of a brand deficit, we've got to overcome on network, meaning we're not famous yet, as the best network in the space.

Enterprises don't care about any of that, because they check out 100 phones and test them for a few weeks and then they come back and pick us. And so that's a tailwind on our business. You're seeing it in our present performance. In Q3, we had an all-time record on enterprise sales and you're going to see it continue. It's something that we're really, really focused on a big growth engine for the company. 90-plus percent of the customers out there are with somebody else.
References:
https://seekingalpha.com/article/4393719-t-mobile-us-inc-s-tmus-ceo-mike-sievert-presents-ubs-global-tmt-virtual-conference-transcript
https://event.webcasts.com/viewer/event.jsp?ei=1402861&tp_key=ad09ead741
---