A federal judge has ruled in favor of T-Mobile USA's merger with Sprint, despite evidence presented that showed the deal will likely erode competition, raise U.S. wireless data prices, and result in significant layoffs as redundant jobs are eliminated.  U.S. District Judge Victor Marrero concluded the T-Mobile USA merger with Sprint, worth $26 billion when it was struck two years ago, wasn't likely to substantially lessen competition, and rejected the main arguments by a group of states seeking to block the deal as anti-competitive.  The judge praised T-Mobile in his ruling, calling it "a maverick that has spurred the two largest players in its industry to make numerous pro-consumer changes" and describing its business strategy as "undeniably successful.
Judge Marrero wrote:
"While Sprint has made valiant attempts to stay competitive in a rapidly developing and capital-intensive market, the overwhelming view both within Sprint and in the wider industry is that Sprint is falling farther and farther short of the targets it must hit to remain relevant as a significant competitor."
"Finally, the FCC and DOJ have closely scrutinized this transaction and expended considerable energy and resources to arrange the entry of Dish as a fourth nationwide competitor, based on its successful history in other consumer industries and its vast holdings of spectrum, the most critical resource needed to compete in the RMWTS markets."
"Dish's statements at trial persuade the court that the new firm will take advantage of this opportunity, aggressively competing in the RMWTS markets to the benefit of price-conscious consumers and opening for consumer use a broad range of spectrum that had heretofore remained fallow."
The two companies said they would move forward to finalize their long-delayed merger. The deal's current terms offer Sprint shareholders new stock equal to 0.10256 of one T-Mobile share.
"Today was a huge victory for this merger… and now we are FINALLY able to focus on the last steps to get this merger done!" cheered T-Mobile CEO John Legere (pictured below) in a press release.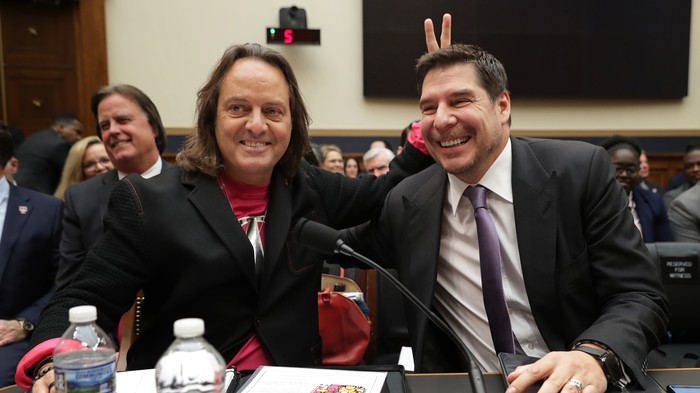 The states might decide to appeal the ruling and another U.S. district judge in Washington must approve the existing Justice Department arrangement. Letitia James, New York's attorney general, said the states disagreed with the decision and would review their options. "There is no doubt that reducing the mobile market from four to three will be bad for consumers, bad for workers and bad for innovation," Ms. James said.
The two companies also need clearance from California's Public Utilities Commission and face a private antitrust suit challenging the merger. A judge in the Northern District of California ruled in January 2020 that the case could proceed if the carriers overcame the state-led challenge.
T-Mobile and Sprint hope to close the merger by April 1st. The two telcos have spent more than seven years pursuing a combination in some form. They abandoned previous attempts in 2013 and 2017 before their boards struck an agreement in early 2018 that would allow T-Mobile to take over its smaller rival, creating a company closer in size to Verizon and AT&T.
The new T-Mobile would be a formidable rival to Verizon and AT&T, the two largest wireless carriers in the country.  In fact, the total number of "New T-Mobile" wireless subscribers will be more than AT&T currently has.
The "New T-Mobile" will be strengthened by a massive stockpile of wireless radio licenses held by Sprint. Those spectrum holdings allow the new company to serve more customers with high-speed internet service on the go, putting pressure on AT&T and Verizon to match them as carriers upgrade to faster 5G mobile networks.
The court victory also benefits T-Mobile parent Deutsche Telekom AG and Japan's SoftBank Group Corp., Sprint's majority owner. SoftBank Chairman Masayoshi Son, a billionaire investor who upended the telecom business in Japan, had been seeking a way to rescue an investment that proved less successful in the U.S.
Tuesday's court verdict will test the idea that three big players will compete as effectively as four did. Dish enters the market with fewer customers than Sprint, making it a distant No. 4 in the consumer-cellular business.
Dish Chairman Charlie Ergen testified during the trial that his Englewood, Colo., company was better equipped to compete than Sprint. His new wireless service will ride over T-Mobile's network at first, though customers will eventually use a new cellphone system Dish is required to build over seven years.
Quotes from opponents of the deal:
"We are profoundly disappointed that the judge approved a merger that will harm communities of color and low-income communities across California," said Greenlining Institute Technology Equity Director Paul Goodman, in a statement.
"While the court may think it unlikely for a newly entrenched trio of enormous wireless carriers to collude rather than compete, the history of broken and abandoned merger promises from these companies – to say nothing of the mountains of evidence and expert analysis in this trial – say otherwise," said Free Press Vice President of Policy and General Counsel Matt Wood, in a statement.
"The Rural Wireless Association disagrees with Judge Marrero's decision to approve this deal, which has been consistently and drastically altered from what was originally proposed in early 2018, and now includes Dish, a company that has zero experience operating as a facilities-based mobile wireless carrier network as the savior for wireless competition," the association said in a statement.
Quotes from supporters of the deal:
"I'm pleased with the district court's decision. The T-Mobile-Sprint merger will help close the digital divide and secure United States leadership in 5G," said FCC Chairman Ajit Pai in a statement.
"We appreciate Judge Marrero's thorough evaluation of this merger. The ruling, in addition to the DOJ and FCC approvals, accelerates our ability to deploy the nation's first virtualized, standalone 5G network and bring 5G to America," said Dish Network's Charlie Ergen in a statement. "We are eager to begin serving Boost customers while aggressively growing the business as a new competitor, bringing lower prices, greater choice and more innovation to consumers. We look forward to the Boost employees and dealers joining the Dish family.
Analyst Opinions:
"This is clearly a big win for T-Mobile, which will now how [sic] a superior spectrum position which it can use to launch 5G and handle even higher growth," wrote the Wall Street research analysts at Lightshed in a post. "We also see this as a big win for Dish based on what we have learned about its MVNO terms. It's not great news for Verizon, given that it removes Sprint and Dish's spectrum as an alternative, created a new competitor in Dish and has empowered T-Mobile with the tools to deliver a superior network experience to consumers."
"We view a deal as initially negative to AT&T/Verizon despite our view that consolidation should help to further rationalize the competitive/pricing environment long term considering T-Mobile is likely to be aggressive at least early on to help validate the premise of the deal which is it will result in more favorable pricing for consumers," wrote the Wall Street analysts at Cowen in a note to investors.
"Dish will need to execute on a myriad of levels including building a cloud-native nationwide network followed by the operational challenges that come with competing against three very well entrenched wireless players," the Cowen analysts added.
"The wireless industry is going to get tougher. Cable would have had a much easier time sucking subscribers out of Verizon and AT&T in a four-carrier market with a capacity constrained T-Mobile. Now they are going to have to fight T-Mobile for every one of those subs, and industry pricing is likely headed lower," wrote the Wall Street analysts at New Street Research in a note to investors.
However, the New Street analysts pointed out that cable companies may also see some silver lining in the merger of Sprint and T-Mobile, if it is ultimately approved. "Cable will have one more company competing for its MVNO business. We have been surprised the companies haven't announced new MVNO terms with Verizon or AT&T; negotiations were in full force in October / November last year. Perhaps they have been waiting to see what T-Mobile might offer them if the deal went through. Altice will be the most immediate winner; their MVNO with Sprint now moves to a much better network."
…………………………………………………………………………………………
Addendum from  Robin Hood Snacks:
Here's the history of this complex courtship:
June 2018: T-Mobile's CEO announces that his company has agreed to merge with Sprint. The combo company – valued at $146B – would be split between 3 owners: Deutsche Telekom (T-Mobile's parent), SoftBank (which owns most of Sprint), and retail investors like you and us who own remaining shares.
November 2019: The Department of Justice and the Federal Communications Commission approve the merger under certain conditions… But 13 states plus DC sued to block the deal, saying it would hurt competition and lead to pricier phone bills.
Sprint has been lagging rivals for a while… so the judge doesn't think this deal will substantially hurt competition. Plus, regulators will make sure that Dish Network enters the game as a viable new service provider. Sprint will have to sell Dish 9M customers, but that'll still be a distant competitor to the Big 3.
THE TAKEAWAY
We have a three-opoly on our hands… Here's the pecking order now: Verizon #1, New T-Mobile #2, and AT&T #3. And a three-opoly could affect your bill:
Interpretation A: Competition has been reduced, now that we've gone from 4 major players to 3. When there's less competition, companies tend to charge higher prices.
Interpretation B: Actually, this merger increases competition, because Sprint was never a real player and T-Mobile wasn't big enough to compete over future 5G networks. Now T-Mobile + Sprint can effectively challenge AT&T and Verizon.
The Justice Department approved T-Mobile US Inc. 's merger with Sprint Corp. after the companies agreed to create a new wireless carrier by selling assets to satellite-TV provider Dish Network Corp.  The federal approval for T-Mobile and Sprint caps a more than yearlong review of a combination that fell apart twice in the past five years over terms of the deal or fears that the Justice Department would object.
The landmark antitrust agreement seeks to address concerns that the combination of T-Mobile, the nation's No. 3 carrier by subscribers, and No. 4 Sprint will drive up prices for consumers. It would leave more than 95% of American cellphone customers with the top three U.S. operators.
A deal brokered by the Justice Department will require Dish, which has been sitting on valuable airwaves, to build a 5G network for cellphone customers. To help it get started, T-Mobile will sell Sprint's prepaid brands to Dish and give access to its network for seven years.
"The remedies set up Dish as a disruptive force in wireless" with the pieces needed for the company to have a cellphone service that is ready to go, Makan Delrahim, the Justice Department's antitrust chief, said in a news conference.
Critics of the arrangement include a group of state attorneys general that broke with the Justice Department and have filed an antitrust lawsuit seeking to block the more than $26 billion merger. Five states that weren't part of the lawsuit joined the federal government in the settlement announced Friday.
"Why scramble so much to create a fourth competitor when you already have one?" said Samuel Weinstein, an assistant law professor at the Cardozo School of Law at Yeshiva University who worked previously in the Justice Department's antitrust unit.
The deal gives Dish Network, a satellite-TV provider, about nine million Sprint prepaid cellphone customers and additional wireless spectrum. Those subscribers, which mostly come from its Boost Mobile business, represent about one-fifth of Sprint's customer base. Dish's service, which could keep the Boost brand or take on a new name, would also be able to move from pay-as-you-go plans to postpaid service, which tends to be more profitable.
T-Mobile and Sprint must also give Dish access to at least 20,000 cell sites and hundreds of retail locations. The new T-Mobile must provide "robust access" to its network, the Justice Department said.  Please see comments on Dish in the box below this article.
The union of T-Mobile and Sprint, years in the making, would create a wireless company surpassing 90 million U.S. customers, closing the gap with Verizon Communications Inc. and AT&T Inc., which each have roughly 100 million wireless customers. It also would fulfill a long-held goal of Japan's SoftBank Group Corp., which owns most of Sprint, and Deutsche Telekom AG, which controls T-Mobile.
T-Mobile and Sprint currently use separate frequencies, often requiring different cell towers:
Under the merger:
Dish rents capacity from the new T-Mobile, 

creating a new carrier to serve Boost Mobile customers and giving it time to build its own network.
After seven years, 

Dish runs its own network using spectrum from its past acquisitions and its own equipment installed on fewer towers.
……………………………………………………………………………………………………………………………………………………………………………………………………………………………………..
Federal Communications Commission Chairman Ajit Pai, who had previously backed the deal, said Friday the Justice Department settlement, coupled with T-Mobile and Sprint's earlier commitments to deploy a nationwide 5G network, will preserve competition and advance U.S. leadership in rolling out next-generation networks.
In its agreement with the government, T-Mobile promised not to raise prices for three years and cover 97% of the U.S. population with 5G service in three years.   T-Mobile has been adding millions of customers at the expense of its rivals, pushing unlimited data plans and lower prices than the incumbents. Sprint, despite owning valuable airwaves, has been shedding millions of subscribers and has struggled to be profitable.
T-Mobile surpassed Sprint to become the number three wireless carrier by subscribers and argued the acquisition of the smaller carrier's airwaves would help speed its deployment of a 5G network so that it could better compete with Verizon and AT&T.  U.S. carriers have been battling for customers in the $180 billion wireless voice-and-data market, where growth has slowed now that the companies have rolled out unlimited data plans and most Americans have upgraded to smartphones.
Letitia James, the New York attorney general, said the proposed merger would cause harm to consumers nationwide. "To be clear: The free market should be picking winners and losers, not the government, and not regulators," she said during a call with reporters. Ms. James said Dish lacks the experience to operate a nationwide mobile network.
Mr. Delrahim said his office will share its settlement with the federal judge overseeing the states' lawsuit. "Sometimes independent sovereigns do make independent determinations," he said. A trial is expected later this year. On Friday, T-Mobile and Sprint extended the deadline to close their deal, from July 29 to Nov. 1.
The Justice Department stopped sharing information with the Democratic attorneys general after they decided to file their lawsuit in June without notifying their federal counterparts, Mr. Delrahim said. "That was their choice, not ours," he said.
…………………………………………………………………………………………..
T-Mobile said it expects to close its Sprint purchase in the second half of this year despite the states' lawsuit.  Under the deal, Dish will pay $1.4 billion for the Sprint customer accounts, most of which come from its Boost prepaid brand, and $3.6 billion three years later to buy Sprint spectrum licenses in the 800-megahertz range, which can travel long distances and cover rural areas.
The new T-Mobile will have the option to lease back part of that spectrum for an additional two years after the airwaves sale closes. The companies have also agreed to negotiate for T-Mobile to lease Dish spectrum in the 600-megahertz range.
Dish is set to start its wireless life with a base of Sprint's pay-as-you-go customers, though carriers often struggle to keep those so-called prepaid subscribers. More than 4% of Sprint's prepaid customers choose to drop their service or are disconnected for nonpayment each month, according to company filings.
The deal creates a fake competitor, said Andrew Jay Schwartzman, a lecturer at Georgetown Law, adding that even if Dish builds out its own network it will take years. During that time, the three large carriers will be able to introduce 5G and lock in their subscriber bases, he said.
"Rather than having Sprint as a weak fourth competitor, the combined companies will now face an extremely weak fourth competitor," Mr. Schwartzman said.
Sprint ended March with nearly $33 billion of net debt on its balance sheet. Even though it had more than 40 million customers, Sprint said during deal negotiations that it was in poor health and wouldn't be able to launch nationwide 5G service without the merger.
Dish has argued it can build a better network by starting from scratch. Even before he pursued a deal with the Justice Department, Dish Chairman Charlie Ergen said his business could invest capital more efficiently without the burden of old equipment and software holding back its ambitions. Dish hasn't made public the prices or structure of the wireless plans it will sell.
"These developments are the fulfillment of more than two decades' worth of work and more than $21 billion in spectrum investments intended to transform Dish into a connectivity company," Dish CEO Ergen said in a press release. "Taken together, these opportunities will set the stage for our entry as the nation's fourth facilities-based wireless competitor and accelerate our work to launch the country's first standalone 5G broadband network."
Dish says:
The 800 MHz nationwide spectrum adds to Dish's existing 600 MHz and 700 MHz low-band holdings. The low-band portfolio, well suited for wide geographic coverage and in-building penetration, complements Dish's AWS-4 and AWS H Block mid-band offerings, which promise high data capacity potential with narrower operating range.

Dish has committed to new buildout schedules associated with the company's 600 MHz, AWS-4, 700 MHz E Block and AWS H Block licenses. In addition, DISH has committed to deploy 5G Broadband Service utilizing those licenses.
Senior FCC officials said on a call with reporters that they are confident the new carrier under Dish will be viable because the wholesale deal it has struck with the new T-Mobile is more aggressive than any other such arrangement the carrier and Sprint currently have. Its terms give Dish the financial ability to compete in the prepaid market against T-Mobile's Metro brand, they said.   The settlement also included provisions designed to make sure Dish actually builds the promised infrastructure. Among other penalties, Dish agreed to pay the government up to $2.2 billion if it fails to meet its network expansion requirements.
Following the closing of T-Mobile's merger with Sprint and subsequent integration into the New T-Mobile, DISH will have the option to take on leases for certain cell sites and retail locations that are decommissioned by the New T-Mobile for five years following the closing of the divestiture transaction, subject to any assignment restrictions. The companies have also committed to engage in good faith negotiations regarding the leasing of some or all of DISH's 600 MHz spectrum to T-Mobile.
The completion of the T-Mobile and Sprint combination remains subject to remaining regulatory approvals and certain other customary closing conditions. T-Mobile and Sprint expect to receive final federal regulatory approval in Q3 2019 and currently anticipate that the merger will be permitted to close in the second half of 2019. Additional information can be found at www.NewTMobile.com.
………………………………………………………………………………………………………………………………………………………………………
Addendum from WSJ Editorial Board July 27, 2019 print edition:
The Justice Dept has rescued Dish Chairman Charlie Ergen from his bet of buying wireless spectrum but keeping it idle. Mr. Ergen loudly opposed the merger, and his reward was the chance to buy Sprint's pre-paid customers at a bargain price and have access to 20,000 T-Mobile-Sprint cell sites and hundreds of retail locations. But Dish has no experience running a wireless network, and it will take years to build one even as the Big Three invest to gain an edge in 5G wireless…………………………………………………..

A  strong third competitor will be good for consumers and 5G deployment in the U.S. The combined company should force Verizon and AT&T to focus on 5G rather than dabbling in content acquisitions like Time Warner. Three strong competitors are better than two.
………………………………………………………………………………….
FCC Comments:
"That's a real significant win for U.S. leadership in 5G. It's been my top priority. It's been a big priority for the Trump administration. And by accelerating 5G build-out through this deal, 99% of Americans are going to see 5G faster," FCC Commissioner Carr said.
In addition to the Justice Department, FCC Chairman Ajit Pai announced support for the more than $26 billion merger in May. The deal still faces a lawsuit from 13 state attorneys general and the District of Columbia that seeks to block it.
https://www.cnbc.com/2019/07/26/fcc-official-clearance-of-sprint-t-mobile-deal-is-significant-win.html
…………………………………………………………………………………..
References:
https://www.wsj.com/articles/justice-department-approves-merger-of-t-mobile-us-and-sprint-11564155026
https://www.t-mobile.com/news/t-mobile-sprint-merger-doj-clearance
https://www.cnbc.com/2019/07/26/dish-network-finally-has-a-plan-for-a-new-wireless-network.html
https://techblog.comsoc.org/2018/08/03/dish-network-on-track-for-5g-build-out-phase1-is-nb-iot/
---