As we have repeatedly stated, the entire telecom industry is in a funk and the 2024 outlook is looks just as gloomy as this year.  MTN claims that telecom is a zero growth industry (see References below) and that certainly seems to be true.  Let's start with AT&T – the largest telco in the U.S. with 229.2M wireless subscribers as of Q2-2022.
In the first nine months of 2023, AT&T has shed 10,200 employees, including nearly 4,000 in the recent third quarter alone.  AT&T cut many more jobs – 39,700 in total – in 2022 when it was in the process of spinning out Warner Media to Warner Brothers Discovery (the deal closed on April 8, 2022).
AT&T's CEO told reporters last week that the U.S. based teclo plans to reduce costs by another $2 billion over the next three years.  That's after Stankey boasted that the company has cut costs by $6 billion in the last three and in an "inflationary environment."
AT&T is hardly a growth company and has tons of debt.  In the 3rd quarter of 2023, AT&T reported revenues of $30.4 billion, up only 1% year over year.  Yet Stankey had the audacity to say in a press release, "Our investments in best-in-class 5G and fiber connectivity are fueling our growth engine. We're gaining profitable customer relationships and becoming more efficient. This is powering our strong business performance."
Today, LightReading announced the departure of a key AT&T executive.  Jason Inskeep, previously the senior assistant VP for AT&T's 5G Center of Excellence and focusing on the operator's work in private wireless networking and edge computing, recently left the company for a senior director position at consulting firm Slalom.
AT&T CEO Stankey alluded to the private wireless opportunity during his company's recent quarterly conference call. "I actually think we're on the front end right now of many businesses now understanding that wireless technology is their next strategic frontier of how they engineer their processes in their company," he said last week,
according to Seeking Alpha
. "And I'm actually pretty bullish that what we saw in the early days of VPN were managed networks and managed capabilities and supported capabilities on complex networks were a big growth cycle in enterprise customers. I think we're going to see the same things start to emerge on the wireless side, and I think that's just going to be growth."
Iain Morris of LightReading wrote on October 20th, "The future AT&T is conceivably a cohort of antenna-carrying robots, some AI that writes code and Stankey with his feet up on the table, providing the only whiff of humanity."
AT&T is not the only U.S. telco reducing its workforce.  Earlier this year, T-Mobile announced that it will be laying off  ~5,000 workers or around 7% of its workforce.  This latest job cutting move will primarily impact employees in corporate, back-office, and technology roles, while those in retail or customer care positions will not be affected.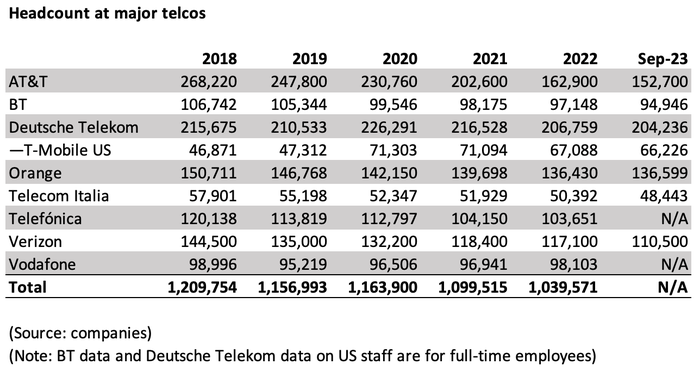 ……………………………………………………………………………………………………………………………….
Network Equipment Vendors Layoffs and Gloomy Outlook:
Last week, Nokia said the company plans to cut at least 9,000 jobs and as many as 14,000 over the next three years. That's mainly due to weak 5G equipment demand.  Nokia CEO Pekka Lundmark told reporters that Nokia's sales have plummeted in North America (sales were down 40%) and that India's 5G rollout is now slowing down as expected.
Over the next three years, his latest target is to reduce annual costs by between €800 million (US$843 million) and €1.2 billion ($1.3 billion). It's a move that will reduce Nokia's headcount by at least 9,000 roles from its current level of roughly 86,000. And at the upper end of the range, it will see an exodus of 14,000 employees, more than 16% of the total.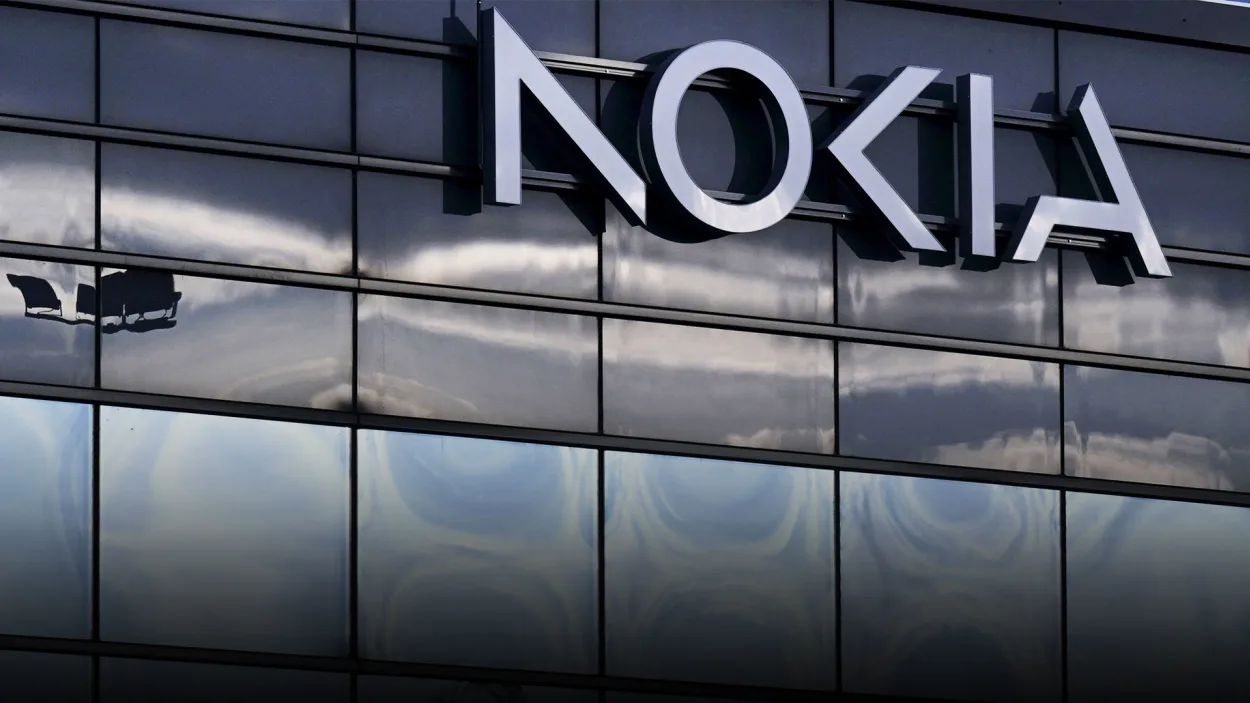 Ericsson CEO Borje Ekholm cautioned of persistent macroeconomic uncertainty into 2024 which it expects will impact customers' investment ability, as the wireless network equipment vendor reported a year-on-year net loss of SEK30.5 billion ($2.8 billion) from net income of SEK5.4 billion in Q2 2022, due to a SEK32 billion charge related to the acquisition of cloud company Vonage in 2022.  In February, Reuters reported that Ericsson will lay off 8,500 employees globally as part of its plan to cut costs, a memo sent to employees.
……………………………………………………………………………………………………………………..
Semiconductor Layoffs:
Wireless network chip maker Qualcomm is slashing 1,258 jobs in California, including nearly 200 in the Bay Area, in the latest tech layoffs to hit the region.  Qualcomm said in state filings that it will lay off approximately 194 workers in its Santa Clara offices and another 1,094 employees at its San Diego headquarters. The cuts are slated to begin Dec. 13th, based on a notice submitted to state officials this week. The job cuts represent roughly 2.5% of Qualcomm's workforce and mark the second round of layoffs for the wireless semiconductor company this year.
The Qualcomm layoff news comes about a month after the company announced a deal with Apple to provide 5G chips through at least 2026. Qualcomm is also the chip supplier for the newly announced Meta Quest 3.  It is only 1 of 2 companies that sell 5G end point silicon on the merchant market (Taiwan based MediaTek is the other one).
It's not a pretty picture to say the least for telecom industry employees.
References:
https://www.lightreading.com/ai-machine-learning/at-t-seems-on-a-mission-to-be-a-zero-employee-telco
https://www.lightreading.com/private-networks/at-t-s-private-wireless-chief-departs
https://about.att.com/story/2023/q3-earnings.html
https://www.informationweek.com/it-leadership/tech-company-layoffs-the-covid-tech-bubble-bursts-sep-14
---