As a follow on to yesterday's IEEE techblog on Korea 5G and ideal content, SK Telecom has completed the first live TV broadcast over its commercial 5G network and live broadcasting solution.
The operator ushered in 2019 with a live broadcast of Korea's largest New Year's event at the Bosingak pavilion in Seoul from around 11 minutes starting at midnight Korea Standard Time.
The live broadcast used SK Telecom's T Live Caster live broadcasting solution, which the network operator has developed over a four year period.  T Live Caster is designed to enable live broadcasting of video taken by smartphones over channels including TV and personal broadcasting over 5G anThe  video taken by smartphone cameras installed with the T Live Caster app and connected to connected to a 5G mobile router was transmitted through 5G stations and entertainment channel XtvN's transmission system for cable and IPTV viewers of the channel.   
The video was taken by smartphone cameras installed with the T Live Caster app and connected to 5G mobile routers and transmitted through 5G base stations and XtvN's transmission system to cable and IPTV viewers of XtvN.
Despite the highly congested data environment, the video was transmitted at a latency of less than one second, comparable to that of existing wired broadcasting systems.
"With today's successful live TV broadcasting over commercial 5G network, SK Telecom ushers in a new era of 5G-based media services," SK Telecom SVP and head of 5GX IoT/Data Group Choi Nak-hoon said.
"In this new era, individual creators will be able to provide high-quality live broadcast anytime, anywhere, via 5G smartphones."
South Korea has successfully switched on commercial 5G network on the first day of December, officially marking the era of high-speed network. The country's No.1 mobile carrier has become the first to make a commercial 5G video call, using a prototype Samsung smartphone.
SK Telecom's 5G network currently covers main areas of 13 cities and counties nationwide, including Seoul, four cities in Gyeonggi-do (Seongnam, An-san, Hwaseong, Siheung), six metropolitan cities, Seogwipo in Jeju Island, and Ullengdo and Dokdo Islands in Ulleng county.
………………………………………………………………………………………..
SK said it plans to continue to enhance the quality of T Live Caster to UHD and interconnect the solution to personal broadcasting platforms within the year.
Plans also call for tapping into the drone broadcasting market. Last June, SK Telecom struck a partnership with drone manufacturer DJI to jointly develop a drone video surveillance solution.
SK's blog about the event didn't identify the suppliers of the 5G network infrastructure.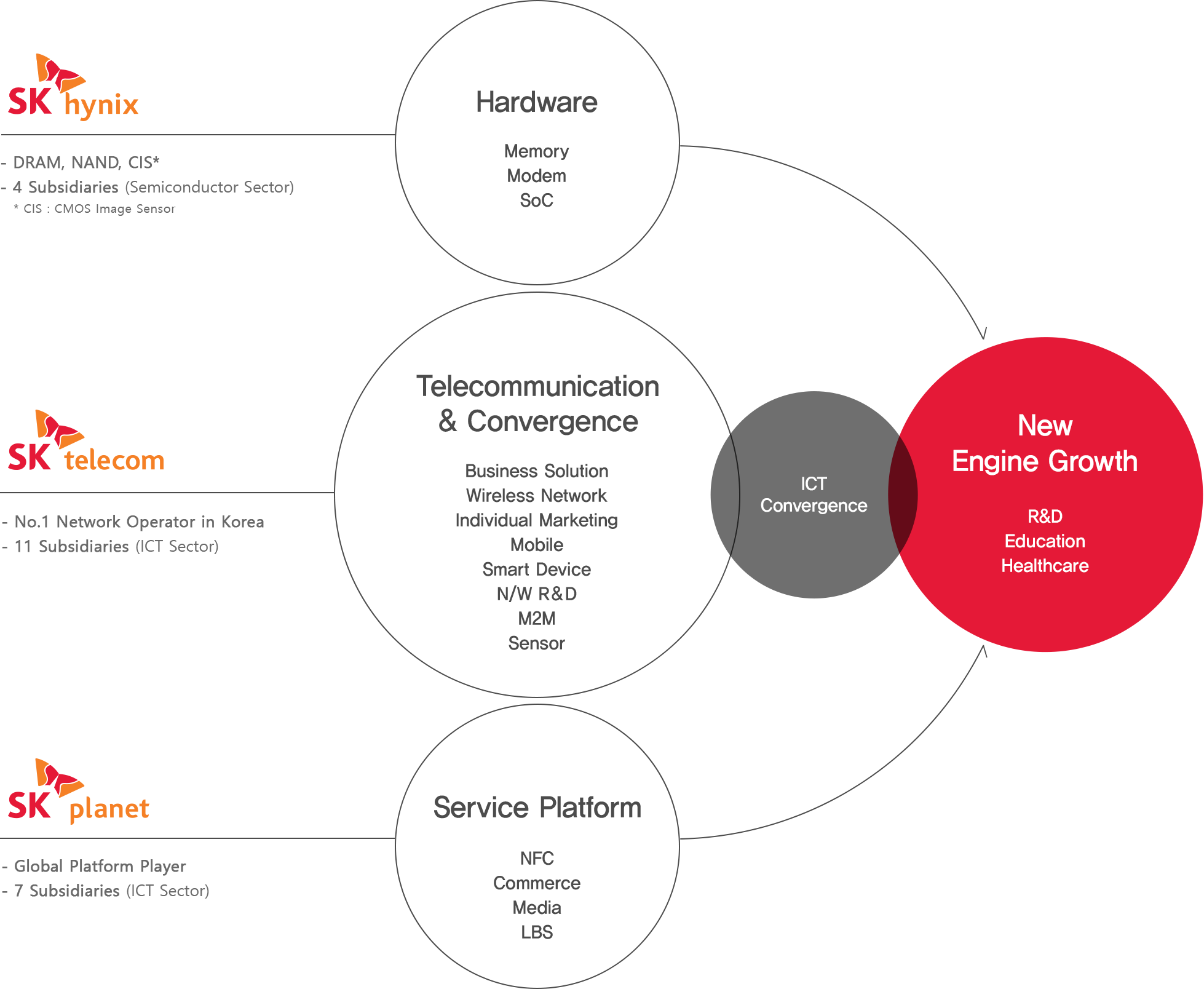 ………………………………………………………………………..
References:
https://www.globalskt.com/home/info/2482
https://www.fiercewireless.com/wireless/sk-telecom-touts-live-tv-broadcast-over-commercial-5g-network
 SK Telecom, the largest mobile operator in South Korea, announces an agreement to partner with MobiledgeX to enable a new generation of connected devices, content and experiences, creating new business models and revenue opportunities leading into 5G (?).

"In the 5G era, Mobile Edge Computing will be a key technology for next-generation industries including realistic media and autonomous driving," said Jong-kwan Park, Senior Vice President and Head of Network Technology R&D Center of SK Telecom. "Based on this partnership, SK Telecom will continue to drive technology innovations to provide customers with differentiated 5G services."

The relationship between SK Telecom and MobiledgeX reflects an aligned vision for the future of mobile operators as key players in future mobile application development, performance, security, and reliability. This vision is shared by leading cloud providers and device makers working with MobiledgeX to seamlessly pair the power and distribution of mobile operator infrastructure with the convenience and depth of developer tooling of hyperscale public cloud and the scale, mobility and distribution of billions of end user devices.

"Deutsche Telekom created MobiledgeX as an independent company to drive strategic collaboration across the world's leading telecoms, public cloud providers, device makers and the surrounding ecosystem – enabling a new era of business models, operating efficiencies and mobile experiences. We are particularly excited to announce SK Telecom's participation in this collaborative ecosystem where everybody wins. SK Telecom is a global leader in 5G which follows their rich tradition of innovation within their network, strategic partnerships and developer engagement. This new era is underway," says Eric Braun, Chief Commercial Officer of MobiledgeX.
MobiledgeX and SK Telecom executives hold up their respective copies of a memorandum of understanding between the two companies to jointly develop mobile edge computing applications. (SK Telecom)
…………………………………………………………………………………………………………………………………………………………………………………………………………………………………………………………………..
MobiledgeX is focused on delivering developer-facing edge cloud services and bringing mobility to those services, dynamically placing application back-end as close to mobile devices as possible and removing them when not needed. MobiledgeX, Deutsche Telekom and Intelhave partnered with Telecom Infra Project (TIP) to form an Edge Application Developer project group (see here) to ensure the gained insights and supporting source code are available to all. This is a new opportunity for everyone presented as a consequence of $2 trillion of CAPEX investment in network infrastructure over the past 10 years and the virtualization of the network from the central offices to the towers.  MobiledgeX is building a marketplace of edge resources and services that will connect developers with the world's largest mobile networks to power the next generation of applications and devices. MobiledgeX is an independent edge computing company founded by Deutsche Telekom and headquartered in Menlo Park, California.
https://mobiledgex.com/press-releases/2018/12/12/sk-telecom-partners-with-mobiledgex
https://www.fiercetelecom.com/telecom/sk-telecom-and-mobiledgex-join-hands-mobile-edge-computing
Separately, SK Telecom said it will comply with the IoT Security Guidelines proposed by GSMA for the safe usage and expansion of IoT networks.
……………………………………………………………………………………………………………………………………………………………………………………………………………………..
  Ericsson video call over SK Telecom's 5G test network:
Ericsson and SK Telecom have conducted a video call over the operator's live 5G test network, the latest milestone in a long-running partnership.
On this occasion, the companies used 100 MHz of 3.5-GHz spectrum, marking the first time that so much spectrum in this band has been used in a field test. SK Telecom used Ericsson's commercial radio equipment, based on the 5G New Radio (NR) standard. Ericsson also supplied a test device equipped with Qualcomm's Snapdragon x50 5G modem. As well as a video call, SK Telecom also demonstrated streaming via a 5G data session.
As has been well documented, South Korea is pushing hard to be a frontrunner on 5G, which might explain Ericsson's keen involvement with SK Telecom's research and trials. The two companies have been at the forefront of testing out network slicing, where an access network is subdivided into virtual partitions, with the parameters of each one tailored to meet the requirements of specific services, from low-bandwidth massive IoT connectivity, to low-latency, high-throughput A/VR services. Ericsson and SK Telecom have also trialled multi-vehicular 5G trials in partnership with BMW.
Another explanation for Ericsson's close involvement with SK Telecom might have something to do with Samsung. The Korean vendor missed the boat on 4G when it backed WiMAX instead of LTE, but it is making a concerted effort to not be left out of 5G. Last year, it unveiled its end-to-end 5G portfolio, and it has struck important partnerships and supply deals, including with SK Telecom, Telefonica, and Verizon.
With South Korea expected to be among the first movers when it comes to 5G commercialisation, Ericsson will want to make sure SK Telecom's network is adorned with as much of its equipment as possible.
Alex Jinsung Choi, CTO and Head of Corporate R&D Center, SK Telecom, said:
"5G will offer much more than just faster data speeds. It will serve as a true enabler for a whole new variety of powerful services that deliver unprecedented value to customers. Today's demonstration of 5G-based connected car technologies marks the very first step towards achieving fully autonomous driving in the upcoming era of 5G."
The test environment was realized by using an Ericsson 5G field trial network. It consists of multiple radio transmission points on 28GHz frequency band to cover the entire track and one user equipment installed in every car. The trials showed consistent Gbps-level throughput with a few millisecond latency. Uninterrupted connectivity, using beam tracking and beam transfer across the different transmission points at speeds exceeding 100 kilometers per hour is also achieved. The performance shown enables multiple connected car use cases such as augmented and virtual reality, obstacle control and vehicle to vehicle communication, based on a system solution including radio and core network infrastructure from Ericsson.
Thomas Norén, Head of Product Area Network Products, Ericsson, said:
"Ericsson is working with leading operators and ecosystem players to drive the realization of 5G – both with today's pre-standard field trials, and through standardization activities along with global standards bodies and industry groups. The trial takes a step closer to 5G technology and commercialization, especially for connected vehicle applications."
The trial simultaneously implements new key 5G capabilities with multi-site, multi-transmission point, MU-MIMO, and with multiple devices operating in the millimeter wave frequency band. It demonstrates beam tracking and beam mobility between different 5G access points, at high mobility.
https://www.ericsson.com/en/news/2018/12/sk-telecom-qualcomm-and-ericsson-collaborate-on-5g
https://www.mobileworldlive.com/asia/asia-news/skt-makes-5g-video-call-on-3-5ghz-band/
Going forward, SK Telecom and Deutsche Telekom plan to share their technologies and knowhow. The two companies made their cross-investment decision to gain leadership in the upcoming era of 5G by offering specialized 5G services with ultra-low latency in areas like telemedicine as well as AR and VR, while addressing potential security threats.
"SK Telecom is pleased to enter into a cross-investment agreement with Deutsche Telekom as it will serve as a valuable opportunity for us to further solidify our 5G leadership in the global market and drive new growth," said Park Jung-ho, President and Chief Executive Officer of SK Telecom.
"We look forward to intensifying our successful cooperation with SK Telecom. The partnership will help both companies to strengthen our global technology leadership and bring 5G and other innovative services to our customers," stated Timotheus Höttges, CEO of Deutsche Telekom.
Unlike the pre-5G era, which was mainly about communication between people, the 5G era will be marked by communication between people and things, as well as communication between things (IoT), which will support intelligent services like connected car, smart factory and wearable devices.
Earlier this month, the German carrier said it expects to launch commercial 5G services in 2020. In May 2018, Deutsche Telekom announced the deployment of the first 5G antennas to test the technology in downtown Berlin. The antennas, which are based on 5G New Radio, allowed Deutsche Telekom to demonstrate what it claimed to be Europe's first 5G data connection over a live network. The telco said that it is currently in the process of deploying a 5G cluster in Berlin.
…………………………………………………………………………………………………………………………………………………………………………………………
Separately, Deutsche Telekom is reviewing the idea of adopting quantum cryptography communication systems. Both SK Telecom and Deutsche Telekom are currently in the process of qualifying quantum cryptography technologies on their respective trial networks.
Deutsche Telekom will make an investment in ID Quantique, a Switzerland-based strategic partner of SKT. The start-up is focused on the development of quantum cryptography communication technology, an innovation designed to increase the security of telecoms services.  ID Quantique's applications are already being tested in trial networks deployed by both Deutsche Telekom and SKT.
………………………………………………………………………………………………………………………………………………………………………………………
Note that in February  2016, Deutsche Telekom and SK Telecom entered into a strategic business partnership agreement to collaborate in the fields of services, Internet of Things (IoT) and related R&D areas.  With the aim to strengthen their capabilities as ICT industry leaders and to achieve new growth through joint business opportunities in Asian and European Markets, SK Telecom and Deutsche Telekom will cooperate in the global sales of innovative solutions and products and work together to lead standardization of innovative technologies, including 5G enabling technologies and SDDC (Software-Defined Data Center).
Under the 2016 partnership agreement, the two companies will pursue joint R&D activities to develop cutting-edge technologies – including 5G  enabling technologies – and push for their standardization (where – in ITU-R WP5D for IMT 2020?), while actively taking a part in diverse global projects to drive ICT infrastructure innovations.
In particular, through development of key 5G technologies such as network slicing and mobile edge computing, the two companies  plan to drive standardization and implementation of 5G, and identify 5G key applications.
……………………………………………………………………………………………………………………………………………………………………………
References:
https://www.rcrwireless.com/20181023/5g/deutsche-telekom-sk-telekom-ink-cross-investment-deal-towards-5g
https://www.lightreading.com/the-edge/deutsche-telekom-to-swap-startup-investments-with-sk-telecom/d/d-id/746992?
---