Telia Company today announced that it reached an agreement with Polhem Infra for the sale of its international carrier business.  At the same time, Telia Company entered a long-term strategic partnership with Telia Carrier, securing continuous world-leading network solutions to Telia's customers.  The acquisition is Polhem Infra's first investment in this field. The company is jointly owned by the Swedish pension funds First AP Fund, Third AP Fund and Fourth AP Fund.
Allison Kirkby, president and CEO of Telia, confirmed that the majority of the proceeds from the sale of Telia Carrier to the Polhem Infra unit "will be used to strengthen our balance sheet and thereby provide a solid financial base for Telia Company and our shareholders.  Telia can now fully concentrate on our Nordic and Baltic footprint."
Telia Carrier holds the #1 position in the global ranking of companies with Internet backbone networks. Content, services and operator customers of Telia Carrier account for 65% of global Internet routes. Its network spans across Europe, North America, and Asia, connecting customers in more than 120 countries, with the Scandinavian footprint being particularly strong through the so-called Scandinavian Ring – the part of Telia Carrier's network that connects major Baltic and Nordic cities.
The change of ownership will enable Telia Carrier, with its 530 employees, "to drive a level of investment in network development, services and customer care programs that brings benefits to content providers, operators and enterprises beyond that of any competitor."
Kirkby has been CEO since early May, but has already been making her mark. As well as streamlining the Nordic telco's operators, she has also assembled a new-look management team.
Jefferies said the sale of Telia Carrier appeared supportive and highlighted the use of near 30% of proceeds to top up the dividend.  "This is a welcome first move of the new, highly respected CEO," the investment bank said in a note to clients.  Jefferies said the sale of Telia Carrier appeared supportive and highlighted the use of almost 30% of the proceeds to top up the dividend.
Nick Del Deo of Moffett-Nathanson wrote about Telia Carrier vs Cogent Communications (U.S.) in a note to clients:
While Telia Carrier doesn't break out its business mix, a substantial share of its revenue comes from transit, likely in the same range as Cogent's, or about one third of the total. It's one of the four largest transit providers globally, along with CenturyLink, Cogent, and NTT. A broad suite of other services – DIA, wavelengths, wholesale voice, etc. – round out its product portfolio. Like Cogent, its internet backbone spans the globe, with its presence concentrated in Europe and North America. The comparisons may not be perfect, but Telia Carrier claims to have 67K km route miles of fiber vs. Cogent's 93K km of intercity fiber, and 300 PoPs globally vs. the ~1K carrier-neutral data centers to which Cogent connects. Their route maps look quite similar, but Cogent extends into more small markets than Telia Carrier and has more of a presence in Latin America and Asia-Pacific.
Telia Carrier's Global Fiber Optic Network:
Image Credit: Telia Carrier
References:
https://www.teliacarrier.com/our-network.html
https://www.reuters.com/article/us-telia-company-divestment/telia-to-sell-international-carrier-business-for-1-billion-idUSKBN26R1JW
https://www.lightreading.com/services/telia-flogs-international-carrier-business-for-$11b/d/d-id/764436?
With worldwide coronavirus induced "stay at home/shelter in place" orders, almost everyone that has high speed internet at home is using a lot more bandwidth for video conferences and streaming.  How is the Internet holding up against the huge increase in data/video traffic?  We focus this article on U.S. Internet traffic since the stay at home orders went into effect in late March.
………………………………………………………………………………………..
Sidebar:  North America has only 7.6% of world's Internet users: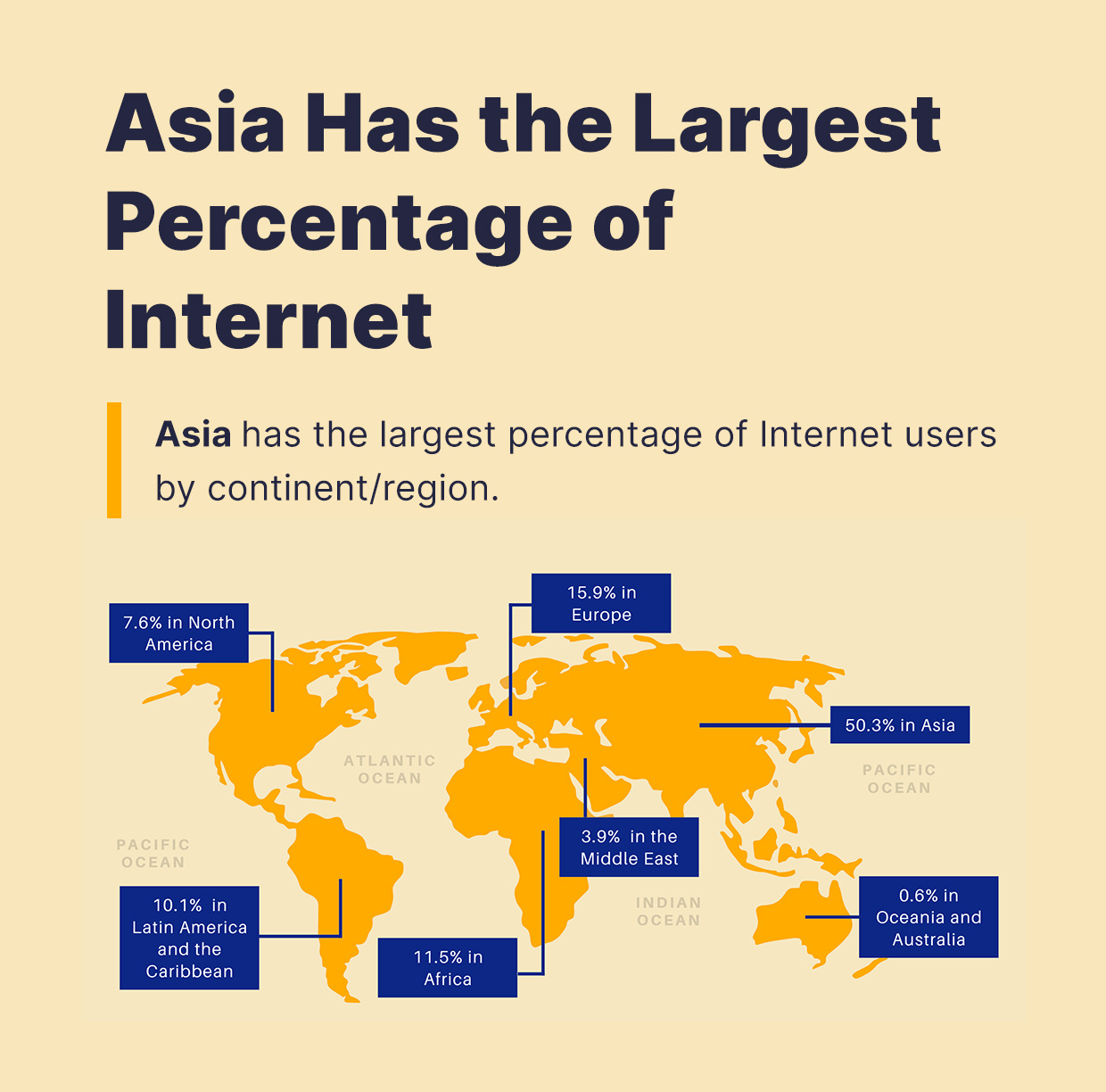 ………………………………………………………………………………………..
According to Eric Savitz of Barron's, the U.S. networks are handling the traffic spikes without any major hiccups. In a call this past week with reporters, Comcast, the largest U.S. internet service provider, said that its network is working well, with tests done 700,000 times a day through customer modems showing average speeds running 110% to 115% of contracted rates. Overall peak traffic is up 32% on the network, with some areas up 60%, in particular around Seattle and the San Francisco Bay area, where lockdowns were put in place before they were in most of the rest of the country. In both Seattle and San Francisco, peak traffic volumes are plateauing, suggesting a new normal.
While Comcast said its peak internet traffic has increased 32 percent since the start of March, total traffic remains within the overall capacity its network. The increase in people working at home has shifted the downstream peak to earlier in the evening, while upload traffic is growing during the day in most cities.  Tony Werner, head of technology at Comcast Cable, says it has a long-term strategy of adding network capacity 12 to 18 months ahead of expected peaks. He says that approach has given Comcast the ability to smoothly absorb the added traffic. The company hasn't requested that video providers or anyone else limit their traffic.
AT&T, the second largest U.S. internet service provider, likewise asserts that its network is performing "very well" during the pandemic. This past Wednesday, it said, core traffic, including business, home broadband, and wireless, was up 18% from the same day last month. Wireless voice minutes were up 41%, versus the average Wednesday; consumer home voice minutes rose 57%, and WiFi calling was up 105%.
Over the past three weeks, the company has seen new usage patterns on its mobile network, with voice calls up 33% and instant messaging up 63%, while web browsing is down 5% and email is off 18%.
Verizon also says its network is handling the traffic well. One telling stat: The carrier says that mobile handoffs, the shifting of sessions from one cell site to another as users move around, is down 53% in the New York metro area, and 29% nationally; no one is going anywhere.  More on Verizon's COVID-19 initiatives here.
In the United States prior to coronavirus, total home internet traffic averaged about 15% on weekdays. But it started growing in mid March, and by late March it had reached about 35%, clearly connected to all the working and learning from home due to stay-at-home orders.
"The data suggests remote working will remain elevated in the U.S. for a prolonged period of time," wrote analysts from Cowen analysts.
Craig Moffett of MoffetNathanson said "The cable companies are simply digital infrastructure providers. They are agnostic about how you can get your video content. And the broadband business is going to be just fine."
"Our broadband connections are becoming our lifelines – figuratively and literally: we are using them to get news, connect to our work environments (now all virtual), and for entertainment too," wrote Craig Labovitz, CTO for Nokia's Deepfield portfolio, in a blog post.
………………………………………………………………………………………..
Enterprise IT Accelerates Move to Cloud:
One takeaway from this extended, forced stay at home period is that, more than ever, corporate IT (think enterprise computing and storage) is moving to the cloud.  We've previously reported on this mega-trend in an IEEE techblog post noting the delay in 5G roll-outs.  In particular:
Now the new (5G) technology faces an unprecedented slow down to launch and expand pilot deployments.  Why? It's because of the stay at home/shelter in place orders all over the world.  Non essential business' are closed and manufacturing plants have been idled.  Also, why do you need a mobile network if you're at home 95% of the time?

One reason to deploy 5G is to off load data (especially video) traffic on congested 4G-LTE  networks. But just like the physical roads and highways, those 4G networks have experienced less traffic since the virus took hold.  People confined to their homes need wired broadband and Wi-Fi, NOT 4G and 5G mobile access.
David Readerman of Endurance Capital Partners, a San Francisco, CA based tech hedge fund told Barron's: "What's certainly being reinforced right now, is that cloud-based information-technology architecture is providing agility and resiliency for companies to operate dispersed workforces."
Readerman says the jury is out on whether there's a lasting impact on how we work, but he adds that contingency planning now requires the ability to work remotely for extended periods.
On March 27th, the Wall Street Journal reported:
Cloud-computing providers are emerging as among the few corporate winners in the coronavirus pandemic as office and store closures across the U.S. have pushed more activity online.

The remote data storage and processing services provided by Amazon.com Inc., Microsoft Corp., Google and others have become the essential link for many people to remain connected with work and families, or just to unwind.
The hardware and software infrastructure those tech giants and others provide, commonly referred to as the cloud, underpins the operation of businesses that have become particularly popular during the virus outbreak, such as workplace collaboration software provider Slack, streaming video service company Netflix Inc. and online video game maker Epic Games Inc.

Demand has been so strong that Microsoft has told some customers its Azure cloud is running up against limits in parts of Australia.

"Due to increased usage of Azure, some regions have limited capacity," the software giant said, adding it had, in some instances, placed restrictions on new cloud-based resources, according to a customer notice seen by The Wall Street Journal.

A Microsoft spokesman said the company was "actively monitoring performance and usage trends" to support customers and growth demands. "At the same time," he said, "these are unprecedented times and we're also taking proactive steps to plan for these high-usage periods."

"If we think of the cloud as utility, it's hard to imagine any other public utility that could sustain a 50% increase in utilization—whether that's electric or water or sewage system—and not fall over," Matthew Prince, chief executive of cloud-services provider Cloudflare Inc. said in an interview. "The fact that the cloud is holding up as well as it has is one of the real bright spots of this crisis."

The migration to the cloud has been happening for about a decade as companies have opted to forgo costly investments into in-house IT infrastructure and instead rent processing hardware and software from the likes of Amazon or Microsoft, paying as they go for storage and data processing features. The trends have made cloud-computing one of the most contested battlefields among business IT providers.

"If you look at Amazon or Azure and how much infrastructure usage increased over the past two weeks, it would probably blow your mind how much capacity they've had to spin up to keep the world operating," said Dave McJannet, HashiCorp Inc., which provides tools for both cloud and traditional servers. "Moments like this accelerate the move to the cloud."

In a message to rally employees, Andy Jassy, head of the Amazon's Amazon Web Services (AWS) cloud division, urged them to "think about all of the AWS customers carrying extra load right now because of all of the people at home."

Brad Schick, chief executive of Seattle-based Skytap Inc., which works with companies to move existing IT systems to the cloud, has seen a 20% jump in use of its services in the past month. "A lot of the growth is driven by increased usage of the cloud to deal with the coronavirus."

For many companies, one of the attractions of cloud services is they can quickly rent more processing horsepower and storage when it is needed, but can scale back during less busy periods. That flexibility also is helping drive cloud-uptake during the coronavirus outbreak, said Nikesh Parekh, CEO and cofounder of Seattle-based Suplari Inc., which helps companies manage their spending with outside vendors such as cloud services.

"We are starting to see CFOs worry about their cash positions and looking for ways to reduce spending in a world where revenue is going to decline dramatically over the next quarter or two," he said. "That will accelerate the move from traditional suppliers to the cloud."
Dan Ives of Wedbush opines that the coronavirus pandemic is a "key turning point" around deploying cloud-driven and remote-learning environments.  As a majority of Americans are working or learning from home amid federal social distancing measures, Ives' projections of moving 55% of workloads to the cloud by 2022 from 33% "now look conservative as these targets could be reached a full year ahead of expectations given this pace," he said. He also expects that $1 trillion will be spent on cloud services over the next decade, benefiting companies such as Microsoft and Amazon.
---
…………………………………………………………………………………………………………..
Rob Powell reports that Google's submarine cable empire now hooks up another corner of the world. The company's 10,000km Curie submarine cable has officially come ashore in Valparaiso, Chile.
The Curie cable system now connects Chile with southern California. it's a four-fiber-pair system that will add big bandwidth along the western coast of the Americas to Google's inventory.  Also part of the plans is a branching unit with potential connectivity to Panama at about the halfway point where they can potentially hook up to systems in the Caribbean.
Subcom's CS Durable brought the cable ashore on the beach of Las Torpederas, about 100 km from Santiago. In Los Angeles the cable terminates at Equinix's LA4 facility, while in Chile the company is using its own recently built data center in Quilicura, just outside of Santiago.
Google has a variety of other projects going on around the world as well, as the company continues to invest in its infrastructure.  Google's projects tend to happen quickly, as they don't need to spend time finding investors to back their plans.
Curie is one of three submarine cable network projects Google unveiled in January 2018. (Source: Google)
……………………………………………………………………………………………………………………………………………………………………………………..
Powell also wrote that SoftBank's HAPSMobile is investing $125M in Google's Loon as the two partner for a common platform, and Loon gains an option to invest a similar sum in HAPSMobile later on.
Both companies envision automatic, unmanned, solar-powered devices in the sky above the range of commercial aircraft but not way up in orbit. From there they can reach places that fiber and towers don't or can't. HAPSMobile uses drones, and Loon uses balloons. The idea is to develop a 'common gateway or ground station' and the necessary automation to support both technologies.
It's a natural partnership in some ways, and the two are putting real money behind it. But despite the high profile we haven't really seen mobile operators chomping at the bit, since after all it's more fun to cherry pick those tower-covered urban centers for 5G first and there's plenty of work to do. And when they do get around to it, there's the multiple near-earth-orbit satellite projects going on to compete with.
But the benefit both HAPSMobile and Loon have to their model is that they can, you know, reach it without rockets.
…………………………………………………………………………………………………………
An AWS Region is a particular geographic area where Amazon decided to deploy several data centers, just like that. The reason behind a chosen area is to be close to the users and also to have no restrictions. At the same time, every Region is also connected through private links with other Regions which means they have a dedicated link for their communications because for them is cheaper and they also have full capacity planing with lower latency.
What is inside a Region?
Minimum 2 Availability Zones
Separate transit centers (peering the connections out of the World)
How transit centers work?
AWS has private links to other AWS regions, but they also have private links for the feature AWS Direct Connect – a dedicated and private & encrypted (IPSEC tunnel) connection from the "xyz" company's datacenters to their infrastructures in the Cloud, which works with the VLANs inside (IEEE 802.1Q) for accessing public and private resources with a lower latency like Glacier or S3 buckets and their VPC at the same time between <2ms and usually <1ms latency. Between Availability Zones (inter AZ zone) the data transit there's a 25TB/sec average.
From AWS Multiple Region Multi-VPC Connectivity:
AWS Regions are connected to multiple Internet Service Providers (ISPs) as well as to Amazon's private global network backbone, which provides lower cost and more consistent cross-region network latency when compared with the public internet.  Here is one illustrative example:
,,,,,,,,,,,,,,,,,,,,,,,,,,,,,,,,,,,,,,,,,,,,,,,,,,,,,,,,,,,,,,,,,,,,,,,,,,,,,,,,,,,,,,,,,,,,,,,,,,,,,,,,,,,,,,,,,
From Facebook Building backbone network infrastructure:
We have strengthened the long-haul fiber networks that connect our data centers to one another and to the rest of the world.
As we bring more data centers online, we will continue to partner and invest in core backbone network infrastructure. We take a pragmatic approach to investing in network infrastructure and utilize whatever method is most efficient for the task at hand. Those options include leveraging long-established partnerships to access existing fiber-optic cable infrastructure; partnering on mutually beneficial investments in new infrastructure; or, in situations where we have a specific need, leading the investment in new fiber-optic cable routes.
In particular, we invest in new fiber routes that provide much-needed resiliency and scale. As a continuation of our previous investments, we are building two new routes that exemplify this approach. We will be investing in new long-haul fiber to allow direct connectivity between our data centers in Ohio, Virginia, and North Carolina.
As with our previous builds, these new long-haul fiber routes will help us continue to provide fast, efficient access to the people using our products and services. We intend to allow third parties — including local and regional providers — to purchase excess capacity on our fiber. This capacity could provide additional network infrastructure to existing and emerging providers, helping them extend service to many parts of the country, and particularly in underserved rural areas near our long-haul fiber builds.
………………………………………………………………………………………………….
Venture Beat Assessment of what it all means:
Google's increasing investment in submarine cables fits into a broader trend of major technology companies investing in the infrastructure their services rely on.
Besides all the datacenters Amazon, Microsoft, and Google are investing in as part of their respective cloud services, we've seen Google plow cash into countless side projects, such as broadband infrastrucure in Africa and public Wi-Fi hotspots across Asia.
Elsewhere, Facebook — while not in the cloud services business itself — requires omnipresent internet connectivity to ensure access for its billions of users. The social network behemoth is also investing in numerous satellite internet projectsand had worked on an autonomous solar-powered drone project that was later canned. Earlier this year, Facebook revealed it was working with Viasat to deploy high-speed satellite-powered internet in rural areas of Mexico.
While satellites will likely play a pivotal role in powering internet in the future — particularly in hard-to-reach places — physical cables laid across ocean floors are capable of far more capacity and lower latency. This is vital for Facebook, as it continues to embrace live video and virtual reality. In addition to its subsea investments with Google, Facebook has also partnered with Microsoft for a 4,000-mile transatlantic internet cable, with Amazon and SoftBank for a 14,000 km transpacific cable connecting Asia with North America, and on myriad othercable investments around the world.
Needless to say, Google's services — ranging from cloud computing and video-streaming to email and countless enterprise offerings — also depend on reliable infrastructure, for which subsea cables are key.
Curie's completion this week represents not only a landmark moment for Google, but for the internet as a whole. There are currently more than 400 undersea cables in service around the world, constituting 1.1 million kilometers (700,000 miles). Google is now directly invested in around 100,000 kilometers of these cables (62,000 miles), which equates to nearly 10% of all subsea cables globally.
The full implications of "big tech" owning the internet's backbone have yet to be realized, but as evidenced by their investments over the past few years, these companies' grasp will only tighten going forward.
---