Quantum Key Distribution (QKD)
SK Telecom (SKT) today announced that for the first time in the world, it developed a technology that allows for integrated control and operation of quantum cryptography networks by integrating networks composed of equipment from different manufacturers via software-defined networking (SDN) and distributing quantum keys in an automated manner.
So far it was impossible to connect and operate quantum cryptography communication networks of different companies and countries. However, with SKT's new technology, quantum cryptography communication networks of diverse manufacturers, mobile operators and nations can be interconnected and co-operated.
The company said that it completed verification of the technology on the Korea Advanced Research Network (KOREN), a non-profit testbed network infrastructure operated by the National Information Society Agency (NIA) to facilitate research, test and verification of future network leading technologies and related equipment.
Based on the results of development and verification of the technology, SKT has been actively promoting standardization by sharing the case with global telcos.
To set international standards for the integration of quantum cryptography communication networks, SKT proposed two standardization tasks – i.e. 'Control Interface of Software Defined Networks' and 'Orchestration Interface of Software Defined Networks for Interoperable Key Management System' – to the European Telecommunications Standards Institute (ETSI), and they were chosen as work items by the ETSI industry specification group for QKD (ISG-QKD) in March 2023.
If approved as international standards, they will provide a technical basis for creating a large-scale network by interconnecting quantum cryptography communication networks built by many different operators. SKT plans to continue developing additional technologies for interworking of services between different operators/countries, as well as management of service quality.
Through these efforts, the company expects to strengthen the competitiveness of domestic companies and boost the quantum cryptography ecosystem both home and abroad.
Meanwhile, at this year's IOWN Global Forum Workshop, SKT presented 'Quantum Secure Interconnection for Critical Infrastructure,' covering use cases for next-generation transmission encryption technology and proposal for a proof-of-concept (PoC) of quantum cryptography in All-Photonics Network (APN). The company also showcased its quantum cryptography communication technologies at 2023 MWC Barcelona.
"The two standardization tasks approved as work items by ETSI will boost the expansion of quantum cryptography communication in the global market," said Ha Min-yong, Chief Development Officer of SKT. "We will work with diverse global players in many different areas to create new business opportunities in the global market."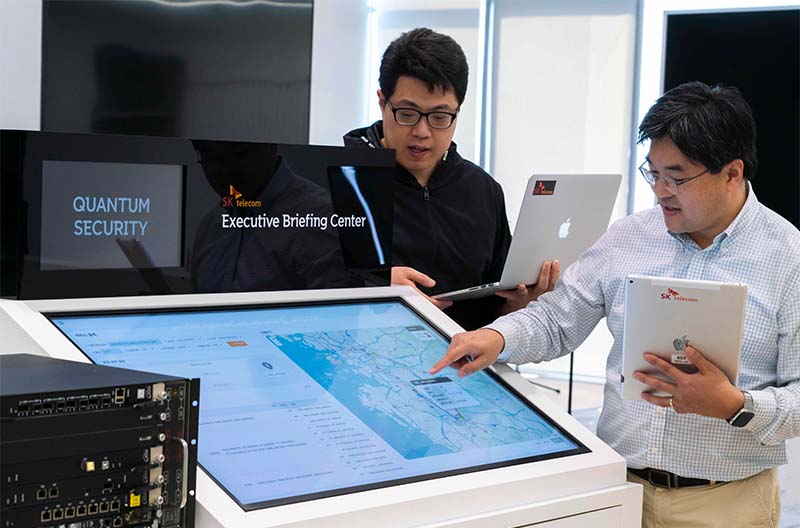 Disclaimer:
SK Telecom Co. Ltd. published this content on 05 April 2023 and is solely responsible for the information contained therein. https://www.sktelecom.com/en/press/press_detail.do?idx=1563&currentPage=1&type=&keyword=
………………………………………………………………………………………………………………………………………………………………….
From SDxCentral:
Quantum cryptography communication transmits each bit of information as a single photon of light, which encrypts that information against eavesdropping or decryption. Telecom operators and vendors have been working for several years on integrating that level of encryption into networks.
For instance, Toshiba and the Tohoku Medical Megabank Organization at Tohoku University used quantum technology in 2018 to hit one-month-average key distribution speeds exceeding 10 Mb/s over installed optical fiber lines. They also used the technology to monitor the performance of installed optical fiber lines in different environments.
Toshiba later partnered with U.K.-based operator BT on using QKD across to secure a network transmission.
SK Telecom also has a long quantum history, including work with Swiss-based strategic partner ID Quantique, which focuses on quantum cryptography communication technology.
Industry trade group GSMA last year announced its Post-Quantum Telco Network Taskforce focused on supporting the industry's creation of a roadmap to secure networks, devices and systems across the entire supply chain." That work was initiated with IBM and Vodafone, and has since gained more than 45 members.
Lory Thorpe, GSMA Post-Quantum Telco Networks chairperson and head of IBM Consulting's Telco Transformation Offerings, told SDxCentral last month that the core objective of the taskforce is to ensure the implementation of the right requirements and standards in a timely manner to avoid being "late to the party." Thorpe explained the initial problem statement was "around how do we support the telco ecosystem to navigate the path to quantum safe."
"When you look at where cryptography is used in telco systems, it impacts basically all of the different systems. But it also then impacts all of the standards that underpin these systems as well," she said. "We're advocating that people start planning, not panicking, but at least planning because … this isn't something that just happens overnight."
https://www.sdxcentral.com/articles/news/sk-telecom-touts-telecom-network-quantum-cryptography-integration/2023/04/
---