SK Telecom (SKT) today announced that for the first time in the world, it developed a technology that allows for integrated control and operation of quantum cryptography networks by integrating networks composed of equipment from different manufacturers via software-defined networking (SDN) and distributing quantum keys in an automated manner.
So far it was impossible to connect and operate quantum cryptography communication networks of different companies and countries. However, with SKT's new technology, quantum cryptography communication networks of diverse manufacturers, mobile operators and nations can be interconnected and co-operated.
The company said that it completed verification of the technology on the Korea Advanced Research Network (KOREN), a non-profit testbed network infrastructure operated by the National Information Society Agency (NIA) to facilitate research, test and verification of future network leading technologies and related equipment.
Based on the results of development and verification of the technology, SKT has been actively promoting standardization by sharing the case with global telcos.
To set international standards for the integration of quantum cryptography communication networks, SKT proposed two standardization tasks – i.e. 'Control Interface of Software Defined Networks' and 'Orchestration Interface of Software Defined Networks for Interoperable Key Management System' – to the European Telecommunications Standards Institute (ETSI), and they were chosen as work items by the ETSI industry specification group for QKD (ISG-QKD) in March 2023.
If approved as international standards, they will provide a technical basis for creating a large-scale network by interconnecting quantum cryptography communication networks built by many different operators. SKT plans to continue developing additional technologies for interworking of services between different operators/countries, as well as management of service quality.
Through these efforts, the company expects to strengthen the competitiveness of domestic companies and boost the quantum cryptography ecosystem both home and abroad.
Meanwhile, at this year's IOWN Global Forum Workshop, SKT presented 'Quantum Secure Interconnection for Critical Infrastructure,' covering use cases for next-generation transmission encryption technology and proposal for a proof-of-concept (PoC) of quantum cryptography in All-Photonics Network (APN). The company also showcased its quantum cryptography communication technologies at 2023 MWC Barcelona.
"The two standardization tasks approved as work items by ETSI will boost the expansion of quantum cryptography communication in the global market," said Ha Min-yong, Chief Development Officer of SKT. "We will work with diverse global players in many different areas to create new business opportunities in the global market."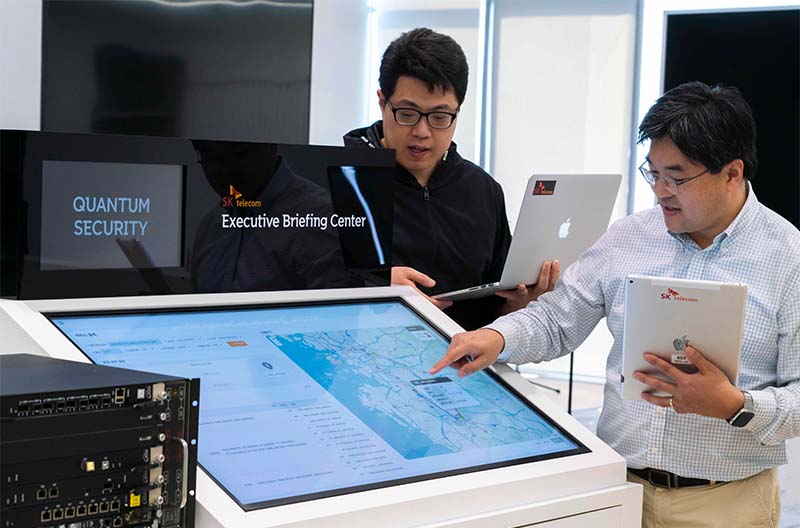 Disclaimer:
SK Telecom Co. Ltd. published this content on 05 April 2023 and is solely responsible for the information contained therein. https://www.sktelecom.com/en/press/press_detail.do?idx=1563&currentPage=1&type=&keyword=
………………………………………………………………………………………………………………………………………………………………….
From SDxCentral:
Quantum cryptography communication transmits each bit of information as a single photon of light, which encrypts that information against eavesdropping or decryption. Telecom operators and vendors have been working for several years on integrating that level of encryption into networks.
For instance, Toshiba and the Tohoku Medical Megabank Organization at Tohoku University used quantum technology in 2018 to hit one-month-average key distribution speeds exceeding 10 Mb/s over installed optical fiber lines. They also used the technology to monitor the performance of installed optical fiber lines in different environments.
Toshiba later partnered with U.K.-based operator BT on using QKD across to secure a network transmission.
SK Telecom also has a long quantum history, including work with Swiss-based strategic partner ID Quantique, which focuses on quantum cryptography communication technology.
Industry trade group GSMA last year announced its Post-Quantum Telco Network Taskforce focused on supporting the industry's creation of a roadmap to secure networks, devices and systems across the entire supply chain." That work was initiated with IBM and Vodafone, and has since gained more than 45 members.
Lory Thorpe, GSMA Post-Quantum Telco Networks chairperson and head of IBM Consulting's Telco Transformation Offerings, told SDxCentral last month that the core objective of the taskforce is to ensure the implementation of the right requirements and standards in a timely manner to avoid being "late to the party." Thorpe explained the initial problem statement was "around how do we support the telco ecosystem to navigate the path to quantum safe."
"When you look at where cryptography is used in telco systems, it impacts basically all of the different systems. But it also then impacts all of the standards that underpin these systems as well," she said. "We're advocating that people start planning, not panicking, but at least planning because … this isn't something that just happens overnight."
https://www.sdxcentral.com/articles/news/sk-telecom-touts-telecom-network-quantum-cryptography-integration/2023/04/
 NTT DOCOMO and South Korean telecommunication operator SK Telecom (SKT) today announced their joint release of two white papers on energy-efficient 5G mobile networks and related technologies, as well as requirements for future 6G networks.  The release of the white papers is the first outcome of a basic agreement that NTT DOCOMO and SKT signed last November to explore opportunities for technical collaboration on next-generation telecommunication infrastructure technologies for 5G Evolution and 6G.
Note that neither ITU-R WP 5D or 3GPP has an approved document related to 6G network requirements.  The closest document is a work in progress at ITU-R WP 5D titled, "IMT Vision – Framework and overall objectives of the future development of IMT for 2030 and beyond."Regarding energy-efficient 5G mobile networks, the white paper reviews the following:
Possibilities to achieve greater energy savings based on energy consumption levels measured in the two companies' respective base stations
Technical analysis of candidate energy-saving technologies, including both hardware and software
The roles that operators and equipment vendors should play, including the need for greater coordination, in the effort to achieve greater energy savings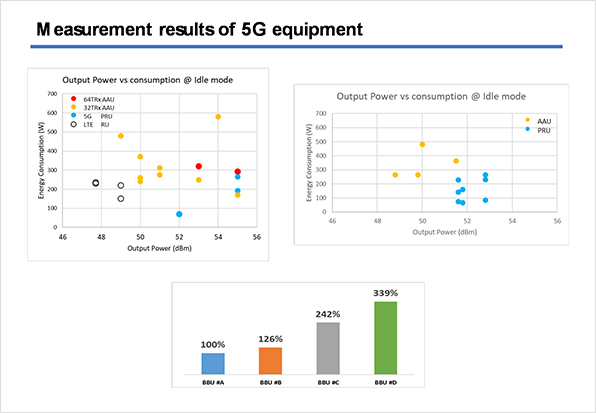 For 6G, the paper reviews requirements and challenges including specific performance levels and implementation scenarios, focusing on technical issues of particular importance to mobile operators:
Performance requirements and implementation scenarios for each frequency band, taking into account the characteristics of each frequency
Issues concerning coverage and devices in high-frequency bands
Standardization for migration to 6G architecture and application of cloud-native / open architecture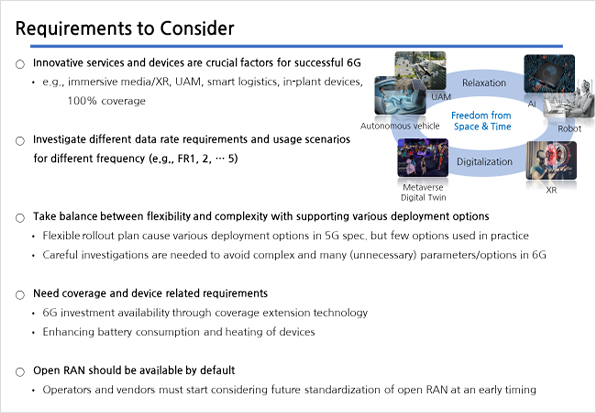 Going forward, NTT DOCOMO and SKT will continue to collaborate in various technical fields, aiming to enhance the competitiveness and operational efficiency of 5G as well as support the global standardization and technical verification of 6G. They will also collaborate with global telecom operators on 6G standardization and R&D with the goal of building a global ecosystem that encompasses advanced industries and technologies.
"The white papers carry a significant meaning as they mark the first tangible result since entering into a strategic partnership with NTT DOCOMO last year," said Yu Takki, Vice President and Head of Infra Tech Office of SKT. "Based on our experience and knowhow in 5G, we will continue to collaborate with world-leading operators such as NTT DOCOMO to lead 5G evolution towards 6G."
Takehiro Nakamura, Chief Technology Architect, NTT DOCOMO, said: "We are delighted to jointly announce two white papers on green mobile networks and 6G requirements as our collaborative achievements with SKT started in November 2022. We will continue to enhance cooperation among the two major Asian mobile operators and promote superior concepts and innovative technologies to the world for the 6G deployment."
South Korea's #1 wireless network operator SK Telecom (SKT) has launched a 5G edge cloud service in partnership with Amazon Web Services (AWS).  'SKT 5GX Edge' uses AWS Wavelength at the edge of SKT's 5G network.  SKT said that SKT 5GX Edge will enable customers to develop mobile applications that require ultra-low latency.
With SKT 5GX Edge, applications are connected to 'AWS Wavelength Zones', which are located at the edge of SK Telecom's 5G network, making it unnecessary for application traffic to hop through regional aggregation sites and the public internet.
SKT 5GX Edge with AWS Wavelength is expected to enable SK Telecom's enterprise customers and developers to build innovative services in areas including machine learning, IoT, video games and streaming using the AWS services, APIs, and tools they already use.
SK Telecom and AWS started operating the first AWS Wavelength Zone in South Korea in the central city of Daejeon (140 kilometers south of Seoul) earlier this month.  They plan to expand the SKT 5GX Edge infrastructure to other parts of the country, including Seoul in 2021.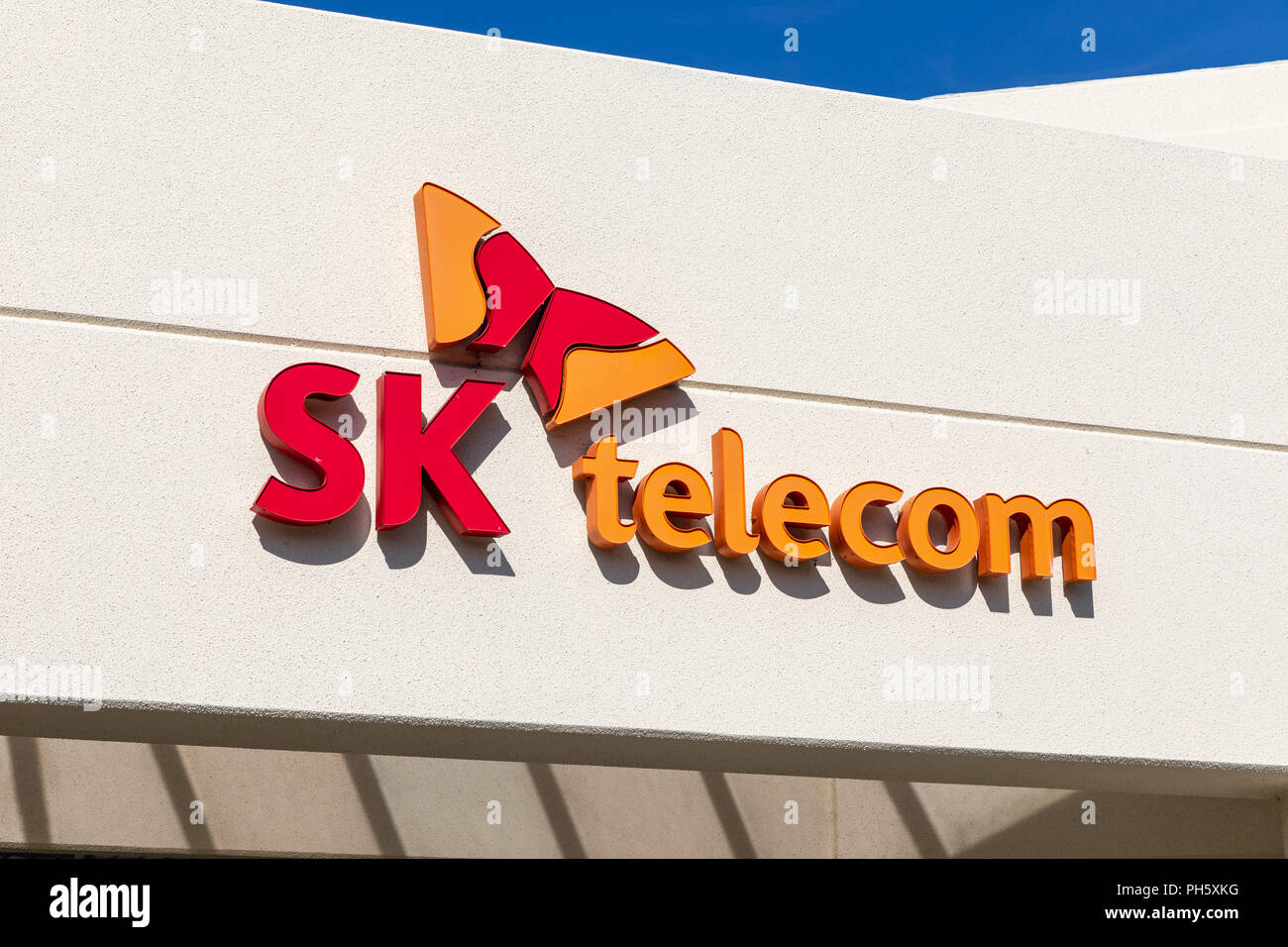 SK Telecom has been cooperating with AWS since February of this year to deploy AWS Wavelength Zones on SK Telecom's 5G network and worked with 20 enterprise customers to test the service.
SKT and AWS are actively cooperating in the area of non-face-to-face services as demand grows due to the pandemic. The two companies have been working with video conferencing solution provider Gooroomee to build an environment where two-way video conferencing and remote education services are provided without delay, and have realized a service with a latency of less than 100 milliseconds for multiple simultaneous sessions.
"With AWS Wavelength on SKT's 5G network, customers in South Korea can develop applications that take advantage of ultra-low latencies to address use cases like machine learning inference at the edge, smart cities and smart factories, and autonomous vehicles – all while using the same familiar AWS services, API, and tools to deploy them to 5G networks worldwide," said Matt Garman, Vice President of Sales and Marketing, AWS.
"In collaboration with AWS, SK Telecom has successfully integrated private 5G and edge cloud. By leveraging this new technology, we will lead the efforts to create and expand innovative business models in game, media services, logistics, and manufacturing industries," said Ryu Young-sang, President of MNO at SK Telecom.
………………………………………………………………………………………………………………………………
SK Telecom and AWS also report that they have been working to improve operational stability of autonomous robots and efficiency in remote monitoring and control. Together with Woowa Brothers, the operator of food delivery app 'Baedal Minjok,' the two companies have completed tests of applying the 5G MEC service to outdoor food delivery robot Dilly Drive. Meanwhile, work continues with local robotics company Robotis to test run autonomous robots in the 5G cloud environment.
SK Telecom and AWS have also signed an agreement with Shinsegae I&C and Maxst to build an AR navigation and guidance system in the Coex Starfield shopping mall in Seoul. They are also working on potential use of the 5G cloud service with Deep Fine, an AR glass solution developer, and Dabeeo, a spatial recognition service provider. With the National IT Industry Promotion Agency (NIPA), SK Telecom has launched an open lab to develop realistic contents optimized for the 5G network and to support the growth of the related ecosystem.
Collaboration is also ongoing with Looxid Labs, a provider of real-time analysis for eye-gaze tracking and brain wave data, to develop services on the 5G MEC for a senior citizen center in Busan.
SK Telecom and AWS are also cooperating in the area of non-face-to-face services as demand grows due to the COVID-19 pandemic. The two companies have been working with video conferencing services provider Gooroomee to develop an environment where 2-way video conferencing and remote education services are provided without delay, and claim they have achieved a service with a latency of less than 100 milliseconds for multiple simultaneous sessions.
………………………………………………………………………………………………………………………………………………
References:
https://www.sktelecom.com/en/press/press_detail.do?page.page=1&idx=1494&page.type=all&page.keyword=
https://www.telecompaper.com/news/sk-telecom-launches-5gx-edge-cloud-service-with-aws–1366915
---