LightCounting's second annual report provides an update on the emergence of the Disaggregated Open Routers (DOR) market in wireless infrastructure. DOR are white-box cell site, aggregation and core routers based on an open and disaggregated architecture for existing 2G/3G/4G and future 5G network architectures.
The DOR architecture was hailed as a new paradigm as early as 2012, using open source software for a centralized SDN Controller from the Open Network Foundation and Linux Foundation. The "open networking architecture" was envisioned to be used by tier 1 telcos and hyperscale cloud service providers and later extend to enterprise/campus networks. Well, that never happened!
Instead, hyperscalers developed their own proprietary versions of SDN, sometimes using a bit of open sourced software (e.g. Microsoft Azure). A few start-ups (e.g. Pica 8 and Cumulus Networks) developed their own software to run on white boxes and bare metal switches, including network operating systems, routing and network management.
One company that's succeeded at customized software running over white boxes is
Israel based DriveNets. Indeed, the DriveNets software (see References below) is custom built- not open source! It's an "unbundled" networking software solution, which runs over a cluster of low-cost white box routers and white box x86 based compute servers. DriveNets has developed its own Network Operating System (NOS), rather than use open source or Cumulus' NOS as several other open networking software companies have done.
…………………………………………………………………………………………………………………….
LightCounting's research indicates that the overall DOR market remains incipient and unless proof of concept (PoC), testing and validation accelerate, volumes will take some time to materialize.
"Despite TIP's (Facebook's Telecom Infra Project) relentless efforts to push network disaggregation to all network elements and domains, and a flurry of communication service providers (CSPs) taking the lead with commercial DOR deployments like AT&T with DriveNets (NOS), UfiSpace (hardware) and Broadcom (networking silicon), a large majority of CSPs (Communications Service Providers) remain skeptical about the potential opex reduction, the maturity of transport disaggregation, and the impact on operations, administration, maintenance, procurement and support." said Stéphane Téral, Chief Analyst at LightCounting Market Research.
Source: Light Counting
……………………………………………………………………………………………………….
That quote is quite different from Stephane's comment one year ago that the DOR market was poised for imminent growth:
"Still incipient, the DOR market is just about to take off and is here to stay but requires more CSPs (Communications Service Providers) to take the plunge and drive volumes. And with China's lack of appetite for DOR, North America is taking the lead."
………………………………………………………………………………………………………………..
Major findings in the report are the following:
The open RAN ascension brought router disaggregation to the spotlight and paved the way to four fundamental routes. This phenomenon would have never happened without TIP's initiative.
Although NOS software vendors are mushrooming and by far outnumbering the white box hardware suppliers dominated by UfiSpace, there have been some casualties down the DOR road. In the networking silicon domain, Broadcom remains predominant.
CSPs remain cautiously optimistic about router disaggregation but have yet to see more maturity and the full benefits. As AT&T is showing the DOR way, KDDI and LG U+ could be DriveNets' next major customers.
With all inputs from all vendors and CSPs with DOR rollout plans taken into consideration, our cell site-based model produced a forecast showing a slow start that reflects the early stage of this market and an uptick at the end of the 2021-2026 forecast period marked by a double digit CAGR.
About the report:
LightCounting's Disaggregated Open Routers report explores the emergence of the Disaggregated Open Routers (DOR) market. Disaggregated open routers are white-box routers based on separated white box hardware and software with cloud enabled software functions for existing 2G/3G/4G and future 5G network architectures. The report analyzes the disaggregated open routers' (aggregation and core) architectures and implementations in wireless infrastructure, including the emerging vendor ecosystem, and tracks white box hardware units and sales, and software sales, all broken down by region including North America, Europe Middle East Africa, Asia Pacific, and Caribbean Latin America. It includes the total number of cell sites worldwide and a 5-year market forecast.
Historical data accounts for sales of the following vendors:
| | | | | |
| --- | --- | --- | --- | --- |
| | | | | |
| | Vendor | Software | Hardware/White Box | Source of Information |
| | Adva | Ensemble Activator | | Survey data and estimates |
| | Altran | Intelligent Switching Solution (ISS) | | |
| | Alpha Networks | | Hardware platform | |
| | Arrcus | ArcOS | | |
| | Aviat Networks & Metaswitch (Microsoft) | AOS | | |
| | Cisco | IOS XR7 | | |
| | Datacom | DmOS | | |
| | Dell Technologies | NOS | Hardware platform | |
| | Delta Electronics | | AGCXD40V1, AGCV208S/AGCV208SV1, AGC7008S | Estimates |
| | DriveNets | DNOS | | |
| | Edgecore Networks | | AS7316-26XB, AS7315-27X, AS5915-18X | Survey data and estimates |
| | Exaware | ExaNOS | | |
| | IP Infusion | OcNOS, DANOS | | Estimates |
| | Infinera | CNOS | DRX Series | Survey data and estimates |
| | Niral Networks | NiralOS | | |
| | UfiSpace | | S9700-53DX, S9700-23D, S9705-48D, S9500-30XS | Survey data and estimates |
| | Volta Networks (now in IBM) | VEVRE | | |
| | Note: Not all vendors provide services | | | |
References:
https://www.lightcounting.com/report/march-2022-disaggregated-open-routers-135
https://techblog.comsoc.org/2020/09/28/att-deploys-dis-aggregated-core-router-white-box-with-drivenets-network-cloud-software/
https://techblog.comsoc.org/2019/05/12/drivenets-network-cloud-fully-disaggregated-software-solution-that-runs-on-white-boxes/
https://techblog.comsoc.org/2021/03/31/lightcounting-when-all-disaggregation-routers-for-wireless-infrastructure/
AT&T today announced that Israeli start-up DriveNets is providing its software-based, disaggregated core routing solution for the carrier's IP-MPLS backbone network.   AT&T also said it had deployed its "next gen long haul 400G optical transport platform, giving AT&T the network infrastructure needed to transport the tsunami of demand that will be generated by 5G, fiber-based broadband and entertainment content services in the years ahead."  [Long haul is  for distances >= 600km. AT&T did not name its 40G optical transport equipment vendor]
DriveNets says their Network Cloud solution perfectly fits the vision of AT&T and other leading service providers and cloud hyper-scalers for the evolution of the network to be open, agile, cost effective and software based.  DriveNets Network Cloud is cloud-native software (not open source software).  It's a software solution which runs over a cluster of low-cost white box routers and compute servers.  It has its own Network Operating System (NOS) and turns the physical network into a shared resource supporting multiple network services in the most efficient way.
Indeed, Network Cloud runs on standard white boxes built by ODM partners like UfiSpace who provided the white boxes to AT&T, based on the Jericho2 chipset from Broadcom. This approach creates a new economic model for the networking industry, lowering cost per bit and improving network profitability.
"We're thrilled about this opportunity to work with AT&T on their next gen core network, and proud of our engineers for meeting AT&T's rigorous certification process that field-prove the quality of our solution," said Ido Susan, CEO of DriveNets. "This announcement demonstrates to those who questioned the disaggregated network model that our Network Cloud is more scalable and cost-efficient than traditional hardware-centric routers. DriveNets is transforming the network in the same way that VMware transformed the compute and storage industry" he added.
"I'm proud to announce today that we have now deployed a next gen IP/MPLS core routing platform into our production network based on the open hardware designs we submitted to OCP last fall," said Andre Fuetsch, AT&T's CTO of Network Services, in his keynote speech at the Open Networking and Edge Summit (ONES). "We chose DriveNets, a disruptive supplier, to provide the Network Operating System (NOS) software for this core use case."
One year ago, AT&T contributed an open source specification for a distributed disaggregated chassis (DDC)to the Open Compute Project (OCP).  The DDC was intended to define a standard set of configurable building blocks to construct service provider-class routers, ranging from single line card systems, a.k.a. "pizza boxes," to large, disaggregated chassis clusters.  It is a a white box design based on Broadcom's Jericho2 silicon.  AT&T said the Jericho2 chip set provide the density, scale and features needed to support the requirements of a service provider.
The white box hardware was designed and manufactured by Taiwan based UfiSpace. It consists of three components: a 40x100G line card system, 10x400G line card system, and a 48x400G fabric system. These building blocks can be deployed in various configurations to build routers with capacity anywhere between 4 Tbps to 192 Tbps.
DriveNets Network Cloud solution and its innovative Network Operating System (NOS) software is NOT open source/open networking. It provides the management and control of the white box hardware. It supports a sophisticated set of traffic engineering features that enable highly reliable and efficient MPLS transport for our global, multi-service core backbone. The software then connects into AT&T's centralized SDN controller that optimizes the routing of traffic across the core.
DriveNets Network Cloud offers extreme capacity and scale for networking service providers and cloud hyperscalers, supporting small to largest core, aggregation and peering network services. DriveNets Network Cloud runs over scalable physical clusters ranging from 4 Tbps (single box) to 768 Tbps (large cluster of 192 boxes), acting as a single router entity. This model is designed to offer both network scaling flexibility, similar to cloud architectures, as well as the ability to add new service offerings and scale them efficiently across the entire network.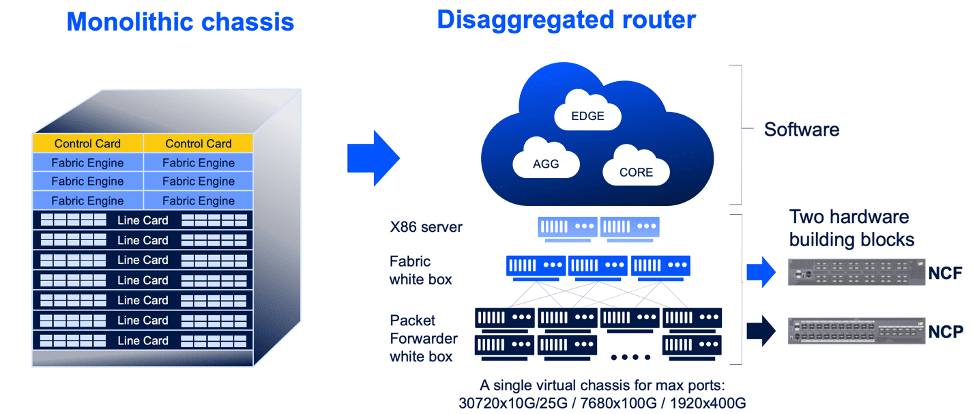 "We are pleased to see the broad adoption of Jericho2 products across the networking industry combined with the innovative DriveNets Network Cloud software," said Ram Velaga, senior vice president and general manager, Core Switching Group, Broadcom. "AT&T's submission of the Distributed Disaggregation Chassis white box architecture based on Jericho2 is making a big impact on driving the networking industry forward," he added.
"UfiSpace has been among the first who committed to opening the networking model, starting with our disaggregated cell site gateway routers which we have already demonstrated with AT&T at the Open Networking Summit (ONS) last April." said Vincent Ho, CEO UfiSpace. "We are proud that AT&T's core routing platform will utilize our white box solution where we can take part in the largest live Dis-Aggregated network in the world."
In an email to Light Reading,  Drivenets' Mr. Susan wrote: "This is the largest backbone network in the U.S. and DriveNets Network Cloud is deployed across the entire network, running over multiple large white box clusters in many core and aggregation locations of the AT&T network. Each one of these large clusters contains 192 white boxes from UfiSpace. The DriveNets Network Cloud Network Operating System (NOS) turn these large clusters of 192 white boxes into a single router entity. These large router entities are deployed in many locations at the AT&T network."
Performing as the best in class router when it comes to stability, reliability and availability, DriveNets Network Cloud is the largest router in the market today. DriveNets is engaged with 18 service providers and hyperscalers and is already on the path to becoming one of the leading networking vendors in the market. Last week, DriveNets announced lab testing of a 192Tbps distributed router by a European operator.
DriveNets Network Cloud created a new SaaS-based network economic model that detaches network growth from network cost, lowering cost per bit and improving network profitability.  This disruptive business model assists service providers and cloud hyperscalers in reducing both network CapEx and OpEx.
"AT&T has a rigorous certification process that challenged my engineers to their limits, and we are delighted to take the project to the next level with deployment into the production network," said Drivenets' Susan.
Today's white box with core routing software announcement is just the first of many from AT&T we may see in the near future. AT&T's Fuetsch wrote in the press release, "In the coming weeks, we'll announce additional software suppliers for other use cases operating on the same hardware, demonstrating the maturity of the eco-system and power of openness."
Expect forthcoming AT&T white box related announcements to be on Provider Edge routers for which the carrier alluded to when releasing its DDC spec to the OCP.
…………………………………………………………………………………………………………………………………………………….
References:
https://drivenets.com/news-and-events/press-release/att-deploys-drivenets-network-cloud-in-their-next-gen-core/
https://about.att.com/story/2020/open_disaggregated_core_router.html
https://about.att.com/story/2019/open_compute_project.html
https://www.lightreading.com/opticalip/routing/drivenets-confirmed-by-atandt-for-cloud-native-core-routing-project/d/d-id/764263
https://searchnetworking.techtarget.com/feature/DriveNets-disaggregated-router-tech-wins-innovation-award
DriveNets Network Cloud: Fully disaggregated software solution that runs on white boxes
by Ofer Weill, Director of Product Marketing at DriveNets; edited and augmented by Alan J Weissberger
Introduction:
Networking software startup DriveNets announced in February that it had raised $110 million in first round (Series A) of venture capital funding.  With headquarters in Ra'anana, Israel, DriveNets' cloud-based service, called Network Cloud, simplifies the deployment of new services for carriers at a time when many telcos are facing declining profit margins. Bessemer Venture Partners and Pitango Growth are the lead VC investors in the round, which also includes money from an undisclosed number of private angel investors.
DriveNets was founded in 2015 by telco experts Ido Susan and Hillel Kobrinsky who are committed to creating the best performing CSP Networks and improving its economics. Network Cloud was designed and built for CSPs (Communications Service Providers), addressing their strict resilience, security and QoS requirements, with zero compromise. 
"We believe Network Cloud will become the networking model of the future," said DriveNets co-founder and CEO Ido Susan, in a statement. "We've challenged many of the assumptions behind traditional routing infrastructures and created a technology that will allow service providers to address their biggest challenges like the exponential capacity growth, 5G deployments and low-latency AI applications."'
The Solution:
Network Cloud does not use open-source code. It's an "unbundled" networking software solution, which runs over a cluster of low-cost white box routers and white box x86 based compute servers. DriveNets has developed its own Network Operating System (NOS) rather than use open source or Cumulus' NOS as several other open networking software companies have done.
Fully disaggregated, its shared data plane scales-out linearly with capacity demand.  A single Network Cloud can encompass up to 7,600 100Gb ports in its largest configuration. Its control plane scales up separately, consolidating any service and routing protocol. 
Network Cloud data-plane is created from just two building blocks white boxes – NCP for packet forwarding and NCF for fabric, shrinking operational expenses by reducing the number of hardware devices, software versions and change procedures associated with building and managing the network. The two white-boxes (NCP and NCF) are based on Broadcom's Jericho2 chipset which has high-speed, high-density port interfaces of 100G and 400G bits/sec. A single virtual chassis for max ports might have this configuration:  30720 x 10G/25G / 7680 x 100G / 1920 x 400G bits/sec.
Last month, DriveNets disaggregated router added 400G-port routing support (via whitebox routers using the aforementioned Broadcom chipset).  The latest Network Cloud hardware and software is now being tested and certified by an undisclosed tier-1 Telco customer.
"Just like hyper-scale cloud providers have disaggregated hardware and software for maximum agility, DriveNets is bringing a similar approach to the service provider router market. It is impressive to see it coming to life, taking full advantage of the strength and scale of our Jericho2 device," said Ram Velaga, Senior Vice President and General Manager of the Switch Products Division at Broadcom.
Network Cloud control-plane runs on a separate compute server and is based on containerized microservices that run different routing services for different network functions (Core, Edge, Aggregation, etc.). Where they are co-located, service-chaining allows sharing of the same infrastructure for all router services. 
Multi-layer resiliency, with auto failure recovery, is a key feature of Network Cloud.  There is inter-router redundancy and geo-redundancy of control to select a new end to end path by routing around points of failure.
Network Cloud's orchestration capabilities include Zero Touch Provisioning, full life cycle management and automation, as well as superior diagnostics with unmatched transparency.  These are illustrated in the figures below:
Image Courtesy of DriveNets
Future New Services:
Network Cloud is a platform for new revenue generation.  For example, adding 3rd party services as separate micro-services, such as DDoS Protection, Managed LAN to WAN, Network Analytics, Core network and Edge network.
"Unlike existing offerings, Network Cloud has built a disaggregated router from scratch. We adapted the data-center switching model behind the world's largest clouds to routing, at a carrier-grade level, to build the world's largest Service Providers' networks. We are proud to show how DriveNets can rapidly and reliably deploy technological innovations at that scale," said Ido Susan CEO and Co-Founder of DriveNets in a press release.
………………………………………………………………………………………………
References:
https://www.reuters.com/article/us-tech-drivenets-fundraising/israeli-software-firm-drivenets-raises-110-million-in-first-funding-round-idUSKCN1Q32S0
https://www.drivenets.com/about-us
https://www.drivenets.com/uploads/Press/201904_dn_400g.pdf
https://www.prnewswire.com/il/news-releases/drivenets-delivers-worlds-first-400g-white-box-based-distributed-router-to-service-provider-testing-300833647.html
---