Swedish telecom equipment maker Ericsson has been contracted to build a 5G network in Greenland, initially covering three towns, local telecom service provider Tusass said on Friday.
Deploying Ericsson equipment and Netgear routers, Tusass will bring high-speed wireless internet to the sparsely populated island without resorting to expensive and hard-to-deploy cables, the company said.   A further 10 towns, including Greenland's capital Nuuk, are set to follow next.
Tusass said it plans to invest around 1 billion Danish crowns ($131.3 million) to secure and expand Greenland's infrastructure and improve communication.
Greenland, an island of just 56,000 people, is part of the Kingdom of Denmark but has broad autonomy.
…………………………………………………………………………………………………………………………………………….
Separately, Ericsson and O2 Telefónica successfully demo 5G wireless backhaul for non-urban areas.  In the latest of their joint projects in mobile transport, Ericsson and O2 Telefónica have successfully demoed 5G wireless backhaul for rural and suburban coverage. This technology milestone has shown that the companies can deliver speeds of up to 10 Gbps over a distance of more than 10 km and demonstrate fiber-like microwave connectivity.
The result of this important demo showed that microwave backhaul over traditional bands can support the continued build-out of high-performing 5G networks and enhanced mobile broadband services from urban to suburban and rural areas – one of the key challenges facing communications service providers in scaling up their 5G deployment.
"We deliver fast mobile 5G connections to millions of customers across Germany. Bringing digitalization to suburban and rural areas through mobile connectivity and fast 5G network rollout has therefore priority for us," says Aysenur Senyer, Director of Transport Networks at O2 Telefónica.
"Together with our partner Ericsson, we are pioneering new powerful microwave solutions using Carrier Aggregation and MIMO technology to backhaul 5G traffic over long distances in rural areas, when fiber is not an option. This type of technology enables us to deliver fiber-like connectivity via microwave and further accelerate our 5G deployment."
Ricardo Queirós, Head of Microwave Systems, Business Area Networks, Ericsson, says: "Access to high-speed mobile services is key to bridging the digital divide. This joint demo with O2 Telefónica in Germany demonstrates how microwave backhaul can efficiently spread high-performing 5G to regions outside the traditional dense urban areas."
"Wireless backhaul has been instrumental to the success of mobile networks and their nationwide coverage. Now it is time to push the boundaries and evolve microwave transmission technology to enable high-performance 5G coverage on a much broader scale," Queirós adds.
The shift to working from home during the Covid-19 pandemic illustrated the need for fast and reliable connectivity in non-urban environments, and the challenge has been to maintain telecom-grade availability beyond distances of two to three kilometers.
The ability to deliver such high data speeds over distances of more than 10 km – the cruising altitude of a commercial jet – opens up a new world of possibilities for the delivery of low-latency, reliable broadband in harder-to-reach areas.
Traditionally, such areas have been difficult to service, as high capacities require broad bandwidths that usually only have been available in millimeter wave frequency bands (E-band). The E-band is more impacted by rain compared to the lower frequency bands, which makes it more difficult to deliver consistent service over long distances during adverse weather conditions.
Technical details
In the joint demo with O2 Telefónica in Germany, the key innovation is the ability to use MIMO with high modulation in the 112MHz channels (commercial MIMO solutions support up to 56 MHz channels), which were combined with Carrier Aggregation to enable similar capacities to E-band in the lower frequency bands. The demo solution has extended the hop-length with extremely high capacity even in less favorable weather conditions.
The backhaul link utilized the 18GHz frequency band, dual antennas in a MIMO configuration, and commercial MINI-LINK radios together with a pre-commercial baseband algorithm that allowed the use of MIMO in 2x 112 MHz channels. MIMO ensures the efficient use of limited spectrum resources. The same capacity without MIMO would demand a 448 MHz bandwidth in a cross-polar setup.
Microwave backhaul is commonly seen as a more cost- and time-efficient option compared to fiber deployment. The O2 Telefónica demo has shown that high availability and high capacity can also be achieved with wireless transport.
The demo is the latest in a series of collaborations with O2 Telefónica in Germany stretching back over several years. Ericsson is one of the service provider's main suppliers in all areas of microwave technology and the two companies have carried out several successful joint projects around microwave technology, with more planned for the future.
References:
https://www.reuters.com/business/media-telecom/ericsson-wins-greenland-5g-deal-2022-09-30/
https://www.ericsson.com/en/news/2022/9/ericsson-and-o2-telefonica-demo-5g-wireless-backhaul-for-non-urban-areas
OneWeb is teaming with the University of Surrey and IT services company CGI to test the integration of satellite communications and mobile 5G networks.  The LEO satellite internet provider is still 220 satellites short of its 648 target.
OneWeb CTO Massimiliano Ladovaz said: "Creating an interoperable low Earth orbit (LEO) satellite communications and mobile 5G network is critical to achieve a ubiquitous, affordable, fast and consistent connectivity experience to businesses, users and governments."
In July Eutelsat, which has a fleet of geostationary satellites, announced an agreed takeover of OneWeb in a deal that values the LEO company at US$3.4 billion.
OneWeb's launch programme was brought a halt by Russia's war on Ukraine: the company used a Russian launcher and Russian launch sites, including Vostochny in the Russian far east (pictured).
Ladovaz said: "This pilot is an important step in our mission to connect people everywhere, on land, at sea and in the air, providing the opportunity for people to realise their full potential even in the remotest reaches of the planet."
OneWeb's partner in the project is the 5G Innovation Centre (5GIC) at the University of Surrey, which is in Guildford, south-west of London.
The project will test the use of OneWeb's low-latency satellite network capability to transport 5G services in backhaul, and to backhaul from a mobile 5G base station to a 5G core network.
Professor Rahim Tafazolli, head of the Institute for Communications at the University of Surrey, said: "Satellite systems are key enablers for 5G services and they will become increasingly integrated with communications networks as we progress beyond 5G towards 6G in solving cost-effectively the societal challenge of the digital divide."
At the other partner, CGI, Shaun Stretton, senior VP for space control and information solutions, said: "Fully integrated 5G hybrid networks bring the promise of ubiquitous, seamless and high-speed connectivity to us all. … At CGI we have been leading the way in making these complex integrated networks a reality and we are very much looking forward to working with our world class partners to further address these challenges so that we can bring these game changing capabilities to market."
References:
https://www.capacitymedia.com/article/2alol0f4m4bf6fkegmfi8/news/oneweb-to-test-satellite-based-5g-backhaul-with-cgi-and-university
Germany has been deploying 5G networks for a number of years now. German telecoms regulator Bundesnetzagentur (BNetzA), announced at the end of last year that coverage had reached 53% coverage of the population.  However, much work needs to be done to get new 5G sites to be deployed.
Backhaul solutions must be arranged for all of these new sites, delivering the mobile data from the sites back to the network core. Currently, in most mobile markets, this is done through a mix of wireless technologies (primarily microwave spectrum, but increasingly mmWave spectrum) and fibre, both of which can handle the requirements of 5G. In less developed markets, on the other hand, older copper infrastructure is sometimes used, while some of the most remote sites will be forced to use satellite when no other options are practical.
According to the GSMA, microwave and mmWave links will account for at least 60% of global macro and small cell backhaul links from 2021 to 2027.
Nonetheless, it now seems that Telefonica Deutschland is leaning even more heavily into fibre for its backhaul needs, striking a new agreement with BUGLAS to create a pre-negotiated framework agreement. The agreement should provide a basis for all of BUGLAS's fibre network operators to strike technology, interconnection, maintenance, and service level agreements with Telefonica in a faster and more efficient manner.
BULGAS represents fibre network operators in more than 80 German cities, all of which can now request this framework agreement from BUGLAS.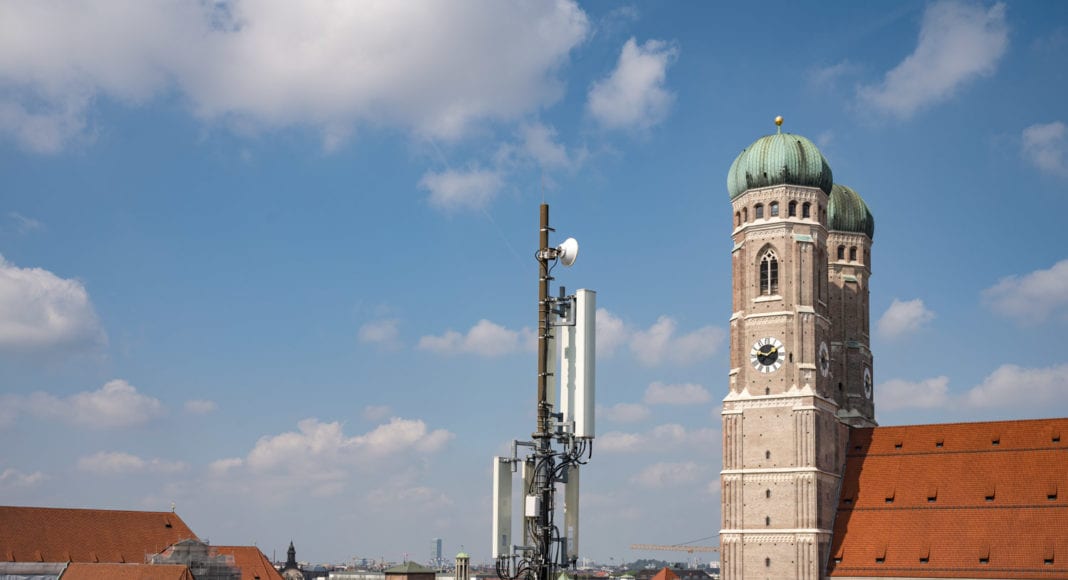 Image courtesy of  Telefonica
"For both 5G and FTTB/H rollout, co-operations are the central, efficient and resource-saving key to the modern gigabit society. In order to bring together the multitude of local, municipal and regional network operators with national providers such as O2 Telefónica, the telecommunications market needs standardized offers and framework agreements," said Wolfgang Heer, MD of BULGAS. "We are therefore very pleased to have been able to conclude a 5G framework agreement with O2 Telefónica and also invite all other national network operators to join us in discussing further framework agreements and standardization."
Telefonica views fibre as a more effective choice than terrestrial wireless for its 5G backhaul needs, suggesting that the technology is "significantly faster and more powerful than conventional microwave links". There is a future-proofing angle here too, with Telefonica suggesting that wireless backhaul will "reach their limits in future" based on the steady growth of mobile and 5G application data that is expected in the coming years.
Telefonica-Deutschland already has over 100 strategic agreements signed with fiber players in Germany, currently connecting its 28,000 mobile sites with fiber.   Earlier this year, the network operator agreed to collaborate with NEC to build an OpenRAN, small cell network in Germany which has already been deployed.
References:
https://www.totaltele.com/513555/Telefonica-strikes-deal-with-German-fibre-association-to-connect-5G-sites
https://www.gsma.com/spectrum/wp-content/uploads/2021/02/wireless-backhaul-spectrum-positions.pdf
Deutsche Telekom launches 5G private campus network with Ericsson;  Sovereign Cloud for Germany with Google in Spring 2022
Telefónica Germany and NEC partner to deliver 1st Open RAN with small cells in Germany
---