Samsung Electronics has announced that it is collaborating with the France headquartered telecom operator Orange, to disaggregate the software and hardware elements of traditional RAN. The South Korea based tech giant will provide its virtualized RAN (vRAN), "which has been proven in the field through commercial deployments with global Tier one operators including the U.S."
As one of the world's leading telecommunications operators, Orange provides mobile services to 222 million users in 26 countries along with Europe, Africa, and the Middle East. Through this partnership, Samsung and Orange aim to deploy O-RAN Alliance-compliant base stations beginning with rural and indoor configurations and then, expanding to new deployments in the future.
"Open RAN is a major evolution of radio access that requires deeper cooperation within the industry. With our European peers, we want to accelerate the development of Open RAN solutions that meet our needs. After the publication of common specifications, Orange's Open RAN Integration Center will support the development and tuning of solutions from a broad variety of actors," said Arnaud Vamparys, Senior Vice President of Radio Access Networks and Microwaves at Orange.
Samsung's vRAN solutions can help ensure more network flexibility, greater scalability and resource efficiency for network operation by replacing dedicated baseband hardware with software elements. Additionally, Samsung's vRAN supports both low and mid-band spectrums, as well as indoor and outdoor solutions. Samsung is the only major network vendor that has conducted vRAN commercial deployments with Tier one operators in North America, Europe and Asia.
"We are pleased to participate in Orange's innovative laboratory," said Woojune Kim, Executive Vice President, Head of Global Sales & Marketing, Networks Business at Samsung Electronics. "Through this collaboration, we look forward to taking networks to new heights in the European market, enabling operators to offer more immersive mobile services to their users."
By opening its Open RAN Integration Center in Châtillon, near Paris, Orange will enable the testing and deployment of networks capable of operating with innovative technologies, which will serve as the backbone of the operator's future networks. At the center, Samsung and Orange will conduct trials to verify capabilities and performance of Samsung's vRAN, radio and Massive MIMO radio.
With a vRAN approach, carriers are able to rapidly shift capacity to address customer needs. For business customers, vRAN can drive more efficient access to private 5G networks through easy deployment of baseband software in Multi-access Edge Computing (MEC) facilities.
"We are committed to providing reliable, secure, and flexible network solutions that deliver the power of 5G around the world," said Magnus Ojert, Vice President, Networks Division, Samsung Electronics America. "We believe vRAN's next phase of innovation will accelerate what's possible for society and look forward to collaborating with an industry-leader like Verizon to make 5G a reality for millions in 2021."
Samsung says they have "pioneered the successful delivery of 5G end-to-end infrastructure solutions including chipsets, radios and core. Through ongoing research and development, Samsung drives the industry to advance 5G networks with its market-leading product portfolio from fully virtualized RAN and Core to private network solutions and AI-powered automation tools. The company is currently providing network solutions to mobile operators that deliver connectivity to hundreds of millions of users around the world."
References:
https://news.samsung.com/global/samsung-and-orange-collaborate-to-advance-5g-networks-to-a-new-level
https://www.samsung.com/global/business/networks/products/radio-access/virtualized-ran/
https://www.samsung.com/global/business/networks/insights/press-release/0122-samsung-expands-5g-technology-leadership-with-fully-virtualized-commercial-5g-ran/
Samsung's 5G vRAN adoption could be a key turning point for the industry
The 2Africa consortium of China Mobile International, Facebook, MTN GlobalConnect, Orange, STC, Telecom Egypt, Vodafone and WIOCC has announced the addition of four new branches to their subsea cable.  That will extend 2Africa's connectivity to the Seychelles, the Comoros Islands, Angola, and a new landing in south-east Nigeria.  The new cable branches join the recently announced extension to the Canary Islands.

2Africa, which will be the largest subsea cable project in the world, will deliver faster, more reliable internet service to each country where it lands. Communities that rely on the internet for services from education to healthcare, and business will experience the economic and social benefits that come from this increased connectivity.
Alcatel Submarine Networks (ASN) has been selected to deploy the new branches, which will increase the number of 2Africa landings to 35 in 26 countries, further improving connectivity into and around Africa. As with other 2Africa cable landings, capacity will be available to service providers at carrier-neutral data centers or open-access cable landing stations on a fair and equitable basis, encouraging and supporting the development of a healthy internet ecosystem.
Marine surveys completed for most of the cable and cable manufacturing is underway.  Since launching the 2Africa cable in May 2020, the 2Africa consortium has made considerable progress in planning and preparing for the deployment of the cable, which is expected to 'go live' late 2023.  Most of the subsea route survey activity is now complete. ASN has started manufacturing the cable and building repeater units in its factories in Calais and Greenwich to deploy the first segments in 2022.
Egypt terrestrial crossing already completed
One of 2Africa's key segments, the Egypt terrestrial crossing that interconnects landing sites on the Red and the Mediterranean Seas via two completely diverse terrestrial routes, has been completed ahead of schedule. A third diverse marine path will complement this segment via the Red Sea.
About MTN GlobalConnect
GlobalConnect is a Pan-African digital wholesale and infrastructure services company, and an operating company in the MTN Group. GlobalConnect manages MTN's international and national major wholesale activities, in addition to offering reliable wholesale and infrastructure solutions for fixed connectivity and wholesale mobility solutions that include international mobile services, Voice, SMS, signalling, roaming and interconnect. The MTN Group launched in 1994 is a leading emerging market operator with a clear vision to lead the delivery of a bold new digital world and is inspired by the belief that everyone deserves the benefits of a modern connected life. Embracing the Ambition 2025 strategy, MTN is anchored on building the largest and most valuable platform business, with a clear focus on Africa. The MTN Group is listed on the JSE Securities Exchange in South Africa under the share code "MTN".
For more information, please visit www.globalconnect.solutions – https://www.mtn.com
About stc
With its headquarter in Riyadh, stc group is the largest in the Middle East and North Africa based on market cap. stc's revenue for 2020 amounted to 58,953million SAR (15,721 million US dollars) and the net profit amounted to 10,995 million SAR (2,932 million US dollars). stc was established in 1998 and currently has customers around the globe. It is ranking among the world's top 50 digital companies and the first in the Middle East and North Africa according to Forbes. It focuses on providing services to enterprise and consumer customers through a fiber-optic network that spans 217,000 kilometers. stc group was among the first in MENA region to launch 5G networks and was considered one of the fastest globally in deploying 5G network as stc already deployed around 4,000 5G towers as end of 2020. stc group has 14 subsidiaries in the Kingdom, gulf and around the world, and its own 100% of stc Bahrain, 51.8% stake in stc Kuwait and 25% stake in Binariang GSM Holding in Malaysia which owns 62% of Maxis in Malaysia.
In Saudi Arabia (the group's main operation site) stc operates the largest modern mobile network in the Middle East as it covers more than 99% of the country's populated areas in addition to providing 4G mobile broadband to about 90% of the population across the Kingdom of Saudi Arabia. In addition to the above-mentioned, stc is a strong regional player in IoT, managed services, system integration, cloud computing, information security, big data Analytics fintech and artificial intelligence.
For more information, please visit https://www.stc.com.sa; or to follow us on Twitter: @stc , @stc_ksa
About Telecom Egypt
Telecom Egypt is the first total telecom operator in Egypt providing all telecom services to its customers including fixed and mobile voice and data services. Telecom Egypt has a long history serving Egyptian customers for over 160 years maintaining a leadership position in the Egyptian telecom market by offering its enterprise and consumer customers the most advanced technology, reliable infrastructure solutions and the widest network of submarine cables.  Aside from its mobile operation "WE", the company owns a 45% stake in Vodafone Egypt. Telecom Egypt's shares and GDRs (Ticker: ETEL.CA; TEEG.LN) are traded on The Egyptian Exchange and the London Stock Exchange. Please refer to Telecom Egypt's full financial disclosure on ir.te.eg
For more information, email: [email protected]
…………………………………………………………………………………………
References:
https://www.orange.com/en/newsroom/press-releases/2021/new-branches-2africa-subsea-cable-system
Telefónica has launched commercial 5G services throughout Spain, pledging to reach 75 percent of the Spanish population by the end of the year. In a statement, the company's executive chairman Jose Maria Alvarez-Pallete described the deployment as the most ambitious in the European Union. "The launch of 5G is a leap forward towards the hyperconnectivity that will change the future of Spain," he said, noting that "it's 5G for everyone, without any exceptions, in all the autonomous communities."  [That assumes low enough 5G tariffs, such that poorer working class Spaniards can afford the service].   Telefonica is accelerating "the digitalisation of small and medium companies, public administrations and citizens, "Alvarez-Pallete added.
"Our network has always been a differential asset. People's lives pass through it and it has demonstrated unparalleled strength when it's been most needed", Álvarez-Pallete continued.  He pointed out that Spain already leads Europe's digital infrastructures with the largest fiber optic network.
Editor's Note: Telefonica's 5G announcement follows Vodafone – Spain's commercial 5G network deployment in 21 cities in Spain. Initial 5G speeds of up to 1 Gbps for Vodafone subscribers in Madrid, Barcelona, Valencia, Seville, Malaga, Zaragoza, Bilbao, Vitoria, San Sebastian, La Coruna, Vigo, Gijon, Pamplona, Logrono and Santander. Speeds will rise to 2 Gbps by the end of the year, some 10 times the current 4G maximum, with latency reduced to less than 5 milliseconds in ideal conditions.
Orange and Masmovil set to launch their 5G networks in Spain this month. All four of Spain's MNOs (Mobile Network Operators) are expected to bid for frequencies in the 700 MHz band when the government holds its delayed spectrum auction in the first quarter of 2021.
…………………………………………………………………………………………………………………………………………………………………………………………………….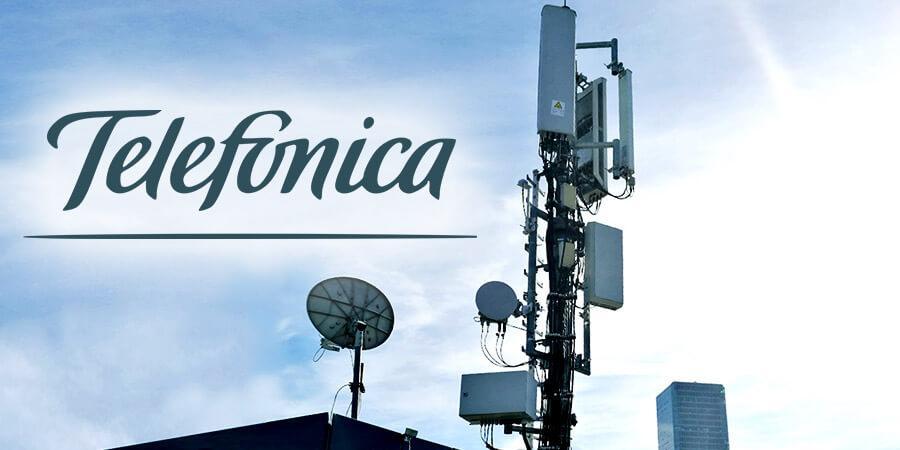 Telefonica said 5G technology will give residential customers access to far faster speeds and lower latency, allowing sports fans to enjoy live 360-degree broadcasts and mobile gamers to access a "fibre-like" experience. Businesses will have access to services such as Multi-Access Edge Computing, 5G private networks, mass IoT and critical communications, as well as network virtualisation to facilitate more effective use of the network's resources.
The Spain based network operator (also active in Latin America) clarified that it will initially launch NSA (non-standalone) 5G combined with DSS (Dynamic Spectrum Sharing) ahead of the "immediate deployment" of 5G SA (standalone) when the technology becomes fully available after standardisation. The company said it will make use of its current sites and infrastructure for the initial rollout, to be complemented by new base stations and small cells according to capacity and coverage needs.
It's also having to rely on the 3.5 GHz band, together with mid-band (1800-2100 MHz) frequencies, for the initial coverage thanks to equipment that can operate with 4G and 5G at the same time. Telefonica also announced that it intends to shut down its 3G network in 2025, when 100 percent of its copper network will have been replaced by fiber optics.
"With 5G everything happens in a millisecond. A millisecond is what makes remote surgery, autonomous cars, the smart management of energy resources and cities and highly advanced entertainment possible. A millisecond is much more than a new response time. It's Telefónica's response to the new times. It's Telefónica's commitment to the country's future", concluded Álvarez-Pallete.
For residential customers, in addition to the benefits brought by 5G in terms of greater speed and lower latency, which will allow them, for example, to download a film in seconds, 5G will provide the possibility, among other features, of enjoying live sports broadcasts during which users will obtain a 360º experience and be able to view any angle of the match as if they were on the pitch itself. Gaming enthusiasts will obtain a mobility experience similar to that provided by fibre in the home, in other words, without any interruptions or latency. 5G will thus enable them to play on their mobile phones as if they were on their home computer screens or their video consoles.
5G business customers will have access to services like Multi-Access Edge Computing, which offers ultra-low latency services and greater computing capacity "on the network edge", in addition to services such as 5G private networks, mass IoT and critical communications, as well as network virtualisation to facilitate more effective use of the network's resources in keeping with the customers' needs.
…………………………………………………………………………………………………………………………………………………………………………………………………………………….
Telefónica operates with the latest radio (base station) generations that allow dual 4G and 5G usage, with the aim of bringing 5G to the largest number of people from the outset. This first phase will witness the launch of the 5G network, thanks to a technology that combines the deployment of NSA (non-standalone) 5G and DSS (Dynamic Spectrum Sharing) and the subsequent immediate deployment of the SA (standalone) 5G network when the technology becomes fully available after standardisation. This initial deployment will also make use of the current sites and infrastructure and, in the mid and long terms, it will be complemented by new base stations and small cells as the capacity and coverage require.
The 3.5 GHz band frequency (the only 5G band frequency already licensed to operators) and the mid-band (1800-2100 MHz) frequencies are being used for this purpose. This is the current location of 4G, capitalising on the possibility of using NR (New Radio) equipment that can operate with both technologies (4G and 5G) at the same time.
The new deployments will take place in tandem with a gradual shut-down of the old second and third-generation networks. 100% of the copper network will have been replaced by fibre by 2025, when the 3G network will also be shut down. This will permit more effective management of investments, as it won't be necessary to increase them to address the new deployments.
……………………………………………………………………………………………………………………………………………………………………………………………………
References:
---