China Mobile is preparing to deploy 400G optical links and expects to call its first tenders by the end this year.  At the 2023 China Optical Network Symposium on Thursday, Li Han, director of the Basic Network Technology Research Institute of China Mobile Research Institute , gave a speech and revealed that China Mobile has confirmed the availability of 400G technology and will start the centralized procurement of 400G products at the end of this year to promote 400G to enter the commercial stage. "It's time for 400G, and the industry is looking forward to it."
China Mobile completed the world's first 400G QPSK pilot with vendor partner ZTE in March, achieving high-speed transmission over 5,616 kilometers of ultra-long-distance land real-time live network transmission. The verified computing power network 400G all-optical network technology is the core technology of the next-generation intergenerational evolution of the backbone transport network.
Li Han believes that 400G is an intergenerational technology of optical communication and a disruptive technology. The reason is that 400G optical communication has entered the broadband era, and the C6T+L6T band is disruptive to the entire system including core optical devices. Specific to the application scenario, the backbone network considers the long distance and adopts the QPSK method, and the metropolitan area network considers the cost, and mainly deploys 16QAM-PCS or 16QAM. In different scenarios, different techniques are used.
China Mobile's 400G research and development has gone through 5 years. From 2018 to 2021, it will mainly study 16QAM-PCS or 16QAM; in 2022, with the development of 130G baud rate optical modules, the industry chain will turn to QPSK driven by the three major manufacturers. This is of decisive significance to the development trend of 400G.
Li Han finally emphasized that 400G still needs to continue to improve technology, such as EDFA, which needs to substantially integrate C-band and L- band . In terms of optical fiber , research on anti-resonant hollow-core optical fiber should be promoted.
In a white paper, China Mobile said Jiuzhou would encompass 400G optical connectivity and a distributed cloud architecture, with edge computing and three levels of latency, from 1 millisecond in the city to 20 milliseconds in the countryside. The paper said the 400G OTN would initially be deployed at major computing hub nodes, then in the backbone.
A major driver of China Mobile's optical plans is a government scheme to build out China's national "computing power network" – a chain of data centers and high-speed fiber links that will support the new computer-intensive era of AI, deep learning, 5G Advanced and the industrial Internet.
One key part of this is the East-West plan, in which data from the industrialized eastern seaboard is being hauled to lower cost, renewables-powered data centers in the less developed west over high-speed links. So far China Mobile has deployed more than 40 super-large data centers with more than 1.3 million racks and over 1,000 edge nodes.
Li said the telco's 400G R&D had initially focused mainly on 16QAM-PCS and 16QAM, but last year had turned to QPSK, driven by breakthroughs from three domestic vendors.
Zhang Bin, vice president of FiberHome's network business unit, said he believes 400G OTN will dominate optical fiber for the next ten years. But he said Chinese manufacturers would need to invest more in R&D to keep pace with the large-scale rapid rollout
References:
https://www.c114.com.cn/news/22/c22780.html
https://www.lightreading.com/opticalip-networks/china-mobile-to-start-on-400g-this-year/d/d-id/785332?
To understand the future of high speed coherent optics, Heavy Reading launched the Coherent Optics Market Leadership Program with industry partners Ciena, Effect Photonics, Infinera and Ribbon. The 2022 project was based on a global network operator survey, conducted in August, that attracted 87 qualified responses.
Heavy Reading reports that network operators are using or evaluating coherent optics for 400G transport services for both internal and external applications, as well as 100G data rates for the metro edge.
Nearly half of operator respondents in Heavy Reading's survey will have deployed 400G transport services in their network between now and the end of 2023. But what are their top motivations for offering 400G transport services? Globally, the top driver for 400G services by far is infrastructure optimization for internal networks. This driver was selected by more than two-thirds of operators surveyed and well ahead of the second choice, standardization of router connections.
The data suggests that, for the global audience of operators, there are not that many customers currently that require full 400Gbit/s connectivity. Yet, there is value in grooming internal traffic up to 400G for greater efficiency and lower costs (e.g., fewer ports, lower cost per bit, etc.).
Beyond internal infrastructure, however, the drivers vary significantly by region, particularly when separating U.S. respondents from their Rest of World (RoW) counterparts. 57% of U.S.operators surveyed identified hyperscalers (or Internet content providers) as a 400G service driver — a strong showing and second only to internal infrastructure in the U.S. In contrast, just 31% of RoW operators identified Internet content providers as a top driver.
What are your top drivers for 400G wavelength (or optical) transport services?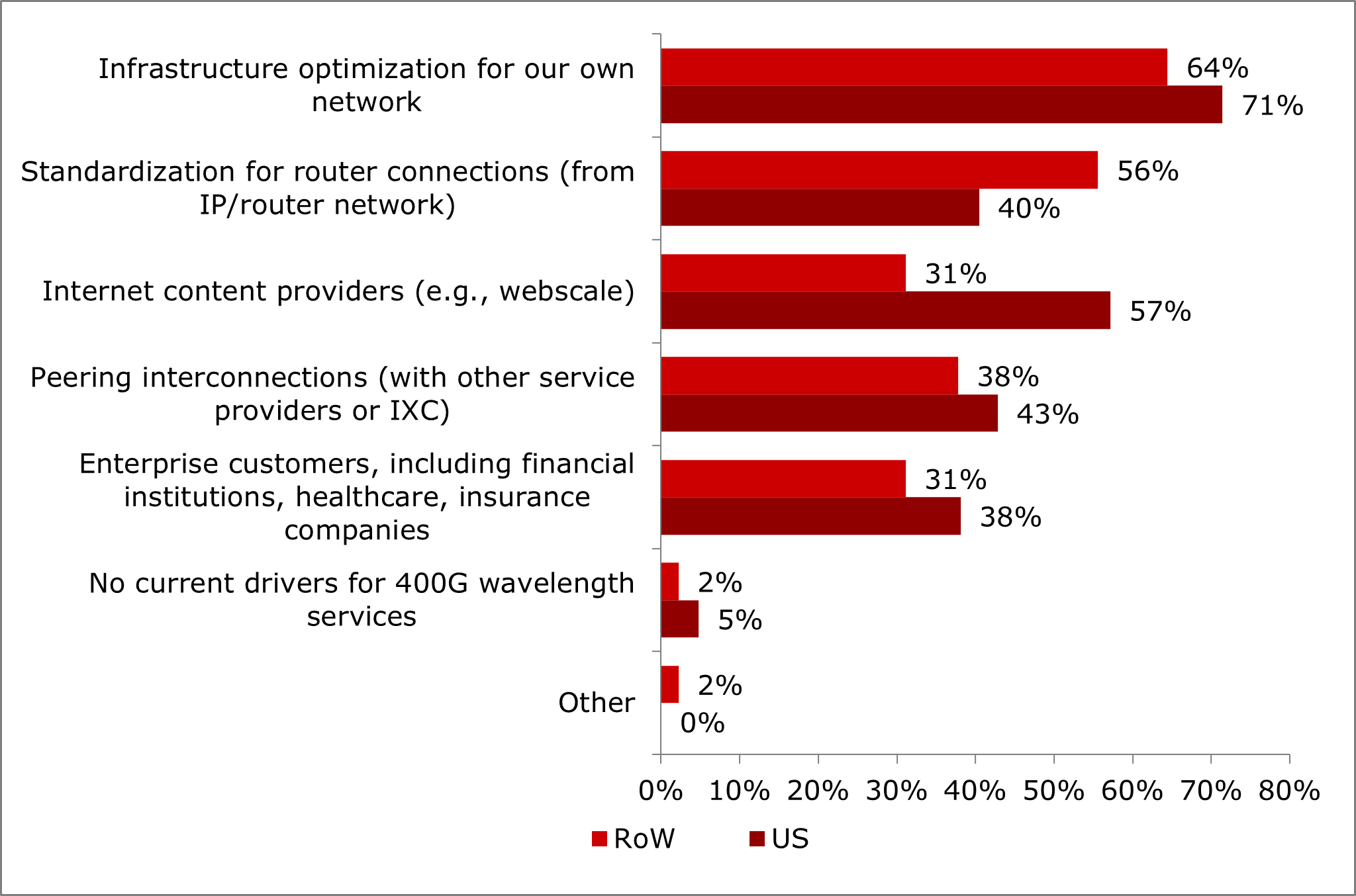 High launch power optics are widely seen as essential for 400G+ pluggables in telecom applications, which are typically brownfield networks with lots of ROADM nodes.   However, when filtering the survey results to include optical specialists only (i.e., those who identify as working in optical transport), higher launch power is the number one requirement, well ahead of remote diagnostics. It is likely that, at this early stage, optical specialists within operators understand the criticality of this particular technical requirement better than their peers.
What advanced coherent DWDM pluggable features or capabilities do you find most beneficial to your network/operations?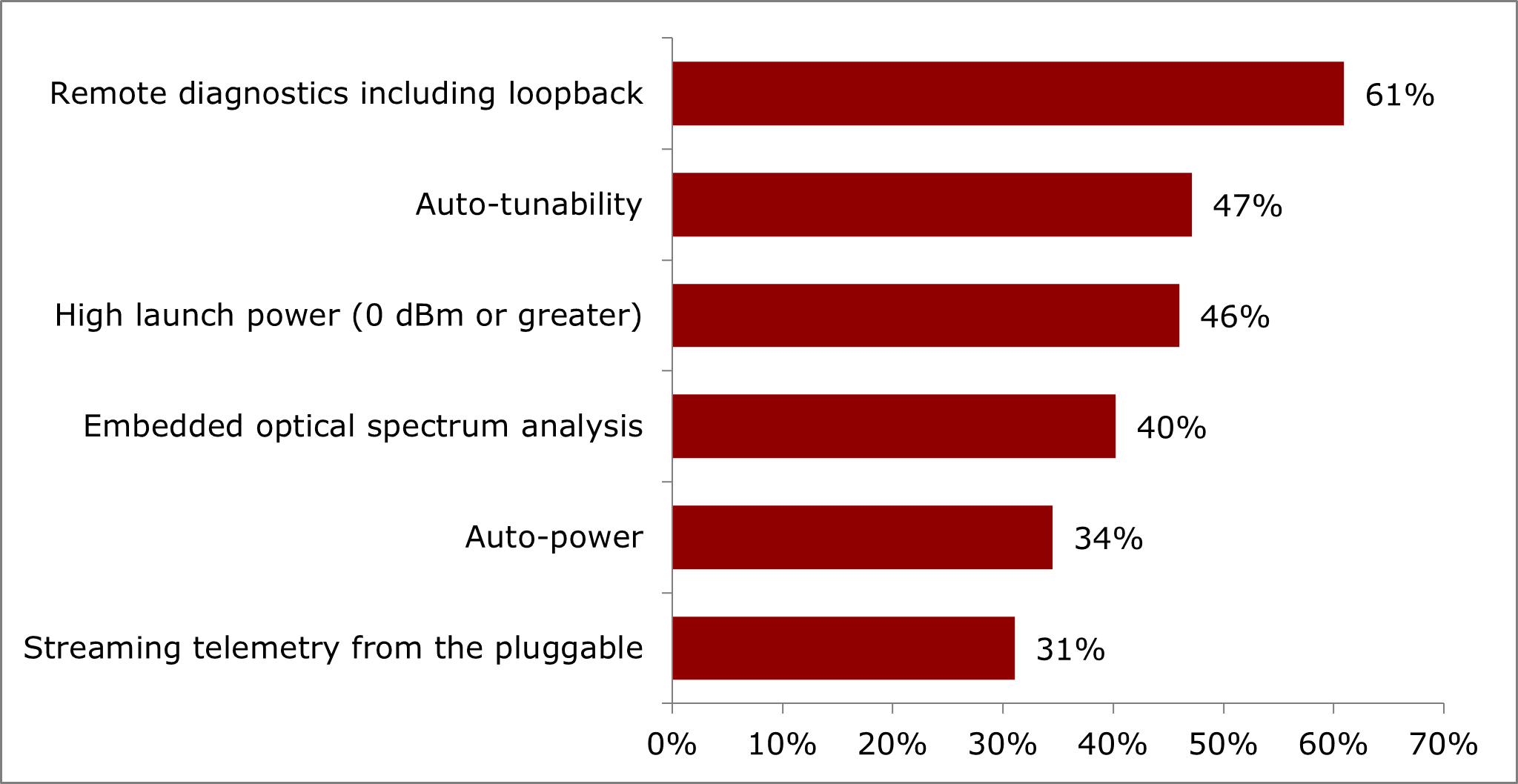 Coherent pluggable optics at 100G have use case priorities which vary significantly based on geographic region, particularly when separating U.S. respondents from their RoW counterparts. For the U.S., extending geographic reach is the top use case, followed by 5G backhaul/midhaul and enterprise connectivity. For RoW operators, however, extending geographic reach is not a priority use case.
When considering 100G coherent pluggables, what do you see as the most common use cases?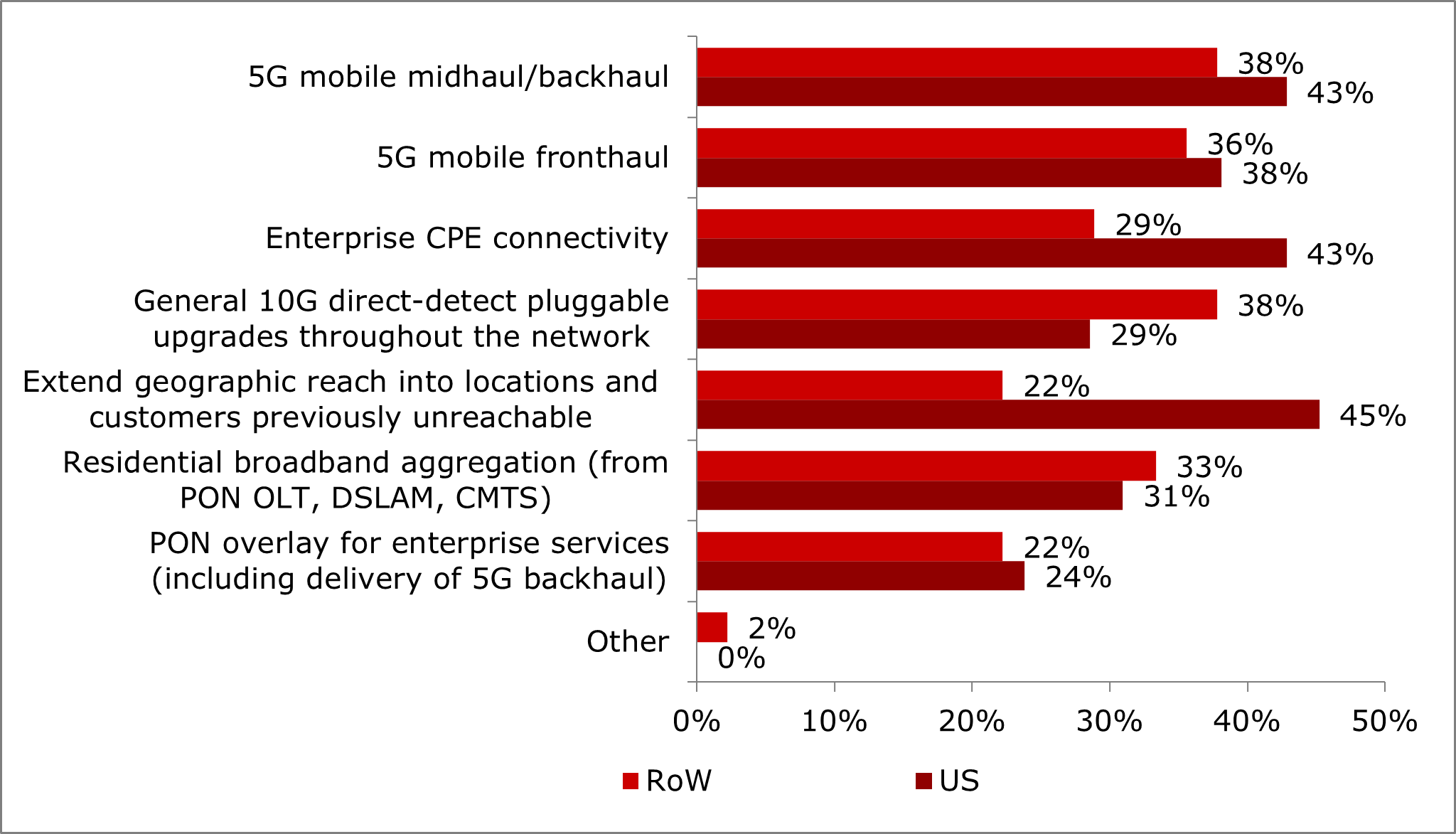 References:
https://www.lightreading.com/new-frontiers-for-coherent-optics/a/d-id/781813?
Coherent Optics: 100G, 400G and Beyond
Coherent Optics: 100G, 400G, & Beyond: A 2022 Heavy Reading Survey
Smartoptics Takes Leading Role in Sustainable Optical Networking
Bandwidth growth, driven by the expansion of data centers and 5G network build-outs, is expected to drive the need for faster coherent Dense Wavelength Division Multiplexing (DWDM) pluggable optics. Consequently, Data Center Interconnect (DCI) and metro Optical Transport Network (OTN) platforms are transitioning from 100/200G to 400G pluggable coherent optical modules to support these hyper-connected architectures.
Microchip Technology (a fabless semiconductor company) and Cisco's Acacia unit are working together to validate the interoperability of their 400G pluggable optics components – Microchip's DIGI-G5 OTN processor and META-DX1 terabit secured-Ethernet PHY and Acacia's 400G pluggable coherent optics.
The purpose of the collaboration is to establish an ecosystem to support 400G CFP2-DCO, QSFP-DD and OSFP modules for the 400ZR specification as well as the OpenZR+ and Open ROADM Multi-Source Agreement (MSA) applications.
The collaboration between Microchip and Acacia helps to enable the use of 400G coherent pluggable optics in OTN and Ethernet systems as follows:
For converged packet/OTN optical platforms, Microchip's DIGI-G5 and Acacia's 400G CFP2-DCO module are designed to enable terabit-class OTN switching line cards, mux/transponders, and switch/transponders. The DIGI-G5 interoperates with Acacia's 400G CFP2-DCO module using a Flexible OTN (FlexO) or NxOTU4 interface to efficiently support OTN traffic, including Open ROADM MSA interface modes and 200G/400G ITU-T standards currently being drafted.
For compact modular optical systems, Microchip's META-DX1 and Acacia's 400ZR and OpenZR+ modules are designed to enable 400G flexible line rate muxponders/transponders with support for multiple client optics types including QSFP28, QSFP-DD, and OSFP modules, helping service providers to transition from 100 GbE to 400 GbE using the same hardware.
For data center routing and switching platforms, Microchip's META-DX1 and Acacia's 400ZR and OpenZR+ modules are designed to enable dense 400 GbE or FlexE with per port MACsec encryption coherent line cards. This helps customers leverage IP routers/switches over DWDM (IPoDWDM) infrastructure in DCI deployments.
"DIGI-G5 and META-DX1 have enabled our optical transport, IP routing and Ethernet switching customers to implement a new class of multi-terabit OTN switching and high-density 100/400 GbE and FlexE line cards that deliver on stringent packet timing and integrated security capabilities for the build out of cloud and carrier 5G-ready optical networks," said Babak Samimi, vice president for Microchip's Communications business unit. "Our interoperability efforts with Acacia help to demonstrate that an ecosystem for volume deployment of these new line cards with pluggable 400G coherent optics exists."
"With Acacia's 400G coherent modules verified to interoperate with Microchip's DIGI-G5 and META-DX1 devices, we see it as a robust solution designed to address network capacity growth and improved efficiency," said Markus Weber, senior director DSP, product line management of Acacia, now part of Cisco. "The compact size and power efficiency of our 400G OpenZR+ CFP2-DCO modules were designed to help network operators deploy and scale capacity of high-bandwidth DWDM connectivity between data centers and in metro networks."
Kevin So, associate director of product line management and marketing at Microchip, told Fierce Telecom that the pair have a history of collaboration that goes back to work on 100G. He said their latest effort is meant to proactively eliminate elements of risk operators face as they begin to upgrade to the latest 400G technology.  While most solutions are based on industry standards, So cautioned that's not always a guarantee that components from different companies will work well together.
"I've seen in our industry often standards are written, people think things are going to work and then you show up at a carrier lab and that's when you discover problems.  Standards still do not necessarily always ensure everything is interoperable ready to go, and it can be a barrier for ultimately our customers and service providers in deploying it," Mr. So said.
The companies stated they successfully validated interoperability between their respective components for 400G, ZR and OpenZR+ configurations in converged packet and OTN optical platforms, compact modular optical systems and data center routing and switching platforms.
So said Microchip's work with Acacia started in the pre-silicon stage, ensuring the interfaces and designs they were pursuing were compatible. Once the silicon in question became available, the pair "tested these components together as a system to make sure it's robust enough."
Tom Williams, director of marketing for Acacia told Fierce Telecom, "This interop testing demonstrates that leading vendors are working together to streamline the integration process. There wasn't any expectation of issues, but it builds confidence to know that the vendors have already done this work directly."
References:
https://www.globenewswire.com/news-release/2021/10/06/2309527/0/en/Microchip-and-Acacia-Collaborate-to-Enable-Market-Transition-to-400G-Pluggable-Coherent-Optics-for-Data-Center-Routing-Switching-and-Metro-OTN-Platforms.html
https://www.fiercetelecom.com/telecom/cisco-s-acacia-microchip-team-400g-interoperability-testing
Additional Resources:
For more information about the Microchip products, contact a Microchip sales representative, authorized worldwide distributor, or visit the DIGI-G5 and META-DX1 pages.
For more information on Acacia's 400G coherent pluggable optical solutions, visit acacia-inc.com/products/.
For additional information on standards:
---