Wireless telecom stocks were down -5% to -9% at Friday morning's open (they closed on June 2nd -4% to -6.25% lower).  That horrendous performance was due to a Bloomberg article which claimed that "Amazon has been talking with wireless carriers about offering low-cost or possibly free nationwide mobile phone service to Prime subscribers, according to people familiar with the situation….It  would let it offer Prime members wireless plans for $10 a month or possibly for free and bolster loyalty among its biggest spending customers, the people said, who requested anonymity to discuss a private matter."  About 167 million Amazon shoppers had Prime memberships as of March, unchanged from a year earlier, according to Consumer Intelligence Research Partners.
The Bloomberg article made this controversial statement, subsequently denied:
"The talks have been going on for six to eight weeks and have also included AT&T Inc. at times, but the plan may take several more months to launch and could be scrapped, an Amazon person said."
Image Credits: Nathan Stirk / Getty Images
……………………………………………………………………………………………………………………………………………………………………………………………………………………………………………………
Nothing could be further from the truth! 
Amazon, T-Mobile US, AT&T and Verizon Communications  all denied on Friday that anything is happening. T-Mobile's statement on the matter strongly states that "Amazon has told us they have no plans to add wireless service."
That echoes Amazon's own statement which said "We are always exploring adding even more benefits for Prime members, but don't have plans to add wireless at this time," said Bradley Mattinger, an Amazon spokesperson.
"AT&T is not in discussions with Amazon to resell wireless services," a company spokesperson said. A Verizon spokesperson told TechCrunch, "Verizon is not in negotiations with Amazon regarding the resale of the nation's best and most reliable wireless network.  Our company is always open to new and potential opportunities, but we have nothing to report at this time."
T-Mobile told Barron'sthat "Amazon is a great partner to T-Mobile in many areas, and we are always interested in working more closely with our cross-town neighbors in new ways. However, we are not in discussions about inclusion of our wireless in Prime service, and Amazon has told us they have no plans to add wireless service."
Wall Street analysts are skeptical that there is anything actually going on. MoffettNathanson analysts Craig Moffett and Michael Morton wrote in a research note published late Friday that any deal for Amazon to start its own phone service seems highly unlikely. (Moffett covers telecom and Morton covers internet stocks.)  Moffett and Morton note that while Amazon could make it happen, the cost to the company of providing even a single line would be about $240 a year—above the annual cost of an Amazon Prime membership, currently at $139. And that's just for one line—the costs would multiply with bigger families.
Another issue, they add, is that Amazon would suddenly be subject to regulation from the FCC. They point out that customer information is more tightly regulated in telecom than in related industries. That adds more risk to Amazon's existing regulatory worries. "Even a minimal risk like this would be a deal breaker, in our view," they write.
From a telecom perspective, the analysts also pour cold water on any potential deal. As for Dish Network , Moffett and Morton write, "there is virtually no chance…that Amazon would allow itself to play guinea pig on a start-up Dish wireless network." Dish did not respond to a request for comment about the report.
In an interview with Barron's, Moffett noted that Dish only has partial coverage— the company has launched service in 120 cities so far, but not in places like New York, Chicago, Los Angeles, Washington, or San Francisco. To cover the parts of the country it can't reach, Dish has reseller agreements with both AT&T and T-Mobile. Moffett says that T-Mobile likely's agreement with Dish doesn't allow it to resell access to a third party—like Amazon. And AT&T's agreement has similar language.
"Without the ability to resell AT&T or T-Mobile service, Dish simply isn't a credible partner," Moffett and Morton write. "Not only is their coverage insufficient to be a viable offering, but they've never operated a wireless network before, let alone a large-scale MVNO. [An MVNO is a carrier that has no network but instead resells service from other carriers.]"
With T-Mobile and Verizon having denied discussions, and Dish seeming very unlikely, that leaves only AT&T. And Moffett and Morton see little chance of that happening.  "AT&T is smart enough to understand what an awful idea it would be to let Amazon into the hen house, in our view," they wrote.
The two analysts also contend that a Prime Wireless plan wouldn't do much to help Amazon grow its subscription business. They point out that Prime already has signed up about 80% of U.S. households and that churn rates for Prime are already "extremely low."
Moffett and Morton conclude: "We're skeptical that the incumbents would be willing to ink a deal with Amazon. We're skeptical that Amazon would really want to. We're skeptical that Amazon would be willing to do business with Dish Network. We're skeptical about…well, all of it."
Note also that Amazon failed dismally in 2014 with its Fire Phone, which was an attempt to compete with smart phones from Apple Inc. and Samsung Electronics Co., but it was killed a year later.  MVNO brands including ESPN Mobile and Virgin Mobile both failed. Alphabet Inc. has the Google Fi service that runs on T-Mobile's network and has only 2 million customers.
Let's end with a question:  One must consider if Bloomberg can be trusted as a reputable news source after their early morning June 2nd story?
References:
https://www.bloomberg.com/news/articles/2023-06-02/amazon-talking-with-verizon-dish-t-mobile-to-offer-mobile-with-prime
https://www.reuters.com/business/media-telecom/us-telecom-stocks-fall-report-amazon-talks-wireless-services-2023-06-02/
https://www.barrons.com/amp/articles/amazon-prime-phone-service-telecom-stocks-b439ae5a
https://www.barrons.com/articles/amazon-wireless-verizon-dish-stock-att-f23cad24?mod=article_inline
China's telecommunication industry registered steady growth in the first five months of the year, with strong expansion in emerging businesses and 5G services, official data shows.
The telecom sector had 665 billion yuan (99.46 billion U.S. dollars) in total revenue during the period, up 8.5 percent year on year, according to China's Ministry of Industry and Information Technology (MIIT).
Emerging businesses, including those in the big data, cloud computing, internet data center and Internet of Things sectors, continued to expand notably in the period.
The combined revenue of the emerging businesses of China's three telecom giants — China Telecom, China Mobile and China Unicom — surged 34.3 percent year on year to 128.3 billion yuan, accounting for 19.3 percent of the sector's total revenue, the ministry said.
At the end of May, China had 1.7 million 5G base stations, accounting for 16.7 percent of the country's mobile network base stations. Some 275,000 5G base stations were built in the first five months of the year.
The data also shows that 5G mobile phone users of the three telecom giants reached 428 million at the end of May, representing 25.8 percent of China's total mobile phone users.
–>Much more telecom data in the Addendum below.
………………………………………………………………………………………………………………………………..
Image by ADMC from Pixabay
At the end of May, China had a total of 1.7 million 5G base stations, accounting for 16.7% of the country's mobile network base stations. According to the official data, a total of 275,000 5G base stations were built in the first five months of 2023.
China ended May 2022 with a total of 899.3 million subscribers classified as having 5G plans (even though many only had 4G endpoint devices), according to the carriers' latest available figures.  China network operators recorded a net gain of 30.18 million 5G subscribers in May.
China Mobile, the world's largest operator in terms of subscribers, added a total of 18.21 million 5G subscribers during last month. The operator said it ended May with 495.13 million 5G subscribers, compared to 221.95 million 5G customers in May 2021.
China Mobile had added a total of 108.32 million subscribers in the 5G segment during the first five months of the year.
Rival operator China Unicom said it added a total of 4.93 million 5G subscribers during May. The carrier ended the month with 179.70 million 5G subscribers.
Meanwhile, China Telecom added 7.04 million 5G subscribers last month to take its total 5G subscribers base to 224.47 million. During the first five months of the year, the telco had added a total of 36.67 million 5G subscribers.
China expects to end this year with nearly 2 million 5G base stations, according to previous reports. Chinese carriers reportedly deployed a total of 654,000 base stations nationwide during last year.
The country's 5G networks now covers all prefecture-level cities, more than 98% of county-level urban areas and 80% of township-level urban areas across the country..
Earlier this year, the Chinese government had unveiled plans to more than triple the number of 5G base stations over the next four years, targeting a total of 3.64 million by end-2025.
Under this plan, China aims to have 26 5G base stations for every 10,000 people by the end of 2025. In comparison, in 2020, there were five 5G base stations for every 10,000 people in China.
China is expected to reach 892 million connections in the 5G segment in 2025, according to a report recently published by the GSMA.
According to the 'The Mobile Economy China" report, GSMA expects 5G connections in the country to represent 52% of total mobile lines in 2025, compared to 29% in 2021.
…………………………………………………………………………………………………………………………
Indicator name
unit
end of the month

arrive

than the end of last year

net increase (+),

reduce(-)

year-on-year

increase(%)

Total landline subscribers
million households
18170
100
0.2
Total mobile phone users
million households
166249
1966
3.4
Of which: 5G mobile phone users
million households
42819
7334
109.2
Of which: Mobile Internet users
million households
143568
2003
4.3
Internet broadband access users
million households
55868
2289
10.6
Of which: FTTH/O users
million households
52976
2426
11.5
Among them: users with a rate of 100M or more
million households
52291
2443
13.4
Among them: users with a rate above 1000M
million households
5591
2135
358.6
Of which: urban broadband access users
million households
39415
1606
10.8
rural broadband access users
million households
16453
683
10.1
Number of IPTV (Internet TV) users
million households
36392
1540
10.2
Number of Cellular IoT End Users
million households
159 498
19 576
26.8 _
Fixed telephone penetration
Department/100 people
12.9
0.1
–
Mobile phone penetration
Department/100 people
117.9
1.5
–
http://english.news.cn/20220703/41a9776edd9d44c0ad055252c4e35818/c.html
https://www.miit.gov.cn/gxsj/tjfx/txy/art/2022/art_b8491abea6324484a19b5438b08761a4.html
China's telecom sector revenues reach almost $100bn in Jan-May
Ericsson new Mobility Report [1.] states that mobile network data traffic grew 10% between the 4th quarter of 2021 and the 1st quarter of 2022. For the year-over-year comparison, growth reached 40%.  "In absolute numbers, this means that it has doubled in just two years (since Q1 2020)," the company wrote in its Mobility Report, released June 20th.  "Over the long term, traffic growth is driven by both the rising number of smartphone subscriptions and an increasing average data volume per subscription, fueled primarily by increased viewing of video content," the company added.
The figures are important considering that mobile network operators are rushing to add new spectrum to their networks while upgrading their networks to support 5G, especially 5G SA Core Network. Purchasing both spectrum and 5G equipment is expensive. In the US, for example, mobile network operators are collectively spending an estimated $275 billion to improve their networks with more spectrum, cell sites and 5G.
Note 1. The Ericsson Mobility Report started in 2011, when Ericsson decided to share data and insights openly to all those interested in understanding our industry's development. Since then, the report and featured articles have seen a continuous evolution and an expanding scope.
………………………………………………………………………………………………………………………………………………………………………………………………………….
Speaking during a webinar to discuss the report's findings, Richard Möller, senior market analyst at Ericsson, noted that the number of 5G subscribers worldwide had been expected to reach 660 million by the end of 2021.  It now seems that the figure was less than forecast: Ericsson is now saying that 5G subscriptions increased by 70 million in Q1 2022 to reach 620 million.  The 40 million shortfall is due to changes in how China's mobile operators are reporting their 5G subscriber figures. Indeed, it has become noticeable over the past year that the Chinese operators are starting to split out "5G package customers" from actual 5G network customers.
"Now we have official numbers and we've adjusted our estimates accordingly," Möller said. "China is early and so large that it affects the global number."   He noted that this adjustment does not "materially affect" the five-year growth forecast. Ericsson is therefore sticking to its estimate of 4.4 billion 5G subscribers by the end of 2027, meaning that 5G will account for almost half of all mobile subscriptions by that point.  5G subscriber growth is expected to accelerate in 2022, reaching around one billion subscribers by the end of the year. The report noted that North America and North East Asia currently have the highest 5G subscription penetration, followed by the Gulf Cooperation Council countries and Western Europe.  In 2027, it is projected that North America will have the highest 5G penetration at 90%. In India, where 5G deployments have yet to begin, 5G is expected to account for nearly 40% of all subscriptions by 2027.
At the same time, Möller warned that the war in Ukraine, supply chain constraints and rising inflation will affect future growth.  "That's made us take 100 million subscriptions off the current forecast.  However, history has shown that mobile telephony is one of the things that people hang on to … even if the economic world turns negative," he said.
The report's executive editor Peter Jonsson said the current uncertainties mean that Ericsson has to be especially careful with its forecasts. However, he reiterated the point that global 5G uptake "is about two years ahead of 4G" on a comparative basis. In addition, 5G rollout "reached 25% of the world's population about 18 months faster than 4G."
Global mobile network data traffic and year-over-year growth: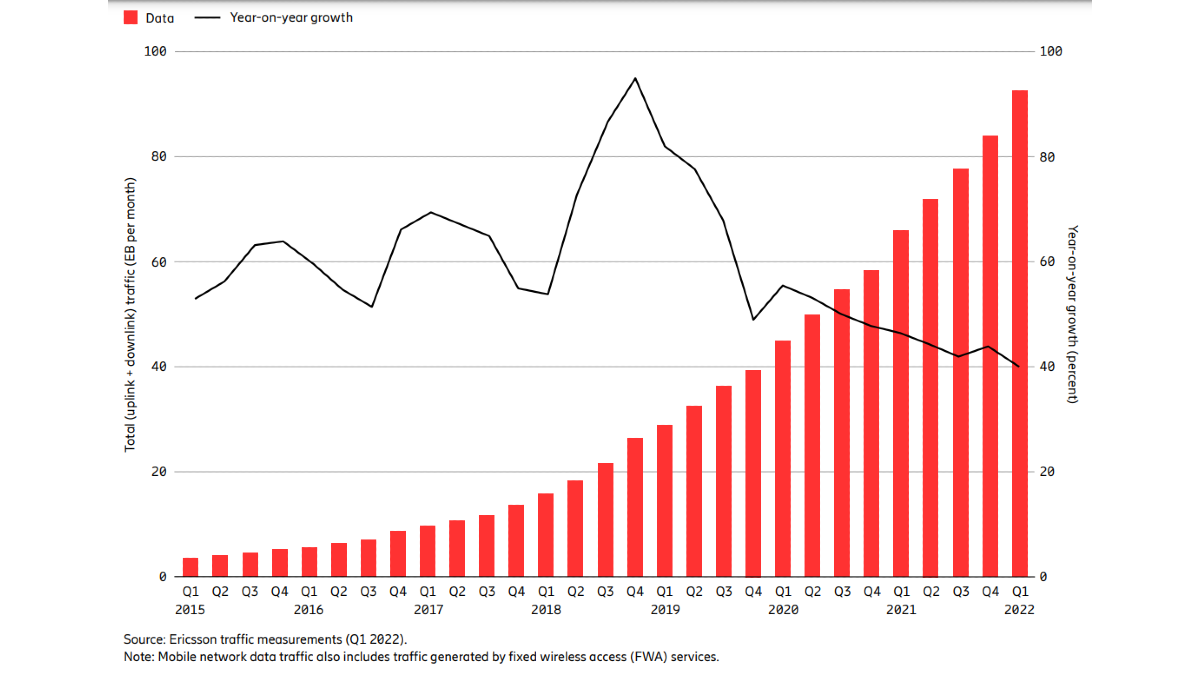 According to Ericsson, mobile subscribers are making use of the additional network capacity and faster speeds provided by those investments. The company said that, globally, the average smartphone user is expected to consume 15GB per month in 2022.  Indeed, the 5G share of mobile data traffic is growing, but not as fast as FWA (3G/4G/5G).  Continued strong smartphone adoption and video consumption are driving up mobile data traffic, with 5G accounting for around 10 percent of the total in 2021.
In North America, the company estimated that average monthly mobile data usage per smartphone could reach as high as 52GB in 2027. "The data traffic generated per minute of use will increase significantly in line with the expected uptake of new XR and video-based apps," the company wrote. "This is due to higher video resolutions, increased uplink traffic, and more data from devices off-loaded to cloud compute resources."
Also, Fixed Wireless Access (FWA) in on the rise as per this graphic:
Over 100 million FWA connections in 2022:
More than 75 percent of service providers surveyed in over 100 countries are offering fixed wireless access (FWA) services. Around 20 percent of these service providers apply differential pricing with speed-based tariff plans.
OpenVault, another vendor that tracks data traffic on wired networks in North America, recently reported similar findings. According to OpenVault, the average wired Internet customer consumed a total of 536.3GB in the fourth quarter of 2021, an increase of 165% over the firm's findings from the fourth quarter of 2017, when consumption was 202.6GB.
Taken together, the companies' findings paint a picture of a dramatic expansion in data demand on wired and wireless networks in North America and globally. Indeed, such increases have already sparked unprecedented demand in vendors' networking equipment to keep pace with demands. Further, such demand has already withstood several price increases among many leading vendors.
The situation reflects the importance of telecom networks globally following a pandemic that pushed many to work and school remotely from home. And in response to the situation, governments globally have begun pushing network operators to construct networks in underserved areas, and to Internet users themselves who may struggle to afford such connections.
References:
https://www.ericsson.com/en/reports-and-papers/mobility-report
https://www.ericsson.com/49d3a0/assets/local/reports-papers/mobility-report/documents/2022/ericsson-mobility-report-june-2022.pdf
https://www85.lightreading.com/5g/global-mobile-network-data-traffic-doubles-in-two-years-ericsson-finds/d/d-id/7783?
https://www.lightreading.com/5g/china-effect-dampens-interim-5g-subs-says-ericsson/d/d-id/778394?
https://www.ctia.org/the-wireless-industry/the-5g-economy
Will 2022 be the year for 5G Fixed Wireless Access (FWA) or a conundrum for telcos?
https://viodi.com/2020/05/05/openvault-broadband-usage-47-in-q1-2020-power-users-are-the-new-normal/
---