Korean electronics giant Samsung Electronics said it has developed a new System-on-Chip (SoC) for its Massive MIMO and other advanced radios in partnership with U.S. chipmaker Marvell. It is expected to be available in Q2 2021 for use in equipment sold to Tier-One network operators.
The SoC is designed to help implement new technologies, which improve cellular radios by increasing their capacity and coverage, while decreasing power consumption and size. The new SoC is equipped to support both 4G and 5G networks simultaneously and aims to improve the capacity and coverage of cellular radios.  It is claimed to save up to 70 percent in chipset power consumption compared to previous solutions.
"We are excited to extend our collaboration with Marvell to unveil a new SoC that will combine both companies' strengths in innovation to advance 5G network solutions," said Junehee Lee, Executive Vice President and Head of R&D, Networks Business at Samsung Electronics. "Samsung prioritizes the development of high-impact 5G solutions that offer a competitive edge to our operators. We look forward to introducing this latest solution to the market shortly."
Samsung and Marvell have been working closely to deliver multiple generations of leading network solutions. Last year, the companies announced a collaboration to develop new 5G products, including innovative radio architectures to address the compute power required for Massive MIMO deployments.
"Our collaboration with Samsung spans multiple generations of radio network products and demonstrates Samsung's strong technology leadership. The joint effort includes 4G and 5G basebands and radios," said Raj Singh, Executive Vice President of Marvell's Processors Business Group. "We are again honored to work with Samsung for the next generation Massive MIMO radios which significantly raise the bar in terms of capacity, performance and power efficiency."
"Marvell and Samsung are leading the way in helping mobile operators deploy 5G with greater speed and efficiency," said Daniel Newman, Founding Partner at Futurum Research. "This latest collaboration advances what's possible through SoC technology, giving operators and enterprises a distinct 5G advantage through optimized performance and power savings in network deployments."
Samsung has pioneered the successful delivery of 5G end-to-end solutions including chipsets, radios, and core. Through ongoing research and development, Samsung drives the industry to advance 5G networks with its market-leading product portfolio from fully virtualized RAN and Core to private network solutions and AI-powered automation tools. The company is currently providing connectivity to hundreds of millions of users around the world.
……………………………………………………………………………………………………………………………………………….
On the network equipment side, Samsung Electronics recently won a 5G contract with Japanese telco NTT DOCOMO, as it seeks to challenge incumbents like Huawei, Ericsson, and Nokia in the telecom equipment business, according to media reports.
In India, Samsung Electronics is likely to apply for a production-linked incentive (PLI) scheme for telecom equipment manufacturing, benefiting from India's program to locally make 4G and 5G gear and other equipment – for sales both in India and overseas, ET recently reported.
Samsung would then join other global manufacturers such as Cisco, Jabil, Flex and Foxconn, besides European telecom equipment vendors Nokia and Ericsson in applying for the PLI scheme that seeks to boost local production of telecom equipment and reduce imports.
References:
https://news.samsung.com/global/samsung-and-marvell-unveil-new-system-on-a-chip-to-advance-5g-networks
https://telecom.economictimes.indiatimes.com/news/samsung-marvell-develop-soc-for-5g-radios/81720284
https://techblog.comsoc.org/2021/03/23/ntt-docomo-selects-samsung-for-5g-and-o-ran-network-solutions/
Samsung Boosts the Performance of Massive MIMO
Samsung Collaborates With NTT DOCOMO on 5G
Nokia  has teamed up with semiconductor company Marvell Technology Group Ltd  to develop customized 5G radio access system-on-chip leveraging its ReefShark technology. The alliance underscores Nokia's commitment to deliver cost-effective and automated 5G network operations, especially at a time when it is aiming to walk the extra mile to revive its faltering 5G business.
As part of the agreement, Marvell Technology's multi-core Radio Access Technology applications will be incorporated in Nokia's AirScale RAN product line with its 5G-backed ReefShark portfolio. Equipped with customized ARM-architecture-based processor chips, this potential breakthrough innovation aims to deliver a best-in-class customer experience with reduced power consumption and enhanced performance and capacity.
…………………………………………………………………………………………………………………………………………………………………………………………………………………………………………..
Tommi Uitto, President of Mobile Networks at Nokia, said:
"This important announcement highlights our continued commitment to expanding the variety and utilization of ReefShark chipsets in our portfolio. This ensures that our 5G solutions are equipped to deliver best-in-class performance to our customers. As service providers continue to evolve their 5G plans and support growing traffic and new vertical services, the infrastructure and components must evolve rapidly. Adopting the latest advancements in silicon technology is a critical step to better serve our customers' needs."
"5G networks need to support billions of devices and machines, and this massive increase in volume and scale means that existing infrastructure and components must evolve rapidly, adopting technologies and techniques to enable to deploy 5G networks quickly, added Uitto."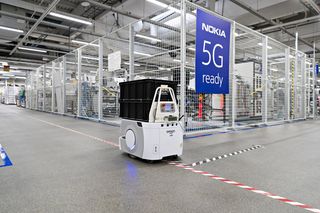 (Image credit: Nokia)
Other Nokia Initiatives:
Nokia also agreed to a partnership with Intel on programs to accelerate its 5G development.  Intel's new Atom chip is targeted at base stations. Nokia will ship Intel Atom-powered variants of its 5G AirScale radio access technology. The company will also use Intel's second generation Xeon scalable processor in its AirFrame data center kit, allowing for common architecture from the cloud to the edge of 5G networks.
Nokia said it needed several partnerships to enable it support and achieve its goals for 5G.
Nokia will acquire optical networking technology provider Elenion. Nokia said that adding Elenion will broaden its addressable market and unlock some cost benefits.
Nokia took a $561 million R&D loan which was signed with the European Investment Bank (EIB) in August 2018, but was only disbursed last month. The loan has an average maturity of about five years after disbursement according to Reuters. A Nokia representative said the company would use the loan to further accelerate its research and development of 5G technology
……………………………………………………………………………………………………………………………………………………………………………
Analysis by Zacks Equity Research:
Nokia has long struggled to undertake additional investments related to its 5G powered ReefShark SoCs. These SoCs are best known to leverage a single computer chip to operate an entire system. Unfortunately, its inability to develop ReefShark portfolio has hindered its cost-efficiency feature, compromising its profitability to rivals like Ericsson ERIC, which spends hefty amounts on R&D. Dearth of resources and geared up 5G spending cycle have also put Nokia at the risk of losing out on upcoming commercial launches.
The latest collaboration comes as a savior for the Finnish company to cater new vertical markets especially in the face of burgeoning network traffic and dynamic 5G plans. Dubbed as a key partnership, it is expected to reduce Nokia's technical disparities and address the complex requirements of 5G NSA, SA, NR specifications for future 5G network deployments.
Nokia's gross margin was negatively impacted by a high cost level associated with its first generation 5G products, product mix and profitability challenges in China. Despite a 4.2% rise in revenues in third-quarter 2019, the performance was marred by pricing pressure in early 5G deals and temporary capital expenditure constraints in North America related to the proposed merger of            T-Mobile US and Sprint. This was followed by its decision to suspend dividend payments and slash guidance for 2020. The company has also decided to retrench about 180 employees in order to trim operating costs.
It remains to be seen whether Nokia will be able to script a turnaround amid a challenging macroeconomic environment and geopolitical uncertainties.
……………………………………………………………………………………………………………………………………………………………………………
About Marvell:
Marvell first revolutionized the digital storage industry by moving information at speeds never thought possible. Today, that same breakthrough innovation remains at the heart of the company's storage, processing, networking, security and connectivity solutions. With leading intellectual property and deep system-level knowledge, Marvell's infrastructure semiconductor solutions continue to transform the enterprise, cloud, automotive, industrial, and consumer markets. To learn more, visit: https://www.marvell.com/
About Nokia:
We create the technology to connect the world. Only Nokia offers a comprehensive portfolio of network equipment, software, services and licensing opportunities across the globe. With our commitment to innovation, driven by the award-winning Nokia Bell Labs, we are a leader in the development and deployment of 5G networks.
Our communications service provider customers support more than 6.1 billion subscriptions with our radio networks, and our enterprise customers have deployed over 1,000 industrial networks worldwide. Adhering to the highest ethical standards, we transform how people live, work and communicate. For our latest updates, please visit us online www.nokia.com and follow us on Twitter @nokia.
Media Inquiries:
Nokia Communications
Phone: +358 10 448 4900
Email: press.services@nokia.com
Marvell Communications
Phone: +1 408 222 8966
Email: pr@marvell.com
……………………………………………………………………………………………………………………………………………………………………………
References:
https://www.nokia.com/about-us/news/releases/2020/03/04/nokia-and-marvell-enter-into-partnership-on-silicon-technology-for-5g/
https://www.zacks.com/stock/news/797965/can-nokia-revive-its-5g-business-with-marvell-partnership
https://www.techradar.com/news/nokia-secures-5g-chip-partnerships-with-intel-and-marvell
---