Despite the severe U.S. restrictions on Huawei, the company has succeeded in taking the top spot in the global smartphone market, according to figures from Canalys. The market research firm estimates Huawei shipped more smartphones worldwide than any other vendor for the first time in Q2 2020, marking the first quarter in nine years that a company other than Samsung or Apple led the market.
Note, however, that global smartphone sales DECLINED in the second quarter. Huawei shipped an estimated 55.8 million devices in the quarter, down 5 percent year on year. Samsung came second with 53.7 million smartphones, down 30 percent from a year earlier.
Huawei's resilience was due to its strong position in China, where its shipments rose 8 percent in Q2. This offset an estimated 27 percent fall in its shipments abroad. Canalys estimates over 70 percent of Huawei's smartphone sales are now in mainland China.  That helps explains why the company can be so successful in selling smartphones, despite not being able to use licensed Google Android and associated apps on its latest flagship devices (that's because Huawei was placed on the U.S. Entity list last year).
Canalys said the situation would likely not have happened without the Covid-19 pandemic. Huawei profited from the strong recovery in the Chinese economy, while Samsung has a very small presence in China, with less than 1 percent market share, and suffered from the restrictions in key markets such as the US, India, Brazil and Europe.
"This is a remarkable result that few people would have predicted a year ago," said Canalys Senior Analyst Ben Stanton. "If it wasn't for COVID-19, it wouldn't have happened. Huawei has taken full advantage of the Chinese economic recovery to reignite its smartphone business. Samsung has a very small presence in China, with less than 1% market share, and has seen its core markets, such as Brazil, India, the United States and Europe, ravaged by outbreaks and subsequent lockdowns."
"Taking first place is very important for Huawei," said Canalys Analyst Mo Jia. "It is desperate to showcase its brand strength to domestic consumers, component suppliers and developers. It needs to convince them to invest, and will broadcast the message of its success far and wide in the coming months. But it will be hard for Huawei to maintain its lead in the long term. Its major channel partners in key regions, such as Europe, are increasingly wary of ranging Huawei devices, taking on fewer models, and bringing in new brands to reduce risk. Strength in China alone will not be enough to sustain Huawei at the top once the global economy starts to recover."
As a result, it will be hard for Huawei to maintain its lead in the long term. Its major channel partners in key regions such as Europe are increasingly wary of stocking Huawei devices, taking on fewer models and bringing in new brands to reduce risk, as per the above Canalys quote from analyst Mo Jia.
Separately, Gartner estimates that 10% of smartphone shipments, or about 220 million units in 2020, will have 5G capability, but they'll work on "5G" networks with a LTE core (5G NSA).
…………………………………………………………………………………………………………………………………
Addendum:
Huawei's just announced global licensing agreement with Qualcomm grants Huawei back rights to some of the San Diego-based company's patents effective Jan. 1, 2020. It remains to be seen if Huawei will design smartphone components that use those patents in their next generation of 5G endpoint devices.
………………………………………………………………………………………………………………………………….
References:
https://www.canalys.com/newsroom/Canalys-huawei-samsung-worldwide-smartphone-market-q2-2020
https://www.cnbc.com/2018/11/16/huawei-aims-to-overtake-samsung-as-no-1-smartphone-player-by-2020.html
………………………………………………………………………………………………………………………………………
Update- August 3, 2020:
According to market research firm Omdia, overall Q2-2020 smartphone shipment volume was down a hefty 15.7%, year-on-year, to 229.7 million units.
Samsung will certainly hope there are better times ahead. Omdia figures show the South Korean behemoth lost its #1 position in Q2, dislodged by Huawei.  Samsung's Q2 shipments plummeted nearly 28%, year-on-year, to 54.3 million.
Many of Samsung's most important markets, were significantly impacted by COVID-19, especially emerging markets, which apparently accounted for more than 70% of Samsung's overall shipments in 2019.
For its part, Samsung is hopeful of a Q3 smartphone recovery, helped by the launch of new flagship models, including the Galaxy Note and a new foldable phone.
Huawei, helped by a resurgent domestic market in China, snagged a 20% global smartphone share during Q2 (55.8 million units), up from an 18% market share the previous quarter. Year-on-year, Huawei's Q2 shipment units were down a comparatively modest 4.9%.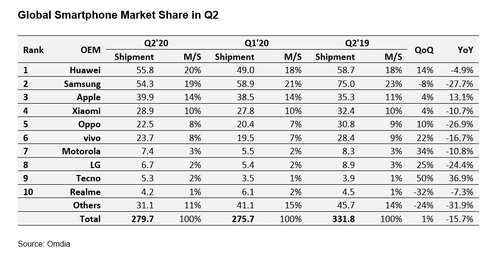 Apple was one of the few OEMs to increase Q2 shipment volumes, year-on-year (up 13.1%, to 39.9 million units).  The iPhone SE, a model with mid-range pricing, coupled with the iPhone 11, helped Apple expand its unit shipments, and cement its third-spot position with a market share of 14% (up from 11% in Q2 2019).
"With the launch of the iPhone SE in April, Apple has released a long-desired product, with an attractive price," said Jusy Hong, director of smartphone research at Omdia.
"For existing iPhone users who needed to upgrade their smartphones in the second quarter, the new SE represented an affordable option that does not require a large downpayment or high monthly repayment rates," added Hong.
Reference:
https://www.lightreading.com/huawei-apple-buck-q2-smartphone-trends—report/d/d-id/762886?
---