Ciena® Corporation, a networking systems, services and software company, today announced that it has entered into a definitive agreement to acquire Tibit Communications, Inc., a privately-held company headquartered in Petaluma, California, and that it has acquired Benu Networks, Inc., a privately-held company headquartered in Burlington, Massachusetts. Tibit and Benu are focused on simplifying broadband access networks through next-generation PON technologies and advanced subscriber management, respectively.
Individually and together, Tibit and Benu will complement Ciena's existing portfolio of solutions for broadband access use cases, including residential broadband, enterprise business services, and fixed-wireless access, which represent a significant addressable market for Ciena. In addition, the acquisitions will strengthen Ciena's expertise in these areas, with the addition of a combined 60+ talented engineers with significant experience in access technologies.
"The acquisitions of Tibit Communications and Benu Networks will extend our ability to support customers' next-generation metro and edge strategies as service providers globally accelerate investments to modernize their networks and improve connectivity at the network edge," said Scott McFeely, Senior Vice President, Global Products and Services, Ciena. "Tibit's high-speed PON technologies and Benu's subscriber management products, combined with Ciena's current access and edge portfolio, will enable us to offer broader, more complete, and fully integrated broadband access solutions that combine routing, subscriber management, and PON features and functionality."
Tibit Communications:
Tibit combines PON-specific hardware and OS into a micro pluggable transceiver that can be easily integrated into a carrier-grade Ethernet switch. Unlike the closed and proprietary approaches of traditional Optical Line Terminal (OLT) vendors, Tibit's open, microplug OLT technology enables rapid PON deployment in any environment.
The acquisition will enable Ciena to build on its market traction and accelerate its time to market, specifically with more vertically integrated, next-generation PON solutions that support residential, enterprise, and mobility use cases, including 10G XGS-PON with development paths to deliver 25G and higher PON in the future.
"The global PON market is growing at a rapid pace and this acquisition will provide the opportunity to take Tibit's differentiated products to market at scale through Ciena's extensive service provider customer base. And, as a combined team, we will continue to support and leverage Tibit's existing network of relationships with system integrators and other equipment vendors," said Edward Boyd, Vice President of Engineering and Chief Technology Officer of Tibit Communications.
Ciena and Tibit have a strong existing relationship. Ciena has been an investor in Tibit since its initial funding round in 2016 and is currently Tibit's largest shareholder. Ciena is also Tibit's largest customer, successfully leveraging Tibit's products and technology within its portfolio of broadband access solutions.
Under the terms of the agreement, Ciena will acquire the remaining shares of Tibit that it does not already own in a cash-free, debt-free transaction currently valued at approximately $210 million, with the merger consideration to be paid in cash. In addition, Ciena will enter into certain employee retention arrangements in connection with the transaction. The Tibit transaction has been approved by the boards of directors of both companies as well as Tibit's shareholders. The transaction is expected to close during Ciena's fiscal first quarter 2023, subject to customary closing conditions.
Benu Networks:
Benu has developed a portfolio of field-proven, cloud-native software solutions, including a virtual Broadband Network Gateway ((v)BNG), which are highly complementary to Ciena's existing portfolio of broadband access solutions. Benu will provide Ciena with the ability to deliver a single solution that integrates routing, OLT, subscriber management and network services, thereby reducing both capital and operating expenses and improving sustainability for our customers.
"Ciena and Benu have already successfully partnered in the market, including as part of an award-winning joint Proof of Concept (POC) with other residential broadband ecosystem vendors, as well as on active work on customer trials and POCs globally. As part of Ciena, we will be in a stronger position to further extend the market reach and continued development of our software solutions," said Ajay Manuja, CEO of Benu Networks.  The Benu transaction closed during Ciena's fiscal first quarter 2023.
Ciena:
Ciena (NYSE: CIEN) is a networking systems, services and software company. We provide solutions that help our customers create the Adaptive NetworkTM in response to the constantly changing demands of their end-users. By delivering best-in-class networking technology through high-touch consultative relationships, we build the world's most agile networks with automation, openness and scale. For updates on Ciena, follow us on Twitter @Ciena, LinkedIn, the Ciena Insights blog, or visit www.ciena.com.
……………………………………………………………………………………………………………………………………………………………………………………………………………………..
From Light Reading:  These are positive moves for Ciena, according to Rosenblatt Securities Analyst Mike Genovese, who wrote about the deal in a note to clients on Tuesday. Ciena is looking to use its switching and routing platforms to win more business in the edge networking and fiber broadband markets, "which are in a strong and long multi-year growth cycle," he wrote.
Genovese noted that one of Ciena's primary customers, AT&T, intends to continue growing fiber access, even as it fights through mounting debt and economic headwinds. The carrier aims to pass 3 million to 4 million more homes with fiber between 2023 and 2025.
"We believe AT&T is the largest customer for Ciena's PON [passive optical networking] solutions and there are good opportunities to win share at other Tier 1 telcos and cable MSOs [multiple system operators] where Ciena has switches and routers deployed," Genovese wrote.
"Ciena has already announced a number of product enhancements and customer wins specifically using 10G PON transceivers housed within their access and aggregation switches," wrote Kyle Hollasch, Cignal AI's lead analyst for optical and routing hardware, in an email to Light Reading. "The Tibit acquisition brings a degree of vertical integration into an application that Ciena considers an important differentiator."
"Traditional edge routers include tightly integrated subscriber management, but virtual and/or cloud-based BNG [broadband network gateway] functionality is gaining traction, and this is where Ciena sees its opening," wrote Cignal AI's Hollasch. "The Benu acquisition bolsters Ciena's expertise in this area as they increase scale and move up the stack to become a more full-featured router vendor."
Since 2015, Ciena has bought seven companies, and a few of those have included virtual routing and switching, network performance management, and other tools to help communications service providers of all types better control, automate and manage their networks.
Routing and switching were 12% of Ciena's revenues in its fiscal third quarter and grew 45% year over year, according to Catharine Trebnick, a managing director at MKM Partners (and a former Light Reading editor). According to Ciena and analysts, the addressable market of the entire metro networking and edge (excluding China) has grown to $22 billion. Fiber broadband access is seen as the biggest driver in that segment.
"We view these two acquisitions as broadening its market reach into rural broadband infrastructure opportunities that are funded through the Infrastructure bill," Trebnick wrote in a note to clients on Tuesday.
Heavy Reading Analyst Sterling Perrin, in a note to Light Reading, said that the global pandemic hit the accelerator for fiber broadband and – even with all the expected delays and bureaucracy – the massive government funding bill lessens a lot of the risk companies like Ciena would face by investing and making more bets in this space.
…………………………………………………………………………………………………………………………………………………………………………………………….
References:
https://www.ciena.com/about/newsroom/press-releases/ciena-makes-strategic-acquisitions-in-fiber-broadband-access-to-further-address-growing-opportunity-at-the-network-edge
https://www.lightreading.com/opticalip-networks/cienas-buying-two-firms-so-it-can-bring-more-to-edge/d/d-id/781922?
At 2021 MWC LA, Samsung Electronics and Ciena announced that they are collaborating to deliver 5G solutions (?) by coupling Samsung's 5G RAN and core network with Ciena's xHaul routing and switching portfolio. The collaboration will enable the companies to offer hardware and software solutions to telecom operators to support the increasing volume of 5G data traffic at the edge and within an increasingly distributed 5G architecture.
Rafael Francis, senior director of solutions architecture at Ciena, sited the blurring between the RAN, transport and core network as motivation for the partnership with Samsung.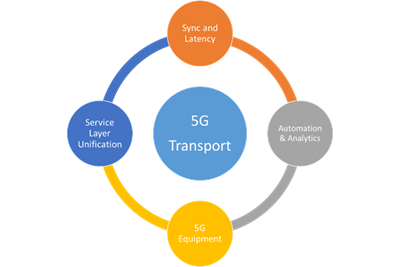 Image Courtesy of ACG Research
"The domains of RAN, transport and core are becoming more tied in the sense as operators roll out 5G with new architectures and approaches, like virtualized RAN (vRAN) or cloud RAN (cRAN)," Francis told RCR Wireless News. "Effectively, the network becomes an integral part of that because you not only have backhaul networks, but you have fronthaul and mid-haul networks, and these things all need to interoperate."
5G xHaul transport needs a solution-level approach that includes both a feature-rich box and a well-integrated automation and orchestration platform. Ciena provides a complete yet open solution with its innovative Adaptive IPTM portfolio, which is well integrated with its Blue Planet Automation software. The company has simplified the 5G xHaul transport with a lean and open set of IP protocols driven by analytics focused, multidomain and multivendor closed-loop orchestration layer.
Alok Shah, Samsung's VP of strategy, business development and marketing for the company's networks business, agreed with Francis, adding, "Networks used to be a lot easier to understand. The RAN and the core were well defined, and the transport was backhaul for the cell sites."
Now, though, in the world of vRAN and cRAN, the backhaul is only one means of transport. There is also fronthaul and mid-haul and, according to Shah, each one has a different level of performance requirement; when it comes to the fronthaul, in particular, the link between fronthaul and the RAN equipment has to be "really tight."
"Because, you want to make sure that if you're running 25 Gbps from your radio back to baseband unit, you want to make sure you're getting the full performance out of that link," Shah added.
Further, the combined offering will help operators accelerate critical 5G capabilities such as network slicing (requires 5G SA Core network), which Francis singled out a perfect example of why coordination across network domains has become more critical in a 5G era.
"Concepts and capabilities brought by 5G such as network slicing that can be used to drive new revenues and services for MNOs (mobile network operators) must be well coordinated across RAN, transport and core to really have the correct impact like ensuring SLAs and partitioning resources," Shah said.
Wonil Roh, SVP and head of product strategy for Samsung Electronics' network business said, "In order to deliver more powerful 5G services, the current network architecture needs to evolve. Samsung's ability to couple our best-in-class 5G solutions with a leader in transport technologies like Ciena will give customers a solution to address this need, and do so with the confidence to scale and evolve their networks to support the future of 5G."
Dell'Oro Group VP Stefan Pongratz noted that the two vendors have no material overlap. "Ciena's telecom equipment revenues are primarily driven by its optical transport and SP switch portfolio while Samsung focuses on the RAN and mobile core markets," he said.  Stefan added that "as the backhaul becomes fronthaul, the transport requirements will change, which could impact the value of pre-integrated solutions."
……………………………………………………………………………………………………………………………………………
References:
Samsung, Ciena partner to address 'blurring between RAN, transport and core'
https://www.ciena.com/insights/articles/5g-xhaul-transport-can-be-complex-how-to-make-it-simple-and-future-proof.html
https://www.acgcc.com/blogs/2021/02/24/5g-xhaul-transport-can-be-complex-how-make-it-simple-and-future-proof/
https://www.sdxcentral.com/articles/news/samsungs-wireless-knots-cienas-wireline-guns-for-nokia-ericsson/2021/10/
Telenor Deploys 5G xHaul Transport Network from Cisco and NEC; xHaul & ITU-T G.8300 Explained
Fiber-optic network services provider Lightpath has rolled out 800-Gbps capabilities via implementation of Ciena's WaveLogic 5 Extreme technology. The company also will deploy Ciena's Waveserver Ai platform, which will pair with a flexible-grid optical transport network based on Ciena's 6500 RLS platforms.
The Lightpath Network consists of over 18,000 route miles of fiber providing connectivity to over 12,000 service locations.  Lightpath provides a variety of connectivity and business services to customers in the metro New York area, including financial services firms (e.g. "Lightpath intros 100-Gbps optical transport service" and "Lightpath raises New York metro fiber-optic network footprint").  Using Ciena's coherent optical solution, Lightpath's network becomes more adaptive, allowing it to respond quickly to ever-changing bandwidth demands while maximizing operational efficiencies, providing customers with more reliable, high-speed services.
The enhanced optical transport technology will increase fiber network flexibility and efficiency as well as support Physical Layer encryption for data security. Cable MSO Altice USA owns a controlling interest in the company (see "Altice USA to sell almost 50% of Lightpath fiber enterprise business to Morgan Stanley Infrastructure Partners").
"In order for our customers to execute on their own digital innovations, we need to provide them with fast and reliable connectivity. With Ciena's solutions, our customers in the New York and Boston metro areas will now experience next-level digital services with high bandwidth and minimal latency," commented Phil Olivero, CTO at Lightpath.
"As users consume more digital content, it is crucial for service providers to ensure their network can adapt to these surging and often unpredictable demands. With Ciena's technology, Lightpath is adding scalability to meet bandwidth demands and also gaining real-time visibility into the performance of its network," added Kevin Sheehan, CTO, Americas, for Ciena.
WaveLogic 5 Extreme is now available in three different product implementations to meet network architecture preferences: 6500 Packet-Optical Platform, Waveserver 5 compact interconnect platform, and the WaveLogic 5 Extreme 800G transceiver module
The WaveLogic 5 Extreme chip is 12mm x 16mm CMOS device. Here are some of its remarkable features:
It is the industry's first commercial 7nm CMOS device for optical networks.
Based on 7nm FinFET technology, it includes 3km of wiring and contains 800 Trillion operations per second, which is about as much horsepower as 400,000 laptops!
Some of the capabilities that are packed into the ASIC include nonlinear probabilistic constellation shaping, throughput-optimized forward error correction, frequency division multiplexing, and encryption.
…………………………………………………………………………………………………………………………………………………………………..
About Ciena
Ciena is a networking systems, services and software company. We provide solutions that help our customers create the Adaptive Network™ n response to the constantly changing demands of their end-users. By delivering best-in-class networking technology through high-touch consultative relationships, we build the world's most agile networks with automation, openness and scale. For updates on Ciena, follow us on Twitter @Ciena, LinkedIn, the Ciena Insights blog, or visit www.ciena.com.
About Lightpath
Lightpath is revolutionizing how customers connect to their digital destinations by combining our next-generation network with our next-generation customer service. Lightpath's advanced fiber-optic network offers a comprehensive portfolio of custom-engineered connectivity solutions with unparalleled performance, reliability, and security. Our consultative customer service means we work with you to design, deliver, and support the solution for your unique needs, faster and more easily than ever before. For over 30 years, thousands of enterprises, governments, and educators have trusted Lightpath to power their organization's innovation. Altice USA (NYSE: ATUS) owns a 50.01% controlling interest in Lightpath and Morgan Stanley Infrastructure Partners (MSIP) owns 49.99% of the Company.
………………………………………………………………………………………………………………………………………………………………..
References:
https://www.ciena.com/about/newsroom/press-releases/lightpath-upgrades-to-next-generation-network-using-cienas-wavelogic-5-extreme-800g-technology.html
https://www.lightwaveonline.com/network-design/high-speed-networks/article/14206591/lightpath-moves-to-800g-services-with-ciena
https://www.ciena.com/insights/articles/800G-is-here-pushing-the-boundaries-of-what-your-network-can-do.html
---