AT&T said on Thursday that it added 708,000 postpaid cellular end point connections, a metric investors use to measure the strength of a cellular carrier's main profit center. For the third consecutive quarter, the tally easily topped forecasts of Wall Street analysts, who had been expecting 552,300 connections in the third quarter.  AT&T executives said their core wireless business overshot their expectations during the third quarter, driving higher revenue and profits despite lingering worries about inflation.
"We're in a much better place than the broader economy," finance chief Pascal Desroches said in an interview. The company raised its targets for profit and core wireless revenue this year.
AT&T said that it has added more than 2.2 million wireless subscribers through three quarters, which it said it expected to top rivals.
Wireless-service revenue climbed 5.6%, an improvement the company attributed to rate increases, roaming fees and customer upgrades to premium plans. AT&T now expects full-year wireless service revenue to reach the high end of its previously forecast 4.5% to 5% growth range.
AT&T also added 338,000 customers to its fiber-optic network in the third quarter up from year ago additions of 289,000. That left AT&T with a fiber base of 6.93 million.. Chief Executive John Stankey said building new fiber optic lines remains a priority for the company.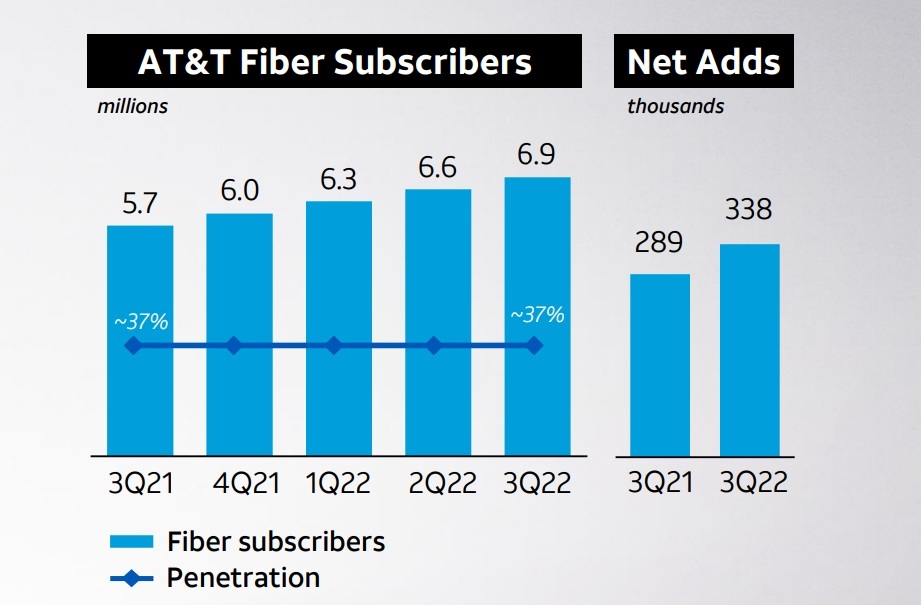 Source: AT&T Q3 2022 earnings presentation
AT&T's fiber strategy is driving average revenue per user (ARPU) upward. AT&T's fiber ARPU for Q3 clocked in at $62.62, up from $58.17 in the year-ago period. Its general broadband ARPU in Q3 hit $58.63, up from $55.16 a year ago.
AT&T added another 500,000 fiber locations in Q3, extending its total to 18.5 million. Though the analysts at New Street Research thought that build cadence was a bit weak (they've been expecting AT&T to pass a fiber build rate exceeding 1 million per quarter this year), AT&T CEO John Stankey said on today's earnings call that the company remains on track to achieve a target of 30 million-plus fiber locations by the end of 2025.
AT&T's fiber penetration in Q3, at 37%, was unchanged even as the company continues to build out and light up more fiber locations. Stankey stressed that AT&T has been able to hit penetration rates of 30% "relatively quickly" with fiber, but acknowledged that the "next 20% takes a little bit longer."
"I think the biggest change that's occurred and penetration is how quickly we're getting to the 20% level, versus historic numbers," Stankey said. "But we've not made any assumption that once you hit that 30% level that the back end is going to go any faster."
AT&T said it expects an adjusted full-year per-share profit of at least $2.50 from its continuing operations, a few cents higher than previously expected. And the company said its free cash flow, projected around $14 billion this year, should grow in 2023.
…………………………………………………………………………………………………………………………………
In sharp contrast, Verizon (the largest U.S. cellular carrier in terms of subscribers) reported a net gain of 8,000 phone connections under postpaid billing plans during the September quarter, a sign that recent rate increases had prompted many of its most reliable customers to leave the service.
Verizon's overall net income, excluding profits from interests in non-controlling entities, fell nearly 24% to $4.9 billion in the September quarter. Higher overhead costs and interest expenses contributed to the weaker earnings, though the company's adjusted profit still topped Wall Street analysts' expectations, according to data from FactSet.
Verizon also said its consumer business lost 189,000 wireless retail postpaid connections. That was offset by Verizon's business unit, which added 197,000 postpaid phone connections, giving the operator a total of 8,000 net new wireless connections.
Finance chief executive Matt Ellis said in an interview that the improving profitability in Verizon's core wireless business showed that its strategy was pointing it in the right direction. Many subscribers were paying their bills on time and upgrading to more expensive plans over the past quarter despite signs of stress in the broader economy, he added.
"We can continue to bring customers in and step them up to grow revenue" with more full-featured plans,  Ellis said. "If there's opportunities to increase pricing, we obviously won't be shy about doing that," he added.
Verizon ended a four-year, $10 billion cost-cutting program last year, but has just started another one. The company revealed a new cost-cutting program on Friday that executives said will save $2 billion to $3 billion a year by 2025. The company didn't detail how the initiative would trim expenses or how many, if any, jobs the move would affect.
"To further mitigate inflation impacts, we've started a new cost-savings program that we expect will provide a reduction in annual costs of $2-3 billion by 2025," explained Verizon CFO Matt Ellis during the operator's Q3 2022 conference call Friday. "This program will be focused on several areas in the business, including digitalization efforts to enhance the customer experience and streamlining internal operations with automation and process enhancements."
Verizon's headcount has declined from around 155,000 in 2017 to just 118,000 last year.
Verizon said it now covers 160 million people with its speedy C-band network, and expects to expand that number to 200 million in the first quarter of next year.
In contrast, AT&T said it is on track to cover 130 million people with its own midband 5G network by the end of this year, far ahead of the company's initial projections.
During Verizon's quarterly earnings call, CEO Hans Vestberg reiterated the company's broad profit strategy: to gain new customers and to encourage existing customers to spend more money with the carrier. Specifically, he said Verizon is working to "step up" customers into more expensive service plans by offering goodies like streaming video subscriptions and faster 5G services.
Along those lines, Vestberg said 81% of Verizon's customer base now subscribes to an unlimited data plan, and that 42% have selected one of its "premium" unlimited plans. He added that 60% of Verizon's new customers selected a premium unlimited plan.
References:
https://www.wsj.com/articles/at-t-raises-outlook-on-wireless-customer-growth-11666263769?mod=article_inline
https://www.lightreading.com/broadband/atandts-fiber-sub-base-surpasses-its-non-fiber-base-/d/d-id/781215?
https://www.wsj.com/articles/verizon-vz-q3-earnings-report-2022-11666355231
https://www.lightreading.com/5g/amid-flagging-profits-verizon-starts-another-cost-cutting-program/d/d-id/781271?
---