Telefónica has announced an agreement to develop 4G and 5G Open RAN technology with partner companies Altiostar, Gigatera Communications, Intel, Supermicro and Xilinx. The Spain based pan European network operator also said it intends to launch vendor-neutral 4G and 5G Open RAN trials in UK, Germany, Spain and Brazil this year.
Telefonica said this latest collaboration comprises the necessary design and developments, integration efforts, operational procedures and testing activities required to deploy Open RAN in its networks.  The Spanish network operator says this is part of its continuing efforts to lead network transformation towards 5G and that the collaboration would progress the design, development, optimisation, testing and industrialisation of Open RAN technologies across its footprint this year.
The collaboration focuses on the distributed units (DUs) and remote radio units (RRUs).  The DUs implement part of the baseband radio functions using the FlexRAN software reference platform and servers based on the Intel Xeon processor. The RRUs connect through open interfaces, based on O-RAN Alliance's fronthaul specification, and software that manages the connectivity in an open cloud RAN architecture.
Telefonica said DUs and RRUs will be designed with 5G-ready capabilities, meaning they can work in either 4G or 5G mode by means of a remote software upgrade. It will be testing the 4G and 5G hardware and software components in the lab and in the field this year, integrating an Open RAN model as part of its UNICA Next virtualization program.
……………………………………………………………………………………………….
The premise is that Open RAN will be cheaper as it encourages more suppliers into the market, especially in terms of the baseband hardware where economies of scale from using standard IT can be deployed.
A cloudified open radio access architecture can also enable faster software innovation and advanced features like network automation, self-optimization of radio resources and coordination of radio access nodes.
The main goal of the trial is to define precisely the hardware and software components in 4G and 5G to guarantee seamless interoperability. This includes:
• Testing the complete solution in the lab and in the field,
• Integrating the Open RAN model as part of the end-to-end virtualisation program (UNICA Next),
• Maturing the operational model, and
• Demonstrating new services and automation capabilities as offered by the Open RAN model.
The DUs and RRUs are designed with 5G-ready capabilities and so can work in 4G or 5G mode by means of a remote software upgrade.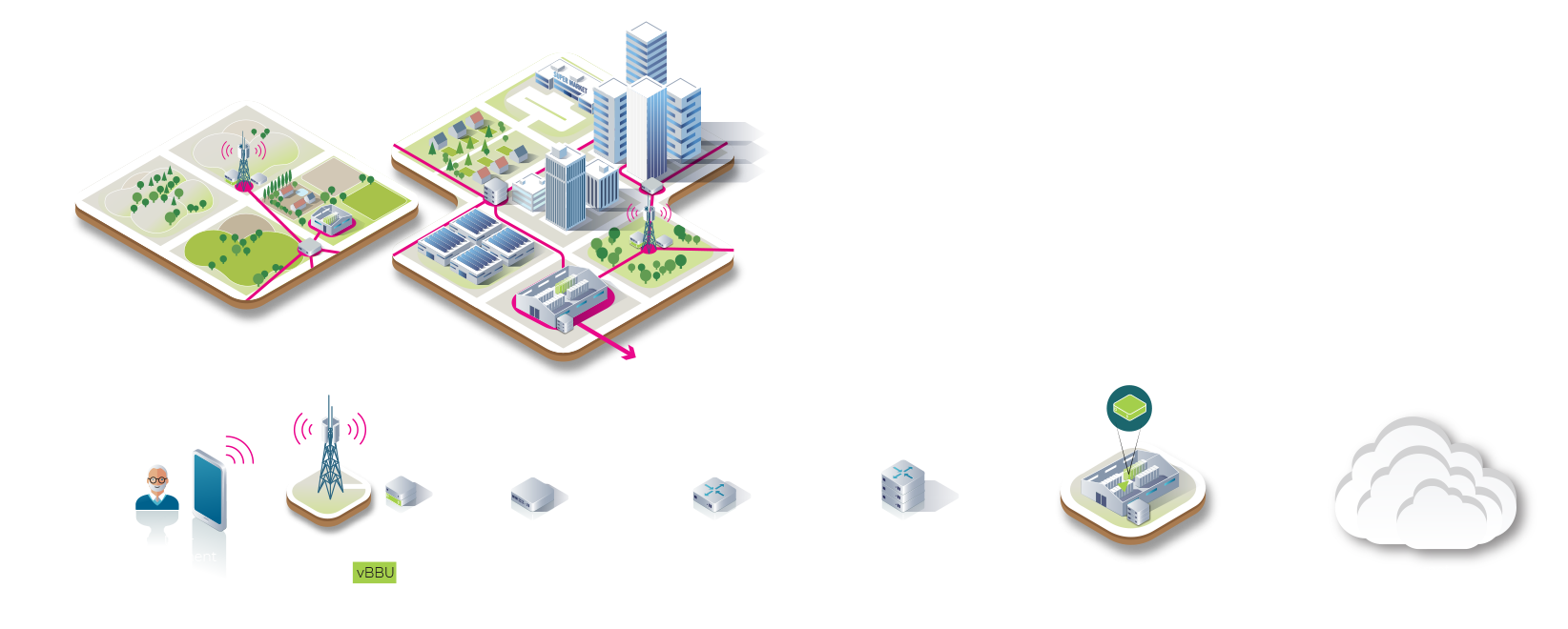 …………………………………………………………………………………………………………
The OpenRAN trial also supports exposure to third-party, multi-access edge computing (MEC) applications through open Application Programming Interfaces (APIs), and integration with the virtualisation activities in the core and transport networks. Open interfaces also mean that operators can upgrade specific parts of the network without impacting others.
Telefónica describes this openness to third-party MEC applications as "the cornerstone" to bringing added-value to the customers by enabling a variety of rich 5G services, like virtual and augmented reality, online gaming, connected car, the industrial internet of things (IoT) and more.
Edge-computing applications running in the telco cloud can benefit from the strong capillarity of the access network, so services can be tailored instantly to match the users' needs and the status of the live network.
……………………………………………………………………………………………..
Quotes:
Enrique Blanco, Telefónica's CTIO:  "Once again, Telefónica is leading the transformation towards having the best-in-class networks in our Operations with our customers as key pillars. Open RAN is a fundamental piece for that purpose while widening the ecosystem."
"Telefónica is known for its leading-edge network and has been championing open vRAN implementations to bring greater network service agility and flexibility," said Pierre Kahhale, Altiostar Vice President of Field Operations. "By bringing together the best-of-breed innovation, Telefonica is looking to achieve this vision into their network. We look forward to supporting this transformation of Telefonica's network."
Heavy Reading principal analyst Gabriel Brown: "Up to now, the open RAN action has been all about 4G. In 5G, the major integrated systems vendors [Ericsson, Huawei, Nokia, Samsung, ZTE] have been supplying their state-of-the-art systems to the market for about 18 months," creating a big gap between what is available from them and what can be sourced from the open RAN community, says the analyst. "This move by Telefónica could help to stop that gap getting too much wider."
"Gigatera Communications and Telefonica has been actively working to ensure state of the art technologies are being deployed.  We truly value our partnership as we engage and revolutionize the industry.", Daniel Kim, President.
"Open RAN offers a way for service providers to enhance customer experiences and enable new revenue-generating applications," said Dan Rodriguez, vice president and general manager of Intel's Network Platforms Group.  "We are collaborating closely with Telefonica and the broader ecosystem, and also participating in initiatives like the O-RAN Alliance, to help accelerate innovation in the industry."
"Supermicro is excited to partner with Telefónica, a premier telecommunications provider, to deliver server-class 5G solutions based on Open RAN architecture,", Charles Liang, president and CEO of Supermicro. "Working closely with Telefónica on the deployment of 5G in the significant EMEA region, Supermicro's history of rapid time-to-market for advanced, high-performance, resource-saving solutions is a key component for the successful implementation of next-generation applications, especially as x86 compute designs migrate to the telco market."
"Xilinx is excited to collaborate with the disruptive mobile operator Telefónica as it leads the move to O-RAN" said Liam Madden, executive vice president and general manager, Wired and Wireless Group, Xilinx. "Our adaptable technology supports multiple standards, multiple bands and multiple sub-networks, providing Telefónica with a unique and flexible platform for radio, fronthaul, and acceleration for 4G and 5G networks."
………………………………………………………………………………………………..
References:
https://www.telefonica.com/en/web/press-office/-/telefonica-joins-forces-with-altiostar-gigatera-communications-intel-supermicro-and-xilinx-for-the-development-and-deployment-of-open-ran-in-4g-and-5g
https://www.mobileeurope.co.uk/press-wire/telefonica-partners-to-launch-4g-and-5g-open-ran-trials
https://www.totaltele.com/505252/Telefonica-rallies-a-posse-of-Open-RAN-vendors-to-take-on-5G
https://techblog.comsoc.org/2020/03/14/o-ran-alliance-telecom-infra-project-tip-ocp-telco-may-open-up-telecom-equipment-market-to-new-entrants/
https://telecominfraproject.com/openran/
https://www.lightreading.com/4g-3g-wifi/telefonica-takes-open-ran-into-5g-territory/d/d-id/758293?
At the 5G Core Summit 2019 in Madrid, Orange España's Head of Product Engineering-Tomas Alonso said his company was taking its time to deploy "5G," despite pressure from other telcos, like Vodafone-Spain and Telefónica Móviles.  During his conference session titled Orange Spain on the Road to 5G, Alonso said that 5G technology is still not mature enough to make any real difference to customers and Spanish authorities are not helping operators deploy it.
Obviously that's true, because all pre-standard 5G deployments use LTE signaling/control plane and mobile packet core (5G NSA). Also there is no ultra low latency in 3GPP Rel 15 5G NR. More on this 5G core topic below.
"I would summarize our work in two words; testing and learning. We do not launch the technology because of the technology. We launch the technology to offer a better customer experience," said Alfonso.
Orange Spain is currently trialing 5G at various locations throughout the country, though there are no plans to speed up the commercial launch, which is currently set for some point in 2020.
Spanish wireless network operators also lack sufficient spectrum they need to provide a high-quality 5G service.  Spain held its 5G auction way back in July 2018, when Orange collected 60 MHz of spectrum in the 3.6GHz-3.8GHz band. The trouble, it seems, is that telcos' band plans look like a piano with missing keys.
"In almost all cases, the spectrum is allocated in different packets," said Alonso. "We need to do some shuffling to have contiguous bands so that we can provide the best experience in 5G."
"The earliest date [for an auction] is the first half of next year," Alonso added. That spectrum will be needed for "effective and efficient" mobile rollouts, he said.
Equally important, Alonso believes the 5G network equipment currently available remains "too heavy" and too power-hungry. "To be efficient, we need to wait a bit more and then have a better ROI [return on investment] when we deploy the network," he said. There will be a stronger business case for 5G deployment when the equipment has been improved.
Also, Orange Spain's wireless backhaul infrastructure must be upgraded, with more fiber optics urgently needed. Orange is leveraging  its investments in fiber-to-the-home networks — which today reaches more than 14 million Spanish households — and extending fiber optics links to mobile sites. But the job is not yet nearly completed.
As for the scarcity of "5G" devices: "They are all very high end today and [each] costs more than €1,000 [$1,100]," said Alonso. None is yet available that supports the "standalone" (SA) version of 5G, which uses a new 5G core network in conjunction with the 5G NR technology.
As the IMT 2020 standard is over one year away from completion, there is no European operator that can deploy a 5G mobile packet core.  In the meantime, operators are deploying services based on the "non-standalone" (NSA) system, which hitches the 5G New Radio to an existing 4G core. Alonso does not sound overly impressed. "So far, we have completely defined the enhanced mobile broadband [eMBB] functionality and in the second and third steps there will be newer standards for latency and mobile IoT [the Internet of Things]," he said. "Standalone will be mature in a matter of months … The real technology that will provide all the promises of 5G is not here."
Orange Espagne S.A.U., more commonly known by its trade name of Orange España, is a mobile network operator in Spain. It was previously known as Amena, a brand of Retevisión, (Amena means pleasant in an amusing way in Spanish) until 2005, when it was bought by France Télécom (now Orange S.A.)
…………………………………………………………………………………………………………………………………………………………………………………………………………………………………………………………………………………
According to Alonso, the biggest challenge is to change how the company works. "The way we deliver value to customers will be completely different from the way we deliver value to customers with current technology and so we are spending a lot of time on that," he said. That overhaul appears to involve setting up dedicated 5G teams within the company and breaking down some of the silos that currently separate technical and commercial departments.
A further requirement is for some type of certifications process for security of 5G technology.(from device to access network to mobile packet core to edge network to ISP/content provider point of presence)  That's endeavor is made much more difficult with no de facto or de jure 5G security standard (the work in ITU-T on IMT 2020 security is in its infancy). "Security is something we talk about a lot, but we need the sector to complete the analysis to have certifications," said Alonso. "That is something we need in the short term."
–>As Vodafone and other telcos race to deploy pre-standard 5G, the lack of any security system is a huge weakness, in this author's opinion.
Network sharing is another important issue which the Orange Spain team will have to consider.  This will probably not prevent the telco from launching 5G services, though it will impact the rollout strategy. Reports have emerged suggesting the team is in conversation with Telefonica and MásMóvil over sharing non-critical 5G sites.  The idea of network sharing is becoming increasingly popular with telcos around the world, and it is easy to see why. During her own presentation, Lucy Lombardi of Telecom Italia quoting research from McKinsey, suggesting network sharing agreements could save as much as 40% of deployments costs for a telco. 5G is going to be a very expensive business, and any opportunity to reduce the financial burden will be strongly considered.
Some might disagree with the position of Orange Spain, but being first doesn't necessarily mean best. Orange has shown itself to be one of the more considered, long term focused and successful telcos in Europe in recent years, so it would be quite reasonable to have confidence in the team.
References:
https://www.lightreading.com/mobile/5g/orange-spain-demands-5g-progress-ahead-of-2020-launch/d/d-id/754366?
http://telecoms.com/499911/orange-spain-not-going-to-be-rushed-into-5g-fracas/
Backgrounder:
The Low Power Wide Area Network (LPWAN) market is focused on IoT WAN connectivity for devices (endpoints) that consume low power, send/receive short messages at low speeds, and have low duty cycles.   There are two categories of LPWANs:
1] Cellular (e.g. NB-IoT and LTE Category M1) WANs using licensed spectrum.
2] Wireless WANs operating in unlicensed frequency bands.
While cellular may be the ultimate winner, Sigfox and LoRAWAN currently have a lot more market traction and are growing very fast.  Other non-cellular LPWANs (Ingenu, Weightless SIG, etc.) are also getting some attention, but if there are too many commercially available LPWANs the market will be segmented and fractured.
Overview of LoRaWAN and Sigfox network:
Let's look at the two most popular unlicensed band LPWANs:
1.  LoRaWAN:
LoRaWAN is specified by the LoRa Alliance which includes 47 network operators.
The LoRa Alliance states on its website: "LoRaWAN™ is the open global standard for secure, carrier-grade IoT LPWA connectivity. With a certification program to guarantee interoperability and the technical flexibility to address the multiple IoT applications be they static or mobile we believe that LoRaWAN can give all THINGS a global voice."
For the Physical layer (PHY), LoRa uses a modulation scheme called chirp spread spectrum (CSS) and a radio both developed and sold or licensed by Semtech Corporation.
About two years ago, Semtech licensed its technology to Microchip and  NXP (like ARM, Semtech now licenses to other semiconductor companies).  As a result, the core LoRa hardware (PHY layer) is no longer provided by a single global chip manufacturer.
LoRaWAN defines the media access control (MAC) sublayer of the Data Link layer, which is maintained by the LoRa Alliance. This distinction between LoRa and LoRaWAN is important because other companies (such as Link Labs) use a proprietary MAC sublayer on top of a LoRa chip to create a better performing, hybrid design (called Symphony Link by Link Labs).
Many of the LoRa Alliance companies building products are focusing on software defined enhancement and use the LoRaWAN defined MAC.
LoRaWAN will most likely be best used for "discrete" applications like smart buildings or campuses, where mobile network connectivity is not needed.
……………………………………………………………………………………………………………………….
2.  Sigfox:
 Sigfox has designed its technology and network to meet the requirements of mass IoT applications; long device battery life-cycle, low device cost, low connectivity fee, high network capacity, and long range.

Sigfox has the lowest cost radio modules(<$3, compared to ~$10 for LoRa, and $12 for NB-IoT).

A recent announcement from Sigfox noted the addition of a new service called "Admiral Ivory," that makes possible to connect devices with hardware components costing as little as $0.20.
An overview of Sigfox's network technology is described here.  It consists of: Ultra Narrow Band radio modulation, a light weight protocol, small frame size/payload, and a star network architecture.
The Sigfox network is currently deployed in 36 countries, 17 of which already have national coverage.
In February, Sigfox reached an agreement with mobile network operator Telefonica to integrate Sigfox's low-powered connectivity into the Telefonica's managed connectivity platform.  By complementing Telefónica's cellular connectivity offerings, with Sigfox's LPWAN connectivity solution, customers can choose the most appropriate type of connectivity or combine them, implementing use cases and creating new service opportunities that otherwise may not have been possible.
Additionally, Telefónica´s managed connectivity platform will integrate Sigfox's cloud, which gives the company the ability to develop its own end-to-end IoT solutions, based on Sigfox's connectivity solution and including device integration, as well as data collection and management.
While Sigfox is a proprietary IoT network architecture, the company has provided their intellectual property library free of charge and royalty-free to semiconductor companies which have implemented chipsets with dedicated Sigfox interfaces or multi-mode capabilities. The list of chipsets/modules supporting Sigfox (+ multimode) includes:  Pycom (+ WiFi, BLE=BlueTooth Low Energy), Texas Instruments (+ BLE),  STMicroelectronics (+ BLE), Microchip/Atmel, Analog Devices (+ BLE), NXP,  OnSemiconductor (SiP), SiLabs, M2Com, GCT Semiconductor (+ BLE, CatM1, NB-IoT, EC-GSM, GPS), Innocom, and Wisol.
The current Sigfox ecosystem is composed of several chipset vendors, device makers, platform providers and solution providers.
Here's a graphic from the Sigfox website on their expanding network footprint:
…………………………………………………………………………………………………….
Sigfox's LPWAN Interoperability using Internet Compression Technology:
In a phone conversation with Sigfox standardization expert Juan Carlos Zuniga last week, I learned that Sigfox plans to achieve LPWAN interoperability at the Application layer, rather than building multi-mode base stations with different radio access networks.  Here's a glimpse on how that might happen:
At the IETF 98 Bits-n-Bites event, March 30th in Chicago, Sigfox demonstrated IoT interoperability with internet compression technology. which enables LPWAN applications to run transparently over different IoT radio access network (RAN) technologies.
To achieve this milestone and enable IP applications to communicate over its network, Sigfox and Acklio implemented Static Context Header Compression (SCHC) -a compression scheme being standardized by the IETF IPv6 over LPWAN working group*, which Juan Carlos participates in.  SCHC allows reducing IPv6/UDP/CoAP headers to just a few bytes, which can then be transported over LPWAN network small frame size for low-power, low-cost IoT applications.
…………………………………………………………………………………………………….
*  The focus of the IPv6 over LPWAN working group is on enabling IPv6 connectivity over four different Low-Power Wide-Area (LPWA) technologies: Sigfox, LoRa WAN, WI-SUN and NB-IOT (from 3GPP).
…………………………………………………………………………………………………….
The demonstration platform was based on an Acklio compression protocol stack running on Sigfox-enabled devices and cloud-based applications over the live Sigfox network in Chicago. Two scenarios were demonstrated: 1] CoAP requests to legacy IP LPWAN devices, and 2] CoAP interoperability over the live Sigfox and cellular networks in Chicago with IP enabled endpoint devices.
"We are thrilled with this latest milestone in our quest to support and promote interoperability in the IoT," said Juan-Carlos Zúñiga, senior standardization expert at Sigfox and co-chair of the IETF IntArea working group. "It is critical that the industry rallies together to adopt open internet standards to unlock the true potential of the IoT."
Compression based technology for LPWAN application interoperability builds on Sigfox's commitment to supporting the development of IoT interoperability as an active member of standards development organizations including the IETF, ETSI and IEEE 802.  And the number of chip companies providing Sigfox network interfaces (see above list) is equally impressive.
References:
https://www.iotforall.com/a-primer-for-loralorawan/
https://www.sigfox.com/en/news/sigfox-pioneers-internet-things-interoperability-further-accelerate-mass-market-adoption
https://techblog.comsoc.org/2017/10/03/sigfox-boosts-its-iot-global-footprint-achieving-national-coverage-in-17-countries/
https://techblog.comsoc.org/2016/05/23/iot-world-summary-part-iii-too-many-wireless-wan-lpwan-standards-specs/
………………………………………………………………………………………………………..
Juan Carlos will be following up with a blog post on LPWAN application layer interoperability as well as a more detailed description of the IETF work on LPWANs.
---