NEC Corp and Cisco today announced they have entered into a Global System Integrator Agreement (GSIA) to expand their partnership for accelerating the deployment of innovative 5G IP transport network solutions worldwide.
[Will any other protocol besides IP operate over 5G data plane?]
Under the agreement, the companies will jointly drive new business opportunities for 5G. NEC group companies will work closely with Cisco to complement NEC's ecosystem with optimized IP metro/access transport and edge cloud computing solutions. Cisco will support NEC's customer engagements by offering best-in-class products, proposals and execution support.
The new agreement underlines NEC's successful track record as a Cisco Gold Partner over two decades, and its proven engineering capabilities to provide Cisco products to its global customer base across multiple regions.
"We believe 5G is fueling the internet for the future, and accelerating our customers' digital transformations," said Jonathan Davidson, Senior Vice President and General Manager, Mass-Scale Infrastructure Group, Cisco. "Together with NEC, we are creating a powerful force to drive the critical changes needed in networking infrastructure to carry the internet into the next decade."
"Collaboration across the network solution ecosystem is essential for continued success in meeting diversified customer requirements and establishing a win-win relationship," said Mayuko Tatewaki, General Manager, Service Provider Solutions Division, NEC Corporation. "This powerful partnership strengthens our global competitiveness as a network integrator that drives the customer journey with innovative solutions."
NEC and Cisco say they will make collaborative efforts to further enhance their joint solution portfolio and to optimize regional activities for advancing the digital transformation of customers across the globe.  Indeed, NEC has a long history of working with Cisco stretching back more than two decades. This includes the two working together on 4G LTE equipment that combined NEC's RAN and backhaul assets with Cisco's network equipment.
The two firms last year bolstered efforts in ensuring the security of their networking equipment. This involved using NEC's blockchain technologies and Cisco's fraud detection technologies to confirm the authenticity of network equipment used for security and critical industrial infrastructure before it was shipped to a customer, during the construction of those networks, and during operation.
NEC also participated in Rakuten Mobile's 4G-LTE network deployment in Japan. NEC has so far gained the most from that deployment as it's been tapped to provide a standalone (SA) 5G core network based on the specification it wrote with Rakuten Mobile.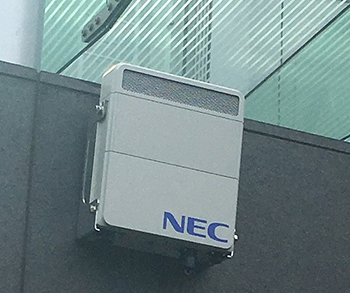 NEC recently established an Global Open RAN Center of Excellence in the UK, which aims "to accelerate the global adoption of Open RAN and to further strengthen its structure for accelerating the global deployment of 5G."
The company also developed (with Samsung) and demonstrated an O-RAN Alliance compliant 5G base station baseband unit (5G-CU/DU) on NTT DOCOMO's commercial 5G network.
Source: NEC Corp.
………………………………………………………………………………………………………………………………….
Cisco was initially part of Rakuten Mobile's 4G-LTE deployment, but has been conspicuously absent from the Japanese carrier's more recent 5G plans.  Cisco has been steadily bolstering its 5G focus with updates to its routing and networking equipment. This includes updates earlier this year to its router portfolio, and scoring a deal late last year with AT&T to assist with disaggregated IP routing technology for an edge routing platform.
Cisco has also been working with Japanese carrier KDDI on its 5G and network virtualization efforts. This included a proof-of-concept (PoC) last year that demonstrated cloud-native software with Cisco's Ultra Packet Core platform.
Nonetheless, Cisco continues to lag behind the more established telecom vendors in providing 5G equipment.  They don't make cellular base stations which limits their offerings to routers with 5G interfaces.
A recent Dell'Oro Group report placed Cisco a distant No. 5 among overall telecom equipment vendors, with its market share having shrunk by 1% from 2019 to 2020 to only 6%.
| | | |
| --- | --- | --- |
| Top 7 Suppliers | Year 2019 | Year 2020 |
| Huawei | 28% | 31% |
| Nokia | 16% | 15% |
| Ericsson | 14% | 15% |
| ZTE | 9% | 10% |
| Cisco | 7% | 6% |
| Ciena | 3% | 3% |
| Samsung | 3% | 2% |
Source:  Dell'Oro Group
………………………………………………………………………………………….
References:
https://www.nec.com/en/press/202104/global_20210408_01.html
https://www.sdxcentral.com/articles/news/cisco-nabs-nec-to-expand-5g-reach/2021/04/
https://www.delloro.com/key-takeaways-total-telecom-equipment-market-2020/
---