By Matt Walker
Cisco, Samsung, and ZTE benefit most from Huawei bans in 2021 in the telco Network Infrastructure market.  (However, the market share gains were miniscule= <1% for each network equipment vendor).
Introduction:
2021 results for the 100+ vendors selling into the telco market are just about finalized. Contrasting 2021 telco network infrastructure (NI) market share with 2020, we note the following NI Equipment Vendor Market Share Changes:
Cisco clearly came out on top, gaining 0.7% share in a market worth $231.4 billion (B). Cisco was helped both by a telco shift in 5G spending towards core networks, and Huawei's entity list troubles.
Samsung's share growth of 0.3% was due to a big win with Verizon and a growing telco interest in seeking RAN alternatives beyond Ericsson and Nokia. ZTE, which has escaped the US entity list to date, also picked up some unexpected 5G wins but its growth is more broad-based due to optical, fixed broadband, and emerging market 4G LTE business.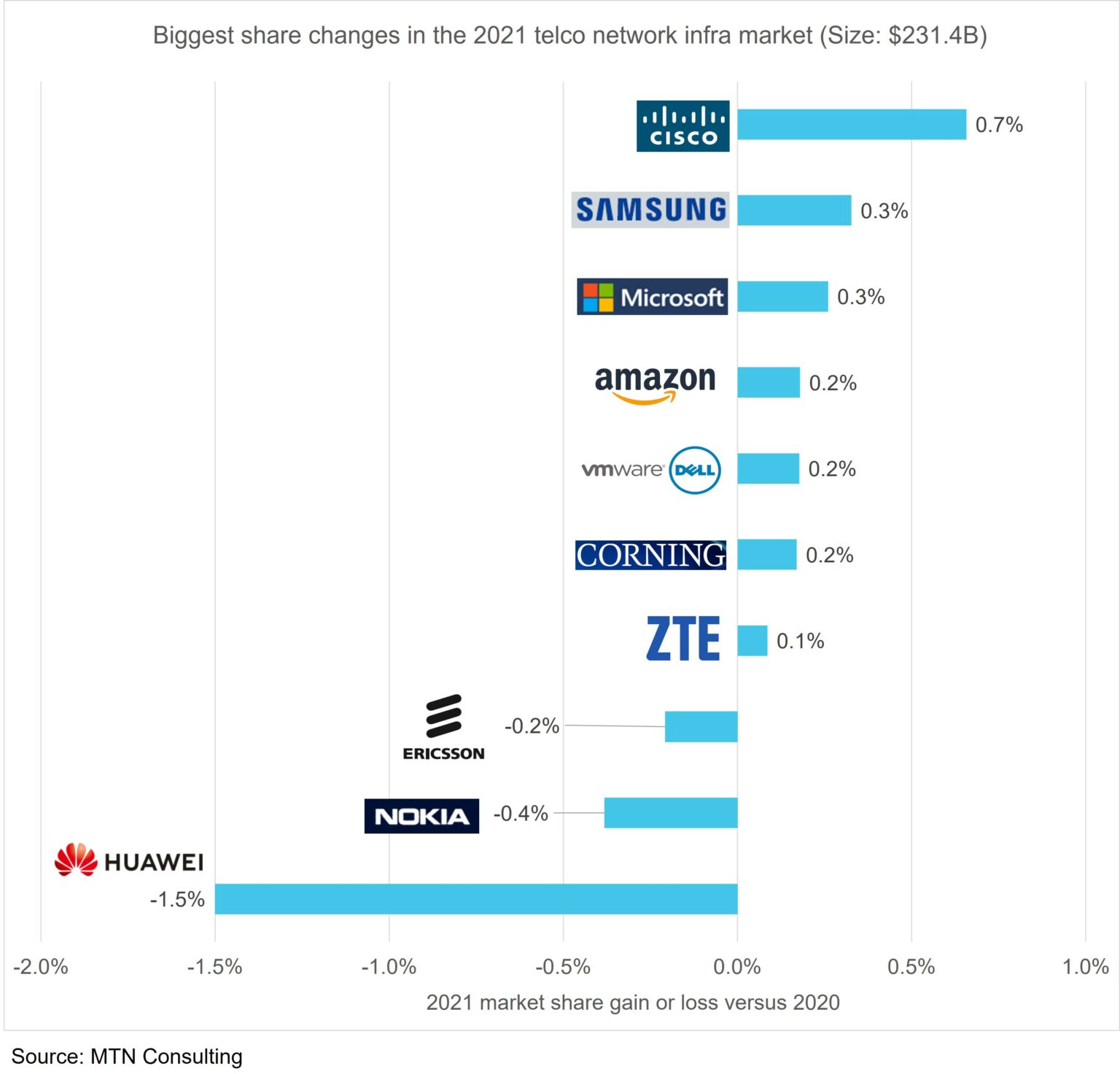 Dell (including VMWare), Microsoft, and Amazon also picked up share as telcos have begun investing in 5G core and cloud technologies. Their growth has little to do with Huawei, and more due to telcos' ongoing changes to network architecture and service deployment patterns. Corning was an unexpected winner in 2021, gaining 0.2% share on the back of fiber-rich wireless deployments and government support for rural fiber builds.
On the flip side, both Nokia and Ericsson lost share in the overall telco NI market in 2021. Their RAN revenues benefited from Huawei's troubles in 2020 but telco spending has since shifted towards product areas with more non-Huawei competition. Both vendors are attempting to diversify beyond the telco market, with Nokia so far having more success; its non-telco revenues grew 12% in 2021.
Huawei's share of telco NI declined to 18.9% in 2021, down from a bit over 20% in both 2019 and 2020. The US Commerce Department's entity list restrictions were issued in May 2019 but hit the hardest in late 2020 and 2021, after Huawei's inventory stockpiles began running out.
Huawei's messaging on its recent fall is muddled. During its annual report webcast yesterday, it cited three factors behind its 2021 revenue decline: supply continuity challenges, a drop in Chinese 5G construction, and COVID. In MTN Consulting's opinion, supply continuity was the main factor. A related factor were the many government-imposed restrictions on using Huawei gear around the world, especially in Europe where 5G spending was strong in 2021. The other two factors cited by Huawei's CFO, however, are misleading. Chinese telco network spending, overall, was relatively strong in 2021: total capex for the big three telcos was $52.8B, up 8% from 2020. Without this rise, Huawei's 2021 results would have been worse. As for COVID, few other vendors cite the pandemic as a factor restraining 2021 telco spend. More vendors cite the opposite: 2021 spending was strong in part because telcos were forced to delay many projects during COVID's early spread.
To date, Huawei's troubles have impacted RAN markets the most, but in 2022 and 2023 will begin spreading more clearly to IP infrastructure, optical, microwave, fixed broadband, and other areas. A number of vendors are eager to pursue new opportunities as this happens, including Adtran/ADVA, Ciena, Cisco, CommScope, DZS, and Infinera. The CEO of Infinera, in fact, said on its 4Q21 earnings call that "it was a nice taste, a nice appetizer in 2021, but…we said all along that we would see the design wins and RFPs really scaling and we thought that we'd see revenues from that really beginning to take hold as we got into 2023."
To date, Huawei has been unable to fully adapt to the supply chain restrictions put in place in 2019. It remains the global #1 in telco NI, however, due to dominance in China and a huge installed base across the globe. The company is investing heavily in carrier services & software, Huawei Cloud and new product areas. One certainty is that it won't simply fade away, despite the current decline.
……………………………………………………………………………………………….
Editor's Note:
In contrast, Dell'Oro estimates suggest the overall telecom equipment market advanced 7% in 2021, recording a fourth consecutive year of growth, underpinned by surging wireless revenues and healthy demand for wireline-related equipment spurred on by double-digit growth both in RAN and Broadband Access. Total worldwide telecom equipment revenues approached $100 B, up more than 20% since 2017.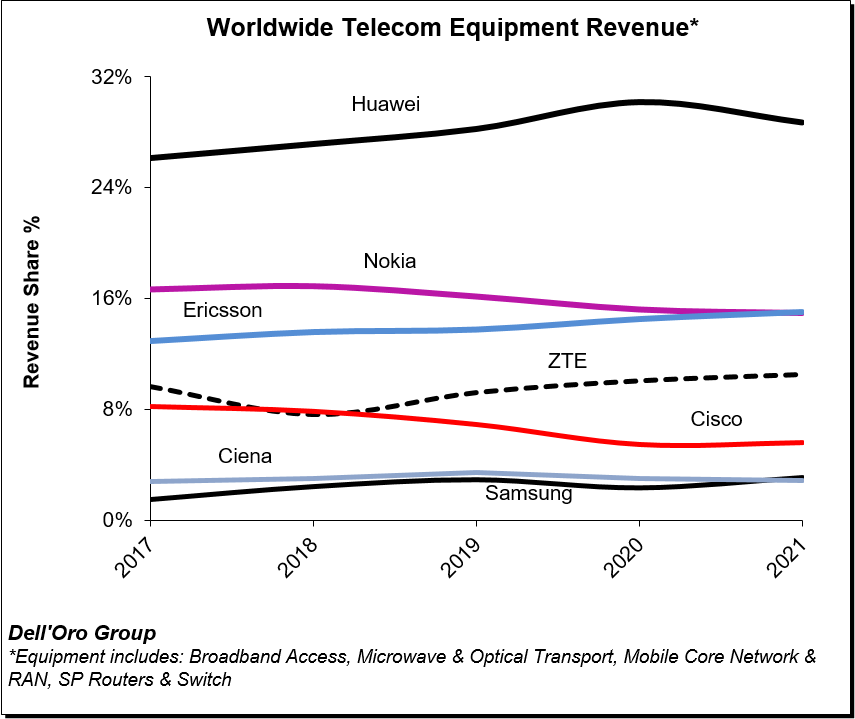 Initial readings suggest the playing field is more even outside of China, with Ericsson and Nokia essentially tied at 20% and Huawei accounting for around 18% of the market.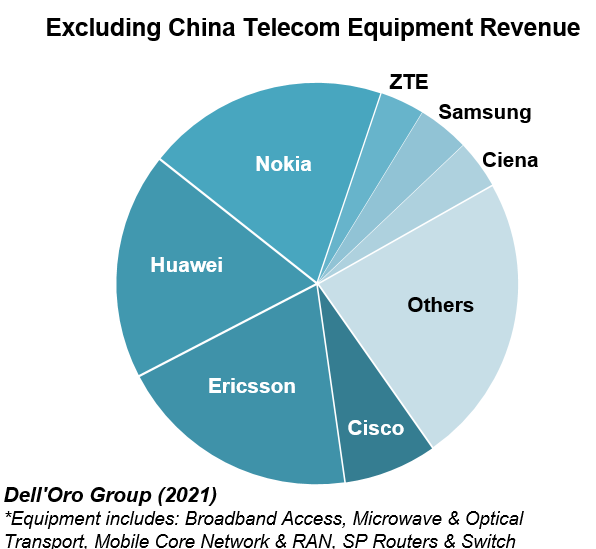 References:
Cisco, Samsung, and ZTE benefit most from Huawei bans in 2021 telco NI market
Dell'Oro: PONs boost Broadband Access; Total Telecom & Enterprise Network Equipment Markets
Nokia, Elisa and Efore have commercially deployed has announced a proof of concept (PoC) deployment of a liquid cooled base station system in an apartment building in Helsinki, Finland.  The Nokia designed PoC liquid cooled base station was done in collaboration with network operator Elisa and power systems supplier Efore.
Nokia Bell Labs developed the base station, while Efore developed the liquid-cooled power system and Elisa handled deployment.
Analysis from Finland's VTT Technical Research Centre indicates that the deployment reduced CO2 emissions by up to 80% and energy operating expenses by up to 30%.
Minna Kröger, Director, Corporate responsibility from Elisa, said: "We have set science-based targets to reduce our emissions in our effort to become an environmental leader, and we are committed to providing customers the services that enable them to act in a sustainable way. We are excited to leverage the extensive expertise of Nokia and Nokia Bell Labs for this important deployment."
"Nokia and Nokia Bell Labs have conducted extensive research and testing to explore the possibilities of using a liquid-cooled base station in an operator's network," said Pekka Sunström, head of the Elisa customer team at Nokia.
"This first commercial deployment will enable us to understand the real-world benefits for customers such as Elisa as they transition toward 5G, and how the system can be implemented on a wider scale to help reduce the environmental impact of information and communications technology," he added.
Vlad Grigore, Chief Technology Officer of Efore, said: "We are dedicated to providing efficient and reliable power supply solutions tailored to our customer's needs. The power system pilot with MHE (Modular High Efficiency) rectifiers adapted for liquid cooling helps reduce energy consumption and emissions, with a positive impact on environment. We are enthusiastic about this development that continues our long tradition of close cooperation with Nokia."
Additional Information:
Reference:
https://globenewswire.com/news-release/2018/12/10/1664108/0/en/A-world-first-Nokia-Elisa-and-Efore-commercially-deploy-a-liquid-cooled-base-station-that-can-reduce-CO2-emissions-by-up-to-80-percent.html
by Patrick Seitz of IBD (edited by Alan J Weissberger)
AI and machine learning have crept into the computer networking gear business as hardware vendors look to add more smarts to their routers and switches to help customers better manage data traffic and solve problems.
Cisco, Arista, Netgear and Extreme build a range of wired and wireless network switches and routers for moving data.
"The overall business is pretty healthy," IDC analyst Rohit Mehra told Investor's Business Daily.
Spending on Ethernet switches alone is expected to rise 3% to $26.3 billion this year, he said.
Business campus and enterprise deployments are the largest subsegment, accounting for 57% of Ethernet switch spending in 2016, the most recent year for which research firm IDC has full-year data. Data centers accounted for the remaining 43% of spending.
Cisco is by far the largest name in the industry, with a market capitalization of over $200 billion. At a fraction of that size, Arista is next in line, with a market cap near $20 billion.
While Cisco has a full portfolio of networking products across customer segments, Arista Networks is focused today on data center customers.
On Wednesday, investment bank Goldman Sachs initiated coverage of Cisco and Arista with buy ratings and Juniper at neutral. The report noted that enterprise spending intentions for networking gear are at their highest levels since 2007.
"Almost two-thirds of respondents indicated that they expect to increase networking spend in 2018, with only 6% expecting a decrease," Goldman analyst Rod Hall said in the report.
Arista Networks Targets High-Speed Cloud Data Centers:
Arista has high exposure to the hyperscale data center side of the market, which is expected to accelerate slightly to 29% capital-expenditure growth this year, Hall said.
"We are modeling for revenue upside (at Arista) from consensus, as cloud capex looks set to accelerate again in 2018," he said. "Arista has established itself as the dominant vendor of high-speed data center networking solutions, with nearly 25% share of 100G data center switches."
Other Network Equipment Vendors:
Juniper Networks has been hurt by large data-center customers buying more commodity networking hardware from so-called white-box vendors, analysts say.
Commodity networking hardware from ODMs/white box vendors uses merchant silicon from semiconductor firms such as Broadcom, Cavium, and Mellanox Technologies  rather than purpose-built chips called application-specific integrated circuits (ASICs) from traditional network gear makers like Cisco and Juniper.
Networking gear vendors have avoided the commoditization price trap partly by placing greater emphasis on software and services.
Because of surging data traffic, network administrators need more tools to help them solve bottlenecks, security issues and other concerns.
Cisco (see Update below) has been a laggard in providing predictive analytics and high-level network monitoring and management capabilities, which created opportunities for a host of companies to step in and fill the gap.
But in late January, Cisco announced initiatives to provide more automation and network management capabilities to its product offerings. It introduced tools designed to help information technology teams become more proactive rather than reactive to problems.
Cisco said IT workers today spend 43% of their time troubleshooting. Software innovations should make IT operations more automated, proactive and agile, the company says.
"There's more of a realization at Cisco that network monitoring, analytics and visibility is key to delivering automation," IDC's Mehra said. "If you don't build automation into your network systems, you're not going to be there as the market for IoT (Internet of Things) explodes and as cloud continues to gain more affinity in the enterprise."
Mergers and acquisitions could play a role in the networking gear space this year, especially with cash-rich Cisco.  Cisco could make a meaningful acquisition in 2018, Barclays analyst Mark Moskowitz said in a Jan. 17th report.
"We think CEO Chuck Robbins could make a larger, synergistic acquisition (i.e., north of $5 billion to $7 billion) – something that bolsters the company's cloud, software, security or services presence on day one," he said.
On Feb. 2nd, Cisco completed its acquisition of BroadSoft for $1.9 billion. BroadSoft adds cloud calling and contact center solutions to Cisco's calling, meetings, messaging, customer care, hardware endpoints and services portfolio.
Meanwhile, Arista has been a thorn in the side of Cisco's core networking business, but could become a bigger threat, Moskowitz said.
"If Arista is able to penetrate the enterprise vertical and also gain traction with its routing foray, the headline and fundamental risks (for Cisco) could start to become more meaningful," he said.
RELATED:
Netgear Plans IPO For Fast-Growing Arlo Security-Camera Business
Juniper Offers Earnings Beat, Buyback — But Outlook Falls Short
Will Resurgent Cisco Slow Down Arista Networks In Cloud Computing?
…………………………………………………………………………………………………………………
Update – Cisco Fiscal 2nd Quarter Earnings Report:
Cisco today (February 14, 2018) reported a fiscal second-quarter loss of $8.78 billion, or $1.78 a share, compared with net income of $2.35 billion, or 47 cents a share, in the year-ago period. Adjusted earnings, excluding $11.1 billion in charges from the U.S. tax overhaul, were 63 cents a share. Of the 26 analysts surveyed by FactSet, Cisco on average was expected to post adjusted earnings of 59 cents a share; the company had forecast 58 cents to 60 cents a share.
Revenue rose 2.6% to $11.89 billion from $11.58 billion in the year-ago period, breaking a streak of six straight quarters of year-over-year revenue declines. Wall Street had expected revenue of $11.81 billion, according to 23 analysts polled by FactSet. Cisco had predicted revenue of $11.7 billion to $11.93 billion.
Product revenue, which makes up 73% of the top line, increased 2.6%.
Services revenue rose 2.9% to $3.18 billion, while analysts had expected a 0.9% rise to $3.13 billion. Security revenue, on the other hand, rose 6% to $558 million, while Wall Street had expected a 10% gain to $582.8 million.
…………………………………………………………………………………………………………………………………………………………………………………………………………………………………………….
Repatriation of overseas cash, mostly to pay for share buybacks and dividends:
Cisco said it would repatriate $67 billion of its foreign cash holdings to the U.S. this quarter, in one of the largest repatriation plans yet revealed.  The company plans to spend much of the newly repatriated cash on share buybacks and dividends, it said Wednesday while reporting earnings, amounting to about $44 billion over the next two years.  At the end of the quarter, Cisco had $73.7 billion of cash and equivalents, with the vast majority held outside the U.S. Under the new tax law, the company will be able to access its money at a significantly lower rate than was previously required.
Critics of the U.S. tax law have said increases in share repurchases and dividends show money saved from the law is going to shareholders instead of being invested in new U.S. jobs, infrastructure, research and development, and related areas.
The focus on stock buybacks and an increased dividend suggests Cisco isn't likely to use the cash on a major acquisition, said RBC Capital Markets analyst Mitch Steves (that contradicts the IBD story above).  Instead, he expects Cisco to focus on smaller deals, perhaps in a range of $1 billion to $10 billion.
…………………………………………………………………………………………………………………………………………………………………………………………………………………………………………….
Since taking the helm of Cisco, Chief Executive Chuck Robbins has focused on subscriptions, common in the software industry but more difficult for a hardware company. That kind of transition can have a negative effect on revenue in the short term, as less of the sale is recognized up front with the rest deferred to later quarters, which Cisco has seen in the past couple of years.
Cisco introduced a new switching family called the Catalyst 9000, a software-centric switch that is delivered as a service with subscription fees and long-term contracts, last June. While previously, a sale of a switch — Cisco's biggest business — would have been recognized in full up front, Chief Financial Officer Kelly Kramer explained that a healthy portion of that sale is now considered to be for software support and recognized over the length of the contract.
"Of total product revenue, 13% of product revenue is recurring," Kramer said; at the beginning of Cisco's fiscal 2015, recurring revenue was about 6% of total revenue, she said.
"The Catalyst 9000 is our fastest ramping product in our history," Robbins crowed on a conference call.
Kramer largely echoed Robbins's positive tone in a later interview, while avoiding any grand pronouncements. When asked whether the company's transition was at an inflection point, she said, 'I am always hesitant to call any inflection, but I am not surprised about the improvement. Overall, we feel very, very good about our portfolio, this is where we have been focused for a long time."
Robbins has focused on software as a path, making big-money acquisitions like AppDynamics and BroadSoft, and analysts were curious in Wednesday's conference call about what may be next for the acquisitive company. Company executives said they plan to bring back all of Cisco's cash that is outside the U.S. by the end of this quarter under the new tax laws that are now taking hold.
After recognizing an $11.1 billion charge largely from repatriation in Wednesday's report, Cisco will have many billions of dollars to play with, even after adding $25 billion to its stock-repurchase authorization and increasing its dividend 14% Wednesday.
"We are seeing the benefits of the strategy we started executing on 10 quarters ago," Kramer said. "We are seeing the benefits as we shift the business model and you are seeing it translate through fantastic financials.
https://www.marketwatch.com/story/cisco-earnings-show-turnaround-success-stock-zooms-toward-post-2000-highs-2018-02-14
https://investor.cisco.com/investor-relations/news-and-events/events-and-presentations/default.aspx
https://www.slideshare.net/ir_cisco/q2-fy18-earnings-slides-88016264?ref=https://investor.cisco.com/investor-relations/news-and-events/events-and-presentations/default.aspx
https://seekingalpha.com/article/4146882-cisco-systems-csco-q2-2018-results-earnings-call-transcript
https://investor.cisco.com/investor-relations/financial-information/Financial-Results/default.aspx
https://www.wsj.com/articles/cisco-returns-to-growth-after-two-year-sales-slump-1518645580
---