Sparkle, Telecom Italia (TIM)'s
international services telecom provider, 
announced
a collaboration with
Google Cloud
and others to build two new
undersea cable systems
which will expand communication routes between Europe, Africa, the Middle East and South Asia.
Sparkle said the Blue cable system will connect Italy, France, Greece and Israel, while Raman will connect Jordan, Saudi Arabia, Djibouti, Oman and India.
Each cable system will contain 16 fiber optic pairs while adhering to the innovative concepts of open cable, supporting multiple fiber tenants, and open landing station, enabling competitive access to the cable termination points, the two systems set a new reference in terms of diversification, scalability and latency throughout these geographies.
Blue will be deployed along a new northbound route in the Mediterranean, crossing the Strait of Messina, rather than following the traditional route through Sicily Channel.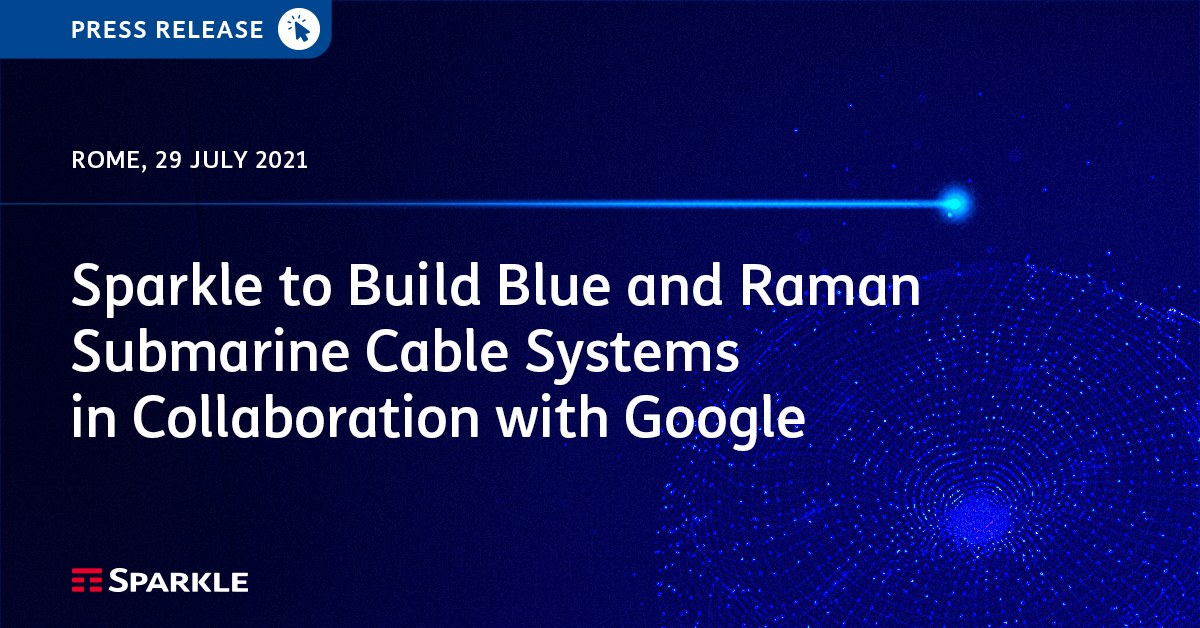 As a result, Internet Service Providers, Carriers, Telecom Operators, Content Providers, Enterprises and Institutions will benefit from high-speed Internet and state-of-the-art capacity services with unparalleled diversity and performances.
Within the Blue System, BlueMed submarine cable is now Sparkle's own private domain sharing its wet components with four additional fibre pairs and an initial design capacity of more than 25 Tbps per fibre pair, and is extended up to Jordan (Aqaba) with additional private branches into France (Corsica), Greece (Chania – Crete), Italy (Golfo Aranci – Sardinia and Rome), Algeria, Tunisia, Libya, Turkey, Cyprus and more in the future.
BlueMed flexible design allows both seamless express connections throughout the Mediterranean Basin, with unprecedented latency and spectral efficiency, and sophisticated regional subsystems, based on specific customer requirements.
In addition, Sparkle's Genoa Open Landing Platform is set to become the alternative priority access for other upcoming submarine cables looking for a diversified entry to Europe, backhauled to the Milan's rich digital marketplace, and thus a new reference gateway between Africa, the Middle East, Asia and Europe.
Blue and Raman are expected to be ready for service in 2024, with the Tyrrhenian part of BlueMed planned to be operational already in 2022.
"We are extremely proud to bring our collaboration with Google to the next level with this cutting-edge intercontinental infrastructure", comments Elisabetta Romano, CEO of Sparkle. "With Blue and Raman Submarine Cable Systems, Sparkle boosts its capabilities in the strategic routes between Asia, Middle East and Europe and the enhanced BlueMed  strengthens our presence in the greater Mediterranean area"
With Blue and Raman, Google Cloud now has 18 investments in subsea cables around the world, including Google-funded cables like Curie, Dunant, Equiano, Firmina and Grace Hopper, and consortium cables like Echo, JGA, INDIGO and Havfrue.
You can learn more about Google Cloud's network and infrastructure
here
.
Google's affordable, high-speed Fiber internet service has been around for quite some time, but only in select areas of the U.S. As it continues its very slow expansion to more cities and regions, Google is looking to streamline its operations by eliminating one of its only two Fiber based Internet access subscription plans.  Google Fiber is dropping its $50/month, 100Mb/s subscription for NEW CUSTOMERS.  100Mb/s FTTP has always been a slightly cheaper alternative to its 1 Gigabit plan, which is only $20 more at $70/month.
"Starting today, we're recommitting to our roots. We're going all in on a gig, just like we did all those years ago. We will no longer offer a 100Mbps plan to new customers," Google said in a blog post.  "We are excited to turn our attention back to our gig service, still offered for $70/month—the exact same price it cost back in 2012 when we first launched," Google added.
Currently, the Fiber service is available in 18 U.S. cities: Atlanta, Georgia; Austin, Texas; Charlotte, North Carolina; Chicago, Illinois; Denver, Colorado; Huntsville, Alabama; Kansas City, Missouri; Miami, Florida; Nashville, Tennessee; Oakland, California; Orange County, California; Provo, Utah; San Antonio, Texas; San Diego, California; San Francisco, California; Salt Lake City, Utah; Seattle, Washington; and The Triangle, North Carolina.. Even in Fiber-connected cities, not every geographic area within the city will have access to the 1 Gig service.
"With increasingly connected homes and ever-improving technologies, speed is more important than any time in our history—and becoming more important every day. And with our fiber networks, we're uniquely positioned to deliver it," Google said.  "You won't have any data caps to interrupt even the most impressive binge-watching session. And with the power of a gig, you're able to use all your connected devices at home at the same time," the company added.
If Google Fiber sounds like the internet plan for you, please visit the Google units official website to check if your location is supported.
………………………………………………………………………………………………………………………………………………………………………………………………………….
In its seven-year lifespan, Google Fiber has never had a single price increase.  Its straightforward, month-to-month (cancel any time) payment model has always been more attractive than what many competing services offer (many require a one year contract with huge cancellation fee).
Google Fiber's ambitions are a lot more modest than they used to be. So the news applies to a pretty small percentage of Americans. Fiber scaled back its roll-outs in the mid-2000's and had to pull out of Louisville, Kentucky earlier this year, following problems with its cable installations beneath the city's roads.  Google put the brakes on most of its expansion efforts, like in the author's home town – Santa Clara, CA.  Apparently, there were just too many hurdles, including the cost of expanding into certain areas, getting permission from the city councils, disputes over access to utility poles, and other challenges.
References:
https://fiber.google.com/blog/2019/all-in-on-a-gig/
---