Dell'Oro analysts say first half global telecom equipment [1.] revenues were up 4% YoY in 1st half of 2020, as 5G infrastructure investments offset declines due to the impact of the coronavirus pandemic.  The market research firm forecasts a 5% advance for the entire year.
Rollouts of 5G wireless, especially in China, were a primary cause of the first half increases, which benefit the entire supply chain, including telecommunications semiconductors.  China 5G spending surely helped Huawei increase its market share, despite U.S. sanctions.
Note 1. Dell'Oro includes the following types in the telecom equipment market: Broadband Access, Microwave & Optical Transport, Mobile Core & Radio Access Network, SP Router & Carrier Ethernet Switch
In the first half of 2020, double digit growth in mobile infrastructure offset declining investments in broadband access, microwave and optical transport and service provider routers and ethernet switches, Dell'Oro said. Statista analysts in June said 2020 telecom equipment revenues should nearly reach $50 billion.
Rankings of the biggest telecom equipment providers  remained the same in the first half of 2020, with Huawei dominating at 31%, followed by Nokia and Ericsson tied at 14% each, then ZTE at 11% and Cisco at 6%, according to Dell'Oro.
Second quarter results were stronger than expected following a 4% decline in the first quarter. The biggest driver was a strong rebound in China across 5G Radio Access Network, 5G Core and other areas. Supply chain disruptions of the first quarter also stabilized in the second quarter, Dell'Oro said.
Additional key takeaways from the 2Q20 reporting period include:
Following the 4% Y/Y decline during 1Q20, the overall telecom equipment market returned to growth in the second quarter, with particularly strong growth in mobile infrastructure and slower but positive growth for Optical Transport and SP Routers & CES, which was more than enough to offset weaker demand for Broadband Access and Microwave Transport.
For the 1H20 period, double-digit growth in mobile infrastructure offset declining investments in Broadband Access, Microwave and Optical Transport, and SP Routers & CES.
The results in the quarter were stronger than expected, driven by a strong rebound in China across multiple technology segments including 5G RAN, 5G Core, GPON, SP Router & CES, and Optical Transport.
Also helping to explain the output acceleration in the quarter was the stabilization of various supply chain disruptions that impacted the results for some of the technology segments in the first quarter.
Shifting usage patterns both in terms of location and time and surging Internet traffic due COVID-19 has resulted in some infrastructure capacity upside, albeit still not proportional to the overall traffic surge, reflecting operators ability to address traffic increases and dimension the network for additional peak hours throughout the day using a variety of tools.
Even though the pandemic is still inflicting high human and economic losses, the Dell'Oro analyst team believes the more upbeat trends in the second quarter will extend to the second half, propelling the overall telecom equipment market to advance 5% in 2020.
Semiconductor officials are less optimistic for the rest of the year with SIA President John Neuffer recent saying "substantial market uncertainty remains for the rest of the year."   Semiconductor sales were up 5% in July, reaching $35 billion, but dropped in early August, according to reports.
According to the Semiconductor Industry Association, about 33% of all semiconductors made (the largest category) are devoted to communications, including networking equipment and radios in smartphones.
…………………………………………………………………………………………………………………………………………………………………………………………………….
References:
https://www.fierceelectronics.com/electronics/telecom-equipment-revenues-to-grow-5-through-2020
India based IT services provider Tech Mahindra says it has the capability to build and run an entire 4G or 5G network in India.  The company's  partnership with Japanese greenfield telco Rakuten Mobile [1.] will help it get more meaningful business in India's telecom industry, a senior executive said.
Note 1.  Rakuten Mobile, together with NEC, is building a 5G Open RAN and cloud native 5G core network based on their own specifications.  Open RAN and cloud native 5G core network are two different and independent initiatives.
"We can build and run an entire 4G and 5G or any enterprise network. We have done that already. We bring to the table our ability to design, to plan, to integrate and deploy and then to manage the entire suite of network capabilities, including designing various parts to it in a disaggregated world," Manish Vyas – President, Communications, Media & Entertainment Business, and the CEO, Network Services, Tech Mahindra, told the Economics Times of India.
In August, the company announced German telecoms company Telefonica Deutschland  had selected it for its network and services operations, in addition to further developing 5G, artificial intelligence, and machine learning use cases.
"We are pleased to announce this partnership with Tech Mahindra. We are supported by a globally experienced service provider to consistently drive forward the development of our network and services operations, thus leading to further enhancement of 5G, artificial intelligence and data analysis use cases," said Mallik Rao, Chief Technology & Information Officer of Telefonica Deutschland.
"This strategic partnership strengthens our long-standing relationship with Telefonica, in which we support the company in realizing its vision of becoming the 'Mobile Customer and Digital Champion' by 2022," said Vikram Nair, President, Europe, Middle East and Africa (EMEA) of Tech Mahindra.
In October 2019, the company launched a 5G enabled Factory of the Future solution.  Nilesh Auti, Global Head Manufacturing Industry unit, Tech Mahindra, said:
"Factory equipment holds a great deal of meaningful data which is key to any successful Industry 4.0 project. Tech Mahindra's solution in partnership with Cisco, will enable us to leverage this data and empower manufacturers to build factories of the future. As part of our TechMNxt charter we are focused on leveraging 5G technologies to address our customer's evolving and dynamic needs, and enable them to RISETM."
Tech Mahindra is also looking for strategic investments and acquisition in companies to further bolster its telecom product and services portfolio. The company says the following about their 5G capabilities and experience:
Tech Mahindra provides range of services that enable enterprises to establish private wireless network to span areas of operations & enable a plethora of IoT use cases. Our services remove inefficiencies related to slow, insufficient wireless connectivity & have a strong roadmap to support growing traffic demands for 5G establishment. From media to medicine we believe 5G is "The NXT of Everything."
Tech Mahindra ccomplishments listed are these:
1M+ carrier grade cellular sites designed, delivered and managed
Enabling 3 of the first 5 carrier 5G introductions in the world
Strong Telco partnership/reach (80+ Global Tier 1 Telcos)
4 smart cities projects launched, Largest WIFI deployments in the world
5 connected vehicles engagements, 40+ Connected factories, 12000+ factory Assets
600+ Turbines and 100+ aircrafts connected; 2000+ remote healthcare patients supported
…………………………………………………………………………………………………………………………………………………………………………………….
References:
https://telecom.economictimes.indiatimes.com/news/tech-mahindra-says-can-build-and-run-full-fledged-4g-and-5g-networks/77947328
https://telecom.economictimes.indiatimes.com/news/tech-mahindra-inks-5g-use-case-partnership-with-telefonica-deutschland/77629815
https://www.techmahindra.com/en-in/techmnxt/techbets/5g/
https://www.techmahindra.com/en-in/techmahindra-launches-5g-enabled-solution-to-build-wireless-and-secure-factory-of-the-future/
Preliminary estimates suggest 1Q20 revenue shares relative to 2019 revenue shares for the top five suppliers – the latter indicated herein parenthesis – show that Huawei, Nokia, Ericsson, ZTE, and Cisco comprised 28% (29%), 15% (16%), 14% (14%), 11% (10%), 6% (7%), respectively.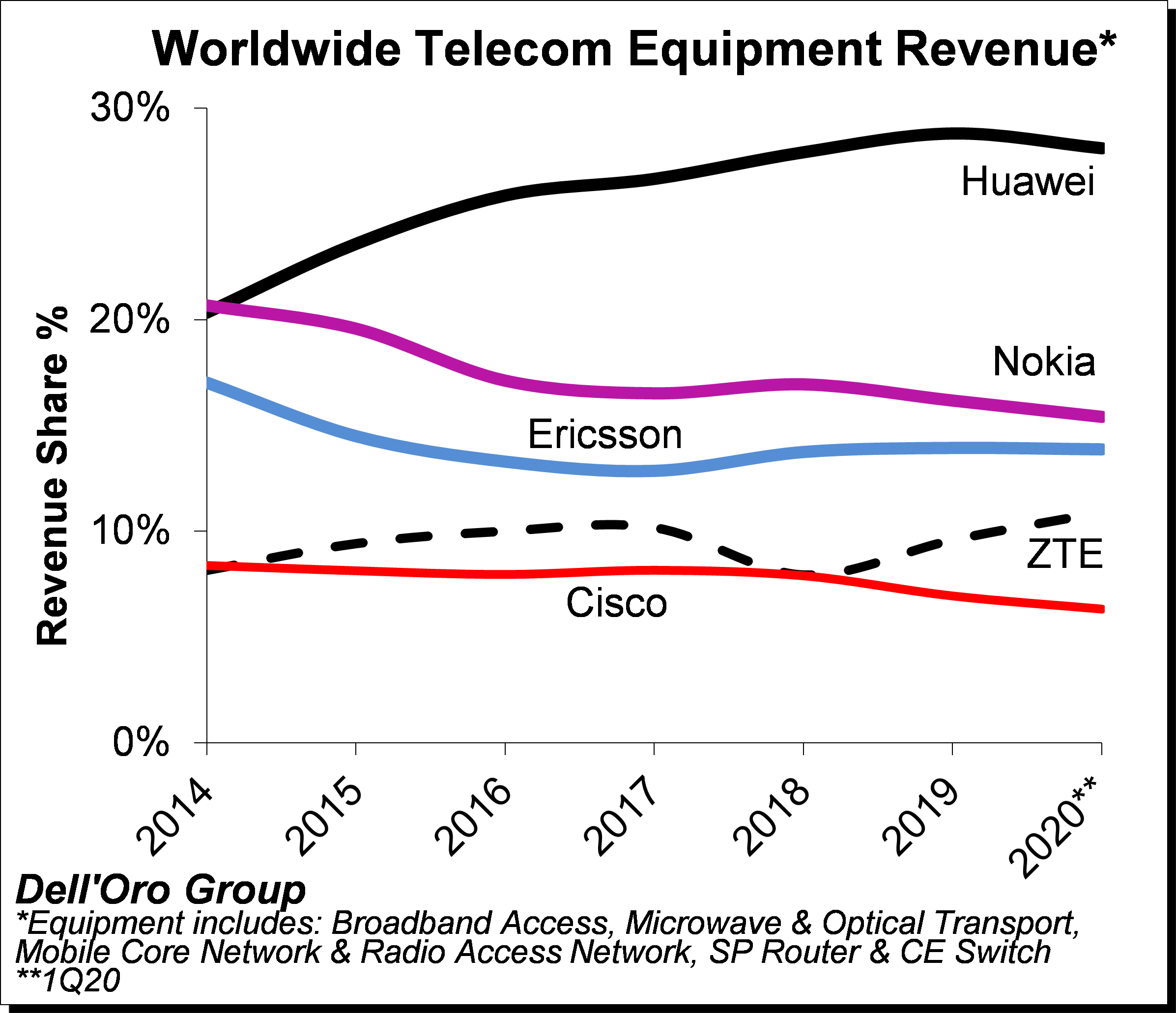 Table 1: Telecom equipment market shares
Vendor
2019 market share
Q1 2020 market share
Huawei
29%
28%
Nokia
16%
15%
Ericsson
14%
14%
ZTE
10%
11%
Cisco
7%
6%
Source: Dell'Oro Group
Additional key takeaways from the 1Q2020 reporting period include:
Following two years of consecutive growth in 2018 and 2019, the overall telecom equipment market started the year on a weaker note, reflecting mixed market conditions as the positive market sentiment with mobile-related segments, including RAN and Core, was not enough to offset reduced demand for Broadband Access, Routers and CE Switch, and Optical/Microwave Transport.
While healthy end-user fundamentals and positive 5G momentum outweighed downward risks associated with the COVID-19 pandemic for both RAN and Core investments, the pandemic had a more material impact on some of the non-wireless related segments, driven partly by supply chain disruptions and weakened demand as a result of increased macroeconomic uncertainty.
Within the technology segments, Mobile RAN and Core revenues together advanced at a single-digit rate, accounting for nearly half of the overall telecom equipment market during 1Q20. At the same time, the combined revenues for Broadband Access, Microwave Transport, and Routers and CE Switch declined at a double-digit pace Y/Y, accounting for about a third of the overall market.
In contrast to previous recessions, the COVID-19 slowdown is shifting and transforming the way we use the network. But a shift in how users are consuming data doesn't necessarily result in a corresponding increase in spending on new infrastructure to support that traffic growth. Some suppliers and service providers indicated that network capacity upgrades were required to accommodate data traffic growth, however, traffic surges did not lead to significant demand for network capacity upgrades across all the telecom equipment segments.
Even though the pandemic is still inflicting high human and economic losses, the Dell'Oro analyst team collectively expect market conditions and supply chain risks to be more favorable in the second half of 2020, propelling the overall telecom equipment market to advance 1% in 2020, reflecting a downward revision from the previous 2% growth outlook.
Dell'Oro Group telecommunication infrastructure research programs consist of: Broadband Access, Microwave Transmission & Mobile Backhaul, Mobile Core Networks, Mobile Radio Access Network, Optical Transport, and Service Provider (SP) Router & Carrier Ethernet Switch.
…………………………………………………………………………………………………….
Separately, Statista reports that  telecom equipment spending is projected to increase from 44.8 billion U.S. dollars in 2015 to around 49.3 billion U.S. dollars in 2020.   In 2019, the estimated revenue of the entire global telecommunications industry was US $610.4 billion.
Ericsson, Cisco Systems, Fujitsu, Nokia, NEC Corporation and Qualcomm are the leading telecom equipment companies worldwide. Cisco Systems is the leading Ethernet switch vendor, with more than 50 percent of the market share. Ethernet switches are an important and profitable part of the industry, as they are an integral part of IT infrastructure. They are used to receive, process and transmit data between two devices connected by a physical layer. Together, the top 5 vendors of Ethernet switches generated more than 25 billion U.S. dollars in revenue in 2017. Cisco is also the main vendor of enterprise WLAN, accounting for 45 percent of the global market share. HPE/Aruba, Arris/Ruckus, Ubiquiti and Huawei are also important vendors of enterprise WLAN worldwide.
Ethernet switch, WLAN and telecom towers are only a few examples of telecom equipment. This industry is vast, and includes other important markets such as smartphones. More than 1.5 billion smartphones were sold worldwide in 2017. Samsung, the global mobile market leader since 2012, sold about 20 percent of this total. Apple and Huawei are Samsung's closest competitors in the market, with around 14 percent and 10 percent of the global smartphone market share respectively.
References:
https://www.statista.com/topics/2844/telecommunications-equipment/#:~:text=In%202018%2C%20IT%20spending%20worldwide,billion%20U.S.%20dollars%20in%202020
---