Nordic network operator Telenor signed a strategic collaboration agreement with Amazon Web Services (AWS) to help expand its 5G core transformation, the telco said in a press release.
Telenor said that the new deal will allow it to deliver new 5G and edge services to enterprise customers worldwide.  As part of the agreement, Telenor and AWS will invest in joint go-to-market activities in select industries—such as manufacturing, supply chain and logistics, and automotive—to enable more 5G and edge services for customers. Working with existing customers to demonstrate the possibilities of cloud-based resources, Telenor will scale its cloud footprint, while innovating to develop new services that use a combination of the most advanced and secure cloud technologies from AWS.
The agreement further expands the existing collaboration between both companies, with Telenor also becoming a member of the AWS Partner Network. Working with AWS, Telenor has already implemented an entire mobile core, running in the cloud, for Vimla, which is Telenor's virtual mobile network operator (MVNO) brand in Sweden.
Running on AWS, Vimla's mobile core is scalable, programmable, and employs self-service APIs, enabling Vimla to create new services for its customers. Vimla uses a wide range of AWS services, including Amazon ElastiCache, AWS Lambda and AWS Transit Gateway, among others.
The new cloud-based mobile core at Vimla is developed and managed as-a-service by Working Group Two, a company incubated by Telenor. The Nordic operator also said it plans to expand the work at Vimla to other areas in the company's worldwide network.
As part of their collaboration, Telenor and AWS will continue to innovate in the areas of 5G edge for mobile private networks (MPNs) and edge computing. For example, Telenor 5G enabled a "network on wheels (NOW)" prototype powered by AWS. The NOW gives customers the ability to set up an autonomous private 5G network wherever it is needed. The NOW prototype is currently being used by the Norwegian defense material agency and the Norwegian Public Service broadcaster Norsk Rikskringkasting (NRK) for critical communication and remote production use cases, respectively. Internationally, Telenor's Thailand brand dtac, launched a 5G private network proof-of-concept for Thai enterprises based on edge computing and the AWS Snow Family. This solution helps customers process real-time, artificial intelligence (AI)-based video analytics and other applications in remote locations.
Working with AWS, Telenor has already implemented an entire mobile core, running in the cloud, for Vimla—Telenor's virtual mobile network operator brand in Sweden. Running on AWS, Vimla's mobile core is scalable, programmable, and employs self-service APIs, enabling Vimla to create simple, innovative and valuable services for its customers. Vimla uses a wide range of AWS services, including Amazon ElastiCache, AWS Lambda, AWS Transit Gateway, and others to help scale elastically and provide a better service to more customers. The new cloud-based mobile core at Vimla is developed and managed as-a-service by Working Group Two, a company incubated by Telenor. As a result of driving network transformation on AWS, Telenor plans to expand the work at Vimla to other areas in the company's worldwide network.
"Working with AWS, we are continuing to advance and modernize  the telecoms industry—digitalizing and expanding our offerings beyond connectivity. Together, we are building on our individual strengths and scaling secure, robust, and advanced cloud services, alongside the latest networking technology, for our customers much faster than we could ever do before. Our shared ambition is to use scalable and flexible building blocks from AWS to continuously raise the bar for what's possible," said Sigve Brekke, president and CEO of Telenor Group.
"Telenor is pushing the boundaries of innovation by running their Vimla core on AWS. Cloud technology is allowing Telenor to scale their network in a way that was not possible before and is allowing them to experiment and develop new experiences for customers to keep them engaged, entertained, and online. We are pleased to collaborate with Telenor as they continue to expand this innovative work to other parts of their business," said Adam Selipsky, CEO of AWS.
In addition to its home market in Norway and MVNO in Sweden, Telenor has operations in Denmark, Finland, Bangladesh, Pakistan, Thailand and Malaysia (and Myanmar, but it is trying to exit that market), but currently Telenor is not disclosing the details of which markets will be next or when the next deployment might happen.
Telenor and AWS have developed what they call a 'Network On Wheels' (NOW), which "gives customers the ability to set up an autonomous private 5G network wherever it is needed." This model is already being used by the Norwegian Defence Material Agency for critical communications needs and by Norway's public service broadcaster, Norsk Rikskringkasting (NRK), for remote production use cases.
In Thailand, Telenor group operator dtac has developed a 5G private network proof-of-concept for local enterprises using AWS Snow Family edge compute devices.
"This solution helps customers process real-time, artificial intelligence (AI)-based video analytics and other applications in remote locations, even in areas with intermittent connectivity," Telenor said.
Ray Le Maistre of Telecom TV wrote:  "Telenor has clearly identified AWS as the cloud partner that can help it with its specific need in both the consumer and enterprise markets, so this will be a relationship well worth tracking as the operational models are innovative."
This author wonders what has become of Telenor's deal with Nokia to launch a new cloud-native core solution in Denmark, Norway and Sweden.  When it was announced in May 2020, Nokia said the deployment will "enhance performance and reliability and drive mobile broadband service agility as Telenor prepares for the introduction of 5G."
………………………………………………………………………………………………………………………
References:
https://www.telenor.com/media/press-release/telenor-teams-with-aws-to-accelerate-modernisation-of-telecommunications
https://www.telecomtv.com/content/cloud-native/telenor-embraces-cloud-based-core-private-networks-with-aws-43398/
https://technologymagazine.com/cloud-and-cybersecurity/nokia-and-telenor-group-launch-cloud-native-core-solution-scandinavia-prepare-5g
On the heels of announcing the AWS 5G Private network earlier this week,  the world's largest tech conglomerate described another new blockbuster network service.  AWS Cloud WAN is a managed wide area networking (WAN) service that simplifies the way enterprise end users build, manage, and monitor a global network that connects resources running across Amazon's cloud and on-premises environments.
With Cloud WAN, customers use a central dashboard (the AWS portal) and network policies to create a global network that spans multiple geographically dispersed locations and networks—eliminating the need to configure and manage different networks individually using different technologies. Network policies can be used to specify which of the customer's Amazon Virtual Private Clouds (VPCs) and on-premises locations you wish to connect through AWS VPN or third-party software-defined WAN (SD-WAN) products.  The Cloud WAN central dashboard generates a complete view of the network to monitor network health, security, and performance.
Cloud WAN automatically creates a global network across AWS Regions using Border Gateway Protocol (BGP) so customers can easily exchange routes around the world.
Like all AWS services, Cloud WAN is designed to be managed through the AWS portal, which has become a single point to manage the "full stack" of AWS services – from the network through application. Through the console, IT professionals can configure connections to all company locations including branches, data centers, headquarter locations as well as Amazon Virtual Private Clouds (VPCs) though a graphical interface.
Businesses will connect into the network through a VPN or a direct connect (private line) for the "last mile" and then will have access to the global AWS network. AWS customers have been using the network already for setting up transit gateways or cloud connection, but this can now be extended to some or all of the corporate network.
"Imagine you're a large global company with dozens of manufacturing sites round the world… — you need to connect them all to AWS," Amazon CTO Werner Vogels said during his re:Invent keynote address. Cloud WAN "actually builds it for you in minutes using the big AWS backbone for you, to give you a highly reliable, highly available, software-defined wide area network running over AWS infrastructure," Vogels added.
Source: Amazon blog post on Cloud WAN
Cloud WAN is available in ten AWS Regions in Public Preview; US East (Northern Virginia), US West (Northern California), Africa (Cape Town), Asia Pacific (Mumbai), Asia Pacific (Singapore), Asia Pacific (Sydney), Asia Pacific (Tokyo), Europe (Ireland), Europe (Frankfurt), and South America (São Paulo).
Cloud WAN will have a consumption-based pricing model. The Cloud-WAN site shows there are three pricing factors – the number of cloud network edge (CNE) locations deployed, the number of attachments to each CNE and data processing charges for traffic sent through each CNE.  This is a new type of pricing model for telecom services and may result in customers paying less than they do now.  That's because the current telco industry pricing is based on a flat fee up to a certain data traffic capacity and then an "over-charge" for additional data transmitted over the network.
AWS has been working with industry leading partners at the launch of Cloud WAN. Here are some of the things they have been doing and saying:
Source: Amazon blog post on Cloud WAN
………………………………………………………………………………………………………………..
Analysis by Zeus Kerravala of ZK Research:
The rise of distributed clouds, combined with containers and microservices is making workloads and applications much more ephemeral in nature requiring connectivity that is equally ephemeral. Legacy networks are not nearly dynamic enough to meet the needs of a business running modernized clouds, so AWS is building a service to change the network. While not known as a network provider, AWS has a very sophisticated network that's highly available with per region fault isolation built into it and those benefits would be passed on to the customer.
The initial use case for a product like this would be for the customer to continue to use their existing telco network for the primary network and use AWS Cloud WAN for offload, backup connections or alternative paths. In this case, the telco networks would still be managed through the AWS console in a "bring your own carrier" model, making the console the single control point for the global network.
For telcos, this kind of "co-opetition" is new as many have a near monopoly in some regions, which is why this group of companies isn't known for their innovation. It will be interesting to see how the network operators respond. I do know, now that AWS has jumped into networking, it will continue to deliver innovative features that improve network reliability, make it easier to operate and improves application performance. Some will embrace this, change their operating model and benefit from this. I suspect many won't and will view AWS as a bigger threat.
While Cloud WAN may be negative to the service providers, it should be a positive for its SD-WAN partners, which include Aruba, Cisco, Palto Alto Networks and VMware. AWS told me it has no intention of getting into making SD-WAN appliances but would rather leverage partners. Customers will be able to manage these appliances through the AWS Console as well as the network services.
References:
https://aws.amazon.com/about-aws/whats-new/2021/12/introducing-aws-cloud-wan/
https://aws.amazon.com/blogs/networking-and-content-delivery/introducing-aws-cloud-wan-preview/
https://www.fiercetelecom.com/cloud/aws-adds-more-network-muscle-cloud-wan-kerravala
https://techblog.comsoc.org/2021/11/30/theres-nothing-like-it-aws-ceo-announces-private-5g-at-aws-re-invent-2021-dish-network-endorsement/
Learn more by visiting the product overview page and documentation.
To get started, visit the Cloud WAN console or read AWS' technical blog post and  FAQ page
Amazon Web Services (AWS) CEO Adam Selipsky kicked off day 2 of AWS re-Invent 2021 today with a keynote presentation loaded with exciting announcements, status updates, and long-term vision-setting for the AWS cloud platform.  AWS is now in its 15th year.  It currently has 81 Availability Zones, 250+ services, 475 instance types to support virtually any workload. And it has an always-evolving library of solutions designed for highly specific use cases.
The AWS cloud stores more than 3 trillion objects, AWS offers over 200 fully-featured services, with millions of customers around the world," the CEO said.  Of those customers, Netflix, NASA and NTT DoCoMo are highlighted as some of the most innovative use cases for AWS.
"In the last 15 years, cloud has become not just another tech revolution, but a shift in how businesses actually function. There's no business that can't be radically disrupted.  And we're just getting started," Selipsky added, noting that only 5-15% of spending has moved to the cloud, so there's a big opportunity to come, with 5G and IoT becoming super important too.
"We're going to keep innovating to keep offering the broadest suite of services," Selipsky said.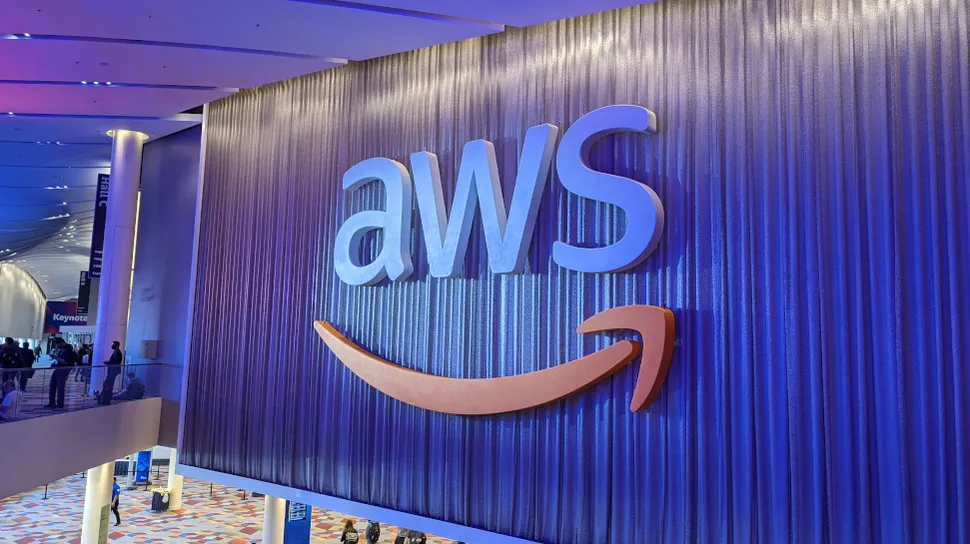 The most import announcement for IEEE Techblog readers was a new AWS Private 5G service that will allow users to launch and manage their own private mobile network in days with automatic configuration, no per-device charges, and shared spectrum operation. AWS provides all the hardware, software, and SIMs needed for Private 5G, making it a one-stop solution that is the first of its kind.
"It's not easy to set up a private 5G network using offerings from existing 5G providers, according to AWS CEO. "Currently, private mobile network deployments require customers to invest considerable time, money and effort to design their network for anticipated peak capacity, and procure and integrate software and hardware components from multiple vendors.  Even if customers are able to get the network running, current private mobile network pricing models charge for each connected device and make it cost prohibitive for use cases that involve thousands of connected devices."
Selipsky said AWS customers will be able to select where they want to build a mobile network and the network capacity they need. AWS will then deliver and maintain the network's necessary small cell radio units, servers, 5G core and radio access network (RAN) software, and subscriber identity modules (SIM cards) required for a private 5G network and its connected devices.
"AWS Private 5G automates the setup and deployment of the network and scales capacity on demand to support additional devices and increased network traffic," the company explained, noting the network will work in "shared spectrum," likely a reference to the 3.5GHz CBRS spectrum band in the U.S. "There are no upfront fees or per-device costs with AWS Private 5G, and customers pay only for the network capacity and throughput they request."
"It's (AWS Private 5G) shockingly easy," according to Selipsky – AWS sends everything you need, from hardware to software to SIM cards. Automatic configuration makes it ideal for factories and workplaces, and you can ask for as many devices to be connected as you need. He added that the company will sell the service under a pay-as-you-go model, and won't add any per-device fees.  "There's nothing like AWS Private 5G network out there," the CEO concluded.
"Many of our customers want to leverage the power of 5G to establish their own private networks on premises, but they tell us that the current approaches make it time-consuming, difficult, and expensive to set up and deploy private networks," said David Brown, Vice President, EC2 at AWS in a press release. "With AWS Private 5G, we're extending hybrid infrastructure to customers' 5G networks to make it simple, quick, and inexpensive to set up a private 5G network. Customers can start small and scale on-demand, pay as they go, and monitor and manage their network from the AWS console."
Dell'Oro Group's VP Dave Bolan wrote in an email, "What is new about this announcement, is that we have a new Private Wireless Network vendor (AWS) with very deep pockets that could become a major force in this market segment."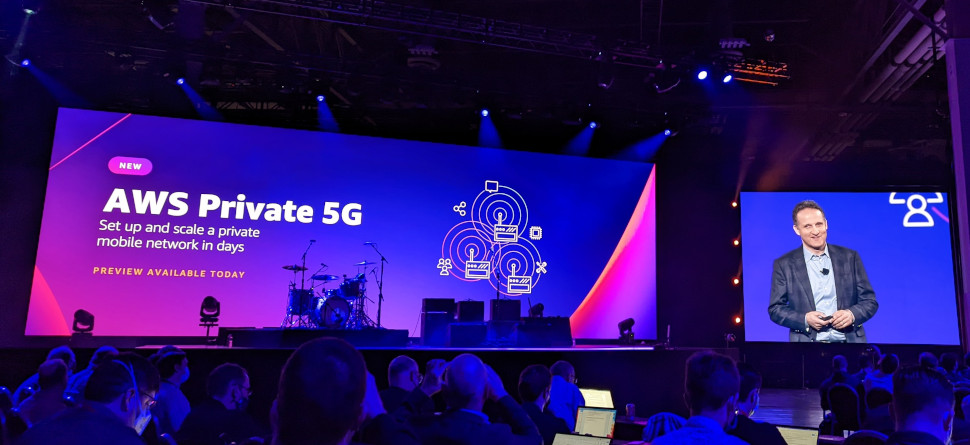 Immediately after Selipsky keynote speech, Dish Network's Chief Network Officer Marc Rouanne took the re-Invent stage to tout his own company's forthcoming 5G network.  [Note that AWS is providing the 5G SA cloud native core network for Dish].  Rouanne, touted the appeal of Dish's planned (but delayed) 5G network for enterprise customers.  He said Dish is building a "network of networks" that enterprise customers will be able to adapt to their needs. He said Dish's 5G customers will be able to customize their services based on parameters such as speed and latency, but didn't mention that's based on network slicing which requires the 5G SA core network that Dish has outsourced to AWS.
"Some say we are the AWS of wireless," Rouanne said, adding that Dish's 5G will be as flexible as the cloud computing service built by Amazon. "Dish is going to be the enabler of technology that people have not even imagined yet."
"We're building the first architecture that is truly optimized for the cloud. It promises tremendous advances, not just for human communications, but also for machine to machine, and of course for humans to control those machines," he added.
We have previously expressed skepticism that Dish can be an effective telecom/IT systems integrator with no experience whatsoever in that field. We wrote:
Dish said it would use Cisco for routing, IBM for automation, Spirent for testing and Equinix for interconnections – announcements noteworthy considering Dish is mere weeks from its first market launch.  The ability to automatically, virtually and in parallel test new 5G Standalone services, slices and software updates in the cloud is key to Dish Network's network strategy and its differentiation, according to Marc Rouanne, Dish EVP and chief network officer for its wireless business. Rouanne said that the ability to rapidly test and certify network software and services has been part of Dish's vision for its network.  Dish announced more than a year ago that it would use radio management software from both Mavenir and Altiostar, when Rakuten was a major investor in Altiostar (it now owns that company).

–>So it seams that Dish Network's 5G role will be that of a systems integrator, putting together the many outsourced parts of its 5G greenfield network.  It remains to be seen what combination of vendors will supply the Open RAN portion of the 5G network and what development, if any, Dish's engineers will do for it.  And how will Dish's 5G SA core network via AWS interface with those Open RAN vendors?
In the previously referenced press release from AWS, Stephen Bye, Chief Commercial Officer, DISH said, "Selecting AWS has enabled us to onboard and scale our 5G core network functions within the cloud. They are a key strategic partner in helping us deliver private enterprise networks to our customers.  AWS's innovative platform allows us to better serve our consumer wireless customers, while unlocking new business models for enterprise customers across a wide range of industry verticals. Our ability to support dedicated, private 5G enterprise networks allows us to give customers the scale, resilience and security needed to support a wide variety of devices and services, unlocking the potential of Industry 4.0."
In conclusion, it looks like the AWS Private 5G network (where Amazon provides the 5G RAN and 5G core) will compete with Dish's 5G network (where Dish provides the RAN while AWS provides the 5G SA core network) for industrial customers.  In that sense, it is a win-win proposition for Amazon as AWS will be competing with AWS (hah, hah!) for the 5G SA core network.  It's also significant that these announcements strengthened the trend to use 5G for industry/factory applications rather than for consumers where there is little or no benefits.
All in all, it send a strong competitive signal to wireless telcos that they'll be competing with cloud hyperscalers as well as network equipment and software companies in the 5G private network market.
About Amazon Web Services:
For over 15 years, Amazon Web Services has been the world's most comprehensive and broadly adopted cloud offering. AWS has been continually expanding its services to support virtually any cloud workload, and it now has more than 200 fully featured services for compute, storage, databases, networking, analytics, machine learning and artificial intelligence (AI), Internet of Things (IoT), mobile, security, hybrid, virtual and augmented reality (VR and AR), media, and application development, deployment, and management from 81 Availability Zones (AZs) within 25 geographic regions, with announced plans for 27 more Availability Zones and nine more AWS Regions in Australia, Canada, India, Indonesia, Israel, New Zealand, Spain, Switzerland, and the United Arab Emirates. Millions of customers—including the fastest-growing startups, largest enterprises, and leading government agencies—trust AWS to power their infrastructure, become more agile, and lower costs. To learn more about AWS, visit aws.amazon.com.
References:
https://reinvent.awsevents.com/
https://press.aboutamazon.com/news-releases/news-release-details/aws-announces-aws-private-5g
https://www.techradar.com/news/live/aws-reinvent-2021-keynote-live-blog
https://www.lightreading.com/open-ran/amazon-dish-peddle-dueling-5g-products/d/d-id/773802?
Dish Network as systems integrator; will use Rakuten Symphony's observability framework in its 5G network
Analysis of Dish Network – AWS partnership to build 5G Open RAN cloud native network
---