BT announced Monday that it has successfully tested four component-carrier (4CC) carrier aggregation on a 5G Standalone (SA) network in commercial frequencies. Using EE's live network, BT said it and Nokia were able to combine four low-band and mid-band radio channels in and 2 GHz and 3 GHz range. BT claims to be the first operator in Europe to achieve this feat, calling this particular demonstration of advanced carrier aggregation "a major leap forward" for the evolution of 5G.  Carrier aggregation is seen as the key to achieving optimal data transmission speeds for 5G.  
"As we migrate to a 5G standalone core network, this technology milestone is vital to giving our customers the best experience" commented Greg McCall, Managing Director of Service Platforms at BT.
Working in collaboration with Nokia, BT's Networks team have successfully combined four low-band and mid-band radio channels, (2.1, 2.6, 3.4, 3.6 GHz), using Nokia's 5G Radio Access Network technology in EE's live network spectrum.
The trial was conducted in two stages; it was first performed in BT's Radio Lab in Bristol, and then moved outdoors, onto a radio mast at BT's Adastral Park in Suffolk, where the team successfully achieved 4CC on 5G SA radiating in EE's regular radio spectrum. Not only is it the first time in Europe that a network operator has achieved 4CC on 5G SA using commercial spectrum, but it is also the first time it has been achieved outside of a lab in Europe.
Most 5G networks today are Non-Standalone ("NSA"), meaning 5G is supported by existing 4G infrastructure. 5G Carrier Aggregation ("CA") over a standalone 5G network represents a major leap forward in the evolution of 5G infrastructure, effectively combining several transmission bands into one connection. Every new carrier added allows for higher capacity and speed directly to customer devices.
Greg McCall, Managing Director Service Platforms BT, commented: "Our trial with Nokia is another demonstration of building the most advanced network for our customers. 5G Standalone, coupled with edge compute, will unlock new opportunities for customers looking to develop new services. Furthermore, this technology showcases what's possible for devices in the future in terms of supporting carrier aggregation, which is an important part of customer experience."
"Carrier Aggregation (CA) means combining or aggregating several carriers within or across available frequency bands – referred to as component carriers – for achieving higher data rates. Each additional component carrier increases the available bandwidth and, therefore, improves throughput. In the case of carrier aggregating Frequency-Division Duplex (FDD) and Time-Division Duplex (TDD) spectrum together, this also enables a value-adding solution that "stretches" the site coverage area that can offer those higher data rates," said Nokia.
Mark Atkinson, SVP, Radio Access Networks PLM, Nokia, commented: "We are once again delighted to be deepening our partnership with BT, supporting them with our industry-leading Carrier Aggregation technology for this trial. Nokia and BT have a long history in investing in cutting-edge technologies and this trial is another example of what our companies can achieve together."
Greg McCall, managing director of service platforms at BT, said the test showcases demonstrates his company's commitment to building out the most advanced mobile network.
"5G Standalone, coupled with edge compute, will unlock new opportunities for customers looking to develop new services," said McCall.
In May, Australian mobile operator Optus, Nokia, and Samsung Electronics Australia announced a successful test of three-component-carrier (3CC) CA technology over a 5G SA network. At the time, Nokia noted its commitment to prioritize the development of 5G carrier aggregation across the sub-6 GHz 5G spectrum. At the time, Nokia used its latest commercial AirScale Baseband and radio portfolio over Optus' commercial network. The trial combined the FDD band (2.1 GHz) with the TDD band (2.2 GHz + 3.5 GHz) using CA technology.
References:
https://newsroom.bt.com/bt-and-nokia-claim-european-first-by-combining-four-channels-of-spectrum-on-a-5g-standalone-network/
T-Mobile US said it was able to aggregate three channels of mid-band 5G spectrum, reaching speeds over 3 Gbps on its standalone 5G network. It's the first time the test has ever been done with a commercial device, here the Samsung Galaxy S22 powered by Snapdragon 8 Gen 1 Mobile Platform with Snapdragon X65 Modem-RF System), on a live production network, the company said.
5G Carrier Aggregation (New Radio or NR CA) allows T-Mobile to combine multiple 5G channels (or carriers) to deliver greater speed and performance. In this test, the carrier merged three 5G channels – two channels of 2.5 GHz Ultra Capacity 5G and one channel of 1900 MHz spectrum – creating an effective 210 MHz 5G channel.
The achievement is only possible with standalone 5G architecture (SA) and is just the latest in a series of important SA 5G milestones for T-Mobile. The carrier said it was the first in the world to launch a nationwide SA 5G network nearly two years ago. The carrier began lighting up Voice over 5G (VoNR) this month so that all services can run on 5G. By removing the need for an underlying LTE network and 4G core, 5G will be able to reach its true future potential with incredibly fast speeds, real-time responsiveness and massive connectivity, the company mentioned.
NR CA is live in parts of T-Mobile's network today, combining two 2.5 GHz 5G channels for greater speeds, performance and capacity. Customers with the Samsung Galaxy S22 will be among the first to experience a third 1900 MHz 5G channel later this year. This functionality will expand across the carrier's network and to additional devices in the near future.
T-Mobile US  was the first in the world to launch a nationwide SA 5G network nearly two years ago and has been driving toward a true 5G-only experience for customers ever since. Just this month the Un-carrier began deploying Voice over 5G (VoNR) so ALLvoice services can run on 5G. By removing the need for an underlying 4G LTE network and 4G core, 5G will be able to reach its true future potential with incredibly fast speeds, real-time responsiveness and massive connectivity.  The carrier's 5G network covers 315 million people across 1.8 million square miles. 225 million people nationwide are covered with super-fast Ultra Capacity 5G, and T-Mobile expects to cover 260 million in 2022 and 300 million next year.  It also has the fastest 5G network, according to Ookla speed tests in Q4 2021: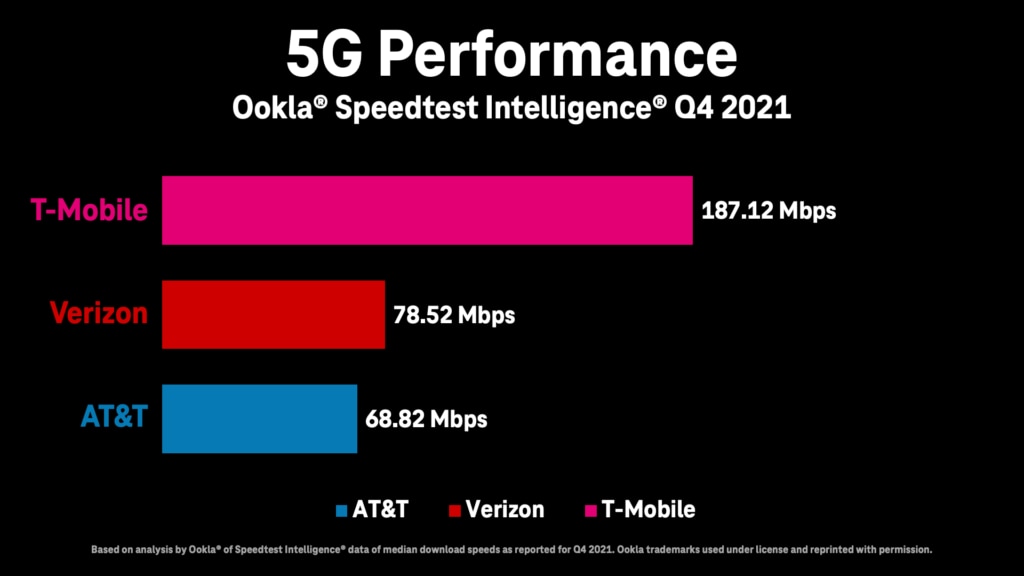 Note that neither Verizon or AT&T have deployed 5G SA core networks with no future dates specified.
References:
https://www.t-mobile.com/news/network/t-mobile-tops-3-gbps-with-worlds-first-standalone-5g-carrier-aggregation-achievement
https://www.t-mobile.com/news/network/t-mobile-dominates-in-new-5g-studies-and-advances-5g-with-carrier-aggregation
Qualcomm Technologies, Casa Systems and Ericsson announced that the companies successfully completed what they call the world's first extended-range 5G NR data call over mmWave. The extended range data call was completed in Regional Victoria, Australia on 20 June, achieving a farthest-ever connection of 3.8 kilometers (km).
This so called "breakthrough" from Qualcomm Technologies, Casa Systems and Ericsson provides global network operators and ISPs with the reach and performance to offer fixed broadband wireless as a "last mile" access technology.  Of course, line of sight communications (i.e. no trees, walls or other blockages permitted). With the increased range demonstrated for mmWave, that technology may be suitable for fixed wireless access (FWA) as well as for 5G mobile service in suburban or even rural areas that won't require as many small cells or high density cell towers.
Network operators will have the potential to use their existing mobile network assets to deliver fixed wireless services and expand their service with ease to new areas, from urban to rural, while delivering 5G's multi-gigabit speeds and ultra-low latency to a wider customer base within their coverage footprint. In addition, this milestone will proliferate the roll-out of FWA customer-premises equipment (CPE) devices to areas that are often too difficult to reach with traditional broadband, including rural and suburban areas, empowering more customers across the globe to access superior connectivity at fiber optic-like speeds.
The extended-range data call was achieved by applying extended-range software to commercial Ericsson hardware – including Air5121 and Baseband 6630 – and a 5G CPE device powered by the Qualcomm Snapdragon X55 5G Modem-RF System with the Qualcomm QTM527 mmWave antenna module.
"With the introduction of the Qualcomm QTM527 mmWave antenna module as part of the Snapdragon X55 5G Modem-RF System, we are empowering operators and OEMs to offer high-performance, extended-range multi-gigabit 5G broadband to their customers – which is both flexible and cost-effective, as they can leverage existing 5G network infrastructure," said Gautam Sheoran, senior director, product management, Qualcomm Technologies, Inc. "With this major milestone being the first step in utilizing mmWave for an extended-range 5G data transfer, our collaboration with Casa Systems and Ericsson is paving the way to implement fixed broadband services for broad coverage in urban, suburban and rural environments."
"As operators look to close the digital divide and expand broadband services throughout rural, suburban and urban communities, the technology in this data connection underscores the critical role mmWave will play in the global proliferation of 5G networks," said Steve Collins, senior vice president, access devices, Casa Systems. "This collaboration with Qualcomm Technologies and Ericsson is an industry milestone that makes it possible for operators to offer multi-gigabit broadband services wirelessly as a new broadband alternative solution using mmWave spectrum, and we look forward to delivering innovative CPE devices that further empowers the global broadband delivery ecosystem."
"Ericsson has a long history of working with extended range across generations of mobile technologies, pioneering with 3G, then 4G and now with 5G. By collaborating with leading industry partners like Qualcomm Technologies and Casa Systems, we are able to ensure that everyone can access the transformative benefits of 5G connectivity. This achievement will open up opportunities for communications service providers around the world and how they can use mmWave spectrum for long-range use cases," said Per Narvinger, head of product area networks, Ericsson.
…………………………………………………………………………………………………………………………………………………………………………………..
5G SA Carrier Aggregation from Qualcomm & Ericsson:
Today's announcement comes just three days after Qualcomm and Ericsson announced that they completed interoperability tests for 5G standalone (SA) carrier aggregation. Carrier aggregation allows operators to use multiple sub-6 GHz spectrum channels simultaneously to transfer data between base stations and a 5G mobile device.
The test was completed at Ericsson's labs in Beijing, China. The connection reached 2.5 Gb/s peak speeds by aggregating 100 MHz and 60 MHz within the 2.5 GHz (n41) TDD band in a 70% downlink configuration and using 4×4 multiple-input multiple-output (MIMO) technology.  In Sweden, the two companies established a successful 5G SA carrier aggregation data call by combining 20 MHz in the 600 MHz (n71) FDD band with 100 MHz of spectrum in the 2.5 GHz (n41) TDD band.
Implementation of 5G carrier aggregation delivers enhanced network capacity along with improved 5G speeds and reliability in challenging wireless conditions, allowing consumers to experience smoother video streaming and enjoy faster downloads. This key 5G capability is expected to be widely deployed by operators around the world in 2021, according to Ericsson.
…………………………………………………………………………………………………………………………………………………………………………………..
About Qualcomm
Qualcomm is the world's leading wireless technology innovator and the driving force behind the development, launch, and expansion of 5G.  When we connected the phone to the internet, the mobile revolution was born. Today, our foundational technologies enable the mobile ecosystem and are found in every 3G, 4G and 5G smartphone. We bring the benefits of mobile to new industries, including automotive, the internet of things, and computing, and are leading the way to a world where everything and everyone can communicate and interact seamlessly.
Qualcomm Incorporated includes our licensing business, QTL, and the vast majority of our patent portfolio. Qualcomm Technologies, Inc., a subsidiary of Qualcomm Incorporated, operates, along with its subsidiaries, substantially all of our engineering, research and development functions, and substantially all of our products and services businesses, including our QCT semiconductor business.
About Casa Systems, Inc.
Casa Systems, Inc. is delivering physical, virtual and cloud-native 5G infrastructure and customer premise networking for high-speed data and multi-service communications networks. Our core and edge convergence technology enables public and private networks for both communications service providers and enterprises. Casa Systems' products deliver higher performance, improved network flexibility and scalability, increased operational efficiency and lower total cost of ownership (TCO). Commercially deployed in more than 70 countries, Casa serves over 475 Tier 1 and regional service providers worldwide. For more information, visit http://www.casa-systems.com.
About Ericsson
Ericsson enables communications service providers to capture the full value of connectivity. The company's portfolio spans Networks, Digital Services, Managed Services, and Emerging Business and is designed to help our customers go digital, increase efficiency and find new revenue streams. Ericsson's investments in innovation have delivered the benefits of telephony and mobile broadband to billions of people around the world. The Ericsson stock is listed on Nasdaq Stockholm and on Nasdaq New York. www.ericsson.com
References:
https://www.globenewswire.com/news-release/2020/08/31/2086269/0/en/Qualcomm-Casa-Systems-and-Ericsson-Achieve-World-s-First-Extended-Range-5G-NR-Data-Call-Over-mmWave.html
https://www.telecompaper.com/news/qualcomm-casa-systems-ericsson-achieve-extended-range-5g-data-call-over-mmwave–1352053
https://www.ericsson.com/en/news/2020/8/5g-carrier-aggregation
---