After building the world's largest 5G network with 2.3 million 5G base stations by the end of 2022, China is on track add over 600,000 5G base stations and reach 2.9 million by the end 2023, according to new Omdia market research (owned by Informa).  A key milestone in terms of China's co-building and co-sharing 5G networks recently took place in May 2023, through the 5G network collaboration between all the four service providers in China. Under the organization and guidance of the Ministry of Industry and Information Technology (MIIT), the four major mobile operators in China – China Mobile, China Telecom, China Unicom, and China Broadnet, jointly announced the launch of what they claimed as the world's first 5G inter-network roaming service trial. The service enables customers to access other telecom operators' 5G networks and continue using 5G services when outside the range of their original operators' 5G network.
Ramona Zhao, Research Manager at Omdia said: "Omdia expects inter-network roaming to improve operators' 5G network coverage particularly in rural areas. Driven by better 5G network coverage, 5G will overtake 4G's leading position and become the largest technology in China's mobile market by 2026. By the end of 2028, we anticipate 5G will account for 65.1% of the total mobile subscriptions (including IoT connections)."
An advertisement for 5G mobile service at Shanghai Pudong International Airport. Image Credit: DIGITIMES
Omdia deems China as a 5G pioneer in terms of many areas, including technology innovation, network deployment, and 5G use cases.  Driven by the increasing 5G adoption, Chinese service providers' mobile service revenue and reported mobile (non-IoT) ARPU have all achieved year-on-year (YoY) growth in 2022. China Telecom reported an increase of 3.7% in its mobile service revenue; China Unicom's mobile service revenue saw a YoY increase of 3.6%; while China Mobile's mobile service revenue also increased by 2.5% YoY.
Owing to the digital transformation demand from various state-owned enterprises, cloud services are also considered a growing business for Chinese service providers.
"Omdia recommends that Chinese service providers innovate more applications through the integration of cloud and the 5G network. This will be vital to enable the digital transformation of various industries and the acquisition of new revenue streams," concludes Zhao.
According to a previous GSMA report, dubbed "The Mobile Economy China 2023", 5G technology will add $290 billion to the Chinese economy in 2030, with benefits spread across industries.
"Mainland China is the largest 5G market in the world, accounting for more than 60% of global 5G connections at the end of 2022. With strong takeup of 5G among consumers, the focus of operators is now increasingly shifting to 5G for enterprises. This offers opportunities to grow revenues beyond connectivity in adjacent areas such as cloud services – a segment where operators in China have recently made significant progress," the GSMA report reads.
5G will overtake 4G in 2024 to become the dominant mobile technology in China, according to the report. "4G and 5G dominance in China means legacy networks are now being phased out. While most users have been migrated to 4G and 5G, legacy networks continue to support various IoT services. However, some estimates suggest that legacy networks could be almost entirely shut down in China by 2025," the study reads.
Chinese vendor Huawei Technologies has secured over half of a major contract to deploy 5G mobile base stations for local carrier China Mobile, according to recent reports by Chinese media.
Huawei obtained over 50% of the total of China Mobile's centralized procurement program in 2023.
The report also stated that Huawei will provide 5G base stations for different frequency bands. The bands ranging from 2.6 GHz to 4.9 GHz will have around 63,800 stations, divided into two projects, while the number of base stations to operate in the 700 MHz band will be 23,100, divided into three projects.  ZTE was the second-biggest winner in terms of base stations, followed by Datang Mobile Communications Equipment, Ericsson and Nokia Shanghai Bell.
References:
https://omdia.tech.informa.com/pr/2023/06-jun/omdia-chinas-5g-progress-combined-with-cloud-will-create-growth-opportunities-for-chinese-service-providers
China Telecom do Brasil ("CTB") today announced the launch of eSurfing Cloud services in Brazil. Through on-demand purchases that aim to simplify the process for more targeted service, the new offering provides businesses with the flexibility of accessing public and private cloud services, combined with the security and control of private cloud.
CTB's eSurfing Cloud services enable enterprises in Brazil to take advantage of the latest cloud technologies, with the added benefit of local support and expertise. With this new offering, businesses in Brazil can optimize their cloud environments, reduce costs, and improve efficiency, all while maintaining high levels of security and compliance. The eSurfing Cloud services in São Paulo will allow customers to connect on a global multi-cloud network of more than nine public cloud nodes, 30 proprietary edge cloud nodes, and more than 200 CDN nodes.
"We are excited to bring our world-class cloud solutions to businesses in Brazil," said Luis Fiallo, the officer of China Telecom do Brasil. "Our eSurfing Cloud services deliver flexible and scalable solutions that can meet the unique evolving needs of businesses in the region. The launch of this new offering is our continued commitment to helping our customers achieve their business goals and succeed in today's digital landscape."
Brazil is one of the most active cloud markets in Latin America, with high demand for the critical services that connect LATAM to the global market. Cloud adoption in Brazil has increased nearly 40% since 2019 and is expected to grow nearly 19% by 2033. While eSurfing Cloud provides customers with access to public cloud, private cloud, hybrid cloud, and edge cloud, its advantages in cloud-network integration, security, and extensive customization make it the choice digital transformation accelerator for businesses of any size.
About China Telecom do Brasil:
China Telecom do Brasil is the largest subsidiary of China Telecom Americas in Latin America and a leading provider of Internet and cloud computing services in Brazil. With a focus on customer satisfaction, the company delivers reliable, scalable, and secure solutions that enable businesses to connect their networks within Brazil and internationally, while thriving in today's digital landscape. The company is the largest Chinese Internet provider in Brazil with network POPs and backbone connecting the state of Sao Paulo, State of Rio De Janeiro, State of Parana and State of Rio Grande do Sul to the China Telecom global network.
SOURCE:  China Telecom Americas
………………………………………………………………………………………………………………………………………
China Telecom still banned in U.S.:
The Federal Communications Commission (FCC) has raised mounting concerns about Chinese telecom companies in recent years which had won permission to operate in the United States decades ago.  On October 26, 2021 the FCC revoked and terminated China Telecom America's authority to provide Telecom Services in America.  The FCC said that China Telecom (Americas) "is subject to exploitation, influence and control by the Chinese government."
On December 20, 2022, a U.S. federal appeals court rejected China Telecom Corp's challenge to the order withdrawing the company's authority to provide services in the United States.
…………………………………………………………………………………………………………………………………………
References:
https://www.prnewswire.com/news-releases/china-telecom-launches-its-first-cloud-offering-in-brazil-887897573.html
https://www.fcc.gov/document/fcc-revokes-china-telecom-americas-telecom-services-authority
https://www.reuters.com/business/media-telecom/appeals-court-rejects-china-telecom-bid-reverse-us-ban-2022-12-20/
Analysis and Implications: China's 3 Major Telecom Operators to be delisted by NYSE
ZTE, in partnership with China Telecom, has released a 5G-Advanced solution, named Cluster DFS at Mobile World Congress 2023 in Barcelona, Spain.  According to ZTE, the new offering will facilitate the development of specific B2B and B2C services using a single 5G network.
China Telecom claims to have deployed the world's largest 5G SA network with more than 1 million 5G base stations based on a RAN-sharing strategy. The Chinese carrier noted it continues to focus in the B2B segment, with the number of private 5G networks hitting over 3,000, and commercial projects in this segment totaling 9,000 by the end of 2022.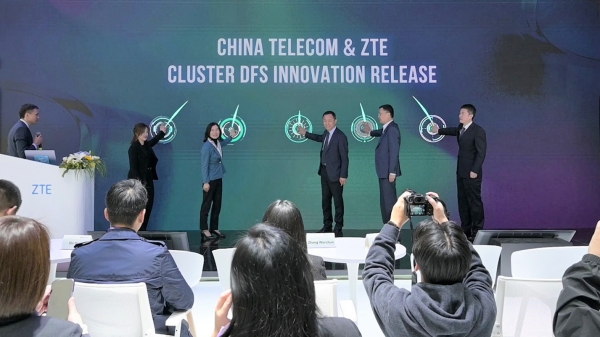 Image Credit:  ZTE
ZTE explained that that the new solution will be key as the service-level agreements (SLAs) requirements for the provision of 5G for industrial verticals such as smart manufacturing or smart grid are different from the requirements for the provision of 5G services for consumers. ZTE further explained that it launched the new solution given to the increasing complexity of 5G networks and to enable a coordinated development of B2B and B2C services on a single network and deliver differentiated service experiences.
To adapt to vertical application traffic dynamics on uplink and downlink, China Telecom and ZTE have introduced the innovative Cluster DFS, by which, base stations with same heavy uplink characteristics are intelligently formed as "cluster" to implement accurate adaptation between frame structure and services requirements. Consequently, a 5G network can synergize B2B and B2C services with optimal user experiences.
Li Peng, Director of Network Development and Sharing Department of China Telecom, said, "5G has become an important driving force of digital economy development. China Telecom is continuously exploring and promoting innovative technologies and solutions that combine the development of 5G high-quality networks and industrial applications."
"Based on previous successful experience of Cluster DSS, China Telecom further extends 'cluster-level' radio resource management mechanism from 'frequency domain' to 'time domain', which provides more flexible radio resource strategy and promotes the development of fully-connected factories. The commercial trial of Lierda shows that Cluster DFS has increased the uplink throughput of B2B applications by 60~80% while ensuring stable B2C experiences, significantly improving network performance and efficiency, " added Huang Lilian.
Tang Xue, VP of RAN Products, said, "B2B and B2C coordinated development on one network requires more flexible and more intelligent resource management strategy, therefore, RAN intelligence is of great importance. ZTE uses RAN native-AI to enable adaptive radio resource adjustment, including spectrum, frame structure, power and beams. With four key features, specifically, intelligent traffic prediction, cluster self-generating, intra-cluster traffic shaping and inter-cluster coordination, the potential of commercial 5G networks can be fully unlocked to offer optimal experiences for both industrial applications and consumer users."
Cluster DFS provides precise and on-demand user experiences for both consumers and enterprises based on AI capability, enabling network policy shift from "one-size-fit-all" to "context-aware" and coordinating the development of B2B and B2C on 5G commercial networks.
Moving forward, ZTE and China Telecom will continue working together to carry out innovative practices and facilitate the development of 5G-Advanced applications for a digital, intelligent and green future.
ZTE said Cluster DFS provides precise on-demand user experiences for consumers and enterprises based on its AI capability to coordinate the development of B2B and B2C on 5G commercial networks.
China Telecom and rival network operator China Unicom had previously signed an agreement to co-build and co-share their 5G networks. According to the latest available statistics, China Telecom added a total of 5 million 5G subscribers during the first months of the year to take its total 5G subscribers base to 273 million. During 2022, the telco added a total of 80.16 million 5G subscribers.
References:
https://www.zte.com.cn/global/about/news/china-telecom-and-zte-release-cluster-dfs-at-mwc-2023.html
https://www.zte.com.cn/global/about/news/20220526e2.html
---