Well respected technologist, entrepreneur, writer and AI researcher Kai-Fu Lee, PhD presented a powerful and very incisive keynote speech on September 29th at the SVIEF conference in Santa Clara, CA.  The title of his talk was all encompassing and compelling:  "Era of AI, the Rise of China, and the Future of Work."
Author's Note: I was so impressed with Kai-Fu's talk, I've ordered his latest book, AI Superpowers, which is already on Amazon's best selling book list.
……………………………………………………………………………………………………………………………………………………………………………………………………..
Here are several important highlights of Dr. Lee's SVIEF keynote:
1.    Deep Learning (DL) is the biggest technological improvement in the 60+ year history of artificial intelligence (AI).  DL is a network of highly connected neurons in thousands of layers that can, in a single domain, take a huge amount of data and train to recognize, predict and decide and synthesize at a much higher accuracy than humans.
2.    DL is not human intelligence, it cannot think or cross domains. It has no strategic or creative thinking capabilities. But in a single domain, with a huge amount of data, it is beating humans in almost every task imaginable. For example, AlphaGo (a computer program that plays the board game Go) has beaten Go champions. In addition, we've seen DL used effectively for speech recognition (e.g. Amazon Alexa, Google voice search, Microsoft Cortana, etc.) and facial recognition. There are new beginnings  of DL diagnosis of how to read  MRIs and doing a better job of that than radiologists. 
3.   This amount of improvement is leading to what are four waves of artificial intelligence:
Wave 1: Internet AI started in 1998. The I

nternet has more

data

than any other domain. With so much data, it enables Amazon to predict what you might want to buy. It powers Facebook to predict what you might want to read on-line.   Similarly, all the

American

and

Chinese

companies (Alibaba, Baidu, Tencent, etc) 

,

all

the

great

AI

companies

of

today

are

all

 I

nternet

companies

,

because

they

have

the

most

labeled

data

.

Wave 2: Business AI started in 2004. Take 

banks

,

insurance

companies

,

hospitals –

they

have amassed

 

a

lot

of

data

in

the

past

,

they

viewed

data

as

a

call

center

,

as

a

legal

requirement

to

archive

.

But

now

data

has

become

a

goldmine for them in various ways.

Wave 3: Perception AI started in 2011- the ability to see and hear.  Examples include: 

computer

vision

,

speech

recognition

,

speech

synthesis

,

understanding

 all 

combined

together. I

t

 

also

can

be

viewed

as

digitizing

the

physical

world

.

Wave 4: Autonomous AI (self driving cars, autonomous robots, etc) started in 2015.  In this wave 4, 

AI

becomes

autonomous

in

its

ability

to

move

around

and

manipulate

sort

of

like

having

hands

and

feet

.

 T

hat

 will usher in an era

 of

autonomous

vehicles

and

robotics

.

 A

utonomous

vehicles 

will

bring

about

a

huge

transformation

, especially the dis-incentive to own a car.  With safer autonomous vehicles, the natural next step is humans won't be allowed to drive anymore.
4.    To make AI work, we need the following things:  a lot of data that is tagged within a single domain, a lot of compute power, and some AI experts to work on it.
AI is not perfect — you can't make it do perfectly unsupervised learning. You can't make it learn on very little data. You can't do AI with very little compute power.  
But once you have those in place, AI can be effectively applied.  
5.   U.S. Leads China in Top Researchers, Patents, and AI Talent (and will likely continue to lead in AI research in the near future).
6.    Chinese Miracle of Last 10 Years with fast product/service iteration, intense competition, user acquisition, accelerated growth, high return on investment in a huge market.
7.   In 2018: U.S. and China Have Become Parallel Universes:
US Model: Breakthrough Technologies, Vision-driven, Light, Globalized.
China Model: Fusion + speed, Applications, Result-driven, Heavy, Localized.
8.  Investment in China:   A lot of money and capital investment went into China with smart VCs helping smart entrepreneurs build products and companies. And those products actually are so attractive they brought more Chinese users on the internet. And this loop kept going and going for the last 10 years taking China from 150 million users to about 800 million users by far the largest user base in the world. And this loop has created something that we never thought possible — a system that parallels the Silicon Valley.
9. The only way to succeed in China is to find a business model that is impregnable. In other words, build a business that's uncomfortable.  Chinese companies kept improving going from copying from the U.S. to inspired by us and then leapfrogging the U.S.  For example, WeChat (messaging app) is better than WhatsApp and way better than Twitter.  But even more exciting is the third ladder where Chinese companies are brand new innovation, this Chinese model of building impregnable businesses have reached new heights, so that these brand new companies are being built.
10.   China Advantages over U.S. in AI:
Advantage 1: Chinese Product Innovation has Caught up with U.S.  Pure Chinese Innovations Have Arrived
Advantage 2: Tough Market Begets Tough Entrepreneurs
Advantage 3: China's AI Capital Leads the World.  48% of global AI investments were made in China; 38% in U.S., 13% other countries. SOURCE: CB Insights 2017 Global Artificial Intelligence Investment
Advantage 4: AI Moves into Era of Implementation
Advantage 5: China is the world leader in amount of Data  (like Saudi Arabia is the country with the most oil for export).  Massive Data is Critical for AI Product Success– even more important than algorithms.  AI algorithms are generally shared, and it is up to the speed, execution, and size of the data that determines how companies will benefit from AI implementations.
11.  U.S.  Advantage over China in AI:  Early Adopters, Expert is King  (vs China which is Application Driven and Data is King)
12.  Who's ahead in AI, mobile and Internet:  Dr. Lee thinks that generally U.S. is a little bit ahead today. But China will probably be ahead in four or five years. This is not about research. This is about implementation. 
U.S. will continue to be ahead in research for the next 10 or 15 years, because that lead is very difficult to overcome.
But this is not a zero sum game. U.S. VCs fund U.S. companies that develop products for us customers, whereas Chinese VCs fund Chinese companies who develop products for Chinese customers (domestic market).  The two countries are not going after the same market.  
"When a Chinese company wins, a  U.S. company does not lose.  When a U.S. company wins, a Chinese company does not lose. So I think the sentiment behind the current some of the current rhetoric is not correct. This is truly not a zero sum game. This is merely a keeping score of how far ahead each technology might get. So with China and us both pushing forward AI, I think AI will make a lot more progress than internet and mobile because those only had one engine the U.S. pushing forward. And there are a bunch of other reasons such as the seven cloud giants (Amazon, Google, Facebook, Microsoft, Alibaba, Baidu, Tenent) hiring people, and training people with large amounts of data VCs being devoted to AI."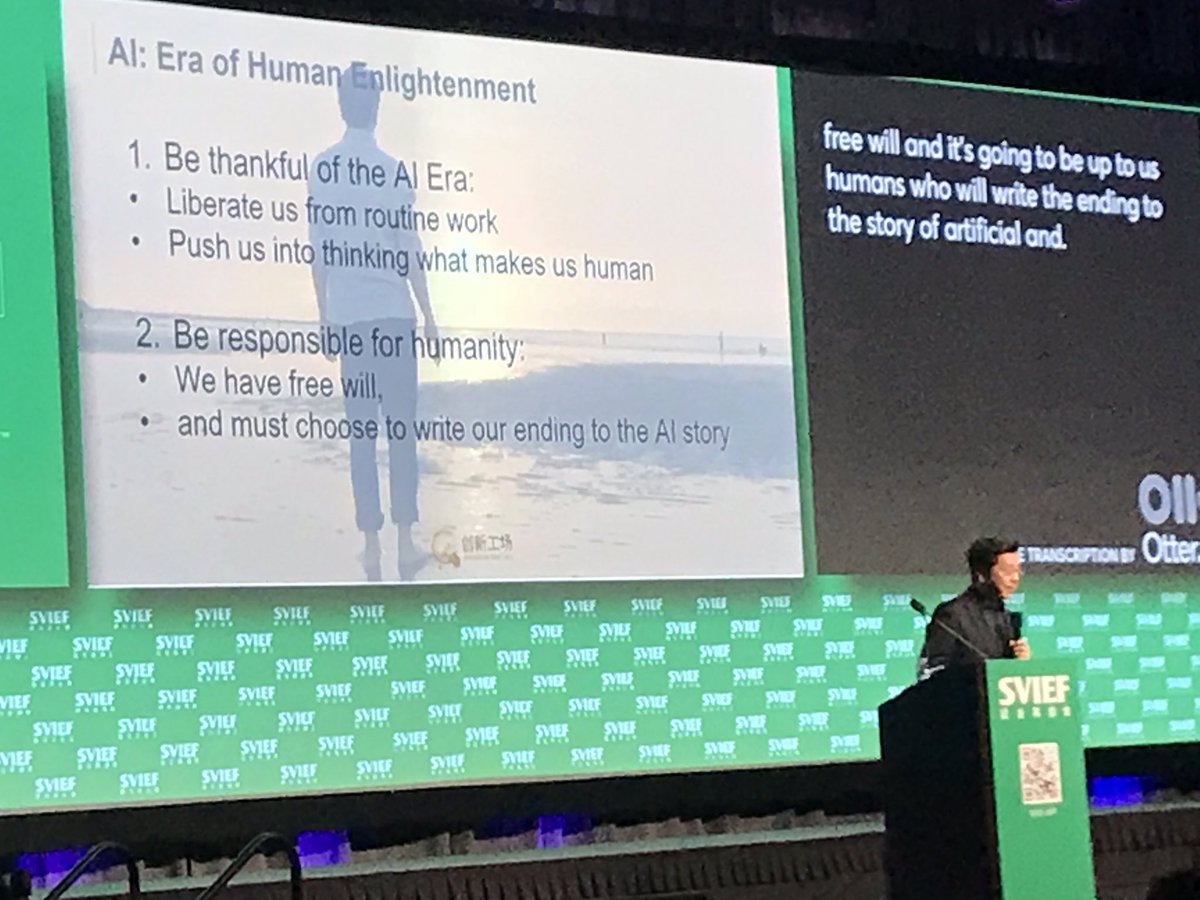 Concluding take-aways:
 Embrace AI – it saves us from repetitive work and pushes us to do what human is called for.
 AI cannot create ideas or thoughts. We are the masters and should be responsible of how to use AI.
 (via Twitter) How U.S. can stay ahead in AI: 1) double AI funding, 2) increase AI professors pay, 3)offer green cards to all AI PhD's.
Closing Quotes:
"So going forward, I think AI is electricity in the next 20 years, there will be huge opportunities and challenges. But I want to take us a moment into (the next) 50 years. When we look back ignore for the moment all these job displacement opportunities, I like to leave you with two thoughts. The first thought is that AI is serendipity. It is here to take away the routine jobs so we can really spend time on what we love and what human beings are on this earth for. And secondly, for those worry about AI causing problems. Just keep in mind AI is just a tool.  It possesses no creativity. We (humans) are the Masters.  We are the ones that have free will. And it's going to be up to us humans to write the ending to the story of artificial intelligence. Thank you."
………………………………………………………………………………………………………………………………………………………………………………………………………….
In a post SVIEF conference email exchange related to AI's use in telecommunications applications, Kai-Fu wrote this author:
"Thanks — this is not my major area of expertise.  But clearly communications in autonomous vehicles, IoT, and 5G, when combined with AI, will be a great combination."
"On China catching up, it will be in technology related to the Internet, Mobile, and AI."
………………………………………………………………………………………………………………………………………………………………………………………………………….
SVIEF All Star Panel:
Kai-Fu Lee: "I feel a sense of social responsibility to tell people that as AI advances, job displacement is a serious issue. And I think I thought very hard about various solutions. I looked at universal basic income, I don't think that's going to work. I don't really know what will work. But I do think generally, it's in the direction of creating more empathetic jobs, because there should be a large enough pool of them, if only we would care about them, pay more for them. And that can hopefully lead us to a good ending."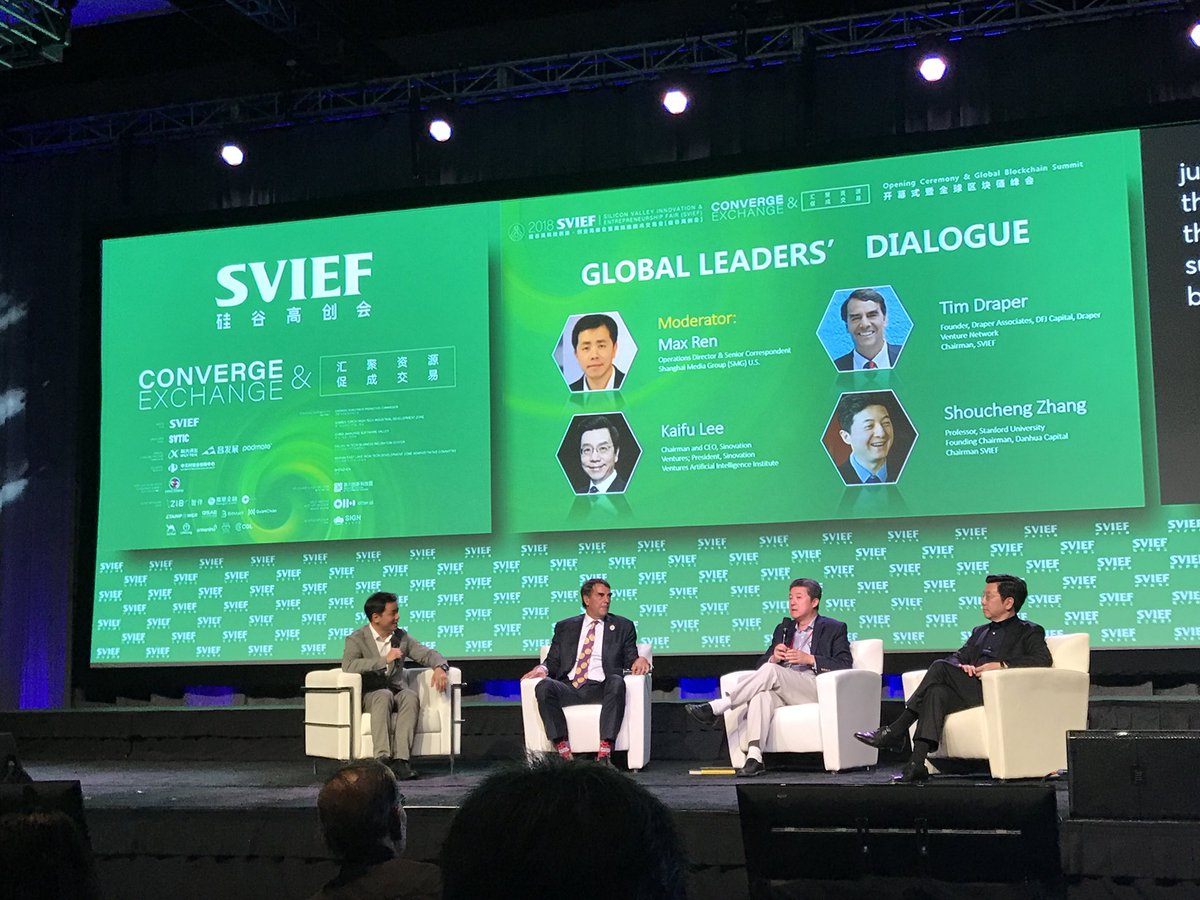 SVIEF All-star panel with VC Tim Draper, AI Rock Star Kai-Fu Lee, and Stanford Physics Prof. Shoucheng Zhang
…………………………………………………………………………………………………………………………………………………………………………
Author's Note:
Due to time and space constraints the above panel session may be summarized in a follow on article, provided there is sufficient reader interest.
Please email me at: alan.weissberger@ieee.org if you'd like me to write such an article.
References:
Transcript of Kai Fu Lee's keynote (via speech recognition):
https://otter.ai/shared/conversation/5342b3f76e67477c958742982795ffec
https://www.nytimes.com/2018/09/22/opinion/sunday/ai-china-united-states.html
Nokia and China Mobile Collaboration Summary:
Nokia and China Mobile have signed an agreement (MoU) to investigate the potential of artificial intelligence (AI) and machine learning to optimize future wireless networks and enable the delivery of new edge cloud computing and "5G" services.
As part of the collaboration, the two companies will jointly establish a research laboratory in Hangzhou, China to develop a demo system to verify technology use cases using Nokia's 5G Future X architecture.   Meanwhile, China Mobile will lead the research of scenario selections, requirements confirmation, open API specifications and solution definition. Nokia and China Mobile will also conduct technology field trials and demonstrations.
The companies' will also work together to research applications for AI and machine learning.  The objective is to ensure any changes in data traffic demand are predicted and network resources are automatically allocated to meet all service demands with consistent high quality and reliability.
The collaboration is intended to foster an open RAN and 5G ecosystem as Nokia and China Mobile work with third parties to leverage AI and machine learning. A goal is to optimize next generation wireless networks for the delivery of high bandwidth, low latency services such as cloud virtual reality based gaming.  The companies' research will leverage Nokia AirScale Cloud RAN, AirFrame OpenRack, open edge server and ReefShark chipsets, as well as Nokia-developed AI middleware to access embedded intelligence.
China Mobile Research Institute (CMRI) deputy general manager Yuhong Huang said the wireless telco giant has been paying attention to the application of artificial intelligence for a long time, and is working to build an open and collaborative 5G+AI ecosystem.
"With the signing of this MoU, we are pleased to initiate the collaboration on the research of big data and machine learning technologies applying to 5G RAN network. [We will also] make joint effort in the O-RAN alliance which was kicked off recently to enhance the intelligence of 5G networks, reduce the complexity, and explore the new capabilities of the network," Huang said.
"The use of AI and machine learning will enable myriad new services opportunities and we are pleased to leverage the capabilities of our 5G Future X architecture to support China Mobile's AI research to optimize future networks and the delivery of many innovative new services," said Marc Rouanne, Nokia's President of Mobile Networks.
Teaming with Tencent to explore 5G initiatives in China
In a separate announcement, Nokia said it has struck a partnership with Chinese internet giant Tencent to jointly conduct R&D work to explore the potential of 5G that "will benefits billions of internet users in China."
The two companies will establish a joint lab in Shenzhen that provides an end-to-end 5G test environment leveraging 5G technologies, products and solutions, including centralized and decentralized split architecture using Nokia Airscale Radio Access Network, 5G Core, MEC framework and third party devices.
Nokia and Tencent will conduct verification on service key performance indicators and develop new 5G and IoT use cases.   Those two companies will also leverage the AI and automation management capabilities to promote international standards (which one's were not specified), and to foster an open-source ecosystem that will expand the development of new services.
The pair will also be conducting 5G applications research by making use of technologies like edge computing, which will be of great advantage for a number of vertical markets, including transportation, finance, energy, intelligent manufacturing and entertainment.
This will potentially open up the widespread introduction of applications such as cellular vehicle-to-everything (C-V2X) communications and enhance the delivery of services such as cloud-based gaming and entertainment, the companies said.
References:
https://www.nokia.com/en_int/news/releases/2018/07/06/nokia-and-china-mobile-to-set-up-joint-ai5g-lab-for-further-research-using-artificial-intelligence-and-machine-learning-in-5g-networks
https://telecomtimes.com.au/2018/07/07/nokia-china-mobile-join-forces-in-ai-5g-research-push/
https://techblog.comsoc.org/2018/07/05/nokia-tencent-working-together-on-5g-applications/
Overview:
The biggest themes at IoT DevCon today in Santa Clara, CA are the following: AI will be pervasive in every industry during at least the next decade; voice is replacing the keypad/keyboard as the preferred human interface, IoT will fulfill its promise and potential once the cyber security and privacy issues have been solved.
As these innovative and cutting edge technologies fuse together experts in the market are forecasting exponential growth over the next seven years while revolutionizing everyday products with amazing potential.
Grand View Research projects the wireless mesh network alone will be worth north of $11 billion globally by the year 2025. One of the significant factors driving market growth is the variety of applications across multiple industries for these platforms, ranging from traditional business projects to emergency services. The inclusion of IoT and AI are expected to expedite the process, allowing for more efficient and effective operations of MESH applications and networks.  AI not only involves massive parallel computing, but also lots of data movement is needed to come up with results.
Here are a few of the IoT DevCon sessions I attended today (please contact the author if you'd like details on any of them):
09:00-09:30                   General Remarks and Notes on the Internet of Intelligent Things. ME1941»
TIRIAS Research
09:30-10:00
KEYNOTE: Surviving the IoT Device Security Wild West ME1916»
Arm
10:00-10:30
KEYNOTE ADDRESS: Wireless Connectivity (IoT) Testing Challenges and Considerations ME1859»
Rohde & Schwarz
10:30-11:00
Morning Break – Day 1
11:00-11:30
KEYNOTE ADDRESS: Edge Computing Revolution ME1930»
NXP
11:30-12:00
The Future of IoT from a Venture Capital Perspective ME1841»
Bessemer Venture Partners
……………………………………………………………………………………………………………………………
Gopher Protocol Inc Decentralized MESH System:
Gopher Protocol, a company specializing in the creation of Internet of Things (IoT) and Artificial Intelligence enabled mobile technologies, today announced that it has completed the first phase of its Decentralized MESH system architectural functionality simulation. These simulations tested Gopher's unstructured MESH network, performing node and gateway communication scenarios while observing timing and performance. The team was able to successfully simulate "node to node" and "node to gateway" network communication, within a defined range.
From the company's website:
Gopher Protocol (GOPH) Core Technology is a revolutionary new platform with products that will change the way people interact with technology and each other, because we believe that improving communications will benefit the modern world.

GOPH Microchips communicate via a private, secured protocol and can interact with internal states –  microchips communicate with other microchips –  and external environments – microchips interact with cell phones, mobile apps, computers, tablets, tracking devices and many other digital devices with access to conventional networks (WiFi and Cellular).

Our goal for GopherInsight Microchips is that they will potentially be installed in billions of mobile devices by the year 2020. This will allow GOPH to create its own private communication network, which will enormously benefit the user from behind the scenes. We utilize this private network to improve the computing power, database management, internal memory, and security of mobile devices equipped with GopherInsight Microchips! The potential is enormous and we are constantly developing more advanced features.
A wireless mesh network is a communications network made up of radio nodes (telephones or other connected devices) organized in a mesh topology (random dispersion across a given area). MESH refers to rich interconnection among devices or nodes. Wireless mesh networks typically consist of mesh clients(users) and gateways (internet access points). Other companies that have wireless mesh networks for IoT include Microchip's MiWi™  (based on IEEE 802.15.4 – low-rate wireless personal area networks or LR-WPANs) and the Wirepas mesh network (based on Low Power Bluetooth).
Above illustration courtesy of Microchip
MiWi supports operation the IEEE 802.15.4 radio PHY in the sub-GHz and 2.4 GHz ISM bands.  Developed to enable low-cost, commercial and smart home networks, MiWi is used in applications such HVAC systems and alarm sensors where reliable self-healing mesh networking is needed.
…………………………………………………………………………………………………………………………………………………………..
The Gopher Decentralized MESH network will be a mobile network, which adds additional complexity as the nodes move frequently. The main challenge of developing Gopher's MESH network is updating routes of data considering that nodes are moving within the MESH. Managing these nodes is achieved by our time division based electronic hardware combined with Gopher's Avant! Artificial Intelligence engine that is cognitively learning about the dynamic GEO locations of nodes and gateways in order to control the unstructured mesh network.
"This is a very significant stage for us" stated Danny Rittman, Gopher's CTO. "We successfully conducted a node hopping simulation which we believe is one of the key technological hurdles in creating a MESH network. In addition, we also performed "node to gateway" communications and multiple "node hopping" all the way to a gateway. The results were successful for a defined range and beyond. We are now constructing testing boards to further analyze the technology in order to identify methods of improvements and advancements."
"We are also working on our Avant! AI engine, providing it with the mathematical knowledge with the goal of developing it to a point to control the entire system. Unstructured networks are particularly difficult to control without the involvement of highly mathematical models and algorithms" continued Dr. Rittman. Gopher believes the development of a mesh network and technology is crucial to the creation of a communications network that disrupts the incumbent Internet and data providers that are the gatekeepers of communication access for the developed world. Gopher intends to bring connectivity to the hundreds of millions that cannot easily afford the current global cost of connectivity and to make the rapidly growing internet of things more affordable for all.
Read more about GOPH at http://www.marketnewsupdates.com/news/goph.html 
……………………………………………………………………………………………………………………………………………………
Other related developments in IoT and AI include:
1.  Microsoft Corporation recently announced a strategic partnership to deliver new technology developments and go-to-market initiatives that accelerate enterprise AI and IoT application development. As part of this partnership, the companies will create a "better together" solution, comprising the C3 IoT Platform™, a low-code, high-productivity PaaS for scaling AI and IoT across enterprises, fully integrated to operate on Microsoft Azure. C3 IoT will leverage Microsoft Azure as a preferred cloud platform and tap into the power of its intelligent capabilities. The companies will conduct co-marketing and co-selling strategies that rapidly scale distribution globally, as well as intensive training for dedicated teams to speed customers' time to value. Close collaboration between Microsoft and C3 IoT will help enable customers to more rapidly develop and deploy AI-based applications for transformative use cases, such as AI predictive maintenance, dynamic inventory optimization, precision healthcare and CRM.
2. Naveen Rao, vice president and general manager of the Artificial Intelligence Products Group at Intel Corporation said in advance of the company's upcoming AI DevCon:
This is an exciting week as we gather the brightest minds working with artificial intelligence (AI) at Intel AI DevCon, our inaugural AI developer conference. We recognize that achieving the full promise of AI isn't something we at Intel can do alone. Rather, we need to address it together as an industry, inclusive of the developer community, academia, the software ecosystem and more. So as I take the stage today, I am excited to do it with so many others throughout the industry.

This includes developers joining us for demonstrations, research and hands-on training. We're also joined by supporters including Google*, AWS*, Microsoft*, Novartis* and C3 IoT*. It is this breadth of collaboration that will help us collectively empower the community to deliver the hardware and software needed to innovate faster and stay nimble on the many paths to AI. Indeed, as I think about what will help us accelerate the transition to the AI-driven future of computing, it is ensuring we deliver solutions that are both comprehensive and enterprise-scale. This means solutions that offer the largest breadth of compute, with multiple architectures supporting milliwatts to kilowatts.

Enterprise-scale AI also means embracing and extending the tools, open frameworks and infrastructure the industry has already invested in to better enable researchers to perform tasks across the variety of AI workloads. For example, AI developers are increasingly interested in programming directly to open-source frameworks versus a specific product software platform, again allowing development to occur more quickly and efficiently.
Mr. Rao's AI Devcon 2018 presentation is at:
https://s21.q4cdn.com/600692695/files/doc_presentations/2018/05/AI_Devcon_RAO_Final.pdf
---