IBM, Samsung Electronics and Singapore network operator M1 opened the IBM Industry 4.0 Studio, which will combine advanced 5G connectivity with artificial intelligence, hybrid cloud and edge computing functionalities to make and test innovative Industry 4.0 products for enterprises in Singapore and across the Asia Pacific region.
The Studio simulates operational use cases that demonstrate how businesses can harness the power of hybrid cloud and AI technologies and advanced 5G capabilities to transform critical operations and drive new value – from improving quality and productivity in production lines to empowering service and quality control personnel. The Studio will develop, test and benchmark real-world Industry 4.0 use cases involving autonomous guided vehicles, collaborative robots, 3-D augmented reality, and real-time AI visual and acoustic recognition and classification.
IBM worked with Samsung and M1 to deliver products that take advantage of the ultra-low latency, high reliability, and security of 5G connectivity, combining Samsung's standalone 5G network products and mobile devices with IBM's hybrid cloud, edge computing, and AI technologies, as well as M1's engineering and network services expertise in the designing and integration of 5G SA products and formulation of 5G test cases to meet regulatory requirement.
Built on Red OpenShift, the Industry 4.0 use cases employ IBM's AI products for visual and acoustic analysis and augmented reality technologies.
Supported by Singapore's Infocomm Media Development Authority as part of Singapore's 5G journey, the Studio is hosting the country's first 5G Industry 4.0 trial, testing real-world applications that can be applied in the manufacturing sector, while measuring and optimising the performance of enterprise 5G for industrial use.
With full-fledged 5G standalone functionality covering at least half of Singapore by end 2022, Singapore will drive more businesses to evaluate the ways in which they can integrate 5G into their existing operations, but they need a way to trial new use cases to evaluate their adoption strategies and return on investment.
The launch is the next step in Samsung and IBM's global strategic partnership to advance 5G and edge industry innovation through enterprise networks and through cross collaboration with global mobile operators.
"5G presents an enormous opportunity for enterprises to drive new value and transform their operations to harness the next era of industrial connectivity. This project builds on IBM's longstanding strategic partnership with Samsung, and a shared vision with M1 and IMDA, to help businesses tap into emerging hybrid cloud and AI technologies that will define their future success.  It is crucial these businesses have an opportunity to test and evaluate these technological investments, and we are committed to working shoulder to shoulder with them to ensure they make the best decisions that will truly propel their businesses forward," said Brenda Harvey, General Manager, IBM APAC.
There are seven focus areas being explored via the Studio that could deliver transformative value for customers by applying ultra-low latency, high-bandwidth, stable and secure 5G connectivity to Industry 4.0 applications:
1. Visual Recognition solutions using IBM Maximo Visual Inspection. With 5G, this enables real-time, streaming video analytics to power use cases such as faster identification of defects on the manufacturing line or rapid sorting of parts in a warehouse environment.
2. Acoustic Insights.  Applies AI to analyze audio captured by phones and tablets to uncover potential defects in server fans, for example.  Combined with 5G, this enables audio streaming and more rapid analysis to enable continuous monitoring in real time.
3. Augmented reality (AR) solution, a collaboration between IBM Singapore and IBM Haifa Research Lab. For example, users can point the camera of their mobile device at equipment and view step-by-step instructions that are superimposed on the image on their screen to walk them through a procedure such as setup, testing, or repair. 5G enables rapid, dynamic access to multiple procedure models, so a technician could browse quickly from step to step without long delays to download new models. If the technician encounters a problem not covered in the procedure model, 5G enables a remote expert to provide real-time, live, peer-to-peer assistance using on-screen AR guidance.
4. Complex use cases for automated guided vehicles and collaborative robots, enabled by the low latency of 5G. For example, a robot arm uses a phone to visually scan an item; the visual is sent to the server, analysed and the result returned; the robot arm then takes action to sort or reject the item based on the Visual Inspection result.  The low latency of 5G enables this process to take place in near-real-time, allowing the robot arm to immediately sort or reject parts.
5. AI models developed and deployed on edge servers, with flexibility and dynamic resource scalability via Red Hat OpenShift.
6. Container-based applications with continuous monitoring and automated management, integration, and control of multiple deployed solutions at the edge, via IBM Edge Application Manager.
7. 5G end-to-end solutions and vertical use cases for private networks. Delivering private networks that combine Samsung's latest 5G end-to-end solutions, including the RAN and the Core, with IBM's open hybrid cloud technologies. Additionally, exploring new vertical use cases to enable enterprises to adopt emerging technologies crucial to Industry 4.0.
Quotes:
"5G is a potential game changer for Industry 4.0. It is the critical connectivity layer that can enable smart manufacturing. I would like to congratulate IBM for the opening of its 5G-enabled Industry 4.0 studio here in Singapore. It is important for Singapore to be the place where innovative 5G solutions can be developed and deployed globally. A strong 5G ecosystem will provide more opportunities for businesses and our people. We will work with industry to forge ahead with 5G, as we architect Singapore's digital future," said Lew Chuen Hong, Chief Executive, IMDA.
"As a forerunner in Singapore's 5G development, M1 is the first network operator to roll out 5G trials as early as 2018 and has developed more than 15 5G use cases, trials and partnerships – a record in the industry, in the areas of autonomous vehicles, robotics, AI and more. The endless possibilities that 5G SA network can bring to Industry 4.0 manufacturing in Singapore is set to benefit enterprises. M1's 5G hyper-connectivity, end-to-end network slicing, ultra-low latency, as well as highly reliable and secured communications will enable businesses to work not just faster, more efficiently and securely, but smarter too. The use cases being tested and developed out of this project will help more Singapore businesses to adopt 5G, value-adding to the acceleration of Industry 4.0 and building a vibrant 5G ecosystem for Singapore," said Manjot Singh Mann, CEO of M1.
KC Choi, Executive Vice President & Global Head of B2B Business, Mobile Communications Business, Samsung Electronics commented, "The opening of the Studio in Singapore is an important milestone in applying 5G-enabled mobile and network solutions with Industry 4.0 capabilities to help transform manufacturing.  Mobile and 5G capabilities like these are empowering workers and changing the way factories and warehouses operate, bringing new efficiency and productivity to operations.  Samsung is pleased to be collaborating with IBM, IMDA, and M1 in this groundbreaking project to help make 5G a reality for customers."
References:
https://news.samsung.com/global/ibm-samsung-electronics-and-m1-unveil-singapores-first-5g-industry-4-0-studio-supported-by-imda
https://www.telecompaper.com/news/ibm-samsung-m1-open-5g-industry-40-studio-in-singapore–1376197
A new report, jointly released by IP consulting and analysis companies, Amplified and GreyB, disclosed that the top 6 companies (Huawei, Samsung, LG, Nokia, Ericsson, Qualcomm) account for 64.9% in 18,887 declared patent families. In granted 10,763 declared patent families, 2,893 families have been identified as core SEPs where top 6 companies account for 72.5%.
Huawei was first with 530 patent families and a ratio 18.3%. Nokia and Samsung were ranked No. 2 and No. 3 with 14.6% and 12.9%. respectively.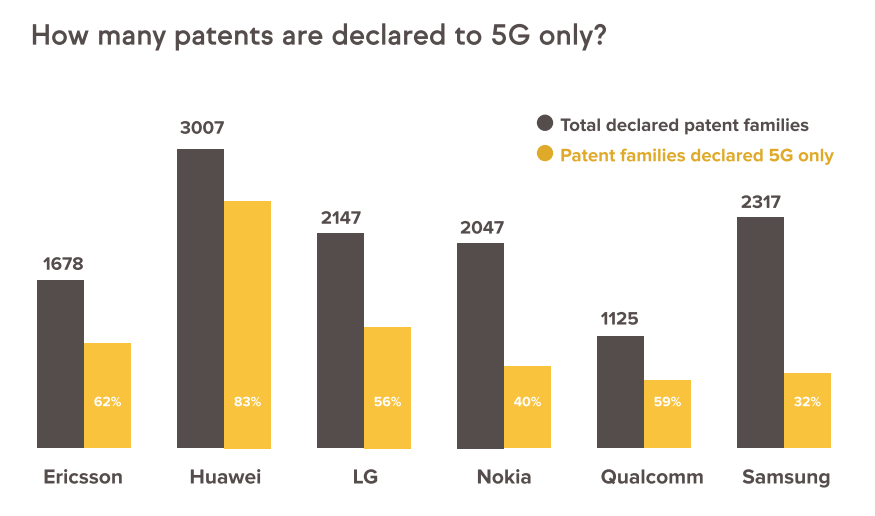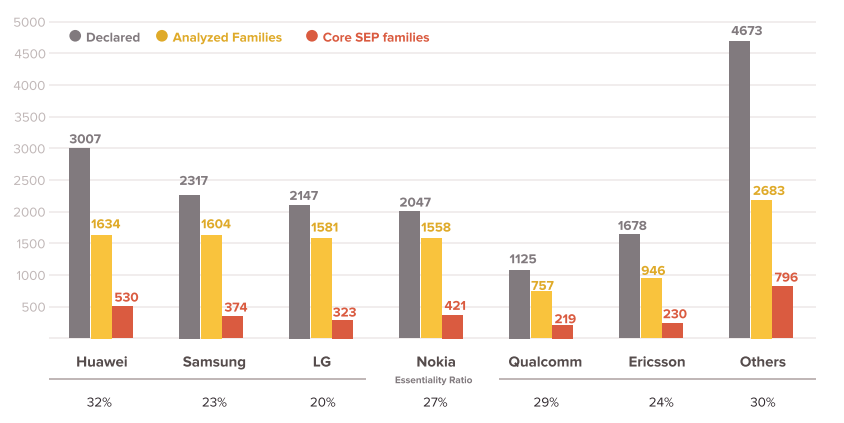 The report is an update of the previous report "Exploration of 5G Standards and Preliminary Findings on Essentiality" released on May 26, 2020.
………………………………………………………………………………………………………………………………
Separately, Samsung Electronics Co., Ltd. announced on March 10th that it has ranked first in 5G Standard Essential Patent (SEP)¹ shares according to a patent essentiality study conducted by IPlytics2, a Berlin-based market intelligence firm comprised of economists, scientists and engineers. The findings were published in IPlytics' recent report: "Who is leading the 5G patent race? A patent landscape analysis on declared SEPs and standards contributions."
Samsung also ranked second in two other categories: share of 5G granted3 and active patent4 families5, and share of 5G granted and active patent families with at least one of them granted by the EPO (European Patent Office) or USPTO (United States Patent and Trademark Office).
Last year, Samsung also led in 5G patents as a result of its research and development of 5G standards and technologies.
the top 10 companies own more than 80% of all granted 5G patent families, while the top 20 own more than 93% of all 5G granted patent families. These numbers confirm that there are only a few major large 5G patent owners, but looking at overall 5G declarations, the IPlytics Platform database identified more than 100 independent companies, which have declared ownership of at least one 5G patent.
The 5G patent family statistics presented in Table 1 are not based on verified SEP families. Neither ETSI nor the declaring companies have published independent assessments of the essentiality or validity of the declared 5G patents. Thus, the 5G patent families presented are only potentially essential. Many well-known SEP studies estimate that between 20% and 30% of all declared patents are essential. However, the essentiality rate differs across patent portfolios. To better understand the essentiality rate across portfolios, IPlytics created a data set of 1,000 5G-declared patent families (EPO/USPTO granted), which independent experts have mapped to 5G specifications. Here, the experts mapped the patents for six hours in a first check and then EPO/USPTO patent attorneys double-checked the mapping for a further three hours.
Table 1. Top 5G patent declaring companies (with >1% share)
| | | | | |
| --- | --- | --- | --- | --- |
| Current Assignee | 5G families | 5G granted and active families | 5G EPO/USPTO granted and active families | 5G EPO/USPTO granted and active families not declared to other generations |
| Huawei (CN) | 15.39% | 15.38% | 13.96% | 17.57% |
| Qualcomm (US) | 11.24% | 12.91% | 14.93% | 16.36% |
| ZTE (CN) | 9.81% | 5.64% | 3.44% | 2.54% |
| Samsung Electronics (KR) | 9.67% | 13.28% | 15.10% | 14.72% |
| Nokia (FN) | 9.01% | 13.23% | 15.29% | 11.85% |
| LG Electronics (KR) | 7.01% | 8.7% | 10.3% | 11.48% |
| Ericsson (SE) | 4.35% | 4.59% | 5.25% | 3.79% |
| Sharp (JP) | 3.65% | 4.62% | 4.66% | 5.50% |
| Oppo (CN) | 3.47% | 0.95% | 0.64% | 1% |
| CATT Datang Mobile (CN) | 3.44% | 0.85% | 0.46% | 0.68% |
| Apple (US) | 3.21% | 1.46% | 1.66% | 2.15% |
| NTT Docomo (JP) | 3.18% | 1.98% | 2.25% | 1.9% |
Source: IPlytics
………………………………………………………………………………………………………………………………..
Superscript Notes:
[1] "A patent that protects technology essential to a standard", European Commission report – "Setting out the EU approach to Standard Essential Patents", p1, November 2017.
[3] "a patent that is granted by at least one of patent offices", IPlytics report – "who is leading the 5G patent race", p5, November 2019.
[4] "in active status, which means it has not lapsed, been revoked or expired", IPlytics report – "who is leading the 5G patent race", p3, November 2019.
…………………………………………………………………………………………………………………………………………….
References:
https://www.amplified.ai/news/5g-updated
https://static1.squarespace.com/static/59fa01a118b27d1bfef7f050/t/603caec7fe1d40450f23c831/1614589756133/5G+Report+%28Updated+findings%29.pdf
https://www.greyb.com/5g-patents/
https://news.samsung.com/us/samsung-extends-leadership-5g-patents/
https://www.iam-media.com/who-leading-the-5g-patent-race-patent-landscape-analysis-declared-seps-and-standards-contributions
https://techblog.comsoc.org/2020/06/24/greyb-study-huawei-undisputed-leader-in-5g-standard-essential-patents-seps/
https://techblog.comsoc.org/2020/07/10/5g-specifications-3gpp-5g-radio-standard-imt-2020-and-standard-essential-patents/
https://techblog.comsoc.org/2020/10/03/is-a-new-5g-patent-war-in-the-works-expert-opinion-review-of-5g-patent-studies/
Samsung Electronics Co., Ltd. said that it shipped more than 6.7 million Galaxy 5G smartphones globally in 2019, giving consumers the ability to experience next-generation speed and performance. As of November 2019, Samsung accounted for 53.9% of the global 5G smartphone market and led the industry in offering consumers five Galaxy 5G devices globally, including the Galaxy S10 5G, Note10 5G and Note10+ 5G, as well as the recently launched Galaxy A90 5G and Galaxy Fold 5G.
The 6.7 million in Samsung 5G smartphone sales eclipses the 4 million target the firm set itself, though as its main Android competitor (Huawei) is being stifled by political friction, it is hardly surprising Samsung has stormed into the lead.  Note also that Apple has not announced a 5G smartphone and probably will not do so till late 2020.  In the absence of main competitors, Samsung is maintaining its leadership position in the 5G segment as well as 4G-LTE.
"Consumers can't wait to experience 5G and we are proud to offer a diverse portfolio of devices that deliver the best 5G experience possible," said TM Roh, President and Head of Research and Development at IT & Mobile Communications Division, Samsung Electronics. "For Samsung, 2020 will be the year of Galaxy 5G and we are excited to bring 5G to even more device categories and introduce people to mobile experiences they never thought possible," he added.
The Galaxy Tab S6 5G, which will be available in Korea in the first quarter of 2020, will be the world's first 5G tablet bringing ultra-fast speeds together with the power and performance of the Galaxy Tab series. With its premium display, multimedia capabilities and now, 5G, the Galaxy Tab S6 5G offers high-quality video conferencing, as well as a premium experience for watching live and pre-recorded video streams or playing cloud and online games with friends.
"5G smartphones contributed to 1% of global smartphone sales in 2019. However, 2020 will be the breakout year, with 5G smartphones poised to grow 1,687% with contribution rising to 18% of the total global smartphone sales volumes," said Neil Shah, VP of Research at Counterpoint Research. "Samsung has been one of the leading players catalyzing the 5G market development in 2019 with end-to-end 5G offerings from 3GPP standards contribution, semiconductors, mobile devices to networking equipment. With tremendous 5G growth opportunities on the horizon, Samsung, over the next decade, is in a great position to capitalize by further investing and building on the early lead and momentum, " Shah added.
………………………………………………………………………………………………………………………………………………………………………………………….
Sidebar: Qualcomm or Samsung 5G silicon in future 5G devices?
It has become widely accepted that the latest Qualcomm chipset features in the majority of flagship smartphone devices throughout the year.  Only two smartphone makers – Samsung and Huawei – have said they were making their own 5G chipsets which would be integrated into their 5G smartphones.  Will Samsung use both its own silicon as well as Qualcomm's in future 5G devices?
Over the next few months Qualcomm will begin shipping both the Snapdragon 865 and Snapdragon 765 chipsets. The Snapdragon 865 is more powerful, though 5G is on a separate modem, potentially decreasing the power efficiency of devices. The Snapdragon 765 has 5G connectivity integrated, though is notably less powerful. Whichever chipset OEMs elect for, there will be a trade-off to stomach.

Looking at the rumours spreading through the press, it does appear many of the smartphone manufacturers are electing for the Snapdragon 865 and a paired 5G modem in the device. Samsung's Galaxy S11, Sony Xperia 2 and the Google Pixel 5 are only some of the launches suggested to feature the Snapdragon 865 as opposed to its 5G integrated sister chipset.
With Mobile World Congress 2020 in Barcelona just two months away, there is amble opportunity for new 5G devices to be launched prior, during and just after the event.  It will be interesting to see what 5G silicon is used in them.
Incomplete (or non existent) 5G Standards:
Of critical importance is that there are currently no standards for 5G implementations.  The closest is IMT 2020.SPECS which won't be completed and approved till November 23-24, 2020 ITU-R SG5 meeting or later.  That spec will likely not include the 5G packet core (5GC), network slicing, virtualization, automation/orchestration/provisioning, network management, security, etc which will either be proprietary or use 4G LTE infrastructure.  It also might not include signaling, ultra low latency or ultra high reliability, depending on completion of those items in 3GPP Release 16 and its disposition to ITU-R WP 5D.
………………………………………………………………………………………………………………………………………………………………………………………..
For nearly a decade, Samsung has worked to bring 5G from the lab to real life by working closely with carrier partners, regulatory groups and government agencies to develop the best 5G experience possible. As a leading contributor to industry groups like 3GPP and O-RAN Alliance, Samsung is committed to an open, collaborative approach to networking, which has helped to accelerate delivery of 5G to consumers and businesses. Over the past year, in addition to launching a robust 5G device portfolio, the company reached several historical milestones including providing network equipment for the world's first 5G commercial service in Korea as well as working closely with global carrier partners to expand 5G networks and introduce 5G experiences and use cases.
In the year ahead, Samsung says they will continue to lead the market in 5G innovation by introducing new advancements that will improve the speed, performance and security of Galaxy 5G devices even further. In 2020, these advancements will give even more people access to new mobile experiences that change the way they watch and interact with movies, TV and sports, play games and talk with friends and family.
For more information about Samsung Galaxy 5G devices please visit news.samsung.com/us/galaxy-5g/, www.samsungmobilepress.com or www.samsung.com/galaxy.
References:
https://news.samsung.com/us/samsung-galaxy-5g-devices-shipping-more-than-6-million-2019/
https://telecoms.com/501580/samsung-claims-the-5g-lead-after-6-7-million-shipments/
https://www.extremetech.com/mobile/304091-samsung-shipped-over-6-7-million-5g-phones-in-2019
---